Lead magnets are beneficial for online business. They are the easiest way to get more email subscribers in your mailing list.
It is an incentive that the markets offer to possible buyers. These buyers in return got to provide the email address and other contact details to the marketers for the incentive amount.
They come with downloadable content as well, for instance, PDF checklist, reports, eBooks, videos, etc.
It is through a lead magnet that you may convince the potential buyer to give away their email address and other contact details which will benefit your business.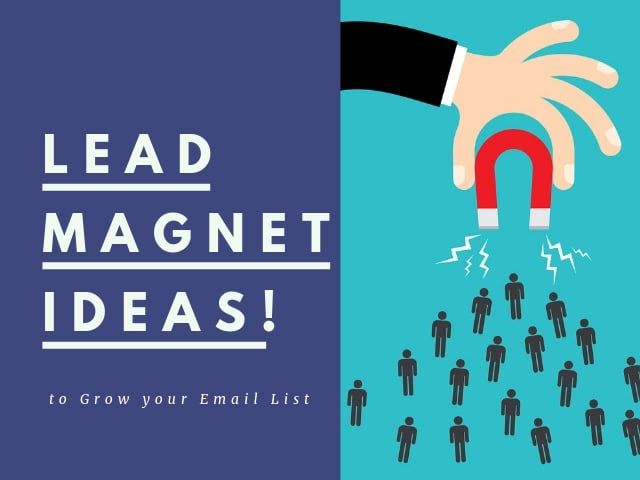 The sole aim of your transaction is to make them subscribe to your list which can be achieved through lead magnets.
Your efficiency on increasing your subscriber list is directly proportional to the value of these ideas. You should ensure that it is, valuable and attractive so there are high chances of subscriber sign-ups.
In order to build a lead magnet which excites your visitors, you will have to think as your potential buyers, think about what is more useful to them.
This tip will make you stand different amongst your competitors who might be on the verge of giving away free reports or whitepapers. Here are 5 things which will make them both valuable and attractive:
The Lead Magnet Ideas Should Be:
1. Detail oriented:
The lead magnet should be specific about your business so that it will convert the target customers into buyers.
2. Gratified:
It must offer PDF checklists instead of eBooks or free reports.
3. Complimentary value:
It should have a high actual value and should be perceived well by the clients.
4. Easily accessible:
Your potential buyers should be able to access it instantly.
5. Display your UVP:
It should be capable of exhibiting the Unique Value Proposition i.e. your business expertise.
Lead Magnet Examples:
One fine example which demonstrates all the above 5 points is OptinMonster.
To structure your lead magnet, you need to work on these key things:
Frame an attractive headline which meets the buyer demands or is useful to him.
Promise and deliver the benefits of subscribing to your list.
Connect to your buyers by stating the purpose behind its creation.
Bullet the key points especially the issues and their solutions.
Trigger their next actions as well, state what they should follow next.
Always avoid making users fill too much of information lest they leave the webpage. A lead magnet is a part of the sales process. The magnet gets traffic or a website visitor, then generates leads and nurtures them.
In the end, it turns those leads into customers i.e., generates sales. However, 1 in 10 website visitors will make a purchase. And it has to attract that one potential buyer.
If you're a consultant or into expert business, the best lead magnet ideas are eBooks, small online courses, podcasts, free webinars, assessments or quizzes.
If you're into online business or a shopping website, you should try ideas like free discount coupons, free shipping on orders, discount on the first order, help selling their old products or a membership with bonus or shopping advice magazines.
And if you're into the software business, you may opt for a free trial of the software, giving its demo or a premium account with no charges for the first one month.
Read this post to discover the 10 lead magnets ideas to grow your website subscribers:
Lead Magnet Ideas To Grow Your Email List Faster:
1. An analysis tool:
This is quite the difficult one and is unique. This will attract more website visitors. All you have to do is create an analysis tool for your potential tool.
The tool will analyse on a certain topic ranging upon the buyer requirements like the speed of the internet or strength of website, resume check, etc.
2. Quizzes:
Next thing you may try is to use quizzes mostly objective ones so that customer's excitement is retained. Have the sample question an easy one, so that they have the urge to take the test and find out their score.
Not to forget, always display the right answer for the wrong answers so that the visitor keeps coming back to try more quizzes. All you have to do is setup the quiz and Bingo!
3. eBooks:
Most of the visitors you get on your website won't prefer reading a chunk of information. So they would prefer is visual images or bullet points?
So offering a free content upgrade is a good strategy. These content upgrades can be channelized through eBooks which can be downloadable or even an audio file or a free template.
The best way to achieve this is to use Google analytics and create premium versions of the popular or most viewed posts of your websites.
Now, these premium versions can be made available to your visitors in the form of a PDF file or you may simply email them once they've subscribed to your list. This lead magnet works best for businesses which are brands and have that image.
The most practical example of the content upgrade is Brian Dean of Backlinko, who coined this phrase and increased his conversion rate.
A free content upgrade is a subset of lead magnet. Content upgrades are beneficial for all the posts on your website which have attracted a lot of traffic.
Now talking about, eBooks – this can be a group of pages or a length one as well. This comprises more design and layout than a cheat sheet.
EBooks are a great source of information which is why your potential buyers will love them. These eBooks will not only be stored offline but also are a portable and lightweight source of data.
The only drawback of this valuable lead magnet is its time consuming creation process and the large investment involved. The key point to success is including content especially details but it should be engaging so that your potential buyer returns to your website to make a purchase.
4. Infographic collections:
It's new and you have to do is google about the infographic collections. Collect a bunch of those images and form a folder, zip them and make it available for download.
This works magnificently because visitors love infographics. This is a different lead magnet idea and your homework is search 10-25 infographics and group them for your buyers.
5. Videos:
These are captivating for anybody on the internet. All you have to do is ensure that the content of the video is informative and educative and most important of all is fun and interesting.
Once you are sure about the video, you will have to lock the video so that only those visitors who have subscribed are able to view the video content. You can achieve this using Wistia web hosting services.
6. Build case studies:
Case studies are the success stories of your clients or yours so that your target customers can relate themselves to it and make a purchase.
The customer stories are always valuable and draw a lot of traffic or potential buyers because these stories offer them with a solution to their existing problem.
All you've to do is get inspired by similar content from the web. However, there won't be the same kind of customer story or case study. These are unique lead magnets which differ from each website and can't be similar. This is the reason building case studies is one of the best lead magnets.
The only drawback is the time consuming creating process and the large effort. You will have to find a customer base who actually have benefited from your products or services and record their statements and publish it on your website.
Your email subscribers may even love it if you make it available in a downloadable format so that it speaks for itself even while offline.
Then there is a consultation which is a great service as well. You can have an automated bot to help your clients get the expert solution or hire an expert who can guide them further. This works great if the buyer is investing a huge sum.
The consultation is unavoidable by the clients because it saves their time and effort. They don't have to Google solutions on other websites instead they can get an instant help or guide from your website. The two factors that you should verify before offering a consultation are:
If you really have an expert to help your buyers
If they're in a situation to pay for the services
7. Guides, Checklists, cheat sheets:
Checklists are useful in situations where your users are looking for immediate response. A set of points is always better than a chunk of data. A checklist makes way for your audience so that they don't miss out any important points.
Guides, checklists and cheat sheets help your audience more than you realize. These three lead magnets find their applications in ecommerce benefiting the client to decide whether to purchase the product or not.
The easy way to build a checklist for your product is to create a guide in order to help the potential buyers to understand how beneficial your product can be for them (on a daily basis or to solve a common problem).
A cheat sheet is a shortcut to a problem's solutions and that is how it got its name. The best thing about cheat sheet is their step wise information which can be executed or followed by the client quickly.
So, you should ensure that your cheat sheet provides a quicker solution to a common issue.
8. Free courses:
Free courses may include podcasts, email courses or video courses. The free course can be delivered in individual units in a few days.
The goal of the course must be teach or educate the customers about stuff which they're unaware of. These courses should be capable of improving their knowledge on that particular topic or subject.
All you have to do is recourse an old content which you already have and make it attractive and readable in a convenient fashion.
For this, you may have to segregate the course content into different files and structure them so that they're delivered in a sequential or periodical basis to your client.
9. Webinars:
Webinars are considered to be the last step in the sales process. The only thing that attracts the visitors is the free sign up a chance to your webinar which is why you should select an appropriate topic for the webinar. You should target an 60 minute webinar.
The first 40 minutes is about your webinar topic and the rest 20 minutes is about sales. Webinars are great lead magnets but they can be tricky as well due to these two reasons:
The potential buyers are being asked for their time and by agreeing to watch the webinar
Webinars won't be valued by all the customers.
10. Assessments, Templates and sample chapters:
Assessments are used as lead magnets in order to earn more leads or to focus on your target customers.
The assessment can be related to your product or service. Templates are useful when the customers are new to your product or service.
This template can draw an outline of the working mechanism and other details necessary to impress the client.
The templates can be made available to your customers in a form between the paragraphs of your blog posts or simply at the end of the article. Sample chapters ensure that the best part of the eBook is delivered to the target client. The two outcomes of sample chapters are:
Email address of the potential buyer
Eager customers to want more sample chapters
The ideas listed above in this blog post are not everything but yes these have been tried and are effective in order to grow the business email list.
The foremost thing you should focus on is your potential buyers and design the lead magnet in a such a way that it attracts the buyers. They must be related to their idea of a product or a solution to their common issues.
You won't achieve success in the first lead magnet idea. However, you shouldn't stop with one and instead, try some other idea and compare the number of subscribers then.