What is a Lead Generation?
A Lead is nothing but a potential customer or a prospect that can bring good business to a company. To increase sales, the company has to look out for potential customers and that is called Lead Generation.
Lead generation is extremely helpful for the sales team to approach and pitch to the right customer about the product and services.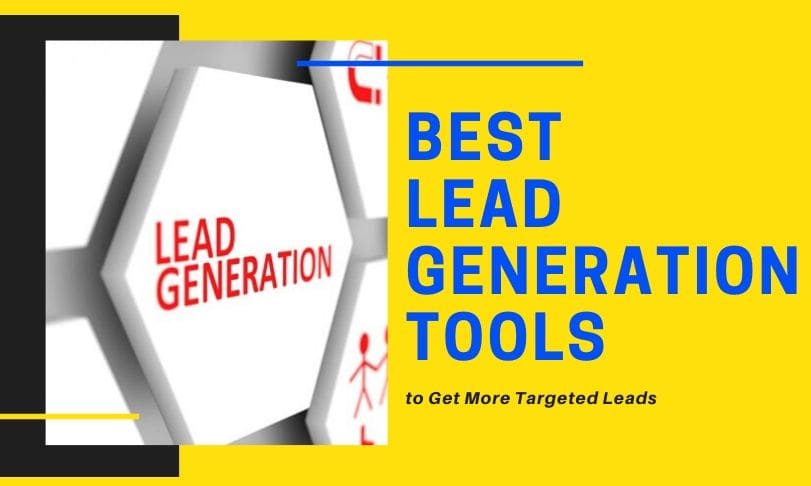 There are different options and methods available for lead generation from social media, email marketing, cold calling or just running lead generating ads to find your target customer group.
There are various ways and techniques by which leads are generated. Here are the lead generation tools that you can try to find the right customer.
Best Lead Generation Tools:
1. Optin Monster:
In this tool, Pop Up serves as a guide to lead generation. When a pop up appears, it asks for the visitor's details such as name, contact number, email id, etc. By using this tool, details of the visitor can be taken and then can be approached for converting from lead to customer by the sales team.
2. Prospecti.io:
Prospecti is designed in a way that saves time for the sales team to find the leads for your brand. Once this tool is integrated with Chrome as an extension, it starts working immediately. People visiting your website without leaving any contact information can then directly be targeted through email campaigns within a few seconds from the browser.
3. Lead Feeder:
It is a powerful lead-generating tool that tells you about those who visited your website even if they have not filled out the contact form. The only requirement is that Google Analytics is integrated to your website along with Lead Feeder.
The tool can also find the contact details of the employees of a certain company and your sales team can contact them even if they visited the website yet did not enquire about the product.
4. Intercom:
It is one of the best ways to generate leads for the sales team as it allows having a direct conversation with the prospective lead when visiting the website.
It connects the operator from your end to the customer through the chatbox. You can set up a simple rule for when the chatbox should appear on the screen. For example, if the customer has spent 30 seconds on the page, then the chatbox can appear to start the conversation.
5. ActiveCampaign:
It is one of the most popular marketing tools present in the market. ActiveCampaign tracks each customer interaction that has taken place on your website and uses them for the email marketing campaign.
It also helps your sales team to immediately follow up with the prospective customer with increased chances of converting them into sales.
6. LinkedIn Sales Navigator:
LinkedIn Sales Navigator helps in the lead generation which is highly beneficial for B2B business. It allows us to search for criteria like the job description and then the list of potential leads will be shown.
It allows us to search for leads who are yet to be converted who might not have shown the interest for now. Once the sales team receives, such leads can easily convert them as users.
7. Quora:
Quora is an interactive platform where people ask questions about different topics. You can search for the questions related to your business and answer them, by providing simple info about your company along with the website link.
It is a good and organic way to find the right leads for your brand.
8. Qualaroo:
It is popularly known as one of the best tools for customer research. They offer customized surveys for customers that can be integrated on your website. You can use these surveys as a way to interact with your customers.
By asking interesting questions about them and the product for 2 to 3 steps, you can then initiate a call or ask for an email to continue to communicate further.
9. Datanyze:
It is primarily an outbound sales tool designed specifically for tech and software companies.
It helps you to know more about the technology used by your prospective customers and also finds you the leads that may be using the same technology.
10. LeadForensics:
Many of the website visitors do not fill out the inquiry form, hence, it can be a loss to convert a prospective lead. This problem is solved by LeadForensics, which uses the IP address of the company from where the website is being viewed.
This information is captured, then the sales team can search the details from LinkedIn for the contact person and pitch them the product. Hence, increases the lead conversion.
11. Voila Norbert:
It is primarily a sales tool that helps you find the email address of the person with the name of the company they are working with. Once you mention the person's name, Voila Norbert gives you the email information immediately.
Voila, Norbert can find 50 emails for free from this tool.
12. Hunter:
It is a similar tool as Voila Norbert, by mentioning the name of the person along with the company name, Hunter shows the email for that person.
If you are looking for the emails for a certain company, then it is possible to do it with Hunter. Hunter can look for 100 emails for free with this tool.
13. Skrapp:
It is primarily designed to find an email id from someone's LinkedIn profile. You can download the Chrome extension and a "Find Email" button pops up on the profile, from there you can download the email id of that person.
14. Sumo:
It is best known to capture emails from the website. The features offered by Sumo are popups and slide-in popups which can be integrated with the webpage. It has a social share bar if the visitor wants to share something they like on their social media profile. It also uses a heat map to indicate the page where the visitors are clicking the most on the website.
15. Convert Plus:
It is a WordPress plugin that offers popup forms on your website. Its features are similar to Sumo and provide time-based popups, page scroll popups, and popups when exiting the website.
16. Fieldboom:
Fieldboom provides all the different features used for customer feedback in a single tool. You can use this to create surveys, lead generating forms, customer support forms and much more.
17. MailChimp:
 It is a widely popular tool used for email marketing because of the ease it offers while sending out bulk emails. The platform is easy to use when creating the bulk emails just by simply drag and drop or copy-pasting the emails.
The emails can be added in Mailchimp for free and you can send about 12,000 emails without any charges.
18. Aweber:
It is an easy to use email marketing tool which is also meant to use for automated lead generation. On this platform, you can easily create send emails to your customers. It also imports content from the blog that can be shared with your audience.
19. Aeroleads:
It offers a Google Chrome extension that can extract emails from platforms like LinkedIn, Angelist and other networks. Once you have added these networks on your AeroLeads account, it will then extract the email ids along with the contact info.
20. Hubspot CRM:
It is a perfect tool to maintain the sales lead from nurturing them, tracking and organizing it. Hubspot CRM tracks each interaction and intimates the sales team which in turn can be converted into sales.
21. Keap:
A lead generation tool with multiple functionalities, it is primarily known to keep all your customer data in one place. It helps you to track the customer interactions which is helpful to plan for future campaigns.
22. Marketo:
It is an effective tool for inbound and outbound marketing to generate the right leads. Marketo allows you to interact with the prospective leads and nurture them before the sales team interacts with them.
23. Nimble:
Nimble is highly effective to extract the data from different online sources wherein your prospective lead might be present. The platform is easy to use since it easily identifies the right lead and nurtures them without additional data entry work.
24. Salesforce:
Salesforce is one of the most popular sales and lead management software. It has multiple tools in one place from managing sales leads, customer information and more.
25. Pipedrive:
Pipedrive has an efficiently featured dashboard where you can plan your next marketing step. It's automated lead generation software tracks each lead interaction and consolidates the data for the same.
26. Google Ads:
It is one of the most popular ad tools to run an ad on Google search engine. You can run ads on Google when someone is searching for the product relevant to your brand, the ad shows up leading to your website or can call your business directly. Running ads on Google is free and you only have to pay when someone clicks your ad.
27. RafflePress:
It is a WordPress plugin designed for running giveaways campaigns and online contests. These methods are the best way to generate website traffic, hence, increasing the chances to capture generated leads.
28. SharpSpring:
It is not a very popular tool but has various good reviews. SharpSpring offers different features similar to that of all the popular tools available in the market. You can use it for email automation, lead management, lead scoring, and email marketing.
29. Infusionsoft:
Infusionsoft can help you maintain and manage your leads, score them, help you to create an effective email template, create landing pages, keep a track of website traffic and has good analytics within it.
30. Acquire:
It is a chatbot software which can interact with your customer immediately in real-time. It is effective and helps you convert the lead faster by automating the chat process.
31. Rafflecopter:
It is popular for creating a contest for social media channels, which is an effective way to encourage customers to participate in it. Once they share their emails, it is easier to approach them for sales conversion. Rafflecopter offers free services but when launching the contest, it requires a paid plan for $13/month.
32. Vyper:
It is popular to run a viral contest. To create viral content is a major challenge for many marketers, Vyper is a highly efficient tool to encourage participants to take additional action on your website, such as following social profiles, to complete the website forms.
33. Gleam:
It also creates contests like Vyper but its primary objective is to increase engagement on social media platforms like Facebook, Twitter, Pinterest, etc.
34. Twitter search:
It is one of the underrated leads generating activity that provides a lot of information along with it. You can simply search on Twitter about the product or service your brand offers, then it shows the number of tweets similar to it. Hence, you can then directly tweet & retweet the people who have tweeted about the product. Then you can reach out to them and talk about your product.
35. IFTTT:
The full form is "If This Then That". It is used to complete a certain action when another action is completed. For example, if someone has posted about an inquiry on some platform then you can be intimated about it through email and interact with the possible lead.
Finding the right lead generation tool is highly effective for your business growth. It is an efficient way for your brand to reach out to your future customers, interact with them, understand their needs and then pitch your product.
With everything getting digital, lead generation tools are a modern and highly effective way of finding customers for your brand, rather than waiting for them to reach out to you.
We have discussed different lead generation tools and how each one of them can benefit you to find possible customers. Choose the one which is relevant for your needs and works best for you. The best option is to try 2-3 different tools and see how they deliver the result for each.