Are you still relying on traditional lead generating strategies like sending cold emails and scraping lists together?
Well, it is a demoralizing process. Even though the lead generation process is tough, but if you implement some of the tactics, you can see the best results. If you are searching for the Best Lead Generation Tactics, then you have landed on the right platform.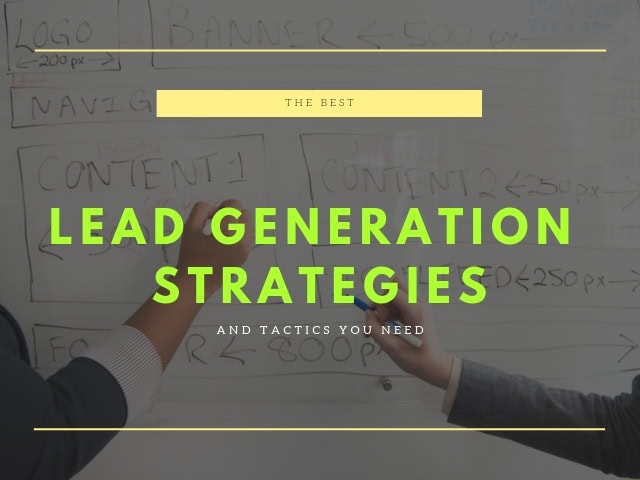 If your business has already started kicking off with your best product until unless you sell the product effectively, you will have limited revenue. In order to generate good revenue and sales for your business, you have to spread the buzz about your products and services. Then leads will start getting to you.
It is a fact that the lead generation is very important when things get tricky. Make sure to generate high-quality leads otherwise you fail to take your business to the next level. So, lead generation is a very important step to your business, brand and also to increase your revenue. Here on this page you can get some easy lead generation tactics and helps to get the best revenue.
When you focus on lead generation, always remember that quality is more important than quantity. If you miss quality, you may not be able to generate leads or sales. According to the reports, Email marketing has a strong power of implementation and is one of the easy lead generation tactics which you can implement effortlessly and attain best gains.
Along with it, website, landing page, and content marketing strategies give you noticeable profits. Without any further discussion let's move to the core subject of the article. Take a glance at the below mentioned easy-to-implement Lead Generation Tactics.
Proven Lead Generation Strategies That Actually Work:
Target right audience:
Before implementing lead generation, you need to define the right audience for your brand awareness. This step makes you ensure that your marketing efforts are reaching the target audience. And it is also an important step to generate leads.
If you're not targeting the right audience, they will not respond to your marketing efforts and all become a waste of time. At last, this strongly affects on your lead generation efforts. To overcome this situation, show your brand content to the target audience and there are many chances of getting strong leads.
So knowing your target audience before starting off is very crucial in the initial stages. So, first, start with a customer persona. It depends on their interests, locations, demographics, and behaviors. Based on the collected persona details, you can build the target audience list.
Your marketing and content efforts should focus on this group. For instance, if you're into the women's clothing industry, you shouldn't target men's clothing. The process is the same in all industries. You need to focus on the target audience and make sure to reach your content to them only.
Optimize your landing page:
An effective landing page is very important for any business. It is the page where your potential customers turn into leads. You can get complete information about your visitors through the landing page. That's the main reason you need to have a well-optimized landing page for your website. Along with that, you need to have a clear understanding of your landing page.
In landing page optimization, first of all, you need to optimize your headline. It should be bold, large enough and most importantly it needs to be powerful. Strong headlines easily grab your potential customers' attention and provide them the right information with the right resources.
The headline should be short and simple. Along with a powerful headline, your on-page content is also the most crucial point to remember. The content should be convincing and well-written with the right information. It should motivate and encourage them to buy your products or services without any queries.
While developing content, make sure that the flow of content is proper and keep the reader engaged. Divide your content with sub-headings so that it will be easier for your readers to read the information with ease. Include images and videos on the landing page which clearly shows a quick view about your products and services.
These images and videos easily grab the attention of your potential customers and help you to generate the leads. Moreover, you have to keep in mind that you have less page loading time if not it will affect your user experience. Last but not least, use relevant CTA (Call-to-action) on your page. Make sure to locate the CTA on the perfect place which has to be visible clearly to the audience eye.
Social media:
In this modern era, people of all ages know about social media well. Even if they are busy in their professional life, they still are active on their social media platforms. But don't ignore social media as a brand, it is something more than that. It is the perfect platform to connect with billions of people around the world and let your brand reach them very easily.
You can see many social media tactics available nowadays. By implementing those tactics in your lead generation process, you can generate more sales. With these tactics, you can even create a list of the same audience lists and present your products and services to them.
When we think of social media, the first thing that pops up in our mind is "Facebook". From the younger generation to the older generation, all stay active on their Facebook account. Twitter, Instagram, YouTube, and Snapchat adds into the list of powerful social media tools to generate leads and increase your brand awareness.
If you think that your content has become old and couldn't reach out to the target audience, don't worry. You can make your old content live by sharing it on various social media networks or just sharing the particular links of the landing pages. Reduce the cart dropping, with the process of remarketing your products and services on social media to your target audience who shows interest in your brand.
Consider all Reviews:
We can see many reviews on every product. Most of the people share their reviews the next minute they brought the product. Nowadays people are checking many reviews in order to buy any product. First, they check the review of that particular product. If it has good reviews they are ready to buy the product if not, they opt for another one.
So here, online reviews play a very crucial role in building trust among potential customers to your brand. According to the reports, 97% of the people search reviews online for their local businesses. In addition to this, 73% of customers trust the business, if it has positive reviews and 63% of users show interest in review writing if the brand asked.
When your potential customers start trusting your product or service, they will be ready to give their contact details for further procedure. If your users' write reviews about your brand, it can easily boost up your brand image. This is the right chance to turn your potential customers into leads.
With this type of Lead Generation Tactics, you can build the best relationship with your target audience along with getting more leads. This helps you to improve your revenue and sales on the top of user retention rates. So remember to ask your target audience to leave the review of your brand. This even helps you to increase your brand awareness.
Influencer marketing:
Did you know that influencer marketing helps to build up your leads and increase your sales and revenue?
It refers to one of the best ways to generate leads and sales. You can even team up with some of the popular social media icons and make them write the review for your products and services. People who are following them see they are endorsing the brand, and that can lead to getting more sales for your brand.
Here, the influencers need not be only social media followers. They can be bloggers who have best fan-following towards their blogs and even journalists from reputable publications. The main thing you have to do is, find the right influencers who work in your niche and have leading engagement towards their posts.
One of the best parts about influencer marketing is, it comes with a cost-effective process too. As per the survey of Bloglovin, 84% micro-influencers charge below $250 for each sponsored post on social media platform, Instagram. You can even ask your influencers to write a genuine review about your products or services and embrace the call-to-action button.
When you are using this tactic on social media, you can improve the post value of your influencer. Using Facebook Branded Content tool, target the post to reach your potential customers. By following this process, you can make your brand reach to the maximum number of people and generate more leads. You can even optimize such Lead Generation Tactics with the help of influencers' reviews.
Conclusion:
So, guys, this is the complete information regarding best lead generation tactics. The tactics discussed above seem to be a move up the task which is very essential to drive high revenue.
In case, you are searching for the best lead generation tactics, you can implement these tactics and your sales. If you have any queries related to this topic, don't hesitate to share. Just drop your queries in the comment section below and we will get back to you with best answers.