If you are thinking about what the latest thing in the industry of lead magnets is, you would be happy to know about the lead generation quizzes.
Quizzes are proven to deliver a conversion rate of around 50%. Hence, they are considered the best thing to practice and implement!
Most of the users are convinced with a conversion rate of 10-15%. Even one of the authorities has confirmed that around 20-25% is considered a good conversion rate for the process of lead generation.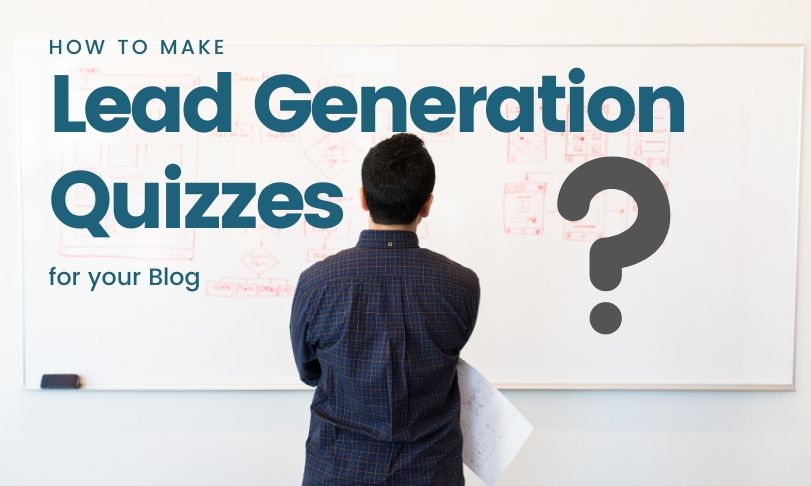 If you want to know how quizzes can help you boost lead generation and why it can bring that change, here are some interesting facts about the influence of quizzes on conversion rate.
The Impact of Lead Generation Quizzes on Conversion Rate:
One website, T1Q used to get 5 new subscribers on a daily basis. This number increased to 100 subscribers every day, which means an overall increase of 1900%. This was witnessed by simply introducing a quiz.
It is reported by Neil Patel in episode #135 that quizzes work well on most of the websites. He even stated that it is not only that, quizzes are not talked or discussed much because it doesn't intend everybody to copy us.
Another website, BuzzFeed receives more than 200 million visits on a monthly basis. It was disclosed in March 2017 that among its stories, the top 4 stories that received a maximum number of visits were all quizzes.
In 2016, the 3 among the top 5 highly shared things on the New York Times were quizzes.
Why Quizzes Deliver a Huge Conversion Rate?
By reading the above-mentioned statistics, you must have understood that quizzes convert so well.
But, what is the main reason behind their conversion?
The main reason why quizzes for lead generation are able to deliver a great conversion rate is that they offer personalized results.
Just consider you had a store and whenever someone came in with an inquiry, you provide it exactly the same details or information.
This is really great from the customer's point of view.
This is what most of the lead magnets do online.
It is true that people have varying needs and are at distinct stages in the buying cycle. For this reason, they require different advice.
Similarly, quizzes do this thing.
Quizzes offer distinct results to the interesting ones based on the answers they have provided.
As a result, users avail of a personalized solution and this is what changes the game completely in the field of marketing. A report generated by the Weinstein Organization states that personalized digital advertisements offer a 230% higher CTR in comparison to the generic ads.
Well, this is just one reason.
The other major reason why quizzes perform so well is simply that they are highly interactive and fun.
Quizzes serve as an interactive session that draws the prospect in and brings them forward to take action. But small, also called micro commitment holds a much higher chance of getting converted.
Finally, quizzes are about something new and they always bring something new and interesting to the audience. Not many individuals are using this technique yet.
For this reason, those who use it are able to stand out from the crowd and are highlighted in the field of lead magnets.
How Quizzes Work for Lead Generation?
The quizzes done for lead generation are conducted in a range of distinct forms. But all of them share one thing in common.
All of the quizzes gather enough personal details, which can be used further.
It offers users a personalized result.
It easily segments the list.
All the quizzes conducted for lead generation comprise these 4 important elements:
A start page for the quiz, which must be around 1 to 2 sentences and that, informs the users what the quiz is all about.
Each quiz must contain at least 4 or 5 questions and usually, it must be less than 20, directed at offering the users customized advice.
The offer and results page is the one where the user sees any offer as well as the results that match their results displayed.
The page for lead capture, where the user enters the email address to gain the results.
Different Kinds of Quizzes to Conduct for Lead Generation:
Most of the quizzes conducted for lead generation offer users a personality type, to assess something, or to diagnose an issue.
Some of the main kinds of quizzes are:
Personality Quiz:
One of the most common kinds of the quiz is the personality quiz.
This form of quiz holds a worldwide appeal as it feeds into two basic guidelines of human psychology.
Confirmation Bias – It is the tendency all the users have to favor information, which confirms the assumptions. The personality quiz is related to confirming theories we already hold about who we are and why some things are liked the way they are.
Curiosity About Selves – One thing that people are curious about at an early age is that it is not ideal to be self-absorbed. However, the truth is to understand our own abilities and what makes us weak.
Within the marketing arena, a personality quiz often takes the form of 'what sort of person are you.'
The concern here is to look for what service or product is being sold and does it match your personality.
The other kinds of commonly conducted quizzes are:
Website or Business Assessment Quiz
Lifestyle or Health Assessment Quiz
Real Estate Assessment Quiz
Problem Diagnosis Quiz
Lead Generation Software Quizzes:
In order to generate quizzers for lead generation, there are some providers that you can consider.
The Interact Quiz Builder is excellent software to create different quizzes to generate new leads and keep driving sales.
The Interact serves more than 100 quiz templates in a variety of industries ranging from automotive to blogging to parenting to finance. The quizzes designed using Interact are ideal to grow the email list, boost social media presence, and drive sales.
It is an efficient quiz creator software that we recommend.
It comes with an awesome UI and is very convenient to use. Even, this particular software can cater to all your needs of designing a quiz. From designing a quiz to embedding the same on your site, it is seamless to use.
Another great tool available to design quizzes is the quiz builder from Thrive.
It is recently added to our list and is readily available software. This tool is perfect to create all sorts of quizzes. It comes with WordPress plugin, and hence, gives you the potential to generate intricate quizzes with ease and without disturbing the logic.
While using this quiz builder, the users can visualize what the quiz looks like as well as how the quiz will flow while you are developing it. The preview is displayed within the quiz builder window.
Software to create flawless quizzes with ease is the Lead Quizzes, which was introduced in 2016.
This software is an ideal solution for businesses to create an effective and intricate quiz in a simple manner. The quizzes generated using this tool primarily aid in capturing new leads and growing the business.
By using LeadQuizzes you can conveniently and quickly create quizzes, which convert fast and are focused solely on generating more sales and leads.
Finally, we have an amazing quiz builder from FyreBox, which lets you design quizzes to generate new leads, to engage the audience, or to simply educate the audience.
This tool is useful to create a quiz for business, marketing, market research, and education.
Steps to Create the First Quiz Using Online Software:
In order to design a quiz using you can try the free subscription. This will let you create quizzes without investing any money.
Once you will click on the subscription, you will be asked to select an option. Here, you have to click on the option 'create a new quiz.'
You can either select an existing template or start creating a quiz right from scratch.
The above-mentioned quiz creating tools come with more than hundreds of pre-made quizzes, which you can customize or use.
Whether you prefer to use an existing template or want to customize a template or want to begin from scratch, it is essential that you focus on the three major components:
The Results
The Answers
The Questions
For each question available, there will be a few possible answers.
Answering any one question, no matter which answer is selected automatically takes you to another question.
As a result, you will get personalized outcomes, which are offered to the user. The final outcome the user will get depends on the way they answered all the questions.
Now, before you move further, there is something you need to know.
There are two kinds of quizzes:
Conditional Quizzes
Unconditional Quizzes
In conditional quizzes, the questions differ a lot depending on the answers a user enters.
A conditional quiz utilizes a branching logic, which is also known as the conditional branching, skip logic, question logic, and branch logic. This logic is used to let users decide the question they want to receive next. This logic is used on the basis of the first question that the user has answered.
The other kind of quizzes is unconditional quizzes, in which every user is able to see and answers the same questions. However, the final results of this quiz will vary based on the answers selected by a user to enter.
While most of the online quiz creating tools do offer to branch logic, you can also create quizzes using an unconditional quiz, when you want that the quiz must be visible to every user in a similar way and the users revert to the same kind of questions.
Now, once a template is selected and you have decided what kind of quiz you want to create, it is time to focus on the 'cover image' of your quiz. It is because the cover image is the very first thing that your users will see when they land on your quiz.
On the cover page, you can customize the following things:
The description
The image
The CTA or call-to-action button
The title
Other than this, you can also add your business, website, or brand logo.
Once all such details have been entered and you have made the necessary changes, you need to click save and then exit. Here you will see the quiz listed along with an edit, share, or embed tab, as well as for the analytics tab.
You first have to select the edit tab and click on the same.
Here you will see the option of color-coded menu, which displays the steps involved in customizing or creating a quiz:
Questions, Answers, and Results
Styling and Branding
Integration
Share and Embed
Below each block of color, there are options available in each step.
Once you have customized the branding and styling part, you can move ahead to the questions and results part.
In this step, you have to edit, or include questions, edit or include the results, or establish correlations between the results and answers.
Each of the questions mentioned with the answers can be edited easily, deleted, or altered completely.
As soon as you finish the process of customizing the answers and questions, you will head towards the next step where you need to find results to select.
You can select personalized outcomes and offer the same to users, based on how they answer the questions. You can customize the various aspects for a result:
CTA button
Result Description
Result Image
Result Title
You now have to correlate a correct answer to each question. Next, you have to enter the login box and offer users a list of information from which they can select, like their goals, interests, and more.
Finally, you have to place the quiz on your site.
Conclusion:
With all this information in hand, you can now easily create quizzes for lead generation. Just select an appropriate tool or software to design your quiz and make sure they are interactive, fun, and deliver personalized results.
So, design and conduct your quiz today!