The world is connected globally. And e-commerce is playing a major role in it. Almost every day, changes are observed in the corporate world. These changes are mistaken with-commerce trends, but it is not so. Firms have to pay attention to changing trends. This will help them to make strategies. Some major e-commerce trends in 2019 are discussed below. Have a look: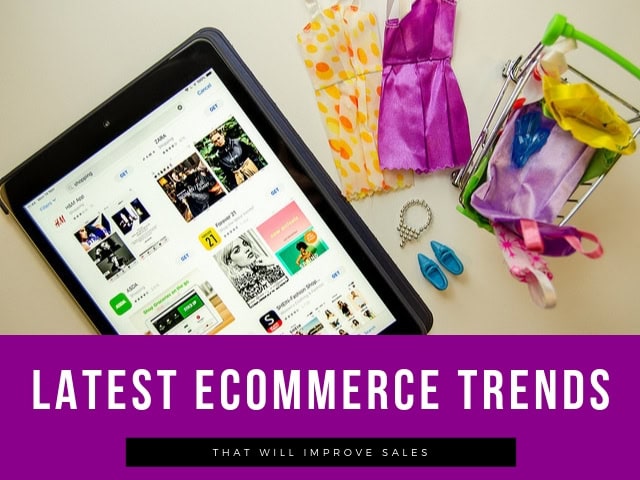 Latest Ecommerce Trends to Watch For:
1. Automatic marketing strategy:
Marketing automation refers to the automatic email marketing and social networking promotion. This growing trend has no stoppage. It is used to customize landing pages. It is generally used by firms involved in shopping carts.
If implemented properly, automated marketing gives astonishing results. You will be able to send back-to-back emails to your clients. You can launch new products. You will be able to promote your goods and services to the targeted audience. You will be able to know the customer reaction on the basis of shopping history. Automated marketing mechanism is loved by customers throughout the world.
2. Artificial Intelligence:
Popularly known as AI, artificial intelligence is being used largely by e-commerce firms. It becomes easier for them to deal with massive challenges.
Firms generally find it difficult to identify the pattern of customer segmentation. This work is easily done by intelligent algorithms. They study the customer's browsing history thoroughly. And they are able to give accurate conclusions too.
Many retailers have implemented this kind of personalization strategy. It is a matter of pride that they have got good results. They experienced a rise in sales from 6% to 10%.
No one can doubt the accuracy of the data given by AI. It gives conclusions based on quality and size. In the absence of data, the firm will not be able to use it. This is the reason small e-commerce businesses never use AI. So, get a good volume of data and use these ecommerce trends.
3. Socializing payment structure:
Another growing trend in e-commerce is increasing social payments. It was used by Paypal. And that's where it started getting popularity. Making payments is one of the biggest challenges faced by customers. Making this facility easier will help the e-commerce platform a lot.
When the payment structure is socialized, it provides ease to customers. This concept refers to allowing users to make payments using the social media platform. Currently, almost all major social networking sites have their own version. Google Wallet, Twitter Buy, Facebook payments etc are the best examples. Social payment methods provide ease in making purchases. So, it is, indeed, a great asset for e-commerce.
4. Mobile Commerce:
Online retailers have confirmed that mobile transactions increase year to year. This has resulted in an increased concept of mobile e-commerce. This trend becomes more successful in the holiday sales season. The present-day customer uses a smartphone a lot. He is more confident in using the phone than using laptops. If you also deal with e-commerce, you need to have a mobile responsive website.
This trend is bound to give results. In the coming future, more people will use a smartphone. So, what are you waiting for? Just grab the opportunity. Reach out to your customer's phone. He will definitely make a purchase.
5. More than one payment option:
Making payment structure easier is a popularly known trend. But having multiple payment options is also one of the growing ecommerce trends. With the growing popularity of cryptocurrencies, retailers are making space for it.
Yes, e-commerce stores have started using cryptocurrencies. On the contrary smartphone manufacturers have started using digital wallets. So, the customers are now getting varied payment options. They love getting comfort and options.
The latest trend in e-commerce deals with making the payment process simpler. With the rise in mobile e-commerce, this trend gets support. This trend has resulted in mobile-based payments.
6. Personalized and localized customer services:
Everything goes wasted unless the user is satisfied. That's why it is very important to give personalized services to customers. Their satisfaction is the key to profit maximization. Localization is a part of personalization. It involves making changes in the website's content.
Personalization refers to the personalized behavior in e-commerce. The firms use various data points to personalize the website. It includes delivering appropriate products.
Trend analysts say that improving customer experience is the most important task now. The firm has to deliver extra-ordinary customer services. The firm needs to have faster shipping, good website, and affordable prizes.
7. Networking:
It is not just a necessity but also a trend to increase networks. The growing e-commerce trend involves building a good community. Many firms panic in building networks and maintaining them. They generally lose their customers. In order to tackle it, the concept of CRM is been accepted. CRM refers to customer relationship management.
The firm has to develop a good CRM. For this, it is suggested to use the provided customer information.
Remember, it is a matter of engaging customers. They should sustain with your firm. That's why the trend has changed from inviting the customer to making the stay.
8. Relief in payments:
E-commerce entrepreneurs generally face losses because of cart abandonment. A slight change in e-commerce trend has resolved this issue. The option of post-payment is known to be an effective solution. The firms do not face much loss because of this mechanism.
There was a time when customers used to show interest in the products. They doubted the quality of the product. As a result, they used to end up leaving the cart.
Post payment strategy is trending in 2019. Now, many e-commerce firms have started using the post-payment strategy. It means the customer can make payment after receiving their product.
9. Influencer Marketing:
Influencer marketing has successfully made its mark in the field of e-commerce. It is a known fact that the customers on social media may or may not be genuine. But online influencers have a unique and genuine audience. They do have a tangible influence on customers. So, the firm needs to find out such people. It is because many customers get influenced by them. Yes, recommendations work in online marketing too.
The preferences of customers rely strongly on the recommendation. Go for influencer marketing and grow your sales. You have to quest for relevant influencers. Through them, promote your product on different social sites.
10. Conceptual ads:
The concept of advertising is very old yet very strong. Now the trend has changed contextual and programming advertising. Tech analysts say that the current year will behold varied contextual ads. Social media sites have already prepared themselves for it.
The present-day firms use datasets and then decide the target audience. Then they develop their ads focusing on such people. These ads are, then, shown to the audience. The new trend is called programmatic advertising. Such an audience is then retargeted to generate good ROI.
It is just a matter of the right moment. You have to find the right audience. Then you have to develop the right ad. It will only work when done at the right moment.
11. Voice Search:
E-commerce stores will be highly benefitted if they include the feature of voice search. The content for voice search is inclusive of textual content. It helps the firm to appear on various platforms. Also, their presence grows in knowledge graphs.
Gone are the days when websites used to use images. Now, they won't be benefitted as earlier. The present-day user wants more. The trend has changed to the use of the user's voice. It is obvious that it will lead to good traffic generation.
The successful companies have started developing their own e-commerce apps. This invites the user to make an order from smart speakers.
12. An era of photo apps:
A new e-commerce trend has resulted in image shopping too. Now, the users make an order by using their camera. This trend has led to the development of multiple photo apps. Many more are on the verge of launch. The firms have started selling their products through this mechanism. The photoshopping mechanism has changed the outlook of e-commerce sites.
Now the photo app developers are launching their own photo camera. They recognize and interpret various images. Then they write the product description. Later they get associated with e-commerce stores. By providing relevant data to companies, they help them in their sales.
13. Brick-And-Mortar (B&M) Models:
In 2007, the brick-and-mortar market was adversely affected. That was the time when e-commerce stores started their journey. But, in 2019, trends say that everything will change. Brick and mortar stores are ready for a strong come-back. These retail stores are known to render digital services. They give personalized services to their customers.
Presently the real estate industry is making the best use of it. The automobile industry has also started taking aid from it. The companies use the virtual versions of their products for trials. The new customers get to know about the product via this digital service.
14. Subscription Based Models:
With the rise in e-commerce, digitalization also increased. Digital services, digital agencies, digital platforms etc are grown concepts now. Still, the companies do not get the trust of customers as expected.
The analysts say that digital payment structure will be in the trend. Now the companies have to give personalized offerings. The fresh and existing e-commerce stores are suggested to use the subscription-based model. If they succeed in implementing it successfully, they will succeed. They will experience improved sales.
15. Chatbots and Supply chain mechanism:
2019 will be the year for neural networks. This will bring back the Chatbots into the field of ecommerce trends for 2019. The firms will be using it to increase user engagement. The firms can provide them relevant options. With the increase in the value of chatbots, the prices of chatbots will decrease.
Yes, this year chatbots will see a huge change in them. They will be cheaper than earlier. They will be smarter. With the increase in e-commerce sites, chatbots will get spread across the world.
Supply chain management plays an unforgettable role in e-commerce. It is not that easy-to-handle thing. It involves three key factors. They are automation, data, and customers.
16. ROPO:
ROPO refers to the Research Online Purchase Offline. This year, this concept will touch great heights. This is a common habit of customers while shopping. The present-day producers have started using this concept. Not only producers but bargain hunters also use this concept. 2019 will bring so many deals of ROPO.
ROPO is part of online shopping. Customers first research about the products online. If they are satisfied, they make offline purchases. They do so to trust the loyalty of product. Once they are satisfied, they never hesitate in making future purchases.
Now, as suppliers have started using this concept, this concept has earned popularity.
17. Amazon will achieve great heights:
Amazon is the most successful e-commerce platform. It has made Jeff Bejos, the richest man in the world. It is a form of B2B e-commerce. It connects e-commerce sellers and customers. It is known to have earned approx billion dollars in sales in its initial year. It is the fastest growing e-commerce store in the present day. It is known to have a 20% growth rate every month. So, it is obvious that it will be the king of the market in 2019 too.
As a result of this, other firms will be affected. They can become a part of Amazon. They can associate themselves to sell their products.
18. Epilogue:
E-commerce is an online way of buying and selling goods and services. Customers are getting everything at their place. Suppliers are experiencing good sales. All in all, it is advantageous for both parties. With the increase in competition, everything changes almost every day.
The business world is known to be dynamic in nature. In order to cope up with it, tech analysts keep on analyzing the trends. The trends and changes in them lead to improved marketing strategy.