The two most important things for any digital marketer's task are Conversion and Traffic. Every online marketer intends to bring high traffic to its website and ensure the desired action is taken, such as making a purchase, writing a review, hiring services, or anything else.
Though both such tasks are quite difficult to accomplish earlier, things have been simplified now. It is because of the introduction of numerous efficient best landing page builder tools.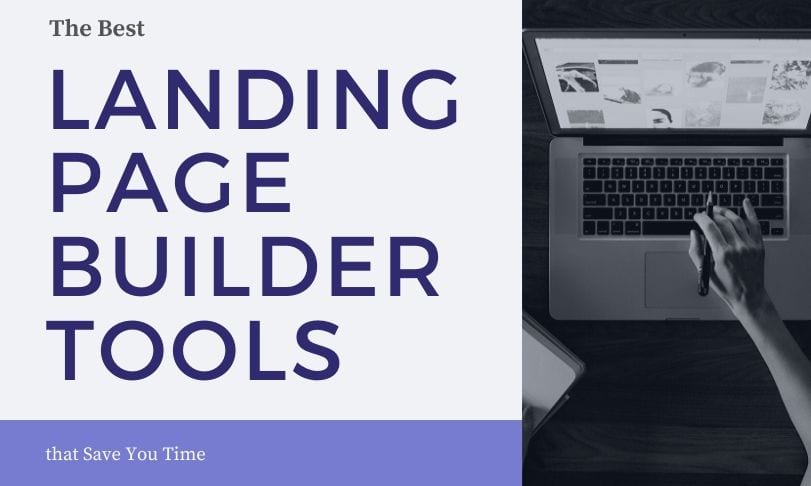 In 2020, multiple tools have been introduced, which can bring higher traffic to your website and can help you establish a landing page. It is because a landing page is a highly effective way to capture the attention and information of visitors and influence them to buy your service or product.
So, what are some of the best landing page building tools?
We have compiled here a list of the best tools for building landing pages that are available at your disposal and can help you design an efficient landing page, which can bring you high traffic and lead to more conversions.
Best Landing Page Builder Software for Marketers:
1. Instapage:
This tool is very convenient to use and lets you instantly launch a landing page. This tool caters to the requirements of all businesses ranging from enterprise, agencies to individual entrepreneurs.
It allows creating promising designs for landing pages and offers more than 200 customizable templates including App Downloads, Webinar Registrations, Lead generation, and more.
The Instablock unique feature is convenient to edit landing pages without entering any code. You can use drag-and-drop functionality to make necessary adjustments to the template.
Moreover, this tool offers a range of solutions exclusively designed for Retargeting ads, Facebook ads, and Google ads. The launch AMP pages, pixel-perfect designs, and convenient integrations with various platforms make it one of the best tools available.
2. MailerLite:
This is a popular tool for email marketing and is also an efficient landing page creator. The best thing about this tool is that it comes in eight languages and hence you can design landing pages in your preferred language.
The tool comes with drag-and-drop functionality and allows you to easily creating landing pages. It is highly flexible and offers complete customization. You can begin trying this tool for free and signup the form for integrating lead generation.
Along with A/B testing, it comes with rich engagement features useful to conduct surveys and quizzes. The specialized custom content block, custom domain, SSL integration, awesome templates, and automatically responsive page creation makes it a great tool.
3. Hubspot:
The next promising tool is Hubspot, which is a prestigious tool that lets you enter into the B2B SaaS world. It comes with a landing page designer along with other tools such as live chat, blogging, CTAs, email, and forms. It is a comprehensive solution that allows launching well-designed pages in less time.
One major benefit of this tool is that it allows you to use CRM features and use the complete range of personalization tools. It is a great solution for email marketing or CRM and comes with 11 pre-designed templates, all of which are mobile-optimized.
The A/B testing element and easy personalization makes it an excellent platform.
4. Leadpages:
Though this tool is quite similar to Instapage, it also comes with various similar features and functionalities. In addition to well-designed templates and drag and drop functionality, it focuses on designing rich solutions for agencies. However, it does not allow building pages for enterprise customers.
It is one of the affordable solutions available that lets you create pages cheaply and fast. From A/B testing to mobile-friendly pages, on-page built-in pages, and integrated Facebook ad builder, it is worth using this tool.
5. Wishpond:
With a unique approach to creating landing pages for different business models, Wishpond is another promising tool to consider. It allows creating landing pages in two ways – Done for you or DIY. It offers a fully-outsourced business model with a team of project managers, copywriters, marketers, and designers.
This great tool lends you the ability to create different kinds of landing pages easily. Using this tool, it is possible to design mobile-friendly landing pages, which can be launched in just a few minutes and lets you integrating custom features to collect information from visitors.
With more than 100 mobile-friendly pages, it offers users other marketing tools like email marketing, contests, and popups.
6. Mobirise:
This is another efficient builder for landing pages that allows you to create straightforward, clean, and impressive landing pages. It is very convenient to create landing pages using this tool without having any coding knowledge. It uses the drag-and-drop feature and holds numerous rich templates offering simplistic designs. Hence, you can design landing pages that are convenient to navigate by the visitors.
It offers more than 200 templates, website blocks, and themes. It comes with a free offline app for Mac and Windows and is very easy to use even when you don't have technical knowledge. It enables fast prototyping and offers user-friendly, ultra-minimalistic designs. Using this tool you can easily design mobile-friendly landing pages without entering any codes.
7. ClickFunnels:
Next, we have ClickFunnels, which is a spectacular tool enabling creating landing pages in just a few minutes. It is a great tool for those involved in the field of lead generation, information, and coaching.
If you are a beginner and involved in the business of selling online content or courses, this tool can help you start a blog efficiently and reduce the workload. It offers an out of the box solution for starters and is very easy to use.
It comes with various pre-built funnels such as opt-in pages and billing pages and allows A/B testing. The main benefits of using this tool are generating sales, running an online event, and generating sales.
8. Agile CRM:
This is another excellent landing page builder incorporated with numerous rich features. It allows creating impressive landing pages with ease. The tool comes with the capability of marketing automation that enables users to design awesome web forms and popups from the current CRM.
Agile CRM emphasizes greatly on lead generation and can be easily integrated with existing CRM. It comes with numerous templates that are useful for all sorts of business and holds advanced analytics. The A/B testing, built-in email marketing, reliable customer support, and mobile-responsive templates can be used when you have zero coding skills.
The code editor, responsive design, and efficient web forms are other benefits of this software.
9. Unbounce:
This is a great solution for digital marketers, which offers laser-focused conversions. It is a great tool to guarantee that you can effortlessly and quickly deploy the landing pages, which convert as crazy.
It is a reliable tool for landing pages and on-page conversions and allows making key decisions, which focus on fast helping users to take the desired actions. It includes sticky navbars and popups to incorporate additional opportunities for visitors to submit an email.
It holds the unique functionality of dynamic text replacement enabling SEM landing pages highly targeted for visitors. With more than 15,000 clients like New Balance, the New York Times, and Vimeo, Unbounce can be trusted.
It comes with more than 125 AI-powered templates and allows AMP ready pages for mobile users.
10. Get Response:
This is an all-in-one marketing tool such as Hubspot and caters to more than designing landing pages software such as Wishpond and MailChimp.
It comes with numerous great features and allows you from getting numerous tools. It is a real tool and allows creating the product roadmap. This tool is very convenient to launch and comes with additional capabilities.
Offering access to more than 5000 Shutterstock photos, it is very convenient to integrate and offer the functionality of A/B testing.
11. Lander:
This one is a great page builder ideal for online marketers or small businesses that intend to launch PPC campaigns, social media ad campaigns, and email marketing campaigns. It is very convenient to use even when one does not have technical knowledge.
It comes with a 14-day trial for free. The tool holds numerous rich functionalities such as A/B testing, elegant templates, drag-and-drop feature, highly customizable templates, and allows creating Facebook landing pages.
You can integrate the landing pages with Facebook and design pages that are responsive to mobile and inbuilt with the feature of auto-fill forms, Google Maps, Google fonts, PayPal, and countdown functionality.
12. Elementor:
Around 33% of the users' online runs on WordPress, the Elementor offers a great business to its users. It is a trusted platform of more than 2 million people and allows launching pixel-perfect pictures without entering any code.
It comes with drag and drop functionality and allows building lists exclusively for WordPress websites. Also, this tool offers an open-source project that offers a range of innovative tools for creating landing pages.
13. MailChimp:
This email marketer builder for landing pages is an industry-leading tool. It offers a host of features and enables creating efficient landing pages easily. As you are expanding your small business, it serves you with more customization features.
Even the content created using this tool allows auto-populating your landing pages and conveniently ties them to the MailChimp campaign.
14. Ucraft:
The next amazing landing page builder is Ucraft, which comes with numerous rich templates and an efficient editor that allows designing like a proficient. It comes with innumerable features and designs and allows creating exclusive landing pages. It is an excellent tool for small businesses and bloggers who need ecommerce functionality with the landing pages.
The software comes with a modern and unique editor and ready to use templates, which makes it very convenient to create and design novel pages. It comes with free design tools and logo maker, SEO apps, SSL features product management functionality, and fast registration process. You can easily use this tool even when you don't possess any technical knowledge.
15. Kickoff Labs:
Designed especially for digital marketers, it is a great solution if you wish to go beyond the landing pages and want to launch viral contests for online marketing. This software lets you establish campaigns with a viral loop like Bonus Referrals, Waitlists, Coupons, Leaderboards, and more.
It comes with 45 customizable templates and is created particularly for viral contests. This tool also includes widgets with a landing page builder tool.
16. Makeswift:
As its name suggests, Makeswift is a rich tool allowing making landing pages much faster and with ease. It lets you create spectacular landing pages even when you don't possess prior technical knowledge.
Makeswift is presently available on the invitation and can be integrated into your website. In addition to slack integration, social media links, A/B testing, chat rooms, and various ready to use templates, it allows you to import the email lists and perform online surveys.
17. Zipify Pages:
Next, we have Zipify in our list, which is an excellent fit for those involved in eCommerce business. This platform was designed to serve the requirements of such businesses. It comes with a drag-and-drop feature and simplifies the process of designing landing pages. Moreover, it offers numerous native integrations that make it convenient to design landing pages.
The tool comes with rich features such as A/B testing, native Shopify integration, opt-in lightboxes, convenient customization, rich library of templates, unique mobile page builders, and allows easy customization even when you don't possess the prior design or technical experience.
18. Brizy:
Undoubtedly, it is one of the best landing page building tools suitable for all businesses. It is useful even when you don't possess prior coding experience. It allows editing stuff in real-time and lets you create sub-accounts for easily managing the projects and clients.
With the help of this tool, it is possible to design multiple pages for various websites of your brand. While this software is always adding new features, some of its rich functionalities are pop-ups, mobile-ready designs, pre-made designed templates, team members, efficient loading speed and can be integrated with popular marketing tools like Zapier, HubSpot, MailChimp, Campaign Monitor, and more.
Summing Up:
The basic features of these landing page builders are the same. However, each one of them offers some exclusive features as well. You can use such tools to design high-converting and impressive landing pages for your business.