Being a blogger or a content writer, you may find it difficult to find relevant keywords for your content. Though there are numerous tools available, it is difficult to pick the best one.
But glad I found an efficient and reliable keyword research tool, KWFinder.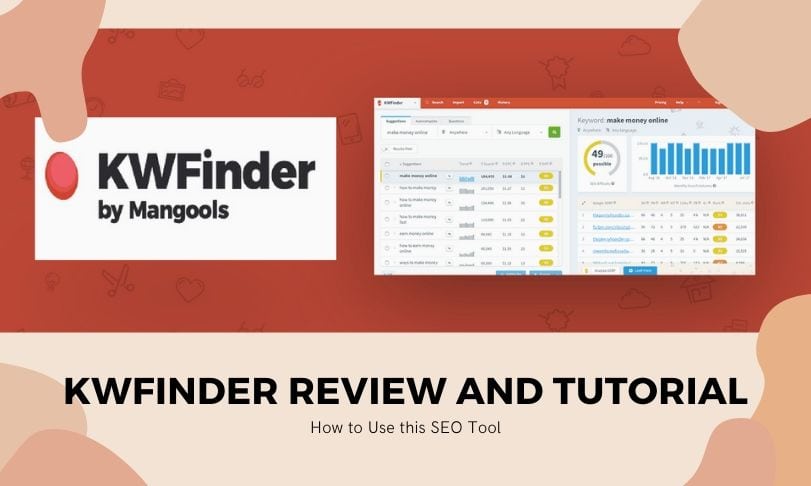 To let all of you know why I picked KWFinder and what makes it better than other online tools for keyword research, here I share a detailed review.
Why You Need a Keyword Research Tool?
No matter how information-rich your content is, it cannot succeed online if it is not SEO optimized or integrated with the correct keywords. Hence, finding appropriate keywords is fundamental to online writing.
Searchers online use keywords to perform searches and gain answers to their queries. For these and more other reasons, it is essential to use an efficient and reliable keyword research tool that can fetch the necessary data you require.
Whether you are a blogger, writer, freelancer, or belong to any other profession, if you want your online content to rank high on the internet, you must invest in a premium keyword research tool that allows you to get the desired results.
Though there are numerous keyword research tools available online, some of them offering a lot of additional features, I suggest using KWFinder, which is an efficient tool with simple features and clean functionality. This way, it will be ensured that you don't get confused with tons of additional features offered.
KWFinder Review – A Brief About this SEO Tool:
Definitely, you want to know what KWFinder holds for you.
Developed by professionals at Mangools, it is an excellent tool that easily finds keywords with low competition and a high volume of search. The best thing is that it comes with numerous practical functionalities.
It enables check different metrics such as search trends of seed keywords, their exact volume of search, and more. It searches keywords considering user experience, and hence, delivers outcomes that are customized and accurate.
The only thing is that you get access to features depending on the package you select.
Some of the prominent functionalities of KWFinder are:
User-friendly interface perfect for modern users.
The precise volume of search for all keywords.
Determines keywords in a particular location.
Highly supportive team.
Estimates competition score for keywords.
How to Start Using KWFinder?
To begin using this tool, you first have to provide seed keyword, on the basis of which you will obtain keyword suggestions.
For example, if you are a designer who wants to attract people to your new apparel, you can start the search with seed keyword 'new apparel collection 2020.'
Moreover, if you want to target audience on the basis of a particular location and language, you can select an appropriate option from the dropdown list like Any Language and Anywhere. It lets you target people within the local reach.
You can find keywords on the basis of autocomplete features, questions, or suggestions.
Once the desired field is selected, you need to click on 'Find keywords' and this will fetch you relevant results.
So, using KWFinder you can get the following details for your keyword research process:
Recommendations for the seed keyword
The average volume of search in 12 months
Graphical illustrations of keyword's performance
Competition score for pay per click on 1-100
Cost per click score on the basis of Google AdWords
Pages ranking top for a particular keyword
Difficulty score for keywords on 1-100
Listing various SEO metrics for different pages like Moz Trust, PA, DA, Shares, and more.
KWFinder Keyword Research – The Traditional Approach
An important thing that you must note is that KWFinder follows the traditional approach for keyword research. It means utilizing seed keywords, entering the same into one tool to obtain a comprehensive list of keywords, obtaining the search volume, and assessing the overall competitive strength.
For example, if you compare the monthly search results of Google Keyword Planner with KWFinder, you will see that the former one shows only ranges.
Moreover, the results obtained with KWFinder are more accurate. The graphical representation of search volumes for one keyword in 12 months can also be obtained to gain a clear idea of how it has performed.
The graphs also offer a snapshot of keyword performance, which makes it convenient to decide whether you want to pick the keyword or not.
Assessing SEO Difficult for a Keyword:
One amazing feature of KWFinder is SEO Difficulty, which allows you to know if you can stand against your competitors or not. With the help of this feature, you can assess the SEO difficulty for one keyword.
KWFinder estimates SEO difficulty for a keyword from 1-100. If a keyword gets a higher score, it means the more complex it is to rank for that keyword.
Also, it highlights the relation to color-coding which goes with the score and the color becomes darker when the competition increases.
The interpretation of different SEO difficulty scores are:
90-100: Completely bad
75-89: Very difficult
55-74: hard
40-54 quite possible
30-29: quite easy
20-29: easy
10-19: good
0-9: awesome
The difficulty score for SEO is the average of following metrics of webpages, which rank on the first page in Google search engine results. The various metrics that KWFinder considers are Domain Authority, MozRank, Page Authority, and MozTrust.
Most importantly, the SEO difficulty score is not the only thing you must take into consideration in order to shortlist a keyword for which you must rank. Also, you have to take into account the level of traffic a keyword receives per month.
Using the SERP Checker:
Only assessing the competition is not enough to determine the difficulty of a keyword.
There is more to it!
Hence, KWFinder brings another great feature – SERP Checker, which lets you further assess the ranking pages that appear on the first page of Google search engine result pages and compete for a specific keyword.
This feature is located at the bottom of the KWFinder. It performs around 14,809 searches in a month and tells the possible ranking for a particular keyword.
The important metrics assessed by SERPChecker for a specific keyword are:
MozRank
Page Authority
Domain Authority
Facebook Shares
Links
Estimated Monthly Visits
SEO Difficulty Rank
Further, there are two buttons at the bottom:
Load More – This functionality is useful if you want to gain more number of pages. You can simply click and check the results and can scroll down rather than clicking one button and waiting for the results to upload.
Analyze SERP – This feature opens a new tab and lets you check keyword for two more metrics, Citation Flow and Trust Flow.
So, once you have assessed your keyword for various metrics, you can click on 'Manage metrics.'
How to Find Other Related Keywords?
You can explore multiple other keywords using KWFinder. One of the ways is to use keyword suggestions where you need to click on the arrow symbol mentioned besides keyword suggestions.
You can repeat the procedure for clicking the arrow symbol for a specific keyword to find relevant terms that can be included in the content.
You can open numerous tabs for comparing results for various keywords that are suggested by right-clicking on that symbol. It will fetch you results in the new tab.
How Can You Customize Results by Using 'Results Filter'
You can select a particular criterion to obtain refined results for a keyword.
You need to switch on the button 'results filter.' It will change its color to green, which implies you can customize results based on your preferences. You can even enter details in areas that you want to customize.
When you are done, you may click on the green-colored button available below 'set filter.'
You can set your own filters such as SEO difficulty and search volume to obtain the desired results.
This is a highly useful feature for writers and bloggers who possess certain data for keywords, which are planned out. And the advantage is that you don't have to design a long list of keywords, which you have to scroll through for achieving low scores of difficult, higher searches, better results, and more.
But you need to switch to the Results filter option in order to take your filters into effect.
Options for Keyword Research – Questions and Autocomplete
Questions and Autocomplete are other features of KWFinder, which lets you, get more variations for each keyword.
Using different keyword variations in your content is a great idea to target more audience. At the same time, they prevent your content from being over-optimized.
Also, using related phrases increases the readability of your content and it enhances the overall user experience.
This feature is quite similar to autosuggest, which allows generating relevant search terms. The only difference is that you enter the search requirement in the form of questions by using question words like what, how, why, when, and more.
The other feature is the autocomplete feature that functions in a way when you are searching for suggestions while you enter a keyword into the search box of Google.
This feature suggests different variations for the same keyword and also generates autocomplete keywords from the Google search.
Instead of using the standalone feature such as UberSuggest, you can conduct a manual search in Google, and the good thing is that KWFinder already incorporates it.
You can use informational keywords for these features to rank for the featured snippets.
Keyword Searches:
One great thing about KWFinder is that it allows performing multiple searches. But if you are a blogger or writer on a budget, you would be glad to know that a cost of $29.08 is all you need to spend for the basic plan, which is enough to perform 100 keyword searches in a day.
So, if you are creating a single blog and design content only for a few days in one week, it would be sufficient for you to perform 100 keyword searches in one day.
Hence, the number of searches performed using KWFinder is enough at this price.
Moreover, KWFinder keeps announcing discounts on a regular basis. You only have to keep an eye in order to buy the plan at a discounted rate. The discount can be as high as 20% of the plan you select.
Best KWFinder Alternatives
I have listed a detailed KWFinder tutorial and review. But there are some of you who may not be convinced of using this tool. Hence, here I suggest some alternatives to KWFinder, which can be used in order to go ahead with your process for keyword research.
1. LongTail Pro:
There are some keyword research tools, which do not automatically calculate the SEO difficulty for a few keywords, and this can be the case with KWFinder. In this case, you can use its alternative, LongTail Pro, which calculates the difficulty scores for all keywords.
Moreover, it is very easy to use this tool.
2. SEMrush:
Another alternative to KWFinder is SEMrush, which lets you know about keywords that drive traffic to your competitor's website.
Using SEMrush allows you to perform reverse engineering, which is a method where you need to enter the domain of competitors first and then unleash the best keywords.
This tool is highly useful particularly for those who don't possess any idea on what keywords will rank.
3. Ahrefs:
Finally, I have Ahrefs, which is a great alternative to KWFinder as it does not restrict the total number of suggestions you get for a seed keyword.
The good thing is that you can expect thousands of suggestions for a specific keyword.
It offers you more opportunities to identify related phrases, which can be added to your blog content and used to avail of higher ranks.
You can review the KWFinder's plan and see that the basic plan lets you get access to 200 keyword suggestions for a single search.
Final Verdict:
Undoubtedly, KWFinder is a great tool that is highly supportive to come up with rich keyword ideas, assess keyword difficulty fast, and assess various pages that compete with each other for different metrics.
Most importantly, this tool comes with easy to use interface, which is well-organized and looks appealing.
If you want to use a practical and feature-rich tool for keyword research that is available at decent pricing, I suggest using KWFinder.