If you are looking for the most efficient WordPress web hosting, you must have heard about Kinsta. In addition to the scalable and developer-friendly solution, Kinsta makes it very easy to manage WordPress web hosting.
But does this means you must go for it?
To let you have a better idea, I hereby sharing my honest Kinsta review. I have been using this tool for a while and am well aware of its benefits and limitations.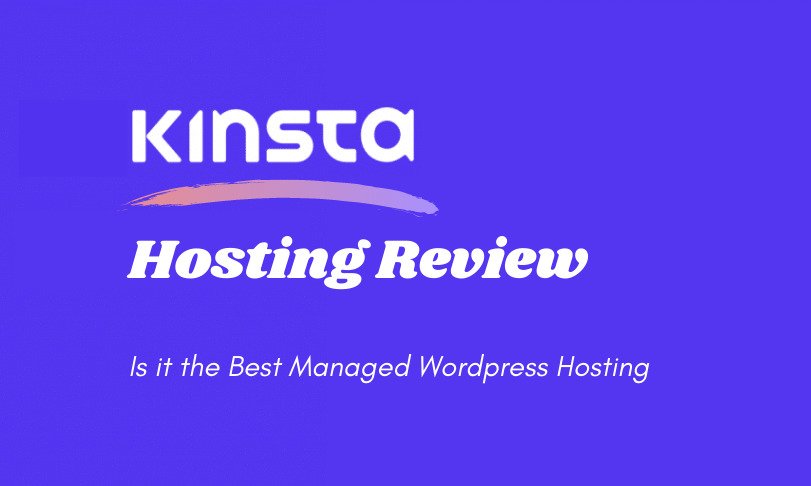 So, here I share everything about Kinsta with all of you!
Kinsta Hosting – What is it?
Founded in 2013, Kinsta is a WordPress web hosting platform that has been working to become a robust hosting provider worldwide. It is an ideal tool for those who are looking for something more than simply marketing campaigns.
Being competitively priced, it works as an efficient tool for most of the users. What you are paying for is available to you, which means Kinsta takes care of most of the aspects related to WordPress website management. At the same time, it hosts your website in an environment, which is optimized for WordPress sites.
All because this tool comes with rich features like backing up, caching, and securing your WordPress site. Also, it saves you time and eliminates the risk of going wrong, especially when you are not familiar with the WordPress functionality.
The Kinsta managed WordPress hosting offers you faster loading time for your website along with fewer performance troubles and less downtime in comparison to the generic web hosting platform. Moreover, Kinsta only offers hosting services for WordPress sites, their entire support staff is highly experienced and is also renowned for solving issues related to the software. Some of them also contribute to the WordPress software.
Kinsta Hosting Pricing Plans:
Before I brief you about the features offered by this platform, let me first introduce to you the different pricing plans.
There is a tiered pricing plan offered by Kinsta for smaller enterprises and businesses. The unique aspect is that such features are the same for all the service plans. You don't have to upgrade in order to get access to any special feature.
The primary differences among these plans are that the space for storage increases with each service level. Also, the more expensive your plan is, the more number of WordPress websites you can host.
For starters, they can go with the Starter Plan. This plan lets you host a hundred websites or more on the enterprise level. Customers who require more options can ask for custom quotes as well.
The price for each plan is labeled as per the number of monthly visitors supported by them and not by bandwidth. Hence, if the number of visitors on your website continues to increase, you will be charged $1 for every 1,000 visits you experience.
Specializations and Services Offered by Kinsta
The hosting is run by Kinsta above Google Cloud Engine. It has its tagline as WordPress at Google Speed.
When a website is added to the Kinsta account, it is possible to select the datacenter among more than 20 data centers worldwide. Each website can be hosted at a distinct location.
Kinsta specializes in hosting websites on WordPress. The company uses containers for isolating deployments and offering a staging website so customers can test these sites before deploying the same.
Kinsta Specialized Features for WordPress:
There are a lot of rich hosting features offered by Kinsta that are great for all websites, even if it is not WordPress. However, Kinsta does not work as a general host and offers a range of specialized features to become the best WordPress host.
So, here are the special features offered by Kinsta for WordPress websites.
1. Specialized Support Team for WordPress Websites:
The support team of Kinsta consists of expert developers who possess extensive knowledge with WordPress and Linux. Many of these developers have engineered WordPress themes and plugins. Also, they have contributed to the WordPress Core.
2. Hi-End Security Measures:
Kinsta is a managed service provider with all its servers being monitored by the security team of Kinsta. The monitoring uptime comes with DDoS attack detection functionality, which regularly scans your website for malware.
Often, WordPress is prone to safety issues and Kinsta protects your website well for the same.
3. Optimized Stack for WordPress Websites:
One of the best things about Kinsta is that it keeps its servers up-to-date using the advanced software, which is of great benefit to the WordPress performance. The advanced PHP 7 version is being used right now along with the LXD containers, MariaDB, and Nginx reverse-proxy.
4. Website Migrations:
There is free website migration offered by Kinsta, which is a highlighted feature and is absolutely convenient for WordPress users.
5. WordPress Site Caching for Popular Plugins:
There are unique caching rules created by Kinsta to let you work efficiently with the popular plugins. Most of them perform great with WooCommerce. It only cache pages, which are static and exclude account and checkout pages, which often alter for visitors.
It keeps the eCommerce website running as efficiently as possible without resulting in any functionality issues for the users.
Kinsta Additional Features:
In addition to these specialized features, there are numerous advanced features offered by Kinsta.
1. Customer and Support Service:
There are free website migrations offered by the company for every plan. There is a temporary URL offered so that customers can easily monitor the migration progress. There is a support team for Kinsta, which handles everything from beginning to finish, with zero or little downtime.
Kinsta employs experts in WordPress in their support team, who have contributed or created to themes and plugins.
The customer support team efficiently handles the dashboard through live messaging, which is available 24 x 7. However, there is no phone support offered by Kinsta.
There is also a knowledgebase offered by Kinsta for the public-facing part full of tutorials and you can also check answers to frequently asked questions to get answers to your queries.
2. Robust Control Panel:
There is one bad thing when the companies hosting websites do not offer a control panel other than the reliable cPanel.
However, there are a few hosts that have been able to design a custom control panel, which is better than the cPanel. The good thing is that Kinsta is among a few with it.
As far as its user interface is concerned, it is intuitive and simple and comes with the pleasant layout and design charts.
3. Dashboard:
The Kinsta dashboard quickly displays traffic levels and resource consumption. Though you can do a lot of things with the dashboard, here are some of the basic things that can be performed.
Checking detailed analytics
Managing redirects
Viewing resource usage
Managing billing information
Add a novel website to the plan
If you are handling numerous clients such as web designers at once, you can link websites to various companies within the dashboard. Also, the dashboard offers a vast log of all the changes, which have been done to the website.
4. Kinsta Infrastructure:
One great thing about Kinsta is its Google-based architecture for speed. There is a range of solutions offered for some of the finest web hosting software such as PHP 7, MariaDB, LXD containers, and Nginx.
There are other versions also supported. The company supports numerous other PHP versions as well such as PHP 5, 6, 7.1, and 7 for stuff such as supporting a specific plugin or testing websites in the newer language versions.
There is also a unique feature offered by Kinsta, which lets you switch between the various versions of PHP with no server migration or downtime required.
There are staging areas offered by the company to its clients for testing websites in a safe environment before it is deployed to an extensive audience. Such a feature is highly safe for users who are creating complex custom web applications.
Moreover, admins can test minute changes before taking things live.
5. Content Delivery Network by Kinsta:
A great thing for all businesses that use a CDN is that Kinsta offers a reliable and efficient content delivery network for visitors. This is offered for free under all Kinsta plans.
6. Kinsta Development Tools:
For superior performance in the testing environment, Kinsta supports HHVM. The HHVM is a virtual machine to execute PHP programs and Hack using in-time compilation. It fits with the ethos of the company offering very swift web hosting. There is a significant speed offered by HHVM over the FastCGI interpreter by PHP.
Hence, you don't have to start anything from scratch as the basic work is already done.
Why having backups is great for you?
Backups are great for developers that do not want to suffer because of accidental loss of data. With the backups available, it is possible to have a clone of the production environment into a development staging scenario to play around with things before merging such changes into production.
Since Kinsta have such environments, so developers can keep separate testing and production environment. When they feel satisfied that their website is working up to the mark, they can deploy the same by just clicking at the 'live' option.
7. FTP Passwords and SSH Access:
The SSH access offered by Kinsta is another great feature of this tool. It implies they can run tools such as GIT and make edits fast to files using the text editors such as VIM. Furthermore, developers can run SSH tunnels to database tools such as Sequel Pro and HeidiSQL.
The users of Kinsta can also alter their FTP passwords with a single click. The combination of ZFS and LXD allows the company to design isolated backups of systems, with numerous backup points available every day. Within the testing environment, developers can also check how well their website performs without messing up with the server.
8. Safety Features:
There are numerous safety services offered by Kinsta such as monitoring response time, uptime, and detecting DDoS attacks. Mostly, it is able to combat such attacks instantly when they occur.
Most of the websites are now moving to HTTPS for safety concerns, and Kinsta accepts 3rd-party SSL certificates from the Let's Encrypt service. Also, it uses hardware firewalls with stringent security settings in addition to daemons, which scan for malware. There is also two-factor authentication available.
9. Daily Backups for Free:
The good thing about every Kinsta's plan is that comes with daily backups for absolutely free. It is possible to create a manual backup for an individual website in the control panel at any time.
If you are running a big website with dynamic content, it makes sense to pay for the backup's add-on on an hourly basis.
10. Payment and Billing Options:
It is possible to pay on an annual or monthly basis for any plan you avail of Kinsta. If you go for the annual payment option, you will get a discount.
However, Kinsta offers limited payment options. It only accepts major debit or credit cards by the same companies, such as MasterCard, Visa, American Express, and Discover.
If you go for a yearly subscription, you get the option to pay through wire transfer. It does not accept PayPal.
11. Money-Back Guarantee:
To my surprise, Kinsta does not offer a money-back guarantee. But it offers the ease to cancel the play at any time and the money is refunded for the unused portion at any time. This makes it a fair option to consider.
Pros of Kinsta Hosting:
Great Website Speed – It hosts various features driven to enhance website speed.
Free Migration – There is free migration offered for each plan.
Trained Support Staff – The support staff at Kinsta is well-trained and experienced in running a WordPress website.
Scalable – It hosts numerous small and large websites, which receive bulk traffic on a daily basis. It is possible to shift from one plan to another at any time.
Robust Security – With a strong security team it offers numerous security features and fixes all security issues.
Cons of Kinsta Hosting:
No Email – It does not offer any email service. You have to install G Suite, which is an additional task.
Price – It is a slightly expensive solution specifically for small businesses.
Banned Plugins – There are a few banned plugins in Kinsta that may intervene with the setup.
On a Concluding Note:
Kinsta is a reliable and robust WordPress hosting platform offering a range of awesome features. It is based on Google Cloud Platform and comes with advanced development features. Though it is quite expensive, it is worth investing in it. You must go for Kinsta if you are searching for an efficient alternative to other WordPress hosting service providers.