Keywords are the main element for your website or blog content. Whether you are planning for your SEO strategy or deciding upon your content plan, knowing the right keywords is an essential step in both the cases.
A good keyword is the first step in the process of generating huge traffic to your website. As a startup or an independent understanding, the right keyword is what makes the difference in your effort to generate leads.
Keywords are in fact, what your users or audience is looking for, Hence tapping into their understanding and mind pay off well in the long run. You might be thinking of spending huge money on a specific keyword, which may not even generate good traffic for you. Meanwhile, your competitor might not be putting any money in it may be getting better traffic.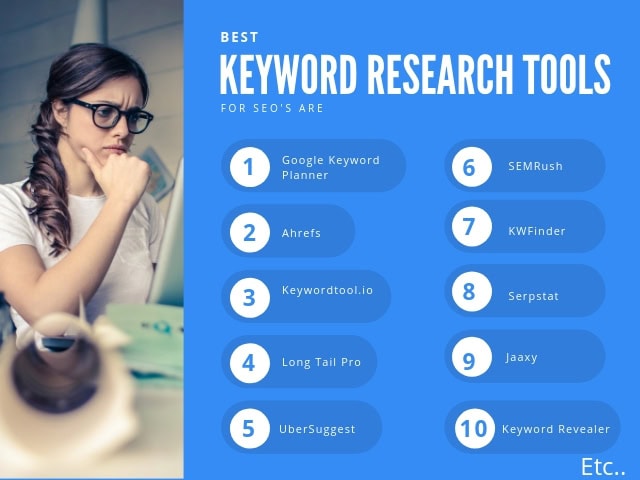 Hence the knowledge of keywords become essential. There are many keyword researching tools which help you to save time and understand further about what are the keywords that are being used or trending right now on the internet.
Let's discuss the 12 best keyword research tools available for you in the market.
Best Keyword Research Tools to Boost Your Traffic:
This is a keyword research tool from Google, also one of the most popular and commonly used tools among advertisers and marketers. It helps in searching the organic keywords which will work best for you.
To begin with, you need to enter the product or service in the keyword planner tool, further mention the landing page or the product category. You can also customize your options to search for keywords.
It gives you the best suggestion for keywords, ad ideas, the volume of each keyword has, and traffic. You can also find the list of new keywords which is used by multiplying the suggested keywords, what are the average monthly searches for each keyword.
This is extremely helpful while strategizing the SEO plan, where you can know what are the good keywords you can target. You can also use this tool to build a good list of long tail keywords.
Another benefit Google keyword planner tool has, that you can bulk upload or download the list of keywords.
It is another keyword tool which is gaining popularity quite speedily. it has various advantages over many other tools. Ahrefs provide you keyword database in more than hundred countries, hence, they offer more precise and accurate data regions.
Their database has more than 3 billion keywords, which gets updated every month regularly and provides accurate information on search volume. Another benefit this tool offers is the keyword difficulty score, which allows you to see the best possible keywords that can be used by you.
This is the only tool which has the system of click metrics, meaning, it explains you the number of clicks a certain keyword can possibly get. Its advance metric tools show you the detailed information about searches, paid clicks and much more.
Its keyword explorer tool provides you the data on the basis of phrase match, keywords with the same terms, along with ranking and search suggestions. Their volume search for a keyword is far more accurate than the Google Keyword Planner tool.
The free tool is good for those who are just beginning to learn about keyword research. The advantage of this tool is that it gives you a list of keywords as per the search engine, namely Google, Yahoo, Bing for free.
It provides huge resources for the keywords which can easily be used for blogs and other online articles. If you are looking for any suggestive questions for a keyword, this tool does that efficiently.
The free version of this tool is limited, to access more of its features one has to go for its paid version. Where to get the information on volume CPC, a competition of a specific keyword and other metrics.
A premium and a powerful keyword tool, Long Tail Pro is quite popular among many who delve into researching keywords. This tool can give you some of the best keywords which even Google's keyword planner tool misses out on.
To use this tool is easy, you can just mention the keyword for which you are looking for the information.
It also helps you in finding the long tail keywords, which can be searched ahead with specific targets like that of a country or specific region.
You can further find the information based on a search engine like Google and Bing. Long Tail Pro can suggest you about 800 keywords from one, the trick here is to know which are the relevant keywords for you and use them.
It is a well-known keyword research tool, which can suggest you with a wider range of keywords by simply appending letters at the end of the keywords. It is best used to find the long tail keywords or if you are looking for new ideas for your blogs and articles.
UberSuggest works similar to that of Google auto suggest concept. Wherein it shows you the multiple keyword suggestions based on your search keyword.
This tool does not provide information like search volume, traffic or any other competitive information. But it is a good alternative for Google keyword planner tool if you are searching for a huge number of relevant keyword ideas.
SEMRush is one of the most popular keyword research tools because of the fact it provides a lot of information about your query. It shows you what your competitors are using the keywords, other information about the traffic generated and other popular keywords in a similar domain.
Other than that, SEMRush shows you the multiple variations of a single keyword as the best alternative to be used. If you are looking for long tail keywords which have low volume, then SEMRush is the best tool to make the right suggestions.
It has the database of about 28 regional keywords in 16 different languages, thus, a keyword tool which offers right information for a multilingual website. With its effective competitive analysis for keywords, you get a good insight as to what is being used by your competitors.
KWFinder is a free tool which is quite efficient and apt and provides sufficient information about keywords. With its user-friendly interface and easy to use a feature, with KWFinder, it is easy to search for keywords.
Mention the keyword that you need to find the information then you select the country for which you are looking for. It is good to know about long tail keywords suggesting with low competition for that keyword.
KWFinder helps you know about the trending keywords in the past twelve months, that have generated a lot of traffic and searches. One of the biggest features of this tool is that it let you look for the keyword in your specific area. Hence, it makes it easier to know the popular keywords the users are using to make specific searches.
Serpstat is functioning since 2013 and has been considered one of the best keyword research tool. One of the best features this tool offers is that it let you know the best keywords used by your competitors, which is helpful when you are re-strategizing your SEO plan.
It has features where it let you know about the search volume, cost per click, competitive level, and other necessary information about a specific keyword. If you are looking for a good number of variables for a specific keyword, then serpstat is best in this. Also, it suggests some of the best long-tail keywords, that can generate a huge amount of traffic.
It also delves into the target specific keyword data too and shows up the list of trending keywords which can come handy for your blog.
Jaaxy has a free version which let you go through some of the best features it has to offer. If in you find it worth it then it is good to go ahead with the paid version because it offers various other benefits.
Jaaxy shares the keywords insight which is independent of Google keyword planner, hence, it brings you the hidden lists of keywords which in general might be difficult to know. With this it also tells up the level of difficulty for a certain keyword and if it worth spending money on.
The best feature Jaaxy offer to you is the in-depth analysis of your competitors. Which let you analyze the website content structure, how the quality of the content is, backlinks and their quality, ad placement and a lot of other data.
A perfect keyword researching tool, which gives you the fastest results on keywords without putting much effort into it. Keyword Revealer finds out the best of the hidden keywords which have good traffic and are highly cost-effective.
It also explains about each keyword if it is worth targeting or using in your content plan as per the product and service offerings and further compares with the competitors. it is one tool which also helps to find the best possible websites, which you can use for link buildings.
Visually their dashboard is simple and clean hence making it user-friendly. They have other features like "saved searches" which allows you to save the research done by you. With another feature "Today's Searches" it shows the latest and trending keywords for that particular day.
Another advantage of this tool is that it let you find out the trending keywords on platforms like Reddit, which can be used to get the higher ranking of your answer.
One of the most popular and highly used keyword research tool in the world of marketing. Moz never disappoints with the results it generates for its users. The best advantage with Moz is that it never stops coming up with new ways of researching and ideas for a keyword.
Moz like any other tool proves the best possible keywords that can be used with volume and difficulty. But the feature makes Moz stands out than other tools is, it shares you the information about the click-through rate of individual keywords on SERP. Mentions the best use and how critical that specific keyword will be for your campaign.
It also helps you to prioritize the keywords as per the ranking helping to understand the right use of each keyword to be made.
It is not like your regular keyword research tool but if used wisely it can generate results better than most of these tools. If you have fa ew selective keywords for which you want to know the popularity of keywords.
By mentioning two keywords you can see which keyword is currently popular in the market, further, helping you to understand which one will work best for you in your niche.
Another beauty of this tool is that it shows you the visual representation of each keyword showing the popularity region wise.
Google Trends is not generally used for researching keywords but it is one of the most cost-effective ways to learn about keywords with better results.
We have discussed the best tools for you to know about the keyword which will benefit to you. It is important to understand that keywords are a dynamic entity on search engines. A keyword which is trending one day might not be popular the next day, hence, to know the right keyword for its application is requires constant research and effort.
With this having the right knowledge about keywords also become essential. Which means that the type of keywords which are there, like long tail keywords or short tail keywords. As this is the kind of knowledge give allow you to think about the SEO and content strategy you would like to work on.
It does not matter whether it is a large organization or a start-up, keyword analysis and research is essential for both of them to stay ahead in search engine ranking. Ensure that depending on the results to regularly make some necessary changes for your content and incorporate updated keywords to generate effective traffic.