Search engine optimization is a very useful process for any type of website. It can be beneficial for your website growth. Here we will be discussing jewelry SEO techniques and how jewelers can use SEO to optimize their websites.
Like every other e-commerce website, SEO for jewelry is useful to attract your target audience. Nowadays there is a huge competition in every niche and websites are trying to stand out in the competition using various optimization techniques.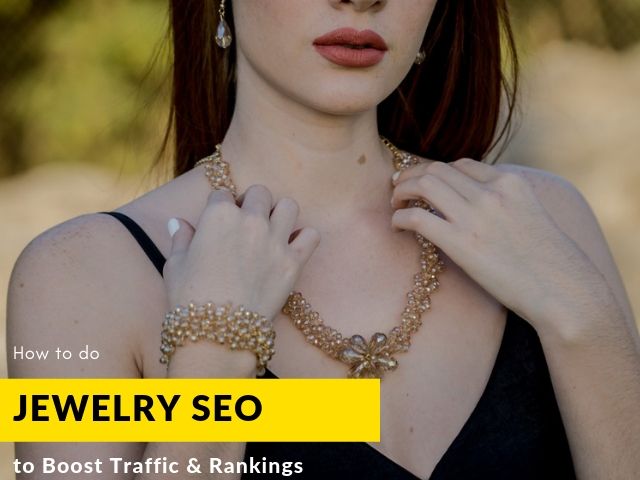 If you are running a website that sells jewelry, this article will help you to learn various techniques that can be used for optimization. Before going to further points you first need to learn about the term 'search engine optimization'
What is Search Engine Optimization (SEO)?
Search engine optimization is a technique that can be used to optimize the website for search engine. There are certain guidelines you can follow while creating your website. These techniques can help your website to get listed under the top search engine result. This is what search engine optimization deals with.
If you are running a website and not concentrating on SEO then we cannot say that this website's contents will come on the first page. There are thousands of similar content and search engine only lists contents that are more relevant to the search query.
Contents that are not on the first page will not get any traffic as most people believe search engine results and try to find their answer from there. If they cannot find the result on the first page, then only they go to other pages. Just by doing some optimization techniques, you can bring your content to the top position and get a better ranking. This will help you to get a greater number of views and it is how you can use SEO in favor of your website. Avoiding it is also fine, but you cannot expect people to come to your website and see its content if it is not on the top search results.
Types of SEO:
Search engine optimization is a very important factor for your website. There are various factors that affect search engine optimization.  There are mainly two types of SEO
On-Page SEO:
On-Page SEO deals with factors that can control on your website.  On-page SEO factors include keyword optimization, title tag, URL optimization, internal linking, etc.
Off-Page SEO:
Off-Page SEO deals with some factors that occur off your website. Backlinks, page loading speed, mobile optimization, social media marketing, etc are some important Off-page SEO factors.
Tips that can help you to start a website and start getting more traffic.
Jewelry SEO Tips for Who Aren't Tech Experts:
Shopping concept of the new generation is different now. People used to go out and buy jewelry directly from shops. But now that habit changed, and people want to make their shopping easy. Online shopping can help them to save time for shopping. To get a good reach you can implement some optimization techniques and attract more traffic towards your website. If you can follow these jewelry SEO factors, you can easily achieve your traffic target.
1. Create a Google Analytics account:
Google analytics is a very important factor that can help you in search engine optimization. This is a free tool you can use for your websites to get a great insight into the performance and factors of your website that can affect it.
You can get daily/weekly/monthly reports and analyze how your website is going to function when you change certain factors. The tool is a great companion for your optimization tasks and can use it for your favor.
2. Use Google search console:
Google search console is also very useful when it comes to your search engine optimization. You can check your website health by submitting a page to it. It can be used for auditing your website and optimizing it whenever needed.
Use it for SEO sitemap creation and site auditing purposes. This is also free to use by creating an account. Use it for optimizing your website for search engine and make your contents more reachable.
3. Business listing sites:
You can do one more thing to get more popularity online. List your business in one or more popular business listing websites. Google itself offers Google My Business for you to list your business. It can help your business to appear when someone searches for one in your niche.
Also, they can leave reviews and comments online. Online reviews are very important nowadays and customers always search for reviews before buying a product. In order to get more popularity online, you can list your website and encourage your audience to leave their reviews on your page. Negative reviews will also be there which you can use to learn new things.
4. Keyword optimization:
Keyword optimization is very important and can help your content to be popular online. Here you are including words and terminologies, your audience is likely to search for to get a topic related to yours. You need to find out these keywords using any keyword research tool. There will be words which are more competitive and popular. Stay away from those types of keywords. Always use the keyword which has a smaller number of competitions.
Long tail keywords are also useful and are getting more successful than using specific keywords. If you are trying to get on the top position, you can research a little bit on keyword and use them appropriately in your content. Overusing keyword can harm your website as Google started to penalize those types of websites. So, while using keywords, use them at a moderate level and help your content to get a better ranking position based on keyword relevance.
5. Meta descriptions:
When you write meta description it is a better way to be specific. Describe what your content is all about in your meta description. It can help your audience to identify what you are trying to say in your content. Google will also take meta description into consideration while indexing websites. You can include some relevant keywords in your meta description so that it can get a good ranking and a greater number of people will come to your website.
6. Include blogs:
If you are running an e-commerce website it is a better idea to add educational contents and blogs. They can help your audience to know more about the concept and topics you are covering.  Including blogs can help your audience to learn something from your website than using it only for the shopping purpose.
When it comes to jewelry business you can mention about the type of jewelry, diamonds, making the process, purity measurement, etc. Such types of blogs can help you to make your website more authoritative and a good source of information than just a shopping website.
7. Email campaigns:
Campaigns and promotions are known as an integral part of a business nowadays. An email campaign can help you to get attention from more audience. You can customize some offers and send them to your customers so that your customers can purchase whatever they want.
To get email contact of your customers, you can add a newsletter sign up on your page. Offer them exclusive discounts while signing up on these newsletters. Don't just send any random emails to any of your customers. Just target your audience and send a customized email for them.
8. Link building:
When you sell jewelry through your website, it is very important to optimize for a better ranking position. If your website cannot get listed under top 5 position nobody is going to buy from that website. The best way to achieve this position is through link building. You can use link building strategies and try to get as many quality links as possible. The number of links is not a big thing when it comes to ranking, but the quality of these links matters.
Make sure to get quality backlinks to your website and make it popular. You can use internal linking and list popular picks on your website with every search result. As the number of links increases, Google will understand the authority of your website and this can help you to earn a good ranking.
9. Personalized Emails:
Other than email campaigns, you can also send direct mail to your customers on a special occasion. Be it a birthday or a wedding anniversary, you can send discounts and offers to your customers. It can help to create a better bonding between you and your customers.
Customers always support a brand which offers them quality products on a better deal. To get their trust, you can send them offers and discounts on their special occasion and deliver a better-quality product. Also, send a card to wish them a happy day through direct emails which will create a positive impression about your business.
10. Video marketing:
Videos and images are very important for an e-commerce business. Most websites use images of the products and it can help the customers to easily select the product.
Videos are more powerful than images. You can include a good clarity video and share it across the social media platform for users to buy the product by attracting to the video.  It is easy to show various angles of jewelry through a video than an image. So, you can be surer about creating a video and promoting it online. They are more powerful and earn a better outcome than you expect always.
11. Page loading speed:
Page loading speed is a very important factor in SEO. Make sure to optimize the loading speed of your website and keep it to an optimum of 3 sec. If your page takes more time then it may affect your page performance. This is a problem most e-commerce websites face. The reason could be many such as a slow server, image resolution etc.
Find out the reason for slow down and make sure to optimize the page for faster loading. Your website will load faster if you take care of these factors,
12. Mobile optimization:
Mobile optimization of your website is also a factor that can help you to get a performance. Most people do their shopping on their mobile device. So, you need to check the mobile compatibility of your website and make sure that your website can work well with a mobile device. Pingdom is a tool that can help you to test mobile compatibility.
13. Social media marketing:
Social media marketing is very important for every business. This is the best place you can reach to your customers easily. Promote your brand on various social media platforms and ensure maximum reach. There are various social media platforms available for your brand promotion. You can find out the most popular platform where your audience is most active.
Promote your brand on social media platforms so that maximum audiences can see your brand. Give regular updates about your products and new offers. This can help your audience to know more about your brand and be a part of its every update.
14. Analyze your performance:
If you are looking for a better performance of your website, you need to analyze the result better. Use various tools to analyze the performance of your website and see how each strategy works for you.
Websites can monitor the performance of a website and change their strategies to work better. A/B test is very popular among webmasters and it can highly improve your website response. Check the performance of keywords using SEO tools and change it as per the performance.
Conclusion:
These are some important points you can do to optimize your jewelry website. The process cannot happen overnight. It may take some time for you to see good results after implementing your jewelry SEO techniques. It is changing constantly, and you need to be updated yourself more often.
Update your website as per new changes and see the amazing response you get. When customers see a brand more often wherever they go, they will remember it forever. This should be the strategy you should follow. Follow your strategies and make your website popular online. Jewelry is something everyone will love to buy. Use this as your moto and work for it.