While Instagram boasts of having more than 800 million active users on a monthly basis, YouTube feels pleased sharing having more than 1.47 billion users.
These benchmarks might surprise you! But more than a surprise these statistics make it more mystifying that which among the two platforms is the best.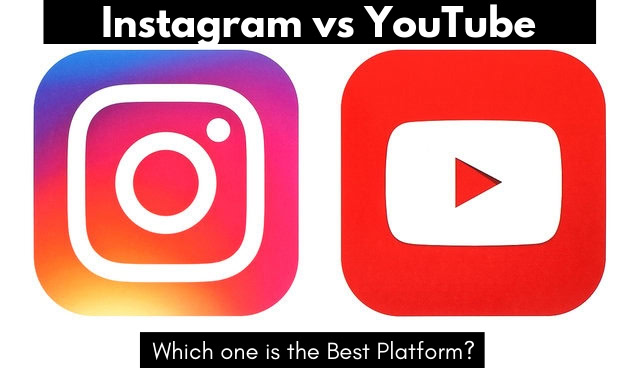 'Instagram vs YouTube: Which one is the best platform for influencer marketing,' this is a tough decision. And if this question is hitting you often a number of times then this post can surely help you.
This post explains everything about the usability of Instagram and YouTube for influencer marketing. I am sure that by the end, you will be able to make the correct decision and select an ideal platform for you.
So, let's head towards reading all of it!
Instagram vs YouTube – What the Statistics Say?
Before we start comparing the two of the most popular and trusted platforms in the world, first let's quickly glance at the important related statistics.
YouTube:
YouTube subscribers are highly inclined towards their YouTube stars or content creators. The reason behind is that 8 out of 10 relate better with them as compared to stars or celebs in movies and television.
Approximately 45% of millennial have confirmed that they have firm belief over their favorite YouTuber than their friends or closed ones.
Any video created by one of the top 25 stars on YouTube is viewed 3 to 4 times more than otherwise. Even, such videos receive 12 times more comments and result in 2 times more actions as compared to the videos drafted by traditional celebs.
If you are a YouTuber with 1 to 3 million subscribers, then your average is $124,000 per post.
More than 20% of the respondents confirmed that they find YouTube more engaging and driving as compared to other platforms for any kind of sponsored content.
Instagram:
With more than 14 million sponsored posts, influencer marketing forms a $1 billion industry on Instagram.
The top 50 followed influencers on Instagram hold a combined following count of more than 2.3 billion.
Approximately tens in millions of individuals make money with Instagram. The top-rated Instagrammers can earn around tens of thousands of dollars for each post, which sums to $500,000 in a year.
A survey comprising more than 20000 consumers stated that 48.4% among them find Instagram more engaging with influencer content.
Aspects to Consider for Picking Instagram vs YouTube:
You definitely do not want to ruin your influencer marketing campaign by selecting an inappropriate platform. Hence, to make the right decision, you ought to consider some important aspects.
Consider Relevancy:
First, figure out the total number or percentage of target customers you can find on each one of the platforms. Check these numbers for both YouTube and Instagram.
Think about Resonance:
The second aspect is related to the potential engagement generated by an influencer from a loyal, relevant, and valuable audience to your brand.
Estimate Reach:
Finally, consider the total number of individuals you can potentially reach with your influencer content on a specific platform.
Instagram for Influencer Marketing – Why It is an Ideal Choice?
It's true that YouTube is an excellent platform for sponsored videos. But if you talk about Instagram then it is undoubtedly awesome.
The sponsored content on Instagram is consumed quickly. In addition to this, you have to spend less money on influencer content on this platform. If you have busy customers who don't have much time to watch lengthy videos, then Instagram is an ideal choice for you. It is because short stories and videos on Instagram easily get consumed.
Presently, influencer marketing hosts worth of 1 billion dollars on this platform. It is expected that by the end of 2019 this figure will be more than 2 billion dollars.
With more than 800 million active monthly users, Instagram turns out to be a highly beneficial platform for brands and influencers. If you create attention-grabbing, relevant, and rich content then this can bring more potential leads and customers to your brand.
You can even influence a user's engagement with visually appealing content. Additionally, it will help to augment the number of followers for your brand.
YouTube for Influencer Marketing – Why It is an Ideal Choice?
Now let's glance at the aspects that make YouTube an ideal choice for your influencer marketing campaign.
Considering the global statistics, YouTube is the second most visited platform. With more than 1.5 billion active users on a monthly basis, it is a rich resource for every niche. And with every passing day, its popularity is increasing to a great extent. You can find content related to fitness, beauty, travel, food, and other niches on YouTube.
The popularity of video marketing has increased tremendously and accounts around three-quarters of web traffic. The content on YouTube is not just high-quality but is evergreen and search-friendly. The best thing is that it has a long lifespan. Hence, if you publish a sponsored video on YouTube then this can bring great returns to your brand.
Yes, it's true that there is a cost associated with the creation and production of videos and this cost is more than the cost of creating content for Instagram or SnapChat stories. But if it succeeds, it can bring you immense profit to your business.
Instagram vs YouTube – Key Advantages
Both Instagram and YouTube have innumerable benefits. But let's explore some of the prominent benefits of these platforms for influencer marketing.
Instagram:
It is an excellent platform for product branding and to gain more visibility among relevant audiences.
Creating content on Instagram is cheaper than creating content on YouTube. But the lifespan of content is longer on YouTube and shorter on Instagram.
An excellent thing about Instagram is that it lets you reuse the images once your marketing campaign is over. The only thing is that you have to take permission from your influencers.
This platform works great for brands related to travel, food, beauty, fashion, fitness, and lifestyle.
YouTube:
YouTube is wonderful to boost brand sales. This is particularly when influencers share their reviews and feedback on specific products along with the link to purchase in their video description.
Once you are able to engage audiences on YouTube, it is possible to measure results easily.
Video content on YouTube will have a long span of life and you can reap benefits with it even when the campaign is over.
YouTube is ideal for all kinds of brands including gaming, entertainment, beauty, fashion, lifestyle, cooking, and all others.
Tips to Find Influencers on Instagram vs YouTube
During the conventional days, Twitter and Facebook were used to be the best platforms for marketing. But nowadays the influencers are more active than ever on Instagram and YouTube. It is because visual content is more appealing and engaging and more effective than other kinds of content.
So, if you wish to avail the best results, you ought to leverage influencers on Instagram as well as YouTube.
Here check some ways that can help you learn to find influencers on both these platforms.
1. Engagement Rate:
The engagement rate is the most important factor to consider for identifying influencers. On a usual note, engagement rate can be defined as the percentage of the number of followers who get engaged with your content out of the total number of followers. This way, if your content receives a higher engagement rate, then your influencer marketing will be more effective.
Let me explain this by giving an example. Some platforms may have a higher number of followers as compared to their competitors. But there are instances, like one between Grace Helbig and Kelly Ripa, where Grace has a higher engagement rate than Kelly. This clearly indicates that Grace's influencer marketing campaign is more effective than Kelly's.
2. Genuineness:
A content that is edited hundreds of times or is photoshopped is unable to attract audiences. Rather it can be a big factor for your audiences repel. Therefore, influencers must avoid practicing this under all conditions.
It is alright to practice little editing, but you can successfully attract and engage your audience if your content is authentic and genuine.
3. Strong Sense of Visual Aesthetics:
Both YouTube and Instagram have one thing in common. It is that both these platforms welcome and market visual content. So, if you want your content to be successful on YouTube as well as Instagram then you have to create content that is visually appealing.
Audiences would love engaging with content that is attention-grabbing and has pleasing aesthetics. You can achieve this only if you have a strong sense of visual aesthetics. To develop a better understanding in this context you must visit Instagram and YouTube feeds on a regular basis and analyzes their content quality.
4. Maintain Uniqueness:
Another easy and effective way to get influencers on these visual platforms is delivering original and unique content. It is not important to serve visually pleasing content. Equally crucial is to ensure that your content is non-repetitive and is your own. With a unique style or sense of knowledge and humor, it will be easier for your influencers to engage the audiences.
A wonderful example of this is a successful and famous YouTube star, Jenna Marbles. People love her because of her unique sense of humor. She always delivers videos that are authentic, filled with fun, and easy to relate with. With constantly sharing such content, she has been able to earn more than 17 million YouTube followers.
5. Don't Compromise with Quality:
Just put yourself in place of your audience's shoes and you will know why a disturbed audio and improperly shot video is unable to succeed. It is clear that audiences out there prefer engaging with videos that have awesome audio, stable video, and proper lighting.
This holds true for images too. Be it a video or a photo, delivering high-quality is of utmost importance. No one wants to spend his time watching low-quality images.
It is not necessary that the content is shot and recorded by professionals only. But yes, it must be appealing to the audience and must be free from at least the basic errors.
6. Select an Appropriate Niche:
You might be delivering high-quality and original content framed beautifully. But if your target niche is not correct you will fail to reap adequate benefits.
Your selected influencers must belong to niches, which align properly with your brand. For example, if you are a dance style brand, you must collaborate with experts in the industry like dancers, choreographers, and others.
7. Maintain Consistency:
Posting appealing content is one thing and maintaining consistency is another thing. No matter what you practice, it is essential that you practice it regularly. This is one of the most important aspects besides other things and even a major reason why most of the brands or businesses fail with their influencer marketing campaign. It is because they lack consistency.
For YouTube, you must post content once in a week but for Instagram, you must post content on a daily basis. This is a highly effective way that can bring you more influencers. So, when you are looking out for more and more influencers do monitor your posting frequency on both the platforms.
To Sum Up:
Both Instagram and YouTube deliver their own share of benefits for influencer marketing. Both of them are excellent options when handled individually. However, if you really wish to achieve immense gain from your influencer marketing campaign, then following a cross-platform strategy is the best way to go.
While the content on YouTube can help you share detailed content and have a longer life span, content on Instagram has a shorter span and is great to share limited information in a cost-effective way. Instagram can also help you reach audiences faster.
If you follow a cross-platform campaign then you will definitely reap better results. So, plan a strategy that is designed for both these platforms so that you are able to find audiences easily and does not miss even a bit of it.