Instagram is one of the major social media sites most people are addicted to.
It got introduced in 2010 and the growth it got was totally unexpected.
Now, this is an app with more than 700 million users all over the world. Search engine optimization is very important when it comes to content marketing.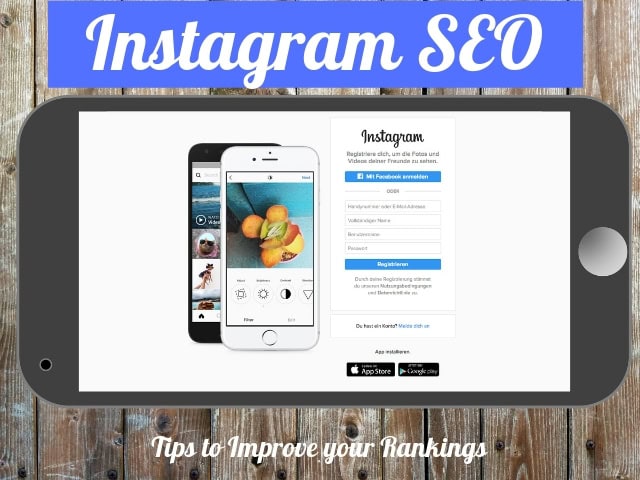 We adopt many methods to achieve our marketing goals. One of them is social media marketing. Facebook, Twitter, Pinterest, etc are some of the popular platforms.
Instagram SEO:
Many think about how can they use Instagram for SEO improvement when it is basically a platform to share images and videos.
When we use Instagram for your marketing purpose, you can create one for business. There you can ask people to follow your business and upload various pictures to your profile.
Many marketing experts say that social media is not a ranking factor to Google. But if there is social media engagement in your business account that means you will get more inbound links, low bounce rate, and increased traffic.
We cannot neglect even a small thing that can improve our site's traffic. There are many webmasters who think that creating quality content is the main thing. Actually, that is right.
The content should be of high quality but with quality contents, there are some additional things you can do to optimize your website for both search engine and users.
But what about using Instagram for SEO. Here I am discussing various possibilities you can try on Instagram, to improve your site SEO.
Instagram for SEO – Why choose Instagram as a marketing tool?
There are so many social media sites available to use for marketing. But most marketers prefer Instagram.
There will be some reason behind it. Here are the reasons why they pick Instagram as a proper marketing tool
Huge popularity:
One of the most important reasons to choose Instagram as an effective marketing tool is its huge popularity. This is a growing platform with 700 million users as of now.
You can improve your product reach by advertising on this platform as most users love to see their favorite products on Instagram.
Create Ads:
This is one of the best platforms you can use to create ads without interrupting your customers.
When you publish ads, it will appear on their news feed without intruding their search experience.
Market with new features:
While marketing visual elements the audience will notice your brand well. Instagram also lets you market your product in a new and innovative way with features like time-lapse videos, behind the scene photos, etc.
Hashtag marketing:
Now hashtag is everywhere on Facebook, Twitter, etc. But nothing became popular as an Instagram hashtag.
This helps you to market your product and also makes it easily identifiable.
Effective campaigns-: You might have participated in many campaigns on Instagram before. Users will accept your Instagram campaign and will make it a huge success.
Improves traffic:
If you can create curiosity among users about your website they will surely visit it. This can bring a huge increase in your traffic and number of followers will also increase.
These are some advantages of using this platform to market your product/service. Marketing is a huge responsibility.
If you want to succeed in this field, creativity is very essential. People always accept new innovative ideas.
Like that, if you can bring something new to your Instagram account, that is a great thing. For newcomers who want to handle their Instagram account themselves, there are some basic things to follow.
Instagram SEO marketing strategies:
You can post any relevant images on your Instagram business account. The images should be catchy and attractive.
Make sure to use it regularly to make your Instagram account active, which is very important for optimization. Here are some tips you can try out on your Instagram account
1. Complete your Instagram profile:
When you want to use Instagram for marketing purpose, you need to use a business account. Complete your profile by adding your site name, profile picture related to your site, and with a short description.
You can also add the link of your website on your profile. After all these you are done creating the profile.
Next step is to find out suitable images or infographics and post it. It will take some time to reach the goal. You have to continue your effort consistently.
2. Link with all your social media profiles:
Whenever webmasters create contents they include all social media buttons on its side. Users can click on it and link with your social media accounts.
Like that you should link your Instagram account with all other social media account. Then only your followers will know that you have an Instagram account.
You can also add your Instagram link on your website also. This can create an awareness in your followers about your Instagram account.
Cross-platform promotion is very important in marketing. When you post something on Instagram, you can post the same image on other platforms like Twitter or Facebook.
Like this, you can gain more likes, comments, and shares easily. This is the greatest proof of user engagement and that is what Google looks for when ranking your site.
To be active and engage your audience, this is the best way to do. This can increase your site traffic and more links to your site which go well with your SEO.
3. Post more lifestyle images:
When you promote a product/service nobody wants to see your product images again and again. That's very boring too.
If you want to post the most realistic images or bring your product into a real-life scenario, this can create more audience engagement and that is what you want.
Images with face work more effectively than one with product or scenery.
Make sure to share an image with good quality using tools. Instagram is an image sharing tool and you should use images with good clarity. You can also use behind the scene photos, story storms, etc.
4. Use effective hashtags:
Unlike other platforms, hashtags are very important in Instagram to get noted.
You can use an effective hashtag to reach to right users easily. That's why it says that hashtags are very important.
When you post something, make sure to use the quality hashtag so that your brand can reach to users who share a common interest as you.
You can use your own hashtag and combine with some popular hashtags on Instagram.
While using most popular hashtag there is a chance of getting lost in the sea of thousands of others who uses the same.
You can avoid this by choosing a moderate one.
The main aim of using Instagram is to create brand awareness and using the right hashtag will help you with it.
Using it effectively can slowly reach up to your potential customers and improve search ranking.
5. Follow your competitors:
There will be strong competition in any field. You can research what your competitors do to improve reach. This can make as your benchmark and try to perform better than them.
Following your competitors will help you to get more idea about what they are doing. If you found any interesting pictures that are relevant to your content you can like and comment on it.
Actively engaging in another post is a better way to create visibility in this huge platform. If your comments are valuable, many users will notice you and will start following you. This can improve your traffic and SEO.
6. Be consistent:
Consistency in posting is very important when it comes to marketing. A blogger should make his site active by posting regularly.
Like that in every social media account, consistent posting is very important when it comes to marketing.
You can schedule a particular time every day to post. Research well and find suitable time then most of the users will be active. If you can follow that schedule more users will see your post and will be beneficial to your SEO efforts.
If you post daily and stop it for some time then most of the users will forget you. So, post consistently and check your performance on an analytic report from Instagram.
7. Conduct contests:
Running contests and giveaways are great to get the audience to engage. Whenever a company wants to promote their brand online, the first effective way is to conduct contests.
Instagram is the right platform for that. You can create a contest and ask your followers to share it. Offer something interesting for the first few shares.
If your users found that gift interesting, they will share your post and it can reach to a wide audience. So, giveaways are very beneficial and even you can include an influencer to it.
Adding influencers to these contests can bring huge success. Find someone from your field with many followers and can influence people well. Tell him to share your contest within those pages and this will go to another level then.
Expert says that including influencer can bring a high conversion rate which is very beneficial to SEO.
The Instagram post is of short life span and it is essential to reach to more audience within a short time. You can choose any suitable option for that and see its positive impact on your Instagram SEO.
8. Include call to action:
Call to action will also work here. We need to implement any action that can bring more traffic to your site.
For that, you can include some compelling call to action suitable for Instagram. Basically, this is a photo sharing platform.
So, you need to add a call to action accordingly like share photo, like a photo, etc. You can also add your location as a call to action. This is very beneficial to most of the brands. Instead of typing, you can also add a call to action in visual too.
9. Increase brand awareness:
Instagram is a platform where a simple photo can create an awareness of your brand. So, when you pick photos to make sure to fit into your brand well.
Anyone can do marketing on Instagram easily. While doing it make sure to choose appropriate photos that can connect with your product/service.
Natural pictures will also work. Make sure to polish it with a photoshop tool before posting it on Instagram.
When you upload pictures add link of your website on your profile. If the link is long you can use a URL shortener. Upload pictures without spamming your profile. When posting one picture, add a link of content related to that image.
Change the links according to your image. This will help to drive more traffic towards your site.
If the image is of good quality, then the number of people who click on the link will also be large. This is the main aim of SEO to attract more traffic.
10. Sponsored Advertisements:
As I said above, Instagram is a platform with more followers. If you can spend some money to advertise your product you will get benefit out of it. Many users love to watch product ad and they can affect their buying decision also.
Like that, if you can spend some money and create an innovative ad to attract more customers, you will get more leads and sale with this.
The main aim of using this platform is to create brand awareness. To do that, creating an advertisement is the best available option.
Final words:
You can follow these tips while using your Instagram business account. If you can use it well, this is one of the best options to drive more traffic towards your site.
Like optimizing your site for search engine, you need to do the same here also while doing Instagram SEO. Keep your targeted audience in mind while choosing an image to post. It should be attractive to your prospective customers.
So, are you ready to explore this new platform and turn it your traffic attracting tool?
Act without waiting. Try this and see your result.
You can see rapid growth in your site traffic.