One of the rising social media platforms presently that holds about seven million users is Instagram. There are about a billion photos to be viewed in this famed platform. In that manner, influencer marketing is the trend now with more opportunities.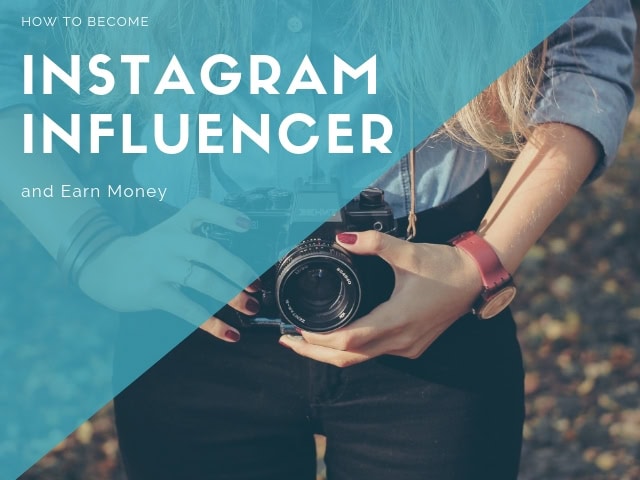 The fact is that more than 5 billion is spent on brands on influencer marketing. The amount is said to reach about $8 billion in 2020. With influencer marketing on top, people have found opportunities to earn money.
What is an Instagram influencer?
Famed Instagram users who possess the power to influence the purchasing ideas of followers are called Instagram influencers.
Instagram influencers can also be mentioned as content creators who possess the capability to develop communities on any specific niche.
A dynamically appealing content can offer the best performance. These influencers have launched followership with their authenticity, charm, trust, etc. Instagram influencers can be experts, celebrities, bloggers or talented Instagrammers. Let's run through a few tips and tricks about how to become an Instagram influencer.
Tips to Become an Instagram Influencer the Right Way:
1. Pick your interest:
As per Google's report, there are about 325% of Instagram influencers in 2018. The very basic step to becoming an Instagram influencer is to concentrate on one specific niche you're interested in. You will have to post about your niche recurrently and constantly. Here are few famed Instagram influencers niches.
Fashion:
Many influencers make dollars out of trendy fashion. You may have follower list looking for fashion advice, waiting to know the latest trends in fashion week. For such followers, you can post trendy styled pics, your daily outfit etc. You can tag accessory and tagging apparel and represent them the way you use their brand.
Travel:
Travel influencer niche is another familiar niche that was most Googled. People who love traveling, solo traveling, tagging hotels, tips on where to travel how to travel and more are provided in the post. There are many travel sources that focus on travel influencers for collaboration.
Beauty and skincare:
Whenever there is a new eye shadow palette, makeup stick etc. out in the market, be the first one to use and review it. By reviewing many such products, people for makeup and skincare automatically follow you. You can tag all the companies and allow your personality to shine.
Health and fitness:
More people are always looking for health tips, healthy exercises, related food, aspects of burning calories etc. Here as an influencer, you can post about nutrition diets, squats, exercises for the belly, and lot more. There are many brands who are looking for Instagram influencers in this niche and you can be one among them.
Food and lifestyle:
These bloggers tell everything from appliances to food and lifestyle. Every niche of the home is mentioned and everything is promoted.
2. Deciding on Aesthetic:
Almost all famed Instagram influencers hold a certain aesthetic in their post. There are few influencers who post uplifting, bright and warm tones in their pictures. Few people possess a crisp and clean aesthetic in their pictures. Hence it is mandatory to pick the right aesthetic that fits your personality and style. There are some influencers who have cool undertones and minimal colors. The main intention to focus on aesthetics is to grab in more followers by looking at the profile.
3. Getting linked to powerful friends:
It is always a smart way to get linked to powerful influencers and brands in order to increase the following. You should follow strategic thinking for the accounts you link to. It is wise to create your own custom content that in some way would get you linked to the brand. For example, if you're a model, start tagging the designers you admire and praise them.
4. A nice-looking Instagram profile:
By this time you must have decided your niche and the next step is to develop an attractive profile. The profile should be developed in a manner that grabs people's attention. It should have a story that links people to you. Attention-grabbing bio on Instagram is the first thing followers would see.
5. High-quality posts on Instagram:
People who like, comment or follow your account depend on the photo quality you post on your account. You cannot drive in more fans when you have a blurry, dim picture. It is always advisable to share, quality pictures that grab others attention and inspires them. It would be great if you invest in a DSLR or a good smartphone. Concentrate on work and dedicate time to snap perfect shots. Also, remember to use the right hashtag and appealing captions.
6. Sharing stories:
A successful Instagram influencer not only shares photos but also shares inspiring stories. Tell stories that are linked to the pictures in an emotional manner and get linked to many followers. Your story should offer them trust to follow and engage with you.
7. Publishing content:
The main smart way for success in life is consistency and this is true for Instagram influencer too. A quality content that is unique is sure to obtain great exposure on any social media platform. You should remember that followers always wait for your timely post. Hence regular publishing on Instagram is important. Always post content after planning for the right time. There are many tools available on Instagram to know the analytics.
8. Opt for an Instagram business account:
Instagram influencers can make use of more number of tools on Instagram such as Instagram insights. With this tool, the demographic data of the follower can be found. The tool assists you to find top locations, profile views, follower fluctuations, click on the website for a certain period etc. For particular posts or for an overall account, insights can be viewed.
9. Use the appropriate hashtag:
Using the right hashtag is important to become an Instagram influencer. If your content needs to be found by other Instagram users, then hashtags are mandatory. For any photo, about 30 hashtags can be used on Instagram. Hashtags that possess good search volume can be perfect ones to get counted in top posts. Hashtags with search volumes of 10,000 to 1 million can be used.
10. Building a relationship with followers:
When social media is considered, there may be few followers where comments would not be responded. There should never be a hard feeling or a thought to unfollow them at any time. There would never be a connection when you don't dedicate time to get engaged. Hence developing a long-lasting relationship with followers is mandatory.
It is advisable to dedicate time and reply to followers comments so that they feel happy that they are being listened to. Answering their queries or liking their comments can make them feel positive and interested.
11. Getting engaged in a meaningful manner
As mentioned earlier getting engaged with followers is the key step in becoming an Instagram influencer. There are many ways in which post engagement can be enhanced.
• Your post can have a call to action button
• Your Instagram stories can have polls
• Get maximum engagement by posting on a specific time
• Host contests and giveaways
• Engage with other content by following similar accounts
• Make use of the 'explore' option in Instagram to engage with other content.
12. Never buy followers:
For ones who desire to become an Instagram influencer and earn money, should opt for the organic way. It is advised not to opt for the paid following. It is a mistake to have paid followers as these people would not be involved enough. It is also simple for brands to make out if there are paid followers.
If you're spotlighted with fake followers, then you may lose your trustworthiness. This would affect your name and further collaborations too.
13. Being bold:
If you desire to be a great Instagram influencer then make sure that you drain away any insecurity within you. You should be ready to let in your audience where all bad, good, down and ups must be shared. You should be one who can influence the followers and develop a relationship with them.
When you present yourself to be true, honest and open, you permit the audience to be happy, trustworthy and comfortable. It is hence important to show the darkest and deepest side without any shy.
14. Writing captions:
Apart from posting posts with great photos, perfect captions are to be included. The Instagram captions should also be accompanied by personality. This really makes the brand thought-provoking.
15. Collaborate with other influencers:
It is a great way to grow your account by collaborating with other people in order to know many contacts. This is beneficial as you can get across many opportunities, network with familiar personalities in your niche and more. Always dedicate time to run through your desired hashtags and also get to know similar accounts. Get associated with other contents and initiate a conversation.
16. Initiate a call-to-action:
A call to action is a must in your posts. Instagram is a conversational base rather than being viewed as a broadcasting base. This is a platform where relationships with like-minded people are developed. Instead of just sharing your post and elucidating it, it is mandatory to assist your followers with the next process.
A CTA is the best plan that helps the followers to engage in more. You can always post questions and permit them to answer. So it is important to make sure that your followers have a good sense of direction.
17. Be ready for collaboration and sponsorships:
Remember that your bio has the mail in it so that any company may get in touch with you. Aspects such as engagement rate, follower growth, website traffic per month and clicks on your link are the ones brands are enquiring about. A media kit can be used to add all the insights and show your uniqueness. Always remember to promote a few things that your followers would be benefitted.
18. Influencer agencies:
For ones who desire to become an Instagram influencer, they can get in touch with some influencer marketing agencies. These agencies assist you with paid chances available. Brands usually seek the help of influencer agencies as their effort for searching is reduced. There are many social influencer agencies such as Hire influence and viral nation that help and support influencers.
19. Create a website:
After Instagram influencer status is reached, it creates a website to bring in potential clients. Here are a few features for developing a website.
Develop a professional appealing website by making use of website builder. This also offers you with many awesome themes for your brand.
The next tip is to opt for an online portfolio that holds integration for Instagram. This assists you to feature your work directly.
A rate card needs to be included so that clients would be excited to know that you hold a fee system.
There is much social media influencer where their revenue system has branded much. A portfolio builder that holds an online store in it for selling purpose can be a great deal.
Remember to be safe and keep your content away from hacking.
Conclusion:
Becoming an Instagram influencer cannot be achieved overnight. It is suggested to run through the above steps, follow them to become a successful Instagram influencer. Patience is necessary as it may take a few months to become a successful influencer. Users need to stay focused on their goal and follow the tips seriously in order to become a winner. Level up your Instagram skills, get to know all the tools available on Instagram and get started to become an influencer.
Research for more tips and follow it in a perfect way to become a successful influencer. Engaging and acknowledging the followers is really important in this niche and make sure to do so. Plan and proceed with the posts and pictures. Use smart work and grab a lot of followers on Instagram. To be a successful influencer and be reputed, make sure to earn trusted and true followers.