The Growing Concept:
Instagram giveaways are a popular way of promoting a brand on Instagram. It is limited by time. It is a technique where a brand gives away a product to a few lucky people. The candidates are chosen as per the specified criteria.
People love this concept because of the promise a brand makes. People are ensured that they will be given some goods or services. The lucky ones get the desired services.
It is an interesting way of introducing new product lines. One can capture new fans. It also helps people to increase their social networks. One has to be creative enough in order to create interesting giveaways.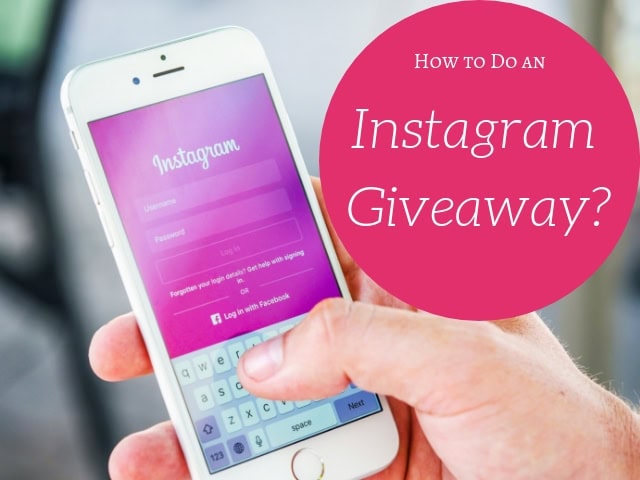 What is the importance of an Instagram giveaway?
Generally, brands run Instagram giveaways in order to get their Instagram post shared on social networking sites. It also results in increased Instagram followers. A post which gets highly shared gives a good amount of exposure to the brand. You should also run something like this in order to improve your social image.
Obviously, your Instagram audience will grow. Remember, it is the game of participation. The more the participation, the more followers you will get. More followers will result in more sharing of the post. Isn't it obvious that your brand will get promoted?
What is the need for something to be given for free?
It is one of its own kinds. This sort of promotion has never happened. You will be benefitted a lot. You can be creative, imaginative and innovative. And the business rule says that one has to spend first in order to earn. And Instagram giveaways are very cost effective. You need not to spend much. But you will earn a lot. This can be guaranteed.
It is one of the freeways to promote business. This kind of marketing has generated many audiences. Also, it will give good results in the future. You don't have to spend money. You have to devote your time, energy and intelligence. You will have to spend the amount only if you are organizing paid social campaigns. You can also get paid advertisements. So, all in all, to spend or not to spend will be your choice. But you will earn a lot.
Steps to Run an Instagram Giveaway:
Well, it depends absolutely on you whether to organize an Instagram giveaway or not. You should also know when to organize it and how. Sometimes brands organize contests at the wrong time. As a result, a very creative contest gets wasted.
Given below are the steps. You can follow them and organize the Instagram giveaway
Step 1: Select the awards and prizes
Before starting the Instagram giveaway, you should decide an apt prize. This prize will be given to some of the lucky people.
It is very important to choose a suitable prize. It is like balancing the whole process. You have to give a chance to many people. Majority of them should get a chance. When many people get an incentive, they participate with more enthusiasm. You have to give something in order to get something.
You have to offer something special to them. But don't spend too much. You are not organizing a contest to give gifts. You are organizing contests to get followers. So, make sure not to be so expensive.
You can give them coupons.
You can give some exciting opportunities.
Step 2: Select the eligibility for your contest
Selecting the eligibility criterion increases the excitement level of the contestants.
You can ask them to follow your page. (Remember you are not focusing on increasing sales. You are just trying to get more and more followers.)
You can ask your followers to tag more people.
Try to have more and more people in your contest. You have to do something in order to achieve your aim. An eligibility criterion is very significant. It will restrict the unimportant crowd to enter into the contest. Only the interested ones will continue with it. So, you will get the most out of it. Many times people organize contests but don't get desired results.
Step 3: Select the duration of your Instagram giveaway
It is the most important decision in the whole process. You need to know how much time you will devote to it. You have to decide in advance how much time you should give to your audience.
Generally, a week or two is preferred to be apt. Invite all your followers to join you within a couple of weeks. If your project requires time, you can take a whole month. The time duration depends upon the objective of the brand. There are many determinants of it.
You need to pay attention to your followers.
Decide well if you have followers from various countries.
Add up reminders to encourage more and more participants.
Step 4: You have to develop your post
When you are done with preparations, the time comes to announce your post. A perfect launch will be very relevant. Generally, posts differ from brand to brand. They share the same objective i.e. getting more and more followers. The difference in their posts can be seen through their announcement.
Your post should be very strong.
Try to include color images to make a creative post. But include them only up to a certain limit.
Rest everything will be taken care of by the content. Include a good content in your post.
Step 5: Develop reminders
Generally, Instagram posts do not get views as expected. It may happen with you as well. Therefore, it will be suggested to you to share reminder posts.
When you share regular updates, you engage your audience for a long time. This will get you many more followers. Create very interesting and attracting reminders. There should be a relation between your reminder and original post. But you shouldn't be creating them exactly in the same way. Your followers should get fresh posts every time.
Create eye catchy reminders. Include captions regarding your contest. Keep on inviting more and more people.
Step 6: Have a check on the results
It is very important to know how much did you gain from any contest. A week after you launched any contest, you get many followers. Now you should find out the lucky contestant.
Your results will depend as per your criterion.
You have to be careful. All in all, it is a matter of your followers.
You can select any one contestant or multiple contestants. It will depend on the volume of your followers.
Selecting a winner is the most difficult task. You have to be fair and justified. Be selective and let the best person win.
Step 7: Declare the results
Well, there comes the end to it. You have to announce your results. Your results announcement should be exactly as sparkling as your contest announcement. Thank all those who participated. Show gratitude towards them. And then, announce the lucky contestant. Also, tell the world what prize will be given.
Don't hurt your winner by sending him a message. Make him happy by announcing the results publicly. You can send a personalized message congratulating him but do announce results in a grand event.
When you let the lucky winner know they've won. You are likely to get many more followers. You should thank all those who did not win. Your audience should know that you are very ethical. Next time, whenever you will organize any other contest, they will participate with more enthusiasm.
SOME USEFUL TIPS:
You should know what kind of Instagram Contest you want to organize.
There can be many different ways to run an Instagram giveaway. You have to be imaginative and creative. That's it. But if you're a beginner, you will be recommended to be as simple as possible. You should organize your very first contest just to get the experience. Learn about the pros and cons. Learn about your strengths and weaknesses in respect of it.
You will have to track all your contestants. Learn to know what your followers expect from you. Organize a contest which can be handled easily. If you are finding it difficult to have a check on your posts, change your mind.
You should know the reason behind your Instagram giveaway
Unless you know what you want, you will always be satisfied in less. You should clearly know,
Why you are organizing any contest?
What do you want?
Are you doing to get followers or to promote your product?
Are you doing it for experience or just to engage your audience?
Before organizing any Instagram contest, decide a goal you want to achieve. Afterward, plan accordingly in that direction.
You can run an Instagram giveaway:
To get access to email addresses of your followers
To grow followers
To expand or increase your brand awareness
To get in touch with other businesses
All these factors will help in deciding your goal. On the basis of your goal, you will have to decide your time slot. You should know about the time duration your Instagram contest will take.
Types of Instagram Contests:
Like to Win:
In this kind of contests, you ask your followers to like your posts. In order to like your post, they have to follow you first. That's why it is very easy to organize such kind of contests. Even if they like your post but don't follow you, they won't win. And those who are your followers but don't like your post will not be eligible.
This kind:
This kind of contest is organized with the sole purpose of getting more and more followers and likes. You allow your followers to see more of your brand posts. Also, you engage them with your posts.
Tag a Friend:
As the name itself suggests, one has to 'tag a Friend'. It is a very popular contest on Instagram. Through this, you ask your audience to comment on their friend's name in the comment section. All the participants comment on their respective friend's name as per your post.
This kind of contests is organized with the purpose of reaching out to more and more followers. You can increase your brand awareness. By tagging friend's name, your followers automatically introduce your brand to other customers. Many more people get to know you. You end up getting more followers.
Post Your Own Picture + Hashtag:
This contest is like getting your contestants engaged. You ask them to share their own picture which should relate to your brand post.
You encourage your participants to post their picture with a custom contest hashtag. You may organize a selfie contest. These contests generally get good participation rate. It is because people love sharing their posts.
This kind of contests is organized with the purpose of increasing user engagement. There is a great possibility of getting success in such contests. The more people participate in it, the more people follow you.
Repost + Hashtag:
If you organize this contest, you need not to create a reminder. It is commonly and popularly called as 'Repost contest'. In this type of contest, you ask your participants to repost your giveaway picture.
This kind of posts is created to increase the reach of your brand. But this time, you succeed with the help of your followers. Through this contest, your post reaches to your followers and their followers very soon. You will get a notification whenever someone gets tagged in it.
The bottom line
Every small business can be successful if it succeeds in getting good followers. An organized social media engagement always results in the achievement of organizational goals. You should also use it to be benefitted. It is obvious that you will get more followers. If you are creative then you will be able to attract new customers. Organize Instagram giveaways and achieve popularity.
Good luck!!!