Designed exclusively for small businesses, which have just entered the digital marketing arena, the Infusionsoft is robust customer relationship management software. Introduced by Keap, it costs $199 per month, which most of you would not like about it. However, if I tell you that this cost comes with a host of extraordinary features and splendid functionalities, I am sure you would want to use it.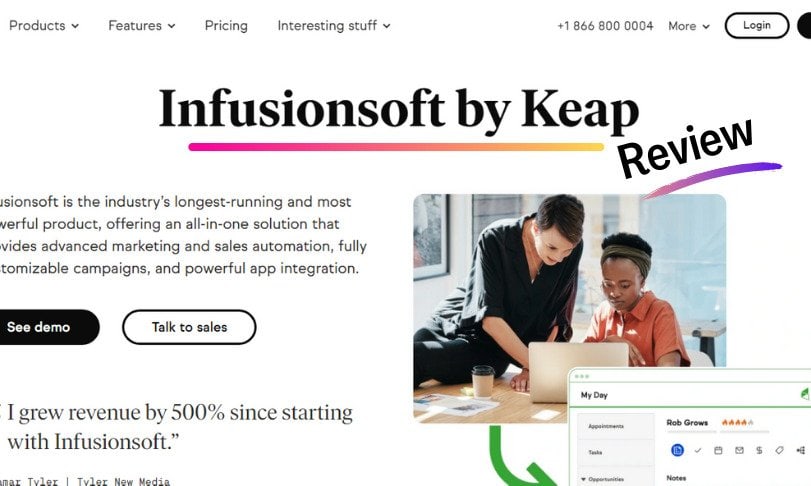 So, what exactly Infusionsoft offers and why it is a great platform to consider?
In this post, I am going to share my views about this platform and what makes it a highly promising one for small businesses that want to take a high success leap.
Infusionsoft Overview:
Infusionsoft is a competitive platform with a range of exclusive features offering additional capabilities, which help it stand out from others. For some of the aspects, it is even better than Salesforce Sales Cloud and Apptivo CRM software.
The core feature offered by this platform is that it can double up as a digital marketing tool and email marketing hub, combined together in one window. This makes it a much better solution by those offered from other companies with much bigger product suites such as Zoho CRM, third CRM Editor, and more.
Though some of the tools offered by Infusionsoft are similar to those provided by Mailchimp and Campaigner, it offers an extensive range of toolsets that are intuitive and can attract midsize and small business customers.
Infusionsoft Pricing:
Keap is offering the lighter versions of Infusionsoft and has recently introduced its new pricing model. You need to pay $199 for one month, beginning with 500 contacts, and as the contact number increases, you need to pay more money. For instance, to run 50,000 contacts you have to pay somewhere around $500 for one month.
No matter which plans you select, it offers features like marketing automation, CRM, unlimited emails, eCommerce, and sales automation. It also offers the potential to automatically set reminders, qualifies leads, tracks sales team, view reports and forecasts, and trigger automated email responses. Also, the plan offers the benefit of payment and invoicing processing. All together makes it a great software, which is geared towards small businesses and comes with a single setup fee for one time.
Infusionsoft Setup Plans:
All the setup plans come with convenient access to permanent applications. Infusionsoft holds an expensive price, but it is because the tool provides marketing automation and CRM solution alongside the email marketing tool, as opposed to CRM tools or other mid-tier platforms like Bitrix24 CRM or Pipedrive CRM that are mainly stand-alone CRM tools.
It is a powerful tool with numerous sections including main areas like Marketing E-commerce, Admin, and CRM. The company introduced a novel tool for lead management known as Pipeline, which helps users to manage prospects and organize deals within one location. It is linked directly to the information of customers so that you can gain in-depth details on all interactions and activities for prospects on a single dashboard. The Pipeline tool intends to support companies customize stages of sales, incorporate a business or contact to a card, prioritize work, and follow up leads.
There is another tool known as Lead Scores, which is helpful for lead management metrics, which businesses can customize by entering into the Settings option and selecting the 'Edit Score.' This lets you create numerous rules and assigned the point values to them to identify the criteria by which you can make a desirable lead. This score is based on a scale of 1 to 5 and point values can be linked with tags from the bio of contacts like interests,  budget, subscribers, new customers, new leads, and others, whether they are linked with any opportunities or campaigns.
Moreover, you can establish automated tasks and actions on the basis of the score. So, if your lead gained three flames within the visual automation builder, you can establish triggers for automatically sending messages and generate tasks when the contact reaches to lead score.
This handy feature can be used by marketing businesses for automating the basic qualifications of leads that are worth the resources and time to pursue. Establishing the triggers and granular rules linked with automated actions and lead scores can be painful, particularly for businesses, which have not considered how they would like to estimate the scores beforehand. But this task is also provided within the setup packages by Infusionsoft.
Last but not the least, the high price of Infusionsoft is because of its combination of CRM with marketing automation and email marketing tool. Most of the competitors include the Editor's choice and mid-tier platforms, which are standalone CRM tools.
The Buying and Setup Procedure:
The process to buy and set up Infusionsoft can be a lot better. It is not similar to other SAAS software as a service platform and does not allow signing up to become a better client from their site.
Rather, you need to jump through the series of hoops by arranging a demonstration or calling them to express the interest. The one thing they need to ensure is that they are talking to a genuine human.
A lot of people will have objections before spending huge on novel software. Hence, it is best to help them place their objections into a context form. It is fine in terms of initial calls, but slight inconvenience can let you move ahead with the setup process for payment and then arrange the further session.
Infusionsoft Lead Management, Contacts, and Users:
The time you spend with the platform along with your tutorials on sending emails, lead managements, managing automated processes, and building campaigns, all start right when you take your first action on this platform.
From there, you are directed to the main dashboard. It comes with a customizable layout and allows you drag and drop widgets onto the dashboard, including for quick email reports, contacts, campaign reporting, usage stats, real-time widgets, and others showing leads in different levels of the sales pipeline.
Managing and creating contacts is highly intuitive. You can fast integrate a contact by clicking on the plus icon on the top right corner of the dashboard and next to the search bar. Within the main contacts page, you can hover over the contact entry till a Quick action bar pops up, which allows you to perform different things like adding an appointment or task, viewing recent quotes, sales opportunities, and sending the contact through an email. Additionally, you can check the Lead Score without clicking into the contact. The entry itself includes more contact details, information, and sales fields like associated sales campaigns and the potential to manage the invoices for contacts.
The lead and contact management capabilities cannot compete with a platform such as Salesforce, but if the users are inexperienced, it is straightforward and easy to find. All the entries provide inline editing accessible by clicking a small icon available within the pop-up box.
My Day is another great feature offered by Infusionsoft. It offers a separate view of the dashboard, which is task-oriented and centralized. This feature is accessible from the drop-down menu and offers another view of the widget, which functions such as project management dashboard. It places appointments, opportunities, notes, and tasks on the left-hand side and holds the work area on the right where all work on the sales task can be managed.
The company considers My Day as a great tool for sales and marketing professionals as it let them organize their log contact, lead updates, and priorities with ease. Hence, we consider it as a winner and it offers the main dashboard view with more customization options for the widget.
Furthermore, there is also a landing page builder offered by Infusionsoft with the functionality of Vimeo Integration that permits users to incorporate an email capture box in the video and integrate with WordPress and Facebook Ads. For the future time, the company permits integration with QuickBooks online, additional automation, and dynamic contact within the feature of Campaign Builder.
Other Features of Infusionsoft:
1. Establishing and Tracking Email Broadcasts:
Infusionsoft offers the convenience to send fax, email, voice, and letters using the different kinds of broadcasts. For sending email broadcasts, you can design an email from the scratch or use the provided email builder. The first option offers more flexibility and holds an HTML code builder for expert professionals.
There are numerous customizable templates provided for email builder. In comparison to Emma, it offers more than 100 templates. Moreover, these templates are more versatile than those provided by Zoho Campaigns. You can adjust the font sizes, colors, and styles, as well as drag and drop elements like spacers, images, video, social buttons, and text, and change the styles and colors of each. Also, you can delete the undesired elements by clicking on it, which will appear in the trash icon.
There is also the option for cloning, which you can check near the trash icon to replicate a text box or image. You can then copy over the same with the select or new text option and incorporate numerous options for divider, spacer, signature, source code, and button to a video. For text formatting, you can click on the box and a box for text will appear. You only have to add a link to the landing page and click on the chain-link icon.
Once your final design is created, you can preview it both on mobile and desktop to gain a sense of how it works on various devices and platforms. You can send the email once you are satisfied with what you have created. Moreover, you can reschedule it for later delivery.
2. Third-Party Integration and Reporting:
Email marketing and CRM reporting are essential for small businesses across referral and sales data. Within the reports menu, the section for sales includes pipeline-specific reporting like stage-to-stage lead progression, calling history summaries by representatives, revenue by lead, and sales representative conversion percentages. Also, it offers the ability to save the report and run them again.
Infusionsoft by Keap holds a marketplace, which is accessible from the top navigation bar within the dashboard. It includes services, apps, and add-ons developed mostly by third parties within the above-mentioned email marketing campaigns. The market is quite small with just a few hundred services, apps, and campaigns available for a range of small business types varying from wellness, fitness, and real estate, and medical to accounting, and retail or legal services, or other establishments.
3. Sealed, Signed, and Delivered:
When you want to send an email, you can send campaigns instantly or send them at the best time today. It is a unique feature that lets you appear worldwide at open rate trends for calculating the ideal time to send emails. You can even schedule the exact time for sending emails.
Within the stats page for email, you can check all the broadcast details such as subject, when it was sent, the numbers of contacts received, and more. Under that, you will check a pie chart displaying the percentage of recipients opening the email. Then you can open the table, click, bounce, and unsubscribe. Lastly, you can check the social reach section, which shows the way your campaign performs on Twitter and Facebook.
4. Marketing Automation:
Infusionsoft comes with an amazing drag-and-drop interface, which is perfect to pull together intricate marketing workflows, which would need drop-down tabs and menus. It is possible to personalize the navigation to create any feel and look you require.
There are campaign workflows showcased in graphical form to easily check each branch and step. Communication and action methods come with icons, which can be dragged and dropped into the desired position along the marketing funnel. You can even connect one icon to another and double-click on the icon to edit or investigate the campaign stage you require for making on-the-fly changes.
Infusionsoft Pros:
A comprehensive tool for marketing automation.
Offers an extensive range of solutions.
Gives convenient access to coaches that train on the platform
Infusionsoft Cons:
Offers no free trials or plans.
Requires waiting for sales representatives for establishing accounts.
Need to wait for the coaching.
Limited numbers of tools for import.
Final Verdict:
Infusionsoft may not fit everyone's needs. It is but an excellent solution for businesses that have a high turnover for selling products online. It is because the tool offers high integration between eCommerce systems, marketing automation, and CRM, and when all such things are combined at once, it is possible to really efficient things.