One of the finest tactics for brands to easily connect to their target audiences is influencer marketing.
However, numerous brands target the same audience, and hence, it is quite difficult to reach to the audience effectively and first before your competitors do. There is a lot of effort and hard work involved to create, monitor, strategize, and optimize the campaign to drive the top results.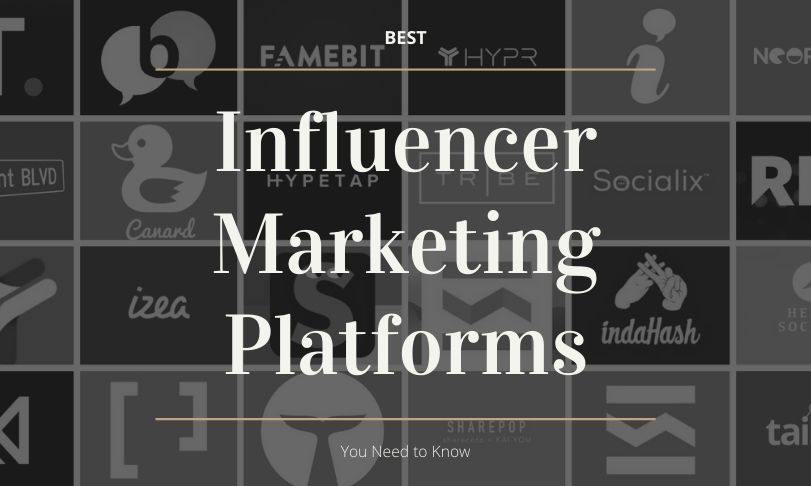 In such a situation, many marketers and brands use influencer marketing platforms to boost their campaigns.
To make sure you are not left behind and can compete efficiently with your competitors, here we list the best influencer marketing platforms shortlisted for you.
Top Influencer Marketing Platforms:
1. Fourstarzz Media:
Being an innovative influencer marketing platform, Fourstarzz Media is perfect to cater to the unique needs of medium and small-sized organizations. It not only offered tailored solutions but comes at an affordable monthly fee.
This platform is based on data-driven technology delivering various functionalities like predictive analysis, campaign tracking, outreach, discovery, and more. While using this platform, you can get recommendations on channels, the format of content and influencers, which makes it very easy, to begin with.
It comes with a database of more than 525K influencers, and hence, you can sort, search, and compare them. Also, you can use numerous filters for a refined search such as location, estimated prices, reach, demographics, engagement, and more.
You can start using this influencer marketing platform at a monthly price of $59.
2. IZEA:
Another great platform, which can be leveraged to find relevant content creators and influencers who fit into your target demographic, is IZEA. This platform lets you conduct a keyword search and filter results based on location and advanced demographics.
Using this platform lets you manage your creative briefs, influencers, payments, requirements, and other information in one place.
You will like IZEA as it lets you monitor and measure the performance of an influencer who created content on distinct platforms in real-time.
3. Fanbytes:
Now, if you want an influencer marketing tool, which focuses highly on Instagram, Snapchat, and TikTok, Fanbytes is an ideal choice.
This platform lets you find influencers specializing in engaging multiple through innovative advertising. This platform is mainly focused on 'advertainment,' which implies merging promotional content with entertainment to boost emotional engagement.
It comes with a patented format for an ad that makes sure all ads are displayed on the full-screen and on content. It is a great platform for brands that wish to enhance user engagement and brand awareness through the way of influencer campaigns.
4. NeoReach:
Next, we have this robust influencer marketing platform, which focuses on data-driven influencer technology. This platform hosts more than 3 million people within their influencer database holding a minefield of details for brands.
This tool lets you find influencers on the basis of their occupations, brand affinities, social media metrics, favorite topics, locations, and more.
It lets you find a suitable influencer for the brand. Also, it serves AI-powered suggestions based on brand performance data and affinity.
It is an excellent platform to communicate where you can transfer messages to influencers and develop relationships with them. It is based on a unique concept to estimate ROI that is known as Influencer Media Value, which takes into consideration numerous metrics, which are particular to the influencer campaigns and sponsored posts.
5. AspireIQ:
The AspireIQ is one of the finest influencer marketing platforms, which lets you identify key influencers, generate branded content, track the influencer marketing campaigns, and manage online communities.
This tool comes with a unique feature, which makes it convenient for businesses to identify the influencers performing great. Also, there is a unique recommendation engine using which you can connect with influencers similar to those you have worked with.
Moreover, it enables automating tedious tasks like content reviews, payments, and product tracking. There is also a vast content library, which lets you store and manage the influencer content in a single place. Tagging features and automatic categorization are some of the exclusive features available for use.
6. Upfluence:
Powered by AI technology, the Upfluence is a powerful influencer marketing tool, which lets you identify influencers on distinct platforms. Using it, you can check some relevant influencers on social platforms such as Instagram, YouTube, Twitter, Pinterest, Facebook, and more.
With a vast database of influencers from more than 150 countries, it can boost high-quality reach and engagement.
Also, you can apply various in-built filters to refine your search based on the engagement rates, Geolocation, statistics, and other aspects. Additionally, it lets you send a high volume of emails, gain real-time updates, streamline the influencer campaigns, and measure ROI using this tool.
7. Tidal Labs:
The next best influencer marketing platform is Tidal Labs, which lets you manage, build, and scale the various influencer programs by automating influencer workflow. You can identify and hire the best-fit influencer for your business using the AI-powered search technology. Even, you may filter results on the basis of audience insights and performance.
Moreover, the automation feature lets you operate streamlined campaigns. Using this platform, you can gather a lot of information, release payments, and distribute products in a short time. You may review, rate, edit, and boost the influencer content.
Moreover, it lets you build a robust influencer relationship through unlimited personalized communication templates.
8. MARKERLY:
The MARKERLY is another great platform for influencer marketing that lets its users connect with hundreds of real people delivering genuine brand affiliations. This platform lets you identify and partner with your influencers who are most relevant to your values and brand.
There are two distinct options available for influencer marketing:
It lets you create an extensive marketing network and offers you access to CRM tools.
The second is for marketers who let you manage campaigns for others. The second aspect allows you to focus on the vital elements of your business.
Most importantly, it streamlines the workflow by offering features such as content creation, contract management, optimization, measuring results, and tracking.
9. Onalytica:
Onalytics is another awesome platform loaded with numerous rich features and functionalities. It helps influencers and brands connect together to create rich content. Using this platform, you can even discover relevant influencers for the brand from their worldwide database of more than 700K influencers.
With the help of this platform, you can easily connect, develop, and interact with influencers who appear a perfect fit for your organization. Additionally, you can measure your campaign's impact and compare the same with your competitors to gain more promising results.
10. Ambassador:
This is one of the high-performing and all-in-one influencer software that is useful for identifying not only influencers, but also employees, affiliates, and other business advocates.
In order to run personalized and targeted marketing campaigns, you need to enroll in the program. The great thing is that you can easily manage numerous influencers in one place and track performance for each in real-time.
This is a great platform to assess which influencers will bring you the highest revenue, customers, and leads. Also, you may run a cohort analysis and optimize your campaign in real-time. It is an excellent tool that lets you make payments utilizing a technique of your choice. Even it is possible to structure the payments based on the type of influencer, sales, and other parameters.
11. TapInfluence:
The TapInfluencer is another promising tool for influencer marketing that lets you dig into the appropriate influencers who desire to work hard for your brand. It provides you a 360-degree view of influencers offering in-depth details about them, their cost-per-management, and audience.
Using this platform, it is very simple to create and implement influencer campaigns of any complexity or size. You can not only seamlessly communicate, but can also create content, provide reviews, brief campaigns, and perform promotions for your campaign.
This tool lets you find top industry benchmarks as well as to measure and assess your reach, views, ROI, media reach, and conversions.
12. Traackr:
If you are searching for an all-in-one solution, which can aid you with various aspects of influencer marketing, Traackr is an ultimate answer. It lets you perform various aspects such as influencer management, analytics, and discovery.
Using this tool, you can scale the marketing campaigns on the basis of valuable data-based details, monitoring, and powerful analytics.
While you may prioritize influencers on the basis of audience insights, you can also track conversions as well as validate influence to make sure that the influencer is a perfect fit for your business.
Traackr is also a great platform to design influencer marketing campaigns. It lets you choose influencers on the basis of their performance. Additionally, you may assess audience insights and track the results of your campaigns.
13. Buzzoole:
With this end-to-end platform, it is possible to simplify the influencer marketing process. It is an excellent tool to assess and comprehend the appropriate influencer for content creation.
Buzzoole lets you select influencers, who can work with you, manage payments, optimize the budget of the campaign, and approve content. Also, it offers real-time estimation and insights regarding post-campaign reporting.
14. Open Influence:
Another very easy to use and reliable tool for analytics and influencer discovery is Open Influence. This is a great tool to build an efficient influencer community in very little time. Using a huge database, you can easily identify influencers and easily select the ones who best meet your campaign and brand goals.
It is an AI-powered tool that assesses each content piece. Moreover, you can check the different aspects created by an influencer after the drive performance.
15. Fohr:
Utilizing advanced technology, Fohr is a great solution that makes your influencer marketing campaign simpler and effective. It lets you search for ideal influencers in any particular niche, location, number of followers, and other aspects. Fohr offers you robust filters to choose precisely who you wish to work with.
Fohr also makes campaign management simpler and easier. It lets you create campaigns, send offers, design extensive reports, and more. With its reporting tool, you may get in-depth details of content performance and follower behavior.
Their unique Smart Groups feature allows to easily storing influencer database. You no more have to use Excel spreadsheets to monitor each influencer engagement or count.
Fohr is a great solution to seamlessly export the influencer details along with other data into PDF or CSV file.
16. Captiv8:
The next impressive and efficient influencer marketing platform is Captiv8, which connects you with content creators and influencers who can promote your services, products, or brand.
This tool believes that marketers have to go beyond the vanity metrics to determine the appropriate influencers for their business. For this reason, it is essential to determine the brand lift to find appropriate influencers.
It is an excellent campaign management tool, which lets you streamline the process of communication including influencer approvals, negotiations, contracts, and more.
Using this platform you can edit, approve, and review influencer content from one dashboard and post content on behalf of the content creator. It lets you monitor real metrics like EMV, engagement data, sentiment analysis and more to estimate campaign ROI.
17. Grapevine:
This influencer marketing tool allows you to connect with top creators of content on social platforms to enhance your marketing campaigns. It lets you easily measure, scale, and build the influencer programs to engage and reach target audience.
You may search influencers from within the network of excellent content creators on Instagram, YouTube, and Facebook. Moreover, you may search keywords particular to your campaign for discovering most relevant influencers.
This tool also lets you discuss details of campaigns, negotiate fees, make direct offers, and secure payments to move the campaign forward.
18. TrendKite:
Finally, we have TrendKite in our list that lets you determine the correct influencers for your brand from a huge database of more than 800 million influencers. You may segregate influencers on the basis of location, bio keywords, resonance, reach, audience demographics, and other parameters.
With 15 distinct configurable filters, it lets you easily find appropriate influencers for the campaign.
Summing Up:
There are more other influencer marketing platforms that you may consider, but we have listed the best ones. Just start with these platforms and we will surely list more for you. Use these best influencer marketing platforms to gain complete control over the content and campaign your customers see