Blogging is an impressive profession. It is difficult to collect much useful information together and present it as an attractive content.
When you spend so much time on that, you will get frustrated if viewers do not spend some time to read your blogs.
Even if your blog is pretty much interesting, you have to do some real works to attract viewers.
You must make your blog interesting to them. Encourage them to stay on your page longer with your exceptional writing style.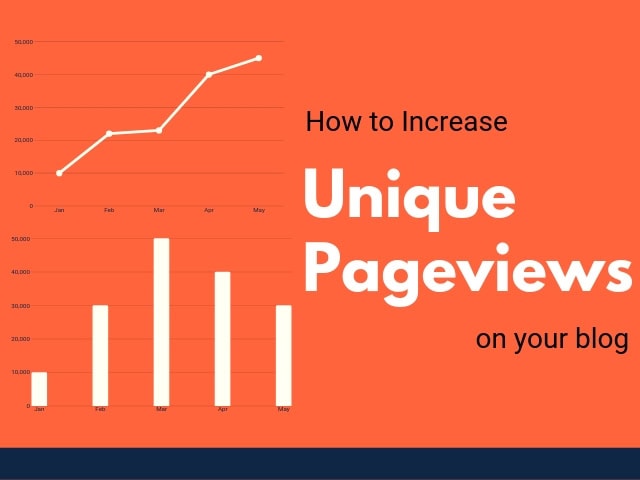 If viewers got interested in what you write they will read all other works on your page.
Improve your writing style and marketing techniques. Making money is also important while blogging. There are many options to do that. Increasing page view is one of them.
Some bloggers don't want to increase page views. They are happy with what they get from advertisement.
If one viewer clicks on an advertisement in their blog then they can earn money. They are least bothered about content quality.
So which group are you in?
Do you want to popularize your page by increasing viewers?
Are you into making money out of it?
Whichever you prefer here are some important points you can consider when you create a blog.
This will help you to increases pageviews and get popularity. Before going into details first let us check the meaning of the term pageview.
What is Pageviews?
Page view means a standard unit of measure that equates to one single person loading a web page.
All bloggers will be familiar with this term. Another important term is unique pageview. It means the same webpage loading repeatedly. This is a common money metric.
Now, let's see some tips to increase unique pageviews.
Create quality content with SEO:
Whatever topic you handle, it is important to make it up to the mark to attract viewers. Don't compromise on your content quality.
The better the quality is, the more you can convince viewers to stick around your page.
To make it clearer let's consider a book. You bought a new book and when you start reading it if the content is bad you won't read the whole book. No matter what the content and who the author is.
A website is also the same. So, make sure to put much effort to create an attractive website. Otherwise, no one will waste their time to check your website content.
Also, don't forget to optimize your contents. Google SEO is an excellent way to attract audience towards your site. It will increase your web traffic.
In addition to SEO try to add good domain authority for your site and long quality articles. All of them help to increase the ranking of your site.
Highlight Related Post:
Most of you might have noticed this. When we go to a website you will notice some related posts at the end of the blog. Its title will be 'you may also like', 'related topics' etc. It will help to encourage readers to read multiple blogs from your site.
If you are using WordPress it is automatically generated by Plugin. When using other platforms, you can find similar plugins or create it manually. This is a very good strategy to increase page views. If your content is interesting they will go for other topics.
Also, try to include a search tool so that viewers can search for opinions related to your blog post.
It is better to include one piece of content than two or three sections. You can also promote other blog post or content that may interest viewers.
Create the Best Article Page:
You can create a page which includes your best article. Promote this page everywhere. Use it as a tool to promote your blog.
Also, create a link and share it on social media platforms. It will help to generate more interest in your readers and they will click on the link to know what it is about.
You can also include a sidebar with best articles. It is different from the related post. This one only shows your popular blogs that have got more pageviews.
So, it will generate curiosity in readers to know the content of those blogs. Thus, you can increase your popularity and pageviews simultaneously.
Give clues about your old blogs in the current post:
You can mention your old post related to your current topics on every blog.
Have you noticed something like that before?
In some blogs, there will be a link that is related to the old post of the blogger.
But, most blogs fail to promote old content. Make sure to promote valuable content. So, make sure to create content that lasts long.
Some readers don't like to read old blogs. They want to read fresh contents. It is difficult to convince them. To do so, you can delete the published dates from your content and share it. This will increase pageviews on your blog.
Do not make irrelevant links because it may cause harm to your blog reputation. Don't show them that you don't have the ability to share good related content. Also. don't create too many links in the same article. Limit it to one or two links per article.
Your article should be catchy. Then only readers will click on those links.
You can also promote your old content through social media. By deleting the publishing date, you can give catchy titles to the same content.
For example, if you are promoting a blog on 'how to choose a blog name' you can change the title and use it to promote on social media. Use titles like Importance of a choosing catchy blog name, Role of blog name in promoting your website etc.
All these techniques help to promote your website. Viewers will read more blog from your site and you can increase pageviews. It also helps to increase your website ranking.
Post Long Structured Contents:
It is very important to post long structured post to attract viewers. Your goal should be delivering long valuable content to viewers.
If the content is too long, you can break it into 2 or 3 blog posts. After publishing don't forget to interlink them all together.
While breaking a single blog into a series make sure to add valuable content. Each article should possess its own identity.
When somebody reads one blog in the series then he must come back to read the next part. That's where you have to create magic through your writing
Be careful not to do a series in order to increase your pageviews. It makes the readers frustrated. Do it when you have to handle a long topic.
Here are some ideas to create a series of high-quality articles
List down all possible resources
You can present your topic as a tutorial teaching about how to do something
You can give a solution to problems related to your niche
Write a detailed analysis on a topic and include infographics in it.
Content Marketing Helps:
Today you cannot popularize any contents without proper marketing. Same applies here.
Use social media platforms like Facebook, Twitter, Pinterest, and even you can use email to market your product.
Share your website links with your followers and get the response from them. It helps to popularize your site and also you will get genuine opinions from them.
It will help you to improve your website quality. Also, there are many promo related pages on Facebook, you can join them. They won't give you genuine readers but you can increase page viewers.
Interactive blogs will click:
When you write about something, try to present it in an interactive way. This is an easy way to get more pageviews.
Your readers will come back again and again if they want to interact. Break your long points into small one with catchy headlines.
Also, you can end your blog with a call to action or a question. It will help to engage the audience.
You can invite your reader to interact, subscribe to your site. Handle your content smartly to enhance your pageview.
Use email marketing in the right way. When it comes to email marketing everybody thinks that it is a scam. But you can use this in the most appropriate way.
You don't have to send mail to strangers, send it to your friends and family. If they find it useful, they share it with their contacts. Like this, you can build up your page views.
Attract users with improved website features:
Most of us like to visit sites that give us a good experience. Is it a bit strange?
Yes, it is. You can increase pageviews by improving website appearance. So, let's check out how to improve the website experience
Improve your website's loading speed. Nobody wants to wait for a long time to load something.
In this fast world, people adapted to do things quicker. If your website is slow nobody will visit it. They immediately click back button if it takes a long time to load.
Don't wait, search for how to improve your website speed. You can do this by changing some settings. Otherwise, go to 'Page speed up Insight'; a tool that checks the reason for webpage slow down.
You can also improve its appearance by avoiding intrusive things. When you visit some sites, there will be pop-ups and ads. It is a good idea to make money.
But make it limited because filling your site with ads and pop-ups may affect your site badly. So, don't harm your contents by putting too much ad.
Also, make your website user- friendly. You have to make blog content well placed and place the content in the center and front.
Try to make it mobile friendly. Most readers visit these websites on mobile and tablet. Thus, it is important to make it mobile friendly to get more pageviews.
Participate in link parties:
You can improve website ranking by obtaining links from many sites. The more sites linking to your site means it is getting popular.
Guest post is a great way to reach more audience. It gives you extra exposure. It leads to a higher ranking.
You can do some networking also. Try to contact bloggers who handle the same niche. Otherwise, you can comment on their blog post, link blogs related to your niche and interact with them.
Try to build a genuine relationship which may give you more benefits. Approach them because you respect their work. If you can join them both of you can grow together.
Use resource page:
In internet marketing landing pages are more critical for business. If your aim is to increase your pageview and make more money, then you can use resource pages.
Resource pages mean sources from where you got the content. You can thus create a resource page of the topic you are covering on your blog.
It really helps to increase pageviews on your blog. You can also get more email subscribers using this technique.
These are a few techniques you can implement to increase your pageview. Most importantly even if you applied all these techniques and your site is not working, then check your content quality.
Content is the prime decider of your blog's future. So, try to create more entertaining contents that can attract viewers.
You can interact with your viewers and know what they want. It is easy to interact with your followers. If you create contents as per their requirement no marketing techniques are required to promote your site.
Also, try to post your blogs consistently. If you can post weekly then it is a good thing. Readers must get something fresh and entertaining.
Build up your pageviews and be popular. You have to wait and apply new marketing strategies in order to succeed. People are smart now. You cannot impress them without proper hard work. On that note, good luck.