Many businesses use Facebook as part of their promotion. It is very hard to get noticed in this huge platform. Brands have to work very hard to get likes and an estimated value of a Facebook fan is $174. There are many ways to increase Facebook page likes organically without spending any budget just by increasing your engagement with your fans.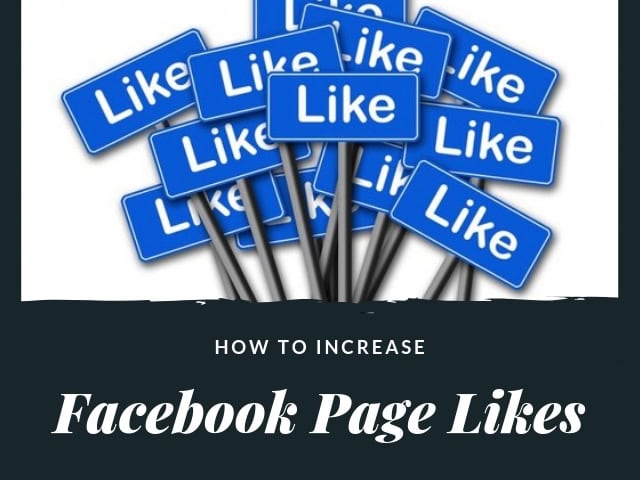 Businesses do pay for ads and promotion through Facebook to get attention from users. But you need to spend a lot of money for that. There are so many ways you can try to get more followers and likes without spending much money. The number of followers may vary from business to business. But, for any business, it is very important to have a group of loyal customers and followers.
Are you running a Facebook page and struggling to get more likes? A number of likes sometimes determines the popularity of a business. As many numbers of people interact with a page, the popularity of it increases. As popularity increases, the organic growth of the page will also increase. This is how Facebook likes can help you to grow your business.
When customers want to know more about a brand first, they will check social media pages of the brand. So, social media presence is very important for a brand and a Facebook account should be the first on your to-do list. Here are some interesting ways you can try to get more likes on your Facebook page.
Ways to Increase Facebook Page Likes:
Strong images:
Use attractive images on your Facebook page. As we all know images are very powerful and if you want to promote your business, you should include professional pictures to show your products or service. It can make your business look professional. Images are more powerful than using plain text. The more you post images the greater the number of likes you get. Increase engaging audience using more relevant Images and post regarding your business and get a greater number of likes
Give great content:
The main reason why people, unlike Facebook posts, is because of uninteresting contents. You can make your contents look interesting to your audience. Do good research and find out what your audience wants from your page. Give them what they want and get as many followers you can. You can also get ideas from blog post regarding writing interesting Facebook posts.
Facebook plugins:
You can use Facebook like plugins on your website and blogs. The like button next to your blog can help to get more likes and it is more likely to get many shares also. So, if you can upload Facebook plugin onto your page it is very useful to get as many likes as possible from your website itself. Users will hit the button if they like the post and can also make it very popular online with more number of likes
Invite people to like your page:
Sometimes you have to invite people to like your Facebook page. While posting ads and notification you can tell your audience to like your Facebook page. You can make sure more people like your Facebook page form these notifications. As a result, you will get more visitors to your Facebook page and more likes as a result. It is a very simple way to let people know about your Facebook page.
Use contests and promotions:
Promote your business through Facebook campaigns and contests. It can attract more people to your Facebook page. Make more people interact with your page by creating interesting contests for users. If they get interested in those contests or the reward you offer them, they can be part of it. It is a good way to engage your customers and make them as your Facebook followers.
Engage with other pages:
You can actively engage with other pages in your niche and be an active participant of discussions. In marketing, it is a great way to make friends who are dealing with the same business as you. You can get benefit from those people in increasing the visibility of your page and getting more likes to it.
Post consistently:
While using Facebook for the promotion you need to invest more time in creating quality contents and posting it consistently. It is very important to focus on posting contents frequently. You can keep a calendar or use any automation tools to manage your social media activity.
Engage with the audience:
If you want to make more followers, you need to communicate with them. Communication is the key to success and you can be actively interacting with your audience through your Facebook page. Also, get feedback from them about your products and try to give more value to their comments. If they feel that you value their opinion, it can help you to be successful
Keep your most valuable:
While posting on Facebook you can make sure to use 80% non-promotional contents and 20% of promotional content. No one wants to see all promotional contents on your Facebook page. You should always give valuable contents for your audience through your Facebook page. It can help to increase our credibility as a business
Track your posts:
After posting contents you need to track the performance also. You can check the contents and see what type of contents worked and what didn't. It can also help you to create your own social media marketing strategy. You can use the type of content your audience will most likely to accept which can help to improve your credibility among the audience.
Use targeting Ads:
You can use Facebook's Graph search features to find out the audience who like your page. By finding them out, you can create Facebook ads by targeting that group to the audience. If they like your Facebook page, they will follow your page and interact with the post you publish.
SEO:
You can optimize your Facebook posts for the search engine to get it listed on the top of the search result page. SEO is not only for content marketing it can also be used in social media marketing too. Use keyword optimization and all other relevant SEO tactics on your Facebook page while you post contents on it. It can help you to get a good number of views and likes also.
Create content for the audience:
If you can spend some time to know what the audience is expecting from your page it can be helpful. If people can find valuable posts from your page, they are more likely to like the page and share it across their contacts. Be aware of new things that happen around you and give more updates about it to your audience. By offering new updates, you are starting a discussion and also be a good participator with them in discussions.
Use hashtags:
Even though hashtags are not very useful in a Facebook post, some people use it. They can help you to link your post to other related post and also help it to bring under relevant search results. You can use suitable and popular hashtags with our Facebook post and see its response from the audience
Link your Facebook page and website:
You can embed your Facebook page or video within your website. It can help your page to get more popularity and many numbers of views also. People who visit your website will see your Facebook posts and more likely to visit your page from there itself. It can help to get a good reception for your Facebook page also.
Include social media buttons within your page:
You can include like share and subscribe button within your website itself. People who like your posts will like the page or share it with their contacts. It can increase your page visibility and a number of likes also. Most webmasters incorporate various social media buttons within their page to get more visibility for their pages.
Professional design:
Anyone can create a Facebook page. But when it comes to a business it should look more professional. These social media pages are like an identity of a business and if you want to impress more people, you should focus on its design. You can hire an expert to design your Facebook page. Make it look more professional and also the posts should be relevant to your business. It won't take much time for someone who visits your Facebook page to decide whether to like the page or not.
Try the Facebook algorithm:
Have you heard about it before? Just like google algorithm Facebook also use an algorithm to rank pages. You can try to make your page look good by incorporating various strategies. Best way to get more priority is through live videos. Facebook gives more priority to Live broadcasts. As a part of providing valuable posts for its customers, Facebook also tries to filter spammy contents out. So, concentrate on the Facebook algorithm and make your page look more valuable to your audience.
Promote Facebook page on various social media channels:
This is another way to get more popularity for your Facebook page. You could try to promote your Facebook page on all other social media channels. This can ensure more organic traffic from various sources to your Facebook page and can increase the ranking of our page too. The number of likes will also increase as a result.
Create high-quality videos
Incorporating videos for promotion is a very good way to make your business popular. Videos can convey good things about your brand. You can create a brand story and let the audience know about your brand. Videos are always powerful in creating a greater number of followers and improving the integrity of a brand. Colorful videos with compelling and informative texts can always help a brand to grow and get many numbers of followers. Likes are also a byproduct of creating and publishing such videos through the Facebook platform
Influencer marketing:
Influencer marketing can be very helpful in promoting your business. Influencers are those people with so many followers. They can convince people to buy a product through their words. Marketers are more focusing on doing this nowadays other than spending unnecessarily on advertisements. No need to spend money on advertising if you can find a good influencer to promote your business. Give them access to promote your product and they can help to get you many followers on your Facebook page.
Offer coupons:
You can offer coupons and deals for people who like your page. It is like a reward for them. People are ready to get any offers they want. Just by using this simple offer, you will get so many followers and likes on your Facebook page. As the number of followers increases your brand will also get popular among users. Then you don't have to spend money unnecessarily to promote your business.
Use a pop-up box:
Everyone is taking advantage of pop-up boxes nowadays. You can also use a pop-up box which says your users to join your email list or like the Facebook page. You can also offer something in return if they join in your email list. Most websites offer free eBooks and guides for such customers. You can also try something like that to increase the number of likes on Facebook
Conclusion:
These are some simple ways you can try to increase the number of likes on your Facebook page. Without spending much money, you can get some likes easily by following some simple steps. No need to spend money unnecessarily on paid ads and promotions. Nobody can stop you once you get popular among the audience.
Facebook is a good source to promote your business because it is one platform where they have 2.2 million monthly active users. You can also be a part of their daily life by posting interesting contents on your page. Social media is the most powerful tool nowadays for every kind of business promotion. Use it wisely and get a good ROI for your efforts. Are you using any special strategy on Facebook to get more likes? Share your secret with us in the comment box below