Every Webmaster wants to drive more traffic towards their site. They adopt various options for attracting more traffic.
Link building is a very important SEO tactic you need to follow. They are very important to recognize your site.
After getting those links, it is very important to check its reliability also.
If any bad links are there on your site, it can affect its credibility.
Always it is better to accept links that are relevant to your site. Otherwise, Google may consider your site as a spammy one.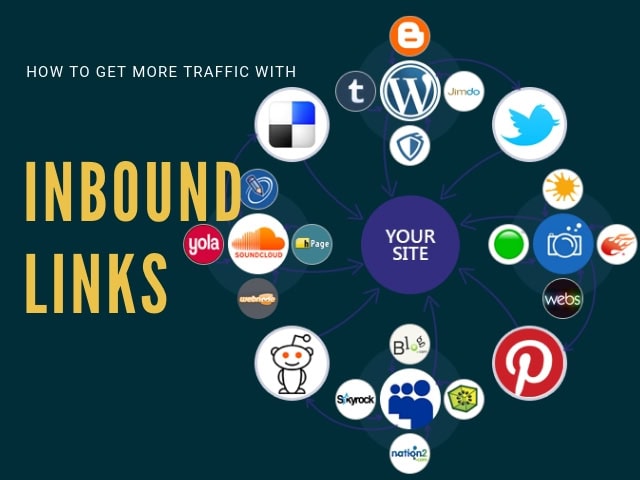 There are many types of links like backlinks, internal links, outbound links, etc. Each term is different.
Outbound links are links from your site to another site, internal link means link of content within your website.
A backlink or Inbound link is different from both terms and it is very important for your site to get noticed among your competitors.
If your website gets quality inbound links, Google takes your site as a trustworthy one and consider it as a plus point while ranking.
What are inbound links and how to generate them?
Backlinks or inbound links are one important off-page SEO factors where your site get links from other reputable websites that can redirect users to your website.
The word reputable is very important in this definition.
You will get a higher value in front of Google if you receive a link from a good site.
The one who receives the links from another site will call it as a backlink. There are many benefits if you can get many more backlinks.
Generating inbound links is not an easy task, you need to create quality content to attract other sites to link with you.
Quality content and some genuine SEO efforts can boost your site traffic. This is the best way to attract other sites that are relevant to your topics.
There are many methods through which you can get links from external sites.
You can create a quality website that provides good knowledge about a topic to users and works on some link attracting tactics. You can see some important link building tactics below.
Why inbound links are important for SEO?
Inbound links are very important to rank a site properly. Google considers this as an important guiding factor of your site quality. Here are some advantages of inbound links
As the number of inbound links increases, the chance of getting a higher rank is more. Google checks your site's link quality also. Quality of links is important than quantity. So, make sure you got links from the site with high domain rating.
Inbound links can bring more traffic to your site. When someone puts a link to your site on their content, there is a chance of users clicking on that link. This automatically increases the site traffic and aids with your SEO efforts.
Brand building is the next advantage you can get from inbound links. When you create a content based on an important topic and connect with influencers for link building, it can help with your brand building.
Links can also help you to build a new relationship with other experts in your niche. When you get links from other sites, it is the best way to create a new relationship. By joining with them you can introduce your website to a wider audience.
Increases the number of followers or increase the sale through inbound links. When users click on the links to your website and if they find it useful they will surely follow your site. This can increase the number of followers to your site also.
These are some of the advantages of SEO from inbound links. Over optimization is very dangerous to your site.
Keep a track with all inbound links and check for its genuinity. There are some tactics you can try out to build inbound links
Tactics to build inbound links:
1. Create quality contents:
This is the first step to get quality inbound links. Informative contents will always get the value it deserves from Google.
If you can identify popular topics to write about and create an ultimate guide based on it, this can help with your link building efforts. This is one of the best strategies you can follow.
You can also write a guest post on another site with many followers related to your niche to widen the reach.
If you can attract followers of that website with your content quality then your follower base will increase and thereby the number of inbound linking and your site ranking.
2. Share your content:
Publicizing your content is very important to get more links. Popular content can attract more website owners to links with your site.
When you market your site, you need to share it with various social media platforms. There you can create more followers and this can lead to more site traffic.
A press release is also a better option to advertise your content online. If your content can attract media experts they can publish it on your site. This can help to gain more authority links to your content.
3. Include infographics:
Visual content marketing is very important and is very good to promote your site ranking. This is one of the popular SEO tactics most of the marketing experts advice to do.
If you can create infographics based on your popular content, this helps the users to understand the concept behind your content.
If your audience can relate your content and understand it well, this can help you to build more quality links.
Popular platforms like Instagram, Twitter, etc., became popular because of using this visual content.
4. Connect with influencers:
If you can connect well with an influencer in your niche, this is a very good option to attract more quality inbound links.
Influencers are people who have more followers and can influence users with their content.
If you can find anyone like that in your niche, connect with them and request them to promote your content on their site.
If they found that your content has got good quality, then they may agree with you. This can lead to a new relation and your content will get a wider platform by doing this.
As popularity increases, the number of quality inbound links will also increase.
5. Check your competitor sites:
Competitive site auditing will help you with link building.
When you are new to this field and don't know what to do to get quality backlinks, the best thing you can do is to check your competitor site.
Check their links and identify the strategies they use to attract quality links. That doesn't mean to compete with them, you can just get influence from them and implement it on your site.
After finding out the link providers, you can actually contact them and request to link with your site.
6. Broken link building:
Broken link building is a new technique developed in this field. Broken links mean a link that doesn't exist or leads to an error page in a website.
It means that you need to find out a broken link on any website related to your niche and ask to link with your site as a reward for it. Broken links are always bad for SEO.
So, it is essential to remove a broken link from a site. As it is an important factor that affects ranking, you can point that out and get a link from that website.
Use tools like dead link checker to identify the presence of broken links. Use this technique on popular websites in your niche and get quality links from them.
7. Round-ups with influencers:
Publishing an expert round-up can help your website to get into No. 1 position. There are many people who have many followers and experts in handling a topic.
You can connect with them and ask questions. After getting all relevant details to make it as an interview and publish it on your site.
When your competitor posts daily, to make his site active you can succeed with this single post weekly once.
That is the power of influencers on a site. In addition to getting more viewers, you will also get more inbound links as a result.
8. Remodel your content:
There may be some old content of you with many comments and likes. You can use it to get more inbound like.
How can that be possible? It is actually possible if you can repurpose it and post again.
While posting, make sure not to post it on any other site because it is against Google's policy.
You can change its look and repost it on your website.
For example, if you have a blog post then change it as an infographic, webinar or an eBook.
Make it into a new model which users accept. This can improve your site traffic and thereby the number of links to your site will also increase.
9. Comment on other blogs:
When you can participate actively on another site, it will help with link building. Follow popular sites on your niche and do comment on good articles. If you can comment genuinely, then this can lead to more traffic to your site.
Users will always follow someone who can post reliably to content. While commenting if you can include a better suggestion to the author through your content, you can share it there.
This will naturally increase the traffic to your site and you will also get more quality links.
Now, you got some best techniques to implement on your site which can attract quality links. Next step is to know various options to find inbound links and its authority.
How to find and monitor Inbound links?
Genuine inbound links are essential for website marketing and optimization. This can drive more traffic towards your site and one of the important ranking factors too.
There are tools available online to check whether the inbound links are from a genuine source or not.
You can use them to track links of your site and also your competitor's site.
1. Majestic SEO:
This is the best tool to check the information about a link like its domain, subdomain, links, pages and many more. By knowing all this information, you can get the real character of the link.
Based on its quality you can decide whatever you want. This is a paid tool if you want to use it to check your competitor site. But if you register your own site, you can use it for free.
2. Buzzstream links building:
Buzz stream is a CRM tool that can help with your link building process.
It can give you a suggestion about links that you can get and also help to get details related to any link.
This is different from other tools because it will help you to find link building opportunities and help you in that process. The tool is a paid one.
3. SEOmoz Linkscape:
Another tool webmasters can use to know the link quality and all details related to it.
Other than checking links in their own website, this tool helps you to analyze your competitor site too.
Paid version comes with more features like keyword competitor analysis, powerful links of the competitor, etc.
Final words:
You may have got the role of inbound links in ranking a website from this article. You may get links organically without applying any strategies. The reason behind it will be the quality of your content and its popularity.
Link building is a long-lasting process and once you got the good name in this field, you will get it naturally. Until then you need to work hard to get more quality inbound links towards your site.
So, are you ready to rank your site on the top of the list?
Apply some best link building tactics and achieve your goal easily. Google prefers sites with quality inbound links and it indicates that your site is valuable.