One best way bloggers make money is through in-text advertisements. There aren't any extra spaces eaten up for in-text advertisements. The actual motive is to convert the keywords into link ads.
When the visitors move over the links, displaying of ads are accomplished and is another perfect way for bloggers to earn money.
The text ads these days are based on pay per click where the publisher is paid for each click.in that aspect lets glimpse through a few best in-text advertising program for bloggers and related data.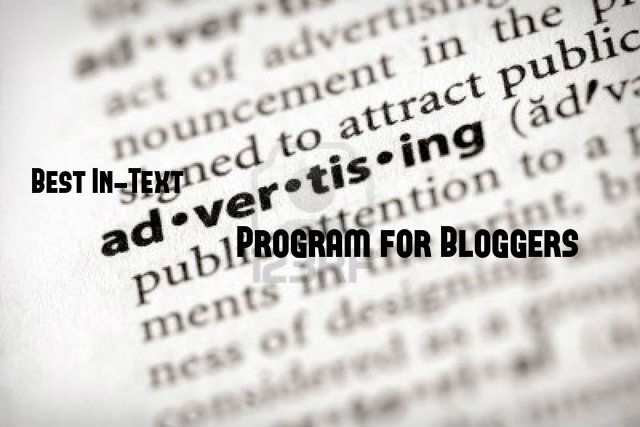 Best In-Text Advertising Programs:
The most prominent and famed network amongst the bloggers is Infolinks. The main beneficial part of infolinks is that it's easy to initiate and network.
The infolinks is one main aspect which can be utilized to control the ads with payouts at $50. In the same manner, income is boosted periodically as infolinks adds more features and tags. Most bloggers go in for infolinks for advertising programs.
Becontext:
The best part of Becontext is that it offers keywords targeted ads, which grabs in many visitors irrespective of their city, country and time zone. Clicksor offers it services and takes responsibility for Becontext.
The earnings depend on upon the traffic of the geography, the actual concept is that US traffic is paid more than Asian traffic. For the same picking, the right network is important.
In text is another advertising program which is owned by ad media. When one gets associated as a published with In-textual is the same as ad media. Since ad media was introduced in first many people prefer for the same rather than in-textual.
Viglink works in a unique way and is varied in a number of ways from other text advertising networks. The main advantage of Viglink is that it converts normal link to affiliate link. The affiliate commission helps to earn lot rather than a few with few clicks. There are many partners who exist with Viglink, who help to convert normal to an affiliate link.
Vibrant is yet another provider which holds about 3000 partners which lead to increased advertising. The benefits of vibrant ads are that it's easy and simple to sync with the content and pave a way for more clicks.
Admedia is the same as infolinks and vibrant media, wherein text ads can be added to the blogs by bloggers. Getting through the gateway of ads media isn't easy if one reads through the rules and policies and follows as per it, then getting into ad media is very simple.
Kontera:
Kontera is a famed in text advertising network, the makes its payment on the basis of cost per click where a minimum payment of $50.
Getting approval is quite easy and the traffic aspect is very strict with Kontera. The advantage of Kontera is that it works well with Google AdSense.
The new entry who made online and bagged the winner of startup Chile award in 2010 was taggify. Advertising solutions are provided by this provider wherein text ads is one of their solutions. Requirements are simple and not strict and the approvals are quite easy.
The minimal payment would be $100 and keywords are not underlined in infolinks and other text advertising networks. The keywords here are stressed with a varied color. Working with Google AdSense is also successful without any issues.
Clicksor – Shut Down:
Clicksor is one of the oldest pioneers in the online advertising world. They are perfect for in text ads along with products rather than for text ads. $50 is the minimum payment threshold for Clicksor. It is by cost per click model and getting approved is quite easy.
Chitika – Shut Down:
Though Chitika isn't famed for in text ads, Chitika Lynx is made available with other solutions online. Here $10 is the minimum threshold and the payment of cost per click. There are no hassles and tough requirements and hence getting approval is quite easy. Chitika is also available with Google AdSense.
Skimlinks are unique from others as it's an affiliate network where the keywords used are turned into affiliate links. They are leaders and considered as the superlative advertising links. The minimal threshold is $10 and attuned with Google AdSense.
They are ones beneficial for in text advertisements and are prevalent as they are present for a long time. The main advantage of text link ads is that main editorial control can be accomplished with text link ads. The payment is done regularly at the initial start of the month.
To focus on associated text links, link adage is the right choice. The links are sold on the site as per keyword and is varied when a comparison is made with other in text ad program. The payment will be made for fixed amount of links.
For renting a specified keyword Linkworth LinklnTxt is used. By this way earning per month for a rented keyword link can be fixed.
The best part of Linkworth is more than one keyword can be rented so that elevated earning can be achieved. Links can be placed within the content and not on sidebars.
SiteScout is not part of Basis DSP:
adBrite which is now acquired by SiteScout are leaders in the advertisement world and they provide in text advertisement. The payment is by per click base.
The best part of adBrite is that it offers CPM banners; ads link text link ads and full page too. More payment can be received when many types of ads are employed.
Triggit acquired by Gravity4
Triggit has managed to lure in more of publishers and bloggers attention. The most beneficial factor of Triggit is that with less amount of effort youtube videos; flicker picture, text content and lot more can be added. Monetization is elevated with the help of Triggit.   
This is another famed in text advertising who has been in the field for many years. They are ready and claim to pay 95% of revenue shares to their shareholders.
MageNet has the capacity to sell every page of the site and earn up to $1000 as link sales. The links can be preset with a price which can be received with payments. It is safe and simple to sell link through ways of MageNet.
Miva:
Miva is associated with a number of online properties such as content sites, online directories, parked domains, search engines and more. They also have the links with the most respected publishers which assist in elevating more traffic.
Bidvertiser stands to be one of eth prominent advertising program network for bloggers. The main advantage of bidvertiser is that standard quality advertisers are present another aspect to be mentioned about Bidvertiser is that it is a CPC based network.
The site clicks are counted and payment made then. $10 is the minimal payout as mentioned. Banner ads and floating ads are the two types of ads in bidvertiser.
The revenue share with bidvertiser is about 60% where a transaction can be through various payment modes like PayPal, or check. The site can be read through and signed up for further progress.
Being a CPC based network, Adhitz is an in-text advertising program. This is because when the site is clicked multiple times by the same user, a warning is sent and the ads are closed. Adhitz serves text as well as image ads.
The revenue share with Adhitz is about $50-$70% where the minimum payout is $25.  Check or PayPal can be utilized by Adhitz too. The site for Adhitz can be used and the user can sign up to use.
The promising feature of Echotopic is that the text links are placed within the content of the website. In the same manner, when scanning is a page is accomplished the most relevant topics that are matched with the advertiser are uncovered.
There are ample in text advertising program for bloggers, where the appropriate ones can be picked. By this way, blogs can be monetized and the good amount can be earned. These text advertisements are great for blogs which have more content.
Bloggers can find it promising and beneficial by reading through these above mentioned in text advertisers. The above in text programs can be read through and the best one can be picked by bloggers to earn from their blogs. All details regarding the in-text advertising along with specifications are mentioned in the sites. A hunt online can help bloggers to choose the right one for their layout. Moreover latest updates have popped up in many in text advertising programs which can be read through online.