Are you a blogger? Are you a website content writer? Do you love writing blogs often? No matter what your purpose of writing blogs is, one thing that you all have in common is the curiosity to meet that ideal blog post length that can give you more:
Links
Traffic
Social shares
Readers
Comments
While it is always difficult to decide on a perfect topic to write, but what's more attention seeking is the length of your blog. Well, this question seems simple to most of us, and therefore we tend to maintain a blog-length as per our preferences. But eventually, we fail to meet the final goals as we have wanted to achieve from our blog.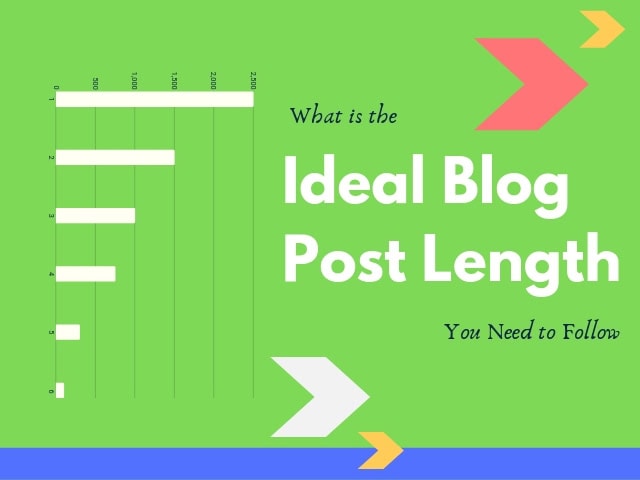 So today, to make sure that your blog's length does not affect the credibility, readability, and other vital aspects of your blog, here I am going to share with you some important guidelines or tips, which can help you decide the 'ideal blog post length.' And believe me, these tips really work, as being a blogger myself, I am following them for my every post and enjoying great results online.
Overcoming the Myth – How Long Should a Blog Post Be?
Before we go deeper into the details, you must first remember that 'shorter is not always better.'
This is one myth that most of the bloggers used to follow and some of them follow even today. They support it by saying that online readers have short attention spans and are not interested in reading long posts. Hence, the only way to get their attention is to write short and simple posts.
But this is not true!
I am blogging since the past 10 years and what I have learned from my experience is that people are interested to read long posts until and unless you are offering them valuable and non-repetitive information. Even most of my published blog posts are over 2000 words long.
What does Statistics say?
Stats provide a good point to start, but as we all are aware statistics can sometimes be manipulated.
So, let's talk about something more clear and concise. No matter how short or long your blog is, it is the quality of the content that matters, even in the future.
I am saying this after examining hundreds and thousands of different types of studies. A content that is really good, valuable, informative, and rich will go on. Though it is true that shorter content is faster and easier for people to read, this cannot be the case always. There are questions, which cannot be answered in one word or in one paragraph. You need to offer an explanation behind every point mentioned. Such pieces of content are educational, high-quality, and resourceful.
Also, good content has more attributes to consider, like it must be compelling and must be easy to digest because of rich media, sensible formatting, and sourcing.
Google is always looking for evidence, facts, and substances from authority entities on every topic. Whether the content is short or long, it must offer value to the readers. In fact, for this reason, long content ranks higher in organic search as compared to short content.
Based on the query, page 1 of search results is not flooded with blog-style content, but with content that is believed to be resourceful by users and is certainly well-constructed and formatted.
Ultimately, your goal must be to carry thoughtful blogging that fulfills a search query and that is presented in an easy to read and well-structured format.
So there is a lot more that plays a crucial role in determining the perfect length of your blog. Let's check all these aspects one by one!
Important Aspects that Determine the Ideal Blog Post Length:
Purpose of Writing the Blog:
The most important aspect that determines the length of your blog post is the purpose of writing it. When you write a blog post on any subject, it is always defined for a specific purpose. The blog can be for marketing, sharing, tutorial, or it can be written to generate discussions.
Blogs of short length are suggested for social sharing and general discussions, while long length blogs are ideal for the informative purpose, thorough review, and for higher search engine rankings.
Topic / Subject:
This is another vital element to keep in consideration when writing a blog post. If you select a vague topic, which is difficult to understand, the users will love to see more detailed and informative contents. But if your topic is general and can be easily understood, then writing short content is better.
For example, if we want to cover all the aspects of WordPress in one post, it might be quite long as there are numerous details to include. However, if the topic is specific such as a WordPress plugin or theme, then short length content is perfectly fine.
How Much Content You Have to Share:
Once you decide on the topic, the next thing to decide is to plan out the content volume you have to share and post. For example, if you are writing about anything that involves a series of steps, like 'how to begin a blog,' it is definitely not going to be short.
But if you are describing a word or writing a definition, then you can end up writing a short post. For example, how to start a blog or how to register a domain name, and other subjects like these can end up in short length content.
Consider the Requirements of Your Readers:
The next important consideration is what length your readers would prefer, longer or shorter. If there are reasonable numbers of readers, you could use online tools to find them out. Also, you can take a look at popular posts in Google Analytics or blogs that get most shares or comments. This way, you will be able to find out whether long or short length content resonates better with your readers.
If your readers like a mix of both these posts, then you need to generate both types of contents occasionally.
Writing Content for Social Media Sharing:
Your business marketing depends a lot on social media platforms. However, it does not mean that you simply share all kinds of blog contents directly to your social media platforms. Hence, we suggest modifying and improvising the blog post, which is important to share on the social media platforms.
Usually, we suggest shorter blog posts for this purpose. Blog posts of short length are the best to get maximum shares and comments on social media websites. Though short length posts will not bring you better SEO rankings, they are great to capture attention and get reviews from users. With shorter blog posts, it is possible to create an engaging environment for users. They are great for marketing and promotional purposes.
Writing Content for More Comments:
Blogs of shorter length are better, particularly if the post is focused on generating discussion or asking the reader's questions. You can get more comments on your blog by writing short and discussion based posts, which are no longer than 275 words.
Shorter posts get rarely shared on social platforms like Facebook and Twitter. Such posts are even difficult to rank high on search engines. But shorter contents can help you build audiences and keep them engaging.
Writing Content to Get More Traffic from Google
Definitely, you would love to have more traffic for your blog. SEO or Search Engine Optimization is a complex business, and getting rewards from it can be extremely difficult. Focusing too much on it can actually be a big waste of time. But if you are able to post an appropriate blog length, then you can get the higher rankings in Google.
Search engines prefer long and authoritative posts, particularly when they are focused on resolving a problem for readers. Posts of long length might not get numerous comments and are even shared less, but if you want to seek Google's attention, you have to create a blog of long length.
Other Important Considerations
Surely, the length of your blog is important, but it is not definitely everything. But other than this, there are more other aspects to consider while writing a blog post.
Substance – It includes the substance and elements of your post. Are you convinced that you can deliver your message in simple 200 words? If not, and maybe there is enough substance then you need to write the content of 2,000 words or even more.
Writing Style – Now, another thing to consider is the writing style. You may have a direct or an indirect style of writing, or might be you are someone who is completely controversial. Your writing style will even determine the length of your blog.
Frequency – How many times you are posting a blog? Once a week, or twice in a week, or once in a month! As mentioned earlier, if you wish to post your blog several times a day, then longer posts will not serve your purpose.
Audience – Your audience is the most important and you need to offer them content that meets their interests, needs, passions and resolves their problems.
Format – One recommendation that I would like to make here is to break up the content so that individuals can conveniently scan the post.
Medium – When you are posting content like videos or graphs, word count is of not that much importance. The main emphasis is on the media and not on how many words your post or blog has.
Common Ideal Blog Post Length:
Finally, here we list the length of some of the common blog posts. This will help you identify your own appropriate length:
100 – 300 Words – Super-short blogs are ideal for generating discussion. Such posts rarely get numerous shares on social media and will not serve you anything for SEO. If you want lots of comments, you need to create short posts.
300 – 750 words – This is the standard blogging length, which is suggested by most of the expert bloggers. Blogs of this length are ideal for middle-ground for comments and social shares. But they are too short to gain search engine love or much authority.
750 – 1000 words – It is the suggested standard length for journalism, particularly newspapers. Blog posts of these lengths are ideal to get links from bloggers and shares on social media platforms.
1100 – 1500 words – The chances of getting comments at this length blogs are fewer, but higher chances of getting more shares on social media, particularly if you have followed the suggestion above and written a blog that actually solves the problem of your audiences. But still, there are chances of getting comments if your topic is interesting.
1600 – 2500 words – In most of the cases, Google offers higher rankings to posts of more than 2500 words. If you wish to rank higher on search engines, then this is the best length to write. But make sure you are writing on an interesting topic that people are actually looking for. It would be of no use to write a book-length post on a topic, which no one ever searches for.
Final Verdict!
Everyone has its own concepts and ideas, which may vary based on researchers and blogging experts. We have outlined some of the basic aspects here, but you can always consider tons of other elements in order to define a perfect length for your blog post. No matter which length you decide, your blog must be engaging and interesting to the users and this is something that entirely depends on you.
We have shared with you the standard specific content length, but you must always write based on your own instinct. Create useful and effective posts rather than a piece that is created just to appeal to Google SEO. Hope all the above-mentioned guidelines are useful to you and can help you achieve goals that you intend to from your post. Your blog is your own territory and you have all the right to decide a perfect length for it.