Do you wish to start your own vlog from scratch?
Do you dream of becoming a successful vlogger, which everyone worldwide would like to follow?
In this post, we will tell you everything about vlog and vlogging.
So, let's take no more time and know everything about how to start a vlog and share your experiences with the world!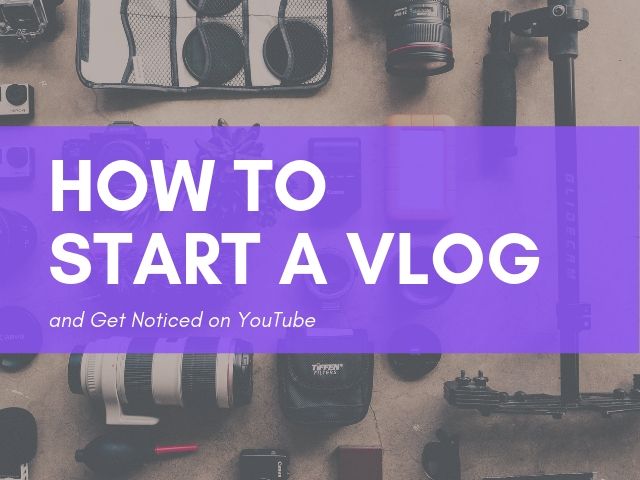 What is a Vlog?
Vlog referred to as a video blog is a kind of content where most of the content is in the video form. Vlog consists of creating a video, uploading the content online and publishing it with a blog post.
It can be a blog, journal, or diary in the video format. Presently, it is one of the popular forms of content on the internet.
What Does Vlogging Mean?
In the initial days, vlogging was known as podcasts, which is a term used to refer the blog posts in video and audio formats. However, presently it has adopted a distinct nomenclature.
'Vlog' is mainly used by online video streamers who use only visual content to schedule updates and posts on different search engines, especially YouTube. Those who practice vlogging are known as vloggers. In addition to visual content, live broadcasts from websites such as Facebook and YouTube are also considered as vlogs.
Hence, right now, vlogging is now a mix of visual streaming and blogging together that is unique, self-made, and may have a person involved. Sometimes, a vlog is also referred to as a podcast or videocast.
History of Vlogging:
With numerous accounts earlier, vlogs witnessed a drastic increase in its popularity around the year 2004. A rich example of this is the popular daily news broadcast, Rocketboom, created by Andrew Baron featuring the star Amanda Congdon. This and similar vlogs set a vital precedent by acclimating audiences to follow influencers and creators.
In the year 2005, a leap hit vlogging with the introduction of YouTube. With this step, vlogging became an easy way to reach out to audiences and build a personal connection with them. Just like blogs, even vlogs offered creators to showcase their personalities, passions, expertise, and offerings to the audiences.
With the introduction of smartphones, now big brand and corporates use vlogging to promote their services and products, target prospect customers, announce contests, explain the optimum use of their offerings, engage with their audiences, and a lot more.
Vlogging Styles:
The good thing about vlogging is that you can practice it in various styles. By approaching the correct style for your offerings, you can dominate the YouTube world.
1. Unboxing and Reviewing Products:
It is a great idea to offer people a genuine review of the product. This will help them make an appropriate decision. Also, you can help people see what's inside the packaging before they buy the product.
Make sure you create an honest and informative review to gain followers.
2. Fitness/Fashion/Beauty:
Nowadays, people are more focused on becoming trendier, healthier, and beautiful. As a vlogger, you can adopt this vlogging style and share tips and ideas with the audience to look good, latest fashion ideas, and have a fit and toned body.
3. Comedy or Humor:
Content with humor is liked by almost everyone. Comedy or videos with humor are extremely popular. You can create really funny videos to be the next trendsetter.
To make sure your video content is rich you can check other similar videos on YouTube.
4. Gaming Videos:
The gaming industry is another arena with a wide range of audience. Gaming vlogs focus on gaming apps, walkthroughs, reviews of new games, new gaming products, and a lot more.
If you are fond of gaming then you can share videos in this industry. But make sure you have a very good knowledge of the gaming world as there are lots of competitors already available.
5. Informative / How To Vlogs:
People search online to learn about new concepts and things. You can offer this service by creating informative, educative, and tutorial vlogs. If you can make videos showing how to do specific things, you can gain a lot of viewers.
Just like other vlogs, make sure your educational vlogs are content rich and illustrate the steps in an easy manner.
6. Lifestyle:
Showcasing your daily life on YouTube is another great way to attract customers. In simple terms, you have to do only video diary and show the same to the world.
This vlogging style needs authentic and unscripted content. It must be interesting and unique and must entertain the audiences.
7. Celebrity Gossips:
One common vlog style is celebrity gossips. Lots of people are interested to know about their favorite celebs. Creating a vlog related to the news and controversies can help you establish a long list of followers.
8. Book/TV/Movie Reviews:
Those who are fond of reading books, or watching a TV channel or movie would love to first see the review before spending money on the same. You can offer this service by providing interesting and insightful content that viewers can easily understand.
9. Click Baits:
The videos published on YouTube are commonly known as Clickbait having an intention to get users to click on it. It requires a high level of accuracy and quality. The main aim of such videos is to entice curiosity among the viewers and make them watch the video till the end.
You can adopt this style and create videos on your preferred topic.
10. Travel
If you are a travel freak then you can share your experiences with others through a vlog. You can document your journal and share the information, pros, and cons of a place.
Video Blogging Equipment:
In order to create rich vlogs that go viral instantly, you must use appropriate vlogging equipment. You don't require light fixtures, fancy camera, or editing software to begin with vlogging.
Vlogging for Beginners or Casual Vloggers:
As a beginner, you must start off vlogging with a simple way or using everyday technology. Once you gain expertise in it, you can progress investing in a camera and other specialized video blogging equipment as your audience grows and when you want to enhance the quality of your vlogs.
A great tool that you can use for filming, uploading, and editing your vlog is your smartphone. The modern smartphones are equipped with a high-quality camera that is ideal to shoot awesome and beautiful looking videos. The best part is that you can download free or paid apps to edit your videos.
Alternatively, you can use your laptop, to shoot your video and make the editing.
Vlogging for Professional Vloggers:
Professional vloggers who wish more advanced look and need a higher quality may have to invest in high-end equipment. In order to shoot high-quality videos, you must invest in a professional camera with good pixels.
Additionally, you have to invest in a tripod to elevate the correct height of the camera. If necessary, then zoom out the target so that you can make a clear video. The aim here is to get your face in the notice so that your audience can recognize you.
Moreover, you can use casting and screen capturing software in order to create rich and useful videos. Another way to generate videos is to have a conversion with an expert in the field and record the complete interview. This can be done by using Skype. Once the content is created, you can develop the video content and offer the service to your viewers.
How to Start Vlogging:
Here are some vlogging tips for beginners that help them successfully vlog and earn great revenue with it.
1. Select Your Niche Wisely:
You must carefully select your niche. Although, you must go for one that matches well to your interests and preferences, however, do research the market and find out what audiences are watching.
2. Watch for Latest Trends:
You can make strong credibility on YouTube and other vlogging platforms only if you follow the latest trends and practices. For this, you have to be completely involved in your niche and stay tuned to the most up-to-date information.
3. Maintain High-Quality:
Viewers these days are intelligent than ever. You can gain their attention only if you offer high-quality vlogs. Keep a close watch on your audio, content, and editing. It is easy to impress the audiences if your vlog is concise, crisp, and up to the point.
4. Practice Blog Commenting:
For beginners, gaining visibility for their vlog is not much easier. They have to put in some additional efforts. One easy and effective way to increase the online presence of your vlog is blog commenting. This will not only bring more followers but will also help you increase awareness about your vlog.
5. Use the Correct Tone:
Connecting to your audience is extremely important to bring success to your vlog. Maintaining a friendly tone is of utmost importance to develop a friendly relationship with the viewers.
6. Keep a Check on the Frequency:
To gain success, you must keep a check on your vlogging frequency. It is essential to be active. Viewers prefer subscribing to channels who offer them with latest and up-to-date information. Also, maintaining a consistent vlogging frequency lets you build an audience.
7. Use Social Media Websites:
You can make a vlogging mistake if you ignore using important vlogging tools. One such great tool is social media websites. No matter how great your content is, you will require followers outside of the personal acquaintances. Since a large number of people use social media, so maintaining a strong profile on various social media platforms and regularly interacting with the followers can help you gain more audience.
How to Start a Vlog?
Just like any other process, even vlogging requires certain skills and a systematic approach. In this post, we share a step-by-step guide to establish a vlog.
1. Create a Vlogging Strategy:
A strategy delineated on a paper or desktop works best. Before you start vlogging, consider your skills, knowledge, and actions and how it can be used to engage your audience. Be genuine and authentic in your actions because if you delve into acting then your visitors may lose interest in you.
2. Your Audience is the Most Important:
No matter how good strategy you create, it will work only if it is based as per the preferences of likeliness of your audience. You can define your audience's demographics into gender-specific, age-specific, country-specific, or industry-specific. Creating a strategy targeting your audience can help you gain a higher conversion rate than otherwise.
3. Select a Vlogging Platform
When anyone thinks about videos then the first thing that comes into mind is YouTube. It is because it is the top search engine for visual content. But as a beginner, it is best to upload your visual content on not just YouTube, but also other reliable vlogging platforms like Metacafe, Dailymotion, Tinypic, Vimeo, Veoh, and more. You can select one or two platforms for your vlogs.
4. Select Adequate Recording Equipment:
It is not mandatory to invest in expensive video recording equipment. However, make sure the video you record is high-quality and flawless. Since there is immense competition online so you must make precise selections.
5. Edit Video:
It is extremely important that you do edit your vlog before finally uploading it. Try captivating viewers with attractive headlines. Use professional and high-quality content. Make sure your vlog differs from others.
Establish a Vlogging Brand
The success of your vlog depends a lot on your brand. Inform people what you offer. The viewers must feel that they are receiving the right content. This will engage more people and will help to turn your vlog into a brand.
6. Establish a Vlogging Community:
You must indulge yourself into a bigger community for vlogging. This can be done by commenting on other vlogs belonging to your niche, subscribing to other channels, and making friends with a few fellow vloggers. This will provide you a bigger network and more exposure.
7. Monetize:
Once you have an established subscriber base, you will start receiving more views. This is the correct time to earn money from your vlogs. You can associate to the YouTube Partnership Program to earn money from ads shown during your vlog. Just make sure the entire content you display is unique and belongs solely to you.
On a Concluding Note:
Vlogging is fun and can be highly rewarding only if you practice the right way. Even if you are a beginner, you can earn huge followers and great revenue right from your first vlog. Just keep the above-mentioned aspects into consideration and take vlogging seriously.