Instagram is a very popular social media platform and more than 700 million people use this platform.
Instagram was introduced in 2010, and it has been one of the top popular photo and video sharing platform. But now people are using this platform for marketing purposes.
Brands use Instagram as their promotional tool and get more sale from it.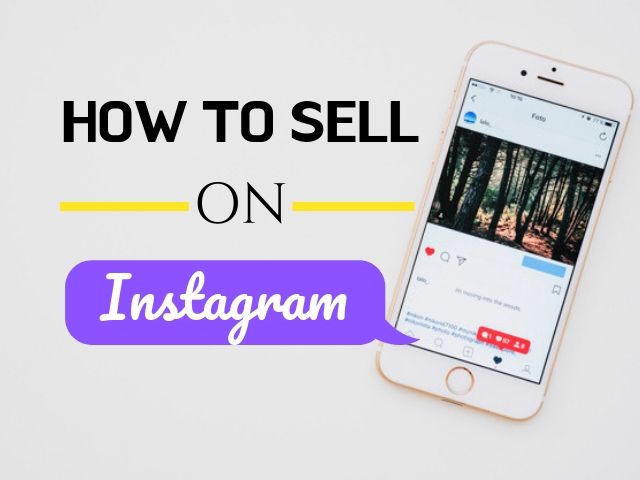 Marketers adopt various method to make it as a marketing tool. It is not easy to attract followers to your page. For that, you need to try new strategies to stand out among your competitors.
Instagram also offers advertisements to promote your products. It is only available by paying money.
Power of Instagram is because of its visual elements. Here on Instagram, we share visual elements like images, videos, etc. All these have the power to get attracted by users.
Have tried this as a marketing platform before?
If not, this is the best chance you shouldn't miss. Here are the steps you can follow to use Instagram to sell your product/ service.
How to Sell on Instagram – Steps to Follow:
Instagram is a very easy platform for you to use. Just by following some simple steps you can make your business a huge success.
1. Create an Instagram business account:
Install the Instagram app on your device first. If you are already using your Instagram account for personal purposes, then no need to download this again.
Also, make sure not to use your personal account for business purposes. You can convert your personal Instagram account for business purpose easily.
Turn personal profile to business profile:
This is very easy to convert your account type. Go to account settings on your Instagram account. Enable the option of Switch to the business profile.
Sign up:
Create your account after downloading Instagram using an email id and password. You can also use your Facebook account to sign into this app.
Signing with social media sites will benefit in your promotional plans. This will give your brand identity across various platforms.
Make a profile:
When you create your business account, a good profile is very important. Create a profile by giving the small description about your business and choose a suitable profile picture for your account.
While choosing a profile picture it should be the best one because many users look profile picture before going to an account.
Also, in this field, you can add a link to your website so that if users want to check more about your business from your website they can directly go to it by clicking on this link.
Make your account public-: By enabling a social profile for your account you can let all social media users see your account. Every business account will be like this only. Then only you can get more new users to your account.
Start posting:
Next step is to start your Instagram posting. Your account need to be active and make sure to post every day to make your account live.
2. Post relevant contents:
Now you created a business account on Instagram. Next, you have to do is to post relevant contents on your account. There are various types of post on Instagram like.
Pictures:
This is a visual platform and the main type of contents will be pictures. You can take this chance to advertise your products by posting clear and attractive pictures of the product you want to sell.
You can edit and use some photoshop features to make it look good. Avoid posting low-resolution pictures and heavy pictures that take more loading time. Both these factors can affect badly to your account.
Videos:
Another element you can post on Instagram is video. You can visualize your product through short videos of 60 secs. This is also great as images.
Other than just videos you can create a small story about your product which can appear on your Newsfeed and share it with your users.
Text messages:
When you post pictures and videos without any text it won't work. You must add a suitable caption to your pictures and videos. This is where you can express your creativity.
There are many ways to attract the user's attention. Use any quotes or some funny elements to stand out among other brand promotions.
Use # hashtags to get featured in the right niche of your product. While using hashtags, use them properly and there is no need to overuse it. You can also post something out of your business for users.
No need to use your own products always, if you find some interesting content you can share it with your audience through your Instagram account.
3. Take care of posting frequency:
This is a very important point to consider when you want to get attention from users. The posting frequency could be anything.
It is better to post in the morning time or in the evening time when most users check Instagram to get noticed.
You need to post something on your page every day to make it live. Overdoing it will be irritating to users because when they check their newsfeed very post will be of yours.
So, you must be careful not to irritate them by posting more than 2 times a day. Make sure to keep your page active on weekends also.
4. Engage your users:
Just posting something will not work. When you post something, you should make sure to engage your customers.
Once they trust your brand they will be your brand advocates and you don't have to spend so much money on advertising.
You can participate them in contents or surveys to ensure maximum engagement from them. Also, connect your Instagram account with all other social media platforms.
When you post something on Instagram it will also appear on all other platforms at the same time. This is a great way to get attention from a wide audience.
Communication with your users is also very important. You can use it as a platform to connect with so many people and know their opinion about your product/service.
Let users know about your Instagram account through various social media platforms. Use influencers to promote your brand if you have enough fund for it. This is a good way to reach to new users who could be your prospective customers.
5. Focus on the right niche:
When you use Instagram for your product promotion, check whether your product falls in the right niche. That's why everyone uses hashtags.
You should include right product specification or words which falls under the correct niche category while promotions.
There are many products that sell on Instagram like food, clothes, beauty products, decorative items, etc. Use correct hashtags to avoid confusion of users.
Niche focusing is very important if you want to reach to right users. You can use the keyword search and select the right keywords in your hashtag to reach to right users.
This will help you to promote your business by targeting the right audience. This is a free tool every Instagram user can use and use it to your advantage. With your post include right keywords with hashtag while posting with your images.
Some effective options to sell your products:
There are so many features available for you to use. Some of them are like Instagram Ads, stories, etc.
Like any other advertisement, Instagram Ads are also paid one. If you have the budget to advertise your product, use it for promotion. Check out some better ways to promote your brand through Instagram.
1. Instagram Story Ads:
You can use Instagram Story Ads using photos and videos. It should be like featuring your product. This is the best way to get attention from users.
Choosing proper elements to create story Ads will help you to reach a targeted audience easily.
Instagram Introduced this feature in 2017 and then only 7% of people used this as a promotional method. But, this year more than 30% of businesses use this chance to reach to their audience and create a good impact on them.
2. Instagram Ads:
Instagram Ads is another option for a business to promote its brand. This is a paid promotion and you can start with a small budget.
Good creativity can reach to your potential customers easily. To grab their attention is very important to make your Ad successful.
Fix your targeted audience and decide with your budget. This can help you to create a successful ad for them. Track your Ad performance by clicking on View results. It is very easy to run your own campaign without any external help.
3. Instagram story with your product link:
When you use Instagram, stories add your product link to it. User can directly go to the page from where they want to shop it by clicking on the link.
Use this chance to promote your offers and showcasing new brands. Using this feature, you can increase your email list, improve your traffic and sales.
This is a great way to build customer engagement and this will also help to drive new customers to your account.
4. Create a Shoppable Instagram feed:
Instagram shopping page will also allow you to shop directly through your Instagram page. Tag price with your product showcase so that users don't have to go to another page to check the price and shop from it.
You can easily create a clickable page of your product. You can also link to multiple website and pages without changing link bio.
It will take you to a page where you can see the clickable image. Users can directly reach to the product page and buy from it.
5. Partner with influencers:
Partner with your influencers to promote your product. There will be many people with so many followers who can influence users to buy your product.
Choose someone from your niche who can influence users. Approach them and work with them to promote your product.
They will help you to reach to the new audience and influence their mind. This can help, you to reach a specific audience and this can help to boost sale. Decide with your budget and approach suitable influencers for your product.
Benefits of Instagram Marketing:
From the total 800 million users, 1/3rd of users used it for online purchase which is a great inspiration for marketers
Instagram advertisement platform has a connection with most of the social media platform and you don't have to use each account to promote your product separately.
You can track the results of sales and leads through Instagram Ad. Tracking metrics is very important to see how your ad is performing. Accordingly, you can plan further promotions to brand your product.
Instagram offers a separate business account for marketing purpose. This is entirely different from a personal account and there are many features available for the business account.
Connect with your customers using the Instagram business account. This will help you to get more new customers and increase your business sale.
Make use of visual promotions through photos, videos, etc. All these elements have the power to reach more potential customers and make them as your customers.
Easy to conduct a campaign or promotion using this platform. You can get strong support to other marketing efforts through this platform.
Generate more sale by adopting all features Instagram business account offers. This is one of the best platforms which offers so many features to promote your business.
Final Words:
Instagram is a strong platform for marketers if they can use it effectively. This is a complete Instagram marketing guide for you to try.
Follow all the strategies while posting. Make your account active with interesting post and engage as many users as you want.
Reach to a new audience through new innovative promotional options and achieve your final goal of increasing your sale. Instagram marketing is very easy and you should try it if you haven't tried it before.