A high level of impact is created by email marketing. It is a cost-effective way to promote your marketing message to existing and prospective customers.
To ensure your email marketing is a huge success, you need to possess an excellent email list.
So, how can you create a promising email list?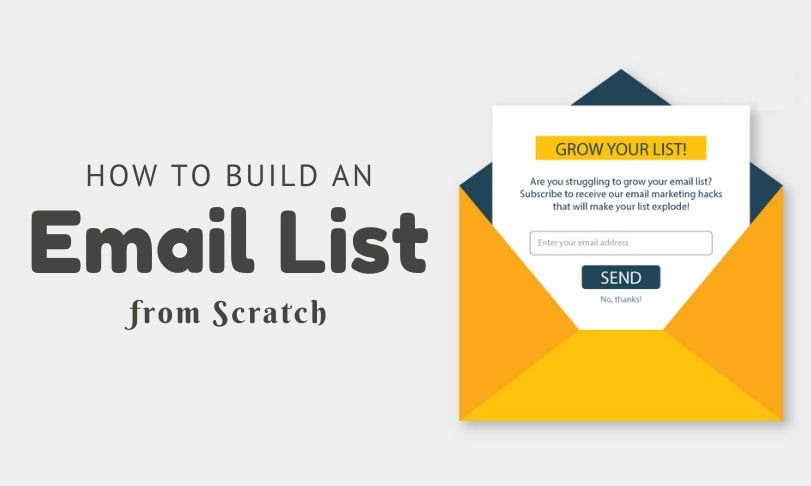 Well, in this post, we will disclose some of the best ways to create an effective and promising email list.
But before that, you must understand why it is important to build a great email list.
Why It Is Important to Create an Email List?
Short email list scanning on information and full of redundancies and errors not only fails to target potential customers but can leave a bad impression on those who have witnessed it.
If you don't have a sound email list, your other digital marketing efforts will not be able to reap the desired results.
There is a lot to creating an effective email list than one that just focuses on human interaction.
Ways to Build a Great Email List
1. Select a Platform Offering Email Service:
There are various platforms available offering email service for absolutely free. Mad Mimi and MailChimp are two of the most reliable ones that let you create an email list with minimal cost.
Besides the free service, you can also look for the paid option offering unlimited services. GetResponses, FeedBlitz, and Constant Contact are some of the good options to consider.
2. Introduce a Sign-up Sheet:
No matter to which community or industry you belong, gathering email addresses can be simple as putting a signup sheet. This way, you can encourage people to provide their details.
3. Ask for Business Cards:
As and when you meet new people for any purpose, ask for their professional or business cards. Also, offer yours.
You can even place a storage box on your office's reception desk and ask visitors to drop their business cards. Offer them incentives for the same as a free service, product, gift card, or more.
At the back of your card, mention your email address and ask people to sign up for your email.
4. Organize an Event:
Conduct an event such as a lunch, talk on a specific topic, book event, or anything else that attracts people to your venue.
Drop invitations to other businesses, post about the event wherever possible and advertise about it in local media. Encourage people to offer their email addresses.
5. Create and Import Groups or Lists:
You can also look out for various options to offer your subscribers. If you are able to offer your subscriber the best, it can encourage them to click on the subscribe button.
Some of the offerings you can provide them are:
A newsletter on a monthly basis
Digest of your posts on a weekly basis
A particular category of your posts, which they like
New posts when you publish them
6. Offer a Giveaway:
You can use your current email list or a snail mail and send people a postcard asking for their information. Once they provide you their email address, serve them with a reward.
7. Combine Emails with the Direct Mail:
There can be times when your store has a physical address but there is no email address. In this situation, you can move on by visiting your website and joining a reliable email list platform.
8. Use Telemarketing:
You as well as your employees interact with numerous prospects and customers via phone. Before disconnecting the phone, it is best to ask for their email address and whether they would be interested to connect to your email list.
If the prospect seems interested, you can briefly tell them the advantages of enrolling, which can be discounts or exclusive offers, which only email subscribers can avail.
9. Optimize Your Site for the Opt-Ins:
If the prospect or customer visits your site, they are already interested in your email list. Take this opportunity and add them to the email list.
You can also add the email registration form on every main page of the website and also on pages for popular services and products.
10. Build an Email List with the Blog:
One of the biggest tools and platforms you have to build a personal relationship with your prospects and customers is your blog. This is also a great platform to collect their email address.
Hence, always conclude your blogs including a call to action, which encourages readers for signing up the email message. Offer your blog visitors an email list and leave comments. Also, establish an easy login and log out option if they no more want the email address included in the mailing list.
11. Try to Grow Your Email List:
In order to get more subscribers, you must make the signup forms simple to fill and attractive to see. But it is vital to ask for complete information that you require on the signup form, and even ask them to select from lists or groups if required.
You can place the signup forms everywhere in the sidebar and above the fold. At the same time, design an attractive 'subscribe now' option that can be placed behind or above subscription form.
Design a subscription page on your site with a version of the signup form. You can also include your social media platforms on the confirmation page.
12. Boost Engagement Through Social Platforms:
Participation through social media can let you easily reach a new audience and develop novel connections.
It is essential that you stay updated with the latest topics, which are of interest to your prospects and customers. Use social platforms for encouraging people to visit the platforms where they can easily sign up for your email list.
13. Avoid Giving Up on Bouncebacks:
Not everyone prefers to witness dreaded bounce back alerts in their email box. If there is snail mail data to match the email address, send a postcard asking their contacts to offer you with an updated email address. This will ensure you can stay in touch.
Offer them with freebie or discount in order to take time to respond.
14. Share Email List with Other Businesses:
You must definitely have neighboring businesses. It works great to share an email list with them. You can provide the space in the newsletter in exchange for mentioning a link with the opt-in form in the newsletter.
15. Try Gaining Email List from Website Visitors:
If your website is receiving plenty of potential users without opting in, use this opportunity to grab them.
Establish a lightbox to showcase asking for the email address whenever any person is about navigating away from the blog or website.
16. Develop a Community Online:
There are numerous platforms available such as BuddyPress that makes it easy for WordPress users to establish a community and boost interaction between the customers and your brand.
You can integrate a signup form for the newsletter on every page of your community.
17. Use Special Words like 'Email Only':
Reward the loyal followers of your email with specials, which are available only to the subscribers. You can encourage them to forward their link to the signup page to family, friends, and others in knowledge.
18. Add an Opt-In Form in Your Email:
In order to avoid missing an opportunity to grab subscribers, you must include an opt-in form in every email you are sending. This is important so that anyone who gets the email through forwarding or direct message can sign up easily to the email list.
19. Utilize the Power of Foursquare:
Reward your customers who purchase something from you. This is essential to show that you appreciate that they visited your business using their device on Foursquare.
When you will reward them they will love to share about it with everyone in their network. This also encourages them to do more business with you. Try to reward a new person each month who offers you the biggest exposure by providing them a discount and asking for their email ID.
20. Stay Active on Forums and Blogs:
If you are consistent and active on forums and blogs, your customers will definitely offer comments to your post.
Make sure you add a link to the site where visitors can easily find the opt-in form.
21. Involve Your Employees:
Reward your employees for gathering testable and authentic email addresses. Make sure you allow them to obtain the consent of the person before offering you an email address for the email list.
22. Offer Customers an Everyday Deal:
Everyday deal websites can be highly promising and useful for local or retail service businesses. You can offer customers a daily deal through the website for a limited duration.
Moreover, ask others who wish to grab the deal to offer their email address in return.
23. Use the Power of Word of Mouth:
Ask your existing as well as new customers for referrals. This is a great way to bring new subscribers to the email list.
You can enhance the deal by providing them a discount as a reward for a confirmed, valid, and approved email address.
24. Boost Forwarding:
When an email is sent, you must include a link that they can forward to their friends or others in case if they wish to forward the content to a person they believe will consider it interesting.
However, the links that you provide mist direct the new subscribers to a page with the opt-in form.
25. Offer a Sandwich Board:
The concept of sandwich boards is not new. But you can use it in an innovative way.
Place one sandwich board on the sidewalk in the office or storefront to advertise newsletter and provide a reward to someone who signs up.
Invite clients into your store for enrolling or offering them the web address where they can find the opt-in form.
26. Utilize Receipts:
You can tailor the receipt of your credit card with a line or field where customers can introduce their email addresses while they sign up.
Alternatively, you can ask them to write an email address on your receipt's back. Once the day ends, enter your email address into the database and once you get their email ID, you can send them a welcome email.
27. Take Advantage of Street Fair:
Community events are held or organized almost every year. You can participate in the event and gather email addresses right away.
Make the deal more promising and lucrative for the subscribers by offering them a discount for the next purchase in exchange for providing their email address to you.
28. Consider Competition Friendly:
Another great way is to sponsor a visual or video contest where customers design a single-minute video about why they prefer your services, products or business. You can ask them to send videos to you and post the same to the Facebook page.
Moreover, you can invite visitors to vote for your video and must win a merchandize or cash prize. Add an email opt-in on the Facebook page of your store. Make sure you follow all the rules of Facebook regarding the contest.
29. Reach Out to Customers through Mobile:
You are in different areas in the world like business meetings, public forums, tradeshow, and more. In this case, you can use the smartphone to gather email addresses.
Make sure you include an opt-in for an email with the mobile app of your business. If you are offering the application for free, download through the site, you can charge the price of users of their email address to download the app.
30. Network More and More:
You can join the top-notch networking groups related to your business. This is a great platform to promote your services as well as a link to the new sign up for newsletter and emails.
Summing Up
Building an email list requires time. It is vital to the overall success of your marketing plan in the digital age. So, follow these tactics in order to create a promising email list and gather more email addresses.