For those who are using the services of a dedicated web hosting and virtual private server name Hostgator then you need to make yourselves familiar with the fact that the web hosting service is sold to Endurance International Group (EIG).
The EIG is known to make profits at the cost of customers, employees, quality of their products. Hence, it just leads to inferior data centers that caused overloading their servers. In fact, their goal was to have all the hosts or to have all the customers.
The EIG acquired many hosts and stuffed more people on the servers and that's what had happened to hostgator. While considering the optimal features for service providers the main to be considered are technical support, technology used, server quality, storage space, bandwidth, WordPress compatibility, and support and billing system. To avoid the EIG migration issues you could consider the following alternatives to Hostgator.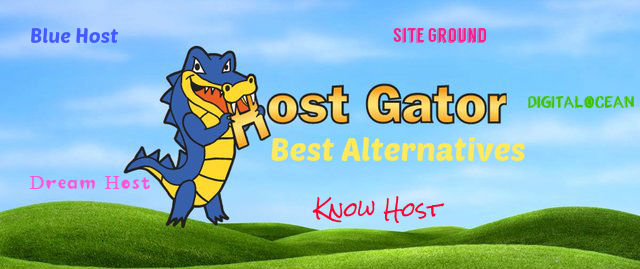 Hostgator Alternatives You Need to Try:
It provides dedicated web hosting plans suited to the needs and tailored carefully. It is a WordPress hosting service which is non-EIG. It is supported by standard features like 24 x 7 technical support in the form of live chat, free domain names, custom made solutions help make the website faster, safer, and better supported. In case you need to move from hostgator then it is easier as they offer free website migration.
It moved on from generic "unlimited everything" business model to modern type of hosting plans that are expected from a company that maintains quality. The "Joomla hosting " and 'Word press hosting" is just their standard plans for marketing purposes.
Though it has been partly, around 50 % stake, bought by EIG,  the owner signed a non-compete agreement that allowed him to host his own interests that made his company different than that owned by EIG. His intent is to provide genuine products to his customers.
This site works to provide services that relate to 'unlimited' and since then has made improvements. It provides plans that cater to unlimited bandwidth, unlimited space disk space, free migrations, disaster recovery backups, and 24 x 7 support.  Etc.
This is probably one of the sites that were unaffordable for the EIG. The Vp of this site participates in online discussions, forums and helps out customers.
The best part is that he gets involved in making the services better after previewing their feedbacks. This service that is genuine is what is needed to improve the quality of the products not to make a profit.
Like other service providers, it has 24 x 7 supports, unlimited bandwidth, and ticket based online support service. It is the best suited for those who want their domain name registrar and web host to be the same.
Being one of the best shared hosting service providers, it is known for its reliable hosting. It also is known for its unlimited bandwidth and storage. It also provides best 24 x 7 technical support and has fast managed WordPress solution.
It has the capability to handle issues related to resource protection as they have implemented their own technology.  You would have the advantage of using the benefits of VPS without having to pay extra.
Compared to other hosting companies, its site hosting plans comes with SSD hosting which is to increase the website performance 4 times better.
It also has provisions for offering separate VPS hosting plans. It is considered to be the cheapest WordPress hosting services. If you avail the coupon code you have an option of a certain discount and getting a domain free.
It is known to be also one of the best web hosting provider having a dedicated server. They offer free cPanel migration and support via email which gets replied within an hour. If you want to create a reseller hosting account then this hosting service provider also offers WHM.
It has a credit of providing the best service which is affordable and reliable. Supports like 24 x 7 online chats and online ticket system makes it even favorable.
You can get unlimited disc space, unlimited data transfer, unlimited email accounts. A popular feature is that you get a free domain name registration for life.
It is a high quality web hosting service provider based on cPanel. It is suitable for individuals and small businesses which offer a 90 day guarantee period.
There is ample time to be able to test the services provided with having your data secured. Though there is a scheme for prepayment it is worth it.  The speed and the performance are tested regularly as they have multiple data centers to run at maximum speed.
This also one of the affordable hosting site which has features like unlimited disk space, unlimited bandwidth, free nightly backups, SSD caching drives, free website builder, free website transfer. There is ample time to verify with the 45 days for money back guarantee.
The professional customer service is commendable. Setting up is quite easy and the web interface is easier to use. There is value for the money investing.
This service provider is known for their customer support. It also has amazing uptime and high performance coupled with 24 x 7 support team. They have a team of developers who look out for new technology and implement for the customers to use them.  It is unique in the shared hosting industry and being able to offer SSD hosting.
But when making a selection for the alternatives, do take note of the following points before making a purchase. It is finally depending on your needs.
Are you going to have one domain or twenty? Make sure that you are clear on this point.
Will you require file transfer capacity or broadband capacity?
Are you in need of cloud storage?
Are you a person who watch movies/videos or play games? In other words, will you be downloading frequently?
Do you have a lot of files or data that requires storage?
Where are the servers located – U.S, U.K, Asia?
What would be the number of email addresses you require?
Do you prefer to have your own control panel or inbuilt cPanel of the service provider?
Make your choice based on your needs.