'High Quality Content' is more than a buzzword.
It is something that not just your audience, but even Google looks for.
It is what that can help your site rank better in search results, and eventually differentiates between the winners and losers online.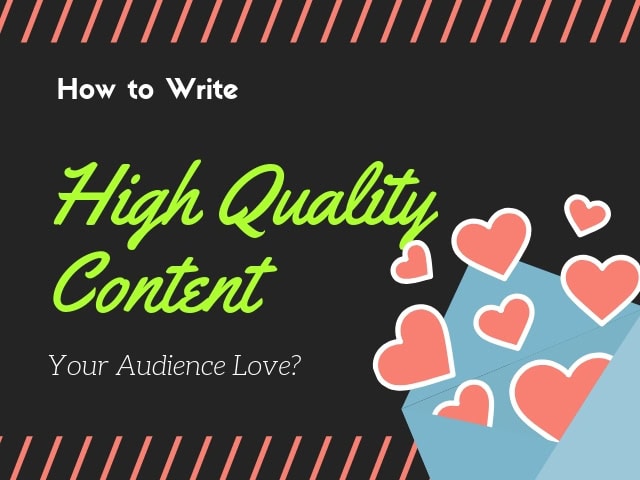 What is High Quality Content?
But how do you know whether your content is of quality or not?
While a simple definition of this would be if your content is rich, valuable, original, and actionable, then you can deem it as qualitative.
No matter to which niche or subject you are writing, if the information is valuable and digestible then your audience will want to have more of it.
Content can be a blog post, article, press release, short reports, memes, infographic, video, or visual content. Every piece of content has a different purpose to serve, but the common key is that the content must be original, valuable, and effective.
There is always a high demand for valuable content among industries. But producing good content every time is something that needs time, efforts, and dedication. Besides these, there are more other things that contribute to writing quality content.
So, read on to know the best way to produce content that would engage your audience and your prospects would love.
Tips for Writing High Quality Content Audience Love to Read:
1. Don't Create Content for Advertising:
Remember, content is not always about advertising. Try creating quality content that is original and that interest, connects, and helps to develop a communication relationship with the audience.
Content is direct selling only when you are copywriting it.
For example, there are numerous high-quality blogging sites that don't offer any revenue. But what they help us is to build your reputation through quality content.
2. It's Not about You But About Your Audience:
Content is not about you and your company, but also about your audience.
Definitely, you can highlight your personal achievements and other worthwhile information, but don't dwell on it.
Provide your audience with valuable and original content that can address their problems, resolve their issues, and serve them with rich information.
3. Have a Detailed Picture of Your Target Audience:
No wonder what your title holds, it is imperative to have a detailed picture of the target audience to create relevant and optimal content types.
Are you aware of the age brackets of your audience?
Do you know their educational backgrounds, problems, needs, and desires?
Having answers to such questions will help you build a buyer persona, which is an important factor for the success of your content post.
4. Brainstorm Topics and Ideas:
Brainstorming can help you find the right answer to a specific challenge or problem. It is about selecting the one that is the brightest. This technique can help you decide the best idea to resolve a problem or to generate ideas for the project.
For this, you need to define the objectives, refine ideas, analyze after results, prioritize ideas, and then take the desired action.
Before you implement any idea, just think like a customer and try analyzing their pain so that you can avail content ideas that can offer them with the best solutions.
5. Including Long-Tail Keywords:
The long tail keywords are the pain points for your customers.
When you click on one such keyword then you would be offered with a list of numerous results.
If you will research for popular long tail keywords on the search engines then you will not only be able to write original content but will also be able to create content that engages the target audience and improve your possibilities of higher rankings in the search engines.
Not only Google but even other search engines love long-tail SEO best practices.
6. Follow Your Target Audience:
Another proven way to write content that your audience will love is by following them wherever possible. This is a great way to make your customers feel special and royal.
Following the customers means identifying their interest, preferences, likes, and their preferred way of interaction. Then you can plan the perfect way to communicate with them.
It is imperative to speak your customer's language and treat every customer differently. Treating customers as a part of the group is the way to increase their engagement. An excellent way for this is to use 'you' in the content.
7. Write Attractive Headlines:
The headline is the very first thing that your readers will start with. Following the 50/50 rule of headline can help you succeed in this task.
According to the rule, you must spend half of your time writing the content headline and the remaining half to jot down the content.
Each piece of content out there is looking for attention and the best way to get the maximum of it is through a great headline. There is no fixed headline style that would work best, but writing a pushy headline can solve the majority of the problem.
Once you create a headline, make sure you optimize it and try making it viral so that it can grab the attention of the audience.
8. Create Actionable Content:
Does your blog post help readers apply lessons the right way?
Your content is considered best when it is able to offer users a sense of applying information in an appropriate manner.
It does not offer them degrade and repetitive information by instructing them what to do. Rather, the content must offer them the assurance that they are reading the correct post that would help them resolve their problem.
Offering users with useful and valuable content and topics is a way to target them through your content.
9. Be Precise in Sourcing the Information:
Imagine you are writing a blog post and some information included in it is identified inaccurate. Can you imagine the level to which it will harm your reputation?
It is essential to remember that your blog is a mirror image of your company. If there are problems in the post, then this will generate a negative impact on the entire company.
Make sure that any statistic you mention in the post is verifiable. For this reason, most blog posts link the statistics with the reference content. This helps to build accuracy and then trust among the readers.
Some important tips that you may consider to combat the issue of accuracy are:
Make sure you link the content to an authoritative and trusted source. Linking to quality websites will help develop trust among the readers.
Support and backup your content with appropriate links in order to develop trust among the users.
When you link the content to other content and sources then this will help search engines to identify what your content is all about and how it can be categorized.
10. Generate Content that is Engaging and Thought Provoking:
The only way to engage an audience is through engaging content. It all begins with the way you write and what you write.
Make sure you leave readers with thoughts and questions. This does not imply that you leave the post incomplete, but rather place questions that can help readers reflect on how they can implement the knowledge you offer.
In addition to this, begin with a promising introduction. Most of the customers probably read the introduction and then decide whether they should read the content or not.
Hence, make sure your introduction offers them promising information that they want to read.
Another interesting way to capture the attention of the audience is to create stories. People love stories and your blog post can be engaging if you begin the introduction of a story.
11. Using Appropriate Content-Length:
The present time is tricky when it is about determining the perfect word count for the content.
While we all are aware that Google has a preference for long length content that covers most of the aspects of a topic, at the same time we prefer generating short length content for our mobile readers.
While mobile has captured the online market, still there are sound numbers of desktop users.
Hence, when you create content, focus on the audience you intend to target.
If you wish to gain higher rankings on Google and gain more links then a content more than 1000 words is appropriate. But if you want the content to be conveniently accessible to mobile users, then format the content and include only to the point information.
12. Support the Content with Images, Infographics, Embeds, or other Media Files:
Though you can have high-quality content without including images and other types of media, if you have visual content included in it then it will outperform the content with text only in terms of social media shares, engagement, inbound links, and more.
While using media or images in the content, make sure that the videos or images support claims within the content.
They must be of high-quality in terms of technicalities. The images must be pleasing and engaging.
13. The Content Must be Free of Spelling and Grammar Errors:
Google places great emphasis on the quality of the content, including spelling and grammar issues.
If your content has lots of grammatical mistakes, poor spellings, and typo errors then this can hamper its quality to a great extent.
A badly written content is irrelevant for Google and the site visitors are less likely to build trust and reliability on information that is presented in an unprofessional manner.
Besides having a factually correct content, equally important is to jot down content that is well-organized in a logical manner and is free from all types of spelling and grammar issues.
14. Using Appropriate Text and Page Formatting:
Your content is of high quality if it is aesthetically pleasing, easy to read, ideal for skimming and scanning, as this is how the majority of site visitors will digest it.
Google's algorithm is tailored enough to detect the content and page layout and might penalize you in search engine ranking for a poorly formatted content.
Also, if you are able to win over Google, then still readers never prefer reading a poorly formatted content.
Some of the important formatting guidelines to consider are italics and bold, concise and short sentences, numbered or bullet points, proper white space, and headers to break up long text chunks.
15. Social Media Shares:
Though the social signals obtained from Twitter and Facebook are not part of the ranking algorithms, it is still important to have relevant social media shares for your article or blog post.
It is because if your content has higher numbers of social media shares then most probably it would have better rankings in the search engine.
Also, the more inbound links and awareness your content generates, the more it would be able to win a higher position in Google's algorithm.
16. Considering External and Internal Links:
An important indicator of your content's credibility is the outbound and inbound link profile. We all are aware that links to spam sites can kill the credibility of the site or article. Also, Google can penalize sites with too much excessive usage of internal linking.
Hence, the number of quality inbound links is an important indicator of the page. If you link your content to reputed and trustworthy sites then it would eventually land up as high-quality content.
17. Do Proofread the Content before Posting:
No matter how good a writer you are, there is always a possibility of making a mistake. The mistake can be related to anything. Hence, it is always better to double check the work before you publish it.
Without reading the content twice and publishing it straight away can result in a low-quality production that would get less number of reads and ultimately lack of customer's interest.
Wrapping Up!
Performing a quality control check for your content is important. Begin writing with a proper structure and then end up by reading the content at least twice before publishing it.
In addition to this, consider all the above points to create content that is qualitative and your audience will love.