Want to create those perfect hashtag campaigns for your brand that can impress your modern and tech-savvy customers?
Want to explore the hashtags that can help your brand reach more followers as well as increase its rankings?
If you wish to gain more followers for your brand or you simply wish to employ the power of hashtags to your business, then this post will tell you everything about it!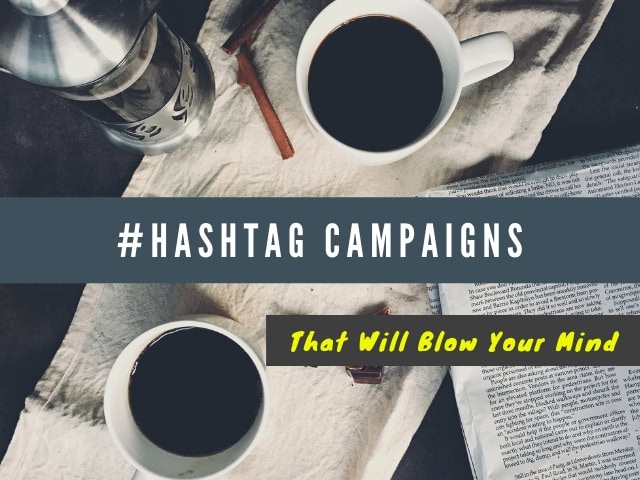 This is an ultimate guide to hashtags and how you can use them to develop an effective strategy to maximize your brand's reach.
Let's begin!
What exactly are Hashtags?
With hashtags, you can track your business latest trends and engage with your brand communities. In simple terms, these are phrases or words about a particular topic with a (#) hash sign before it.
So, this lands to you the next question. Can they really work well to increase your brand's reach? And the answer is YES!
When a hashtag is added to a post then this post gets indexed by a social network so that, it is discoverable by maximum numbers of users. When a user clicks the hashtag the user is redirected to a page that aggregates all posts with similar hashtags and that too in real-time.
Using hashtags makes it easy for new users to discover your posts. This way, you can expand your brand's reach to other audiences and communities. Developing a targeted strategy can help you bring more followers, increase user's engagement, and drive in more website clicks for your brand.
Different Kinds of Hashtags You Must Know:
There are various kinds of hashtags available and in order to develop a strong marketing strategy, you must know about all these varieties.
Industry Hashtags:
Such hashtags are used for events, ideas, and topics of a specific industry and related to a particular group.
Branded Hashtags:
Such hashtags are created specifically for a brand. These hashtags are used to boost awareness of the brand. Most of the times, it is accompanied by the name of the company.
Product-Specific or Campaign Hashtags:
These hashtags are designed to promote a specific product or campaign for a short-term.
Community Hashtags:
If you wish to connect like-minded users for a specific topic or product, then community hashtags are of great use.
Best Hashtag Campaigns that Extended Brand's Reach:
Hashtags were first introduced as a way of fun and nobody even thought that they could actually be used to maximize brand's reach. Nowadays, they have formed an integral part of a digital marketing campaign, which can be easily assessed with the latest stats.
On average, around 100 million videos and photos are uploaded every day on Instagram and approximately 500 million tweets are sent in one day. Though it's quite complex and competitive for brands to stand out, there are some hashtag campaigns, which you can use in order to bring your brand to notice among wider audiences.
#tweetfromthesest Campaign by Charmin:
This hashtag campaign ranks top among all other funny hashtag campaigns. Introduced by Charmin, this campaign was based on the idea that people tweet hypothetical or real situations only.
The campaign is just not fun but is also an open-ended platform, which made it viral on Twitter. As a result, the brand was successfully able to reach to a giant audience. Not only this campaign generated countless hilarious posts, but it also maximized the reach of the brand beyond what was expected.
The campaign was executed just on an awesome idea and is a perfect example of how humor can be used as a key catalyst to run a successful hashtag campaign.
2. Coca-Cola's Campaign – #ShareACoke:
Coca-Cola used personalized bottles of their product along with this hashtag campaign to encourage gifting and sharing of Coca-bottles. Moreover, the brand launched a site for its clients to order bottles with customized labels.
Customers were able to share their name on the personalized label or share the location where they gifted the bottle. Eventually, it created a happy experience for countless customers. The company earned great positive reviews, which enhanced its reputation and helped their business grow.
Their hashtag campaign was promoted by sports and films celebs, like David Pollack and Selena Gomez.
3. RYU Hashtag Campaign – #WhatsInYourBag:
This hashtag campaign gained immense popularity on not just Instagram, but also social platforms like Twitter and Facebook. The campaign aimed at increasing engagement among customers and conducted a social photo contest. The campaign helped the company to increase its followers more than 20,000.
4. #WantAnR8 Campaign by Audi:
Another hashtag campaign, which is probably one of the longest running campaigns on Twitter is the one launched by Audi. The campaign was commended in 2011 and is still delivering awesome results.
Joanne McCoy, a user on Twitter instigated the campaign to let Audi know her love for R8. The campaign got viral and she was offered a free ride in R8 for an entire day.
The campaign has received 75,000 tweets and numerous users have been invited to enjoy a free ride in their favorite R8. The company has been able to build strong engagement and loyalty with countless customers.
5. #DoUsAFlavor Campaign by Lays:
Lays have introduced multiple hashtag campaigns for their social media marketing. While the #lifeneedsflavor campaign was a huge success and is still going strong, the #DoUsAFlavor campaign has surpassed all limitations and expectations.
The company asked people to vote for their favorite flavor from lay's and win $1 million for the flavor that wins. Additionally, the brand enlisted famous influencers to promote this contest based campaign that helped the company to reach millions of people across the world.
6. A campaign by Always – #LikeAGirl:
Always is a popular brand for feminine care products and most of its social media marketing strategies revolve around empowerment of women. The hashtag campaign #LikeAGirl was launched to exhibit the strength of females.
The campaign had a social message and gained popularity among people who support this cause. The brand was not only able to establish a strong positive reputation but also able to expand its reach supporting the cause.
The best thing was that the campaign was promoted by women across the world and also gained a global audience.
7. Calvin Klein's Campaign – #MyCalvins:
This is another hashtag campaign that gained immense popularity on Twitter. The company posted pictures in undergarments made by Calvin Klein. The campaign went instantly viral and its popularity fueled high as there were numerous celebrity pictures posted as a part of this campaign.
8. #ShareYourEars Campaign by Disney:
This campaign by Disney was instigated in association with the Make-A-Wish foundation. Their aim was to raise funds for their charity as well as promote the brand globally. The campaign asked people to share their pictures adorning ears of Mickey Mouse with the hashtag #ShareYourEars. Disney donated $5 for each post.
The campaign was more of charitable, and hence, immediately went viral. Even, it was supported by numerous philanthropists and celebs. It is still delivering great results on Instagram as well as Twitter.
9. L'Oreal Paris's Hashtag Campaign – #WorthSaying:
The brand used this campaign to extend its reach using a social media cause. As per the campaign, women across the world were asked to share what's most important to them and really worthy.
It only included women and even famous celebs were parts of this like Jennifer Lopez and Blake Lively. Since it included a social cause, so the campaign went viral.
The campaign was initially launched in 2016 the company made changes and promoted it again in 2018 in association to the popular campaign #ShareHerJourney by TIFF. Under the campaign, a donation of $0.25 was made to every user mentioning about the campaign on their social media channel.
10. Adidas Campaign – #HereToCreate:
Adidas launched his hashtag campaign in 2018. The campaign was headed by Boston Marathon and included personalized videos of around 30,000 athletes who participated in the sports competition. Even the athletes were offered with their customized videos, which they can post on social media under the hashtag #HereToCreate.
As a result, Adidas was able to earn 30,000 brand advocates as well as also gained access to their followers. Also, the brand was able to expand its reach among its specific target audience of sports lovers.
11. #OpenYourWorld Campaign by Heineken:
Heineken conducted a socio-political study in 2017 and posted a YouTube video for the same including #OpenYourWorld. Under the campaign, people across the world with different sets of mind and varying opinions on political and social topics discussed their opinions along with sharing the Heineken beer.
This campaign was a huge success as each video got millions of views. Soon the brand reached numerous million people along with 377k subscribers on YouTube.
12. Airbnb's Campaign – #WeAccept:
Another great example of a successful hashtag campaign that earned success because of a social cause is #WeAccept. The campaign was launched in February 2017 where the company posted numerous pictures of individuals from distinct ethnicities using the hashtag #WeAccept. The campaign revolves around the cause that we should not differentiate between individuals and accept everyone.
With the success of this campaign, Airbnb expanded its reach as a global brand as well as maximized its reach on a social media campaign. It even garnered thousands of comments, shares, and likes on social media.
The best thing is that this campaign inspired the creation of lots of user-generated content with individuals sharing pictures with the hashtag #WeAccept Airbnb banners.
13. #trippinwithtarte Campaign by Tarte Cosmetics':
The popular brand Tarte Cosmetics is famous for organizing paid and expensive trips for influencers. In return, the popular influencers posted about Tarte Cosmetics and their experiences on a trip using the #trippinwithtarte hashtag.
The campaign helped the company to reach millions of followers from these popular influencers across numerous social media channels. One of the most popular posts on YouTube was from influencer Niki Demar who posted about her amazing experience on the Bora Bora trip conducted by Tarte. The video received more than 1.1 million views.
Tips to Develop a Successful Hashtag Campaign:
Though there are online tools available to find hashtags. But this is not the perfect solution that can bring you success. You can earn success with your Hashtag campaign by considering the below-mentioned tips.
1. Create a Hashtag Organizer:
Before beginning with the research work, it's best to prepare a spreadsheet or database to conveniently store information. You can list your favorite hashtag names along with their popularity along with other necessary details.
2. Research Your Competition:
Secondly, it is best to research posts from competitors. This is an effective way to identify the best hashtags for the posts. You need to assess your competitors, evaluate their posts, as well as determine the hashtags they are using.
3. Research Your Competitors Well:
The next step is to explore popular hashtags within your community. This can be done for users in the industry and topics, ideas, or trends that they are interested in. You first have to search for the main hashtag then shortlist the top three posts.
4. Establish Focused Goals:
You can improve the results by identifying the KPIs, which you work on. This will give you a clear direction to successfully launching a campaign. Your goals can be to encourage user-generated content or create brand awareness or maximize reach or conduct a contest.
5. Design a Hashtag Strategy Around Set Goals:
Whether you plan a humored campaign, a clever campaign, a contest, or anything else, it must revolve around your established goals.
6. Measure Results and Make Changes if Needed:
Not necessarily, your hashtag campaign would reach its full potential from the first launch. Just measure your results and make changes if required to receive desired goals.
You Are All Set To Go:
You now know about most popular hashtag campaigns, how they worked, their basics, and ways you can develop a powerful hashtag campaign strategy. Just start working to develop a powerful hashtag strategy for your brand to maximize its reach.