To make your voice heard and to become an expert, guest blogging is considered to be the best way.
Now,
What is guest blogging?
Guest blogging is an easy technique where the writers show their knowledge and personality by writing for other online publications.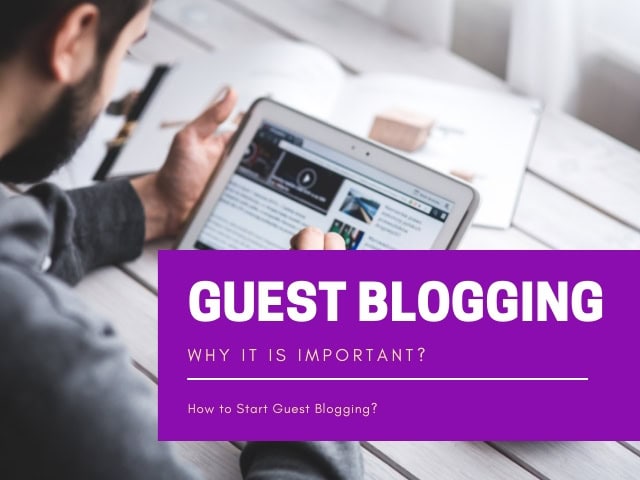 In order to bring in more traffic towards your post, guest blogging is the right way.
Another beneficial aspect of guest blogging is that you can obtain quality backlinks which assist you in SEO efforts.
Guest blogging can be made easy by following the mentioned steps.
Bloggers can consider each step as a key step and move forward. Here are a few tips to get through to start guest blogging.
How to Start Guest Blogging?
1. Know your requirement:
You should first decide what you need out of a guest blog.
There are actually 3 main objectives of guest blogging. They are trust, visible and technical as described.
Technical benefits:
When discussing technical benefits, these are actually the backlinks to your website from other reputed sources.
This is actually guest blogging's main goal and has added benefits.
This goal is also said to be the most exploited as well as the toughest one to get done. To evade from getting abused, many sites filter links.
Visible benefits:
Here guest blogging concentrates on the traffic obtained. The link similar to technical benefits is required.
The best part is that it is simple to obtain and even work in a filter to gain in traffic. But grabbing traffic is tough in this objective.
Trust benefits:
Here with guest blogging, trust benefits are gained by the distribution of your brand awareness along with personality and product details in the web.
With a guest blog, you're informing the readers that you stand as an authority.
It is important that you are highlighted in more sites so that you prove to be in authority and audiences trust you.
Guest bloggers can hence focus on any of the benefits or all 3 benefits before starting a guest blog.
All are useful benefits and you can estimate your result from guest blogging.
2. Analytics set up:
Your site should have some kind of analytic set up if you do not have one.
The best way is by setting up Google analytics.
Also set up tools like Piwik or Raven tools which can be utilized, but make sure you are able to monitor the data types without documentation and widespread guides.
3. UTM tracking set up:
Do not forget to set up the UTM tracking as it is a way to monitor required links from the main source.
You may be guest posting on a site which has linked you long back, in this scenario it would be tough to tell the traffic's source from old links and new links.
In order to avoid such confusion, UTM parameters permit to track every link in an individual manner. When UTM is set up, each link you post would have its own data.
4. Baseline statistics recording:
After setting up analytics, it is mandatory to monitor the site's snapshot.
Though historical data would be present in Analytics, it would be better to have snapshots which are meant to be a record for the time. By this way, there is no need to fiddle with dashboard and its history.
The analytical suite is beneficial as it leads to limited historical access. The data can be recorded as they can later be equated with the guest's posts similar metrics. It is mandatory to record data which is associated with the goals.
5. Valid guests post target is to be recognized:
Guest blogging targets can be found out by following varied techniques.
For fresh individuals, they can look for industry sites as well as blogs who are ready to publish your content.
There would be also recommendations from many guides to do a Google search based on your specific niche and guest post and this may work.
It is also important to remember that few blogs do not highlight their guest contribution and few may admit it, though they do not present it publicly.
The best way is to research and make a list of possible targets.
6. Guest post target filtration:
After penning down a list of sites for guest posts, the next step is to filter them.
A three-tier system is recommended. Every site is ranked based on the relative value. It is simple to post smaller sites as you stand as an authority for them.
Also, your post has enhanced value for smaller sites. When middle tier sites are considered they may be a bit above, on par with or below your own.
Since they are peers, they are considered valuable and any suggestion from a peer has enhanced weight.
Monitor for direct competitors from whom values are not sent. When top tier sites are considered, they hold elevated value than yours and hold more weight in terms of traffic and SEO.
It is also true that they are a bit tougher to get through. Forbes is the best example where if you aren't ranked in your niche, there is no way to guest post for.
Hence opting for a basic or a granular system depends on the blogger.
7. Initiate in a reasonable manner:
Now there must be sites listed as target ones which are parted into classes. It is your duty now to start with a reasonable one.
As you are guest blogging for the first time, you can't target sites like Forbes.
Even though you concentrate on a guest blog on high-level site, it requires a lot of work. Though you try hard and guest blog in a high-level site, the investment return would be less.
If the same hard work was applied for middle tier sites, you could have posted three guest blogs.
8. Shell pitch needs to be developed:
For every site, the main essence for the guest post pitch is similar.
Your detailed information is to be given, mention you are inspired by what they do, present your skills and provide data which editors require.
In order to provide complete information and don't miss any data, a good template is mandatory.
A template is a good plan as it can be customized for every site, otherwise, you need to provide data from the beginning.
9. Customizing pitch for every site:
When each site is considered they have varied angles, varied advantages and disadvantages, different niches, and varied qualities.
You should have your pitch with the template as your foundation. It should be designed in a way it fits the objective site.
Do not use "dear sir or madam" and do not use "to whom it may concern". Try and find out the name of the editor who takes responsibility for guest reviews.
Remember to mention the name of the sites. When you are mentioning in a more detailed manner, there are fewer chances for you to be filtered.
10. Site contribution guidelines are to be investigated:
Every website has a varied procedure for directing the guest post pitch. You can very well bypass such procedures if you possess an internal connection.
When certain sites are considered it means to skip their email and reach their contact form.
When some other sites are considered it means delivering idea for a chosen topic and mentioning about your willingness to write.
In the same manner, certain sites require to send completed post for selection or rejection. So research and find out the site's requirement for being selected.
11. Get to know the tone and style by reading present guest blogs:
Researching is important and requires the blogger to read through the posts, the site publishes.
Glimpse through the regular updates and posts on the site as well as guest contributions.
The guest posts are the ones which need special attention. Certain sites would have requirements varied for usual writers.
It is mandatory to develop the best content as required by the site's tone and contents as they require.
12. Do not get disheartened during elimination:
Life always has rejection at any time, at that time do not get yourself ignored.
This is not an end result of life and never judge yourself in that scenario.
Rejection may be for disliking the topic, as it was already present and they didn't want duplication.
It just means it was not your day. Writers can always try again and in some weeks succeed.
13. Participating in a community:
You should remember to hover around the site and post comments about whether your post is selected or rejected.
It is good to make your presence by interacting in the site to ones who post contents, by asking and answering to questions, by leaving comments etc.
By this, you're just trying to make yourself as a common face amidst the community.
This is because when a guest post is pitched, you're identified as a respected participant in the community. For mid-sized and small sites this technique really works well.
14. Promotion of post:
When content is shared, sites would appreciate. If the content on the site is yours, it means that you're to contribute for promotion.
In case if you're a blogger who drops the post and disappear, then it means you logged in just for your benefit.
When actions are taken to succeed in the site, you would be requested to publish again.
15. Answer back to comments:
While promoting a post, replying to comments is also done. Keep checking the post many times a day or a week.
Also, keep tracking more number of times if the post is viral. Be sure to read all the comments and reply back if required.
16. Post again:
When guest blogging is considered it is a relationship. New bloggers do not understand this relationship.
When any post isn't posted, they never turn up to the site. It is important for a blogger to post something new at regular intervals.
17. Results to be checked:
It is important to check results at periodic intervals. Bloggers can check on the same day they published, later in a week, in a day or even a month later.
By checking so, you should see your post boosting up.
18. Elevate to greater heights:
Sites which recognize you and help you earn enhanced benefits are the sites which you should keep posting.
By this way, you are recognized and have opportunities to elevate to greater heights.
A quick review of guest blogging steps:
Guest blogging isn't tough and can be done by following the few mentioned steps above.
To make your content marketing to the top, you first need to become an authority, the next aspect is to develop a portfolio for guest blogging.
The next step for freshers is to research the target sites, you just need to develop and present your ideas to the editor.
Developing a post is another important task for bloggers, and then they need to promote the post. Finally, they have to repeat the process. All these steps are explained in detail above for new guest bloggers.
With guest blogging, there are more chances to grab in more traffic. Bloggers should also remember to pick the right blog for guest blogging. Only hot topics would drag in more traffic.
Blog type:
There are a number of sites which give a detailed explanation about how to start a guest blogging. All steps with screenshots are mentioned for clear understanding.
Traffic depends on the blog being posted. The blog should be unique, with enhanced quality outbound links and should be related to the blog's audience.
For more traffic, bloggers should promote articles by holding hands with social media sites. By this way, the authority can be built and others may like you. Bloggers can just move over and succeed as a guest blogger.
Bloggers should be enthusiastic where they need to determine their goals and work for them. Bloggers should also hunt for opportunities and be active in their niche.
With many bloggers in the field, writing a unique and exceptional one is mandatory. Get started with the blog and keep going.