You must have often heard the term 'guaranteed SEO.' And instantly when you hear this term, you would feel that now you've got the shortcut to SEO optimize your website or blog and gain higher rankings in SERPs.
But do you seriously think that 'Guaranteed SEO' means it would deliver great results to your website? If there is something like guaranteed SEO, then definitely every website owner would like to avail that service and benefit from it.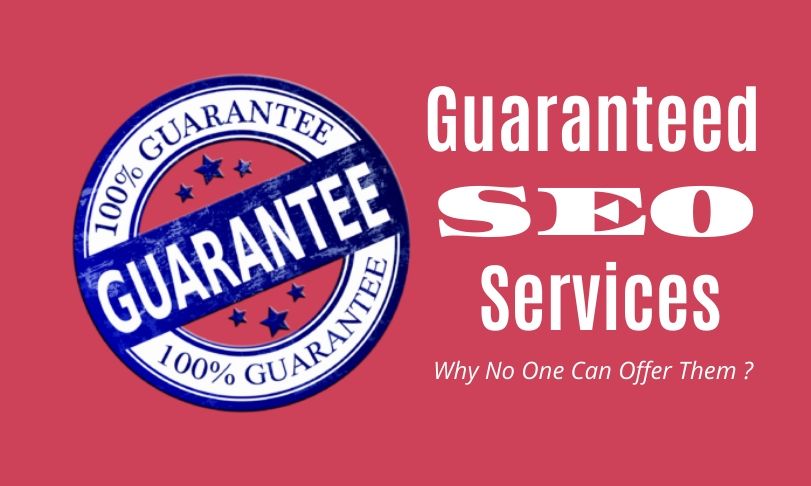 However, the truth is whenever you came across the term guaranteed SEO you must completely stay away from it. It is because in SEO there is nothing guaranteed and if a company claims to offer the same, it is definitely fooling you.
In this post, I will tell you why you must stay from guaranteed SEO as well as about SEO service providers who claim to offer the same.
But before we move ahead, let me first tell you what exactly guaranteed SEO means.
SEO is the short form of search engine optimization, which boosts the total number of hits on your company's website as well as aid to increase your site's searchability. Most of the people find the term guaranteed SEO confusing, which makes it an easy target for the SEO marketers offering such fake promises.
Undoubtedly, guaranteed SEO is an online marketing gimmick, which SEO companies use to earn money on a short-term basis.
What is Guaranteed SEO?
There are many SEO agencies, which claim that they offer guaranteed search engine optimization results, which means guaranteed SEO. As per this, companies claim that a website can gain top ranking in the search results or may deliver a set number of hits or positions on Google within a specified time frame.
The companies establish bait and then wait for an unknown business to enter into. Guaranteed SEO is highly problematic as it is a false or empty promise. It is just a catchphrase, which is used to grab novel clients with the selling point, which appears attractive.
When an SEO company is advertising in a way that they are offering guaranteed SEO services, you must stay away from them.
So, here we share with you some of the compelling reasons, why you must stay away from guaranteed SEO services.
Reasons to Stay Away from Guaranteed SEO Results:
1. Only Search Engines Control Rankings:
Search engines stay in control and it is not the other way round. The main thing is that SEO marketers do not have any control over search engine rankings. SEO marketers can only practice marketing techniques to impress search engines in order to compete for top rankings.
The ranking is estimated on the basis of search algorithms, which are applied by search engines for every website. The tricky part is that these search algorithms keep changing as search engines keep revising their algorithms. Hence, no SEO expert can predict results, specifically when you want to gain organic search traffic.
The only thing that search engine algorithms are influenced by is the marketing techniques used by SEO experts. SEO marketers use their previous experiences and studies to implement the most effective strategies to help websites achieve top ranking. Such techniques may include changes to the website structure, content of the website, to optimizing it as per the guidelines of the latest search algorithms.
A good SEO agency is always aware of the possible updates introduced by new algorithms. They create an action plan for the same so that their customers are less affected and are able to gain the maximum number of benefits.
2. Guarantees and SEO Hold an Unusual History:
Since 1996 to the present day, SEO scams have utilized 'guaranteed traffic and rankings' as a catchphrase to attract buyers. This collaboration has stained the overall industry and has fake businesses, which may consider a guarantee as a trustworthy label.
Some of the messages used by SEO agencies that companies can employ are is that we offer a search engine optimization tool that comes with the advanced website optimization software and link popularity to help you accomplish guaranteed ranking.
Even some companies not only confirm the listing but guarantee the results fast. Some  false statements that they make are:
Our SEO agencies guarantee to stay you on the first page in SERPs each month.
We offer guaranteed services to optimize your site for almost the top 100 distinct keyword phrases.
Our SEO Company guarantees to offer monthly reports, which document your position on the first page.
Numerous SEO agencies still offer guaranteed rankings and have utilized this clever hack to guarantee results for certain keywords, which they select. In this condition, they can choose non-competitive and primary keywords that are easy to deliver a high success rate. However, most of these keywords fail to deliver serious traffic to websites.
3. Search Engines Warn Against Using Guarantee SEO Services:
Clients hardly check guidelines from Google on search marketing. But when a page ranks well for numerous queries associated with SEO as well as guarantees, it is almost unavoidable, if a customer is performing research about a company's offerings.
It must be clear that no one guarantees the top ranking on Google.
Though the content is outlined in a slightly distinct manner, the messaging offered is very clear. If the potential customers have read Google's site and about guaranteed results, they are likely to avoid them and look for genuine services.
4. Search Engine Rankings are Unstable:
When you perform a search from a specific location and you move ahead 3 hours to another destination and look for the same query, you will definitely end up with a very distinct ordering of search results. This holds true for searches relates to Google.
Whenever you perform a search and log into a Google account and check personalized results or check a distinct data center during the action of the query, the results displayed are different. Numerous searchers have also experienced hitting refresh on the query and searching the results re-order or change.
With the incongruous trait of ranking changes and the fact that ranking in the specific position on a particular machine at one point differs, savvy and reputed SEO firms stay away from offering guaranteed SEO services.
5. Only Search Engine Rankings Do Not Justify the Overall Performance of a Website:
Top rankings do not have an equal volume of traffic. A good SEO campaign is not one that measures the performance of your website only on the basis of SEO rankings achieved. It must also measure the increase in the volume of search traffic.
If your SEO contract includes optimization of the website for site conversions, the rate at which this traffic performs the necessary actions on your website must also be monitored. Gaining top rankings is always a way to an end but not the complete end, which is an exception of reputed management campaigns.
If the clients are witnessing rankings to boost their reputation, they may not be the perfect choice of customers. Those clients that hold a solid model for business and also deliver rich services or content to support it want interested, qualified visitors, who come from search engines, as they have expressed the aim that the site can fulfill.
Definitely, the topmost position will usually gain more traffic than any other query in the search results. However, numerous SEO campaigns and some have worked on been sabotaged by targeting with pure rankings.
The important metric must always be traffic, which is augmenting search traffic implies the SEO if performing their job. Just remember, 70% of search volume is in the tail of the demand curve, which offers more benefits than otherwise.
6. Guaranteeing Services For Something Which is Not in Control Can Lead to Ethical Issues:
One thing that people constantly do is making promises, which they actually cannot deliver. This can go ahead in the field of politics, but when it is about the digital marketing field, the same does not work.
For example, if FedEx guarantees to make delivery by tomorrow, it is a guarantee they can do as they have complete control over the means of delivery. However, if a camera maker guarantees that all pictures clicked from their camera will be beautiful, this is a fake promise.
The latter principle is applicable to SEO as well.
SEO agencies must and can guarantee that they can offer the finest advice possible to support your website to gain more traffic. Also, they may guarantee that they can increase the traffic on your website by 20, 40, 60% or more or less.
But SEO marketers don't have any control over the search. The search engines are solely responsible for their ranking methodologies.
7. Ranking Has Been Overtook by Conversions:
If your SEO agency helps you rank on the first page, which is among the top 10 results in the search engine, but for one or more keywords that do not hold much competition and don't offer much benefit, then it is a waste of effort. Your site stands nothing to benefit to be ranked in the top results for an unpopular keyword.
Business owners want their website to prospects, sales to grow, and their website to generate more leads. So, this is what your SEO Company must offer along with better rankings – conversions.
Your website must receive targeted traffic, which can lead to more sales or leads. Gaining a rank and higher bounce rate is not what you really want. Hence, you must aim for increased conversions, which come with increased sales and inquiries.
Your SEO agency must optimize your website to make the most relevant site offering the best services and quality content. This way, the genuine users get what he came looking for on your website, and stay on the website and turn into a lead.
8. SEO Needs Patience and Time:
SEO is a complex process that requires time. There are multiple factors that affect SEO rankings and it cannot be done in time as advertised by some of the SEO companies. No matter what tools or experience an SEO marketer uses, they cannot reap results in the short-term.
A good SEO agency works to develop build the trust and quality of a worthy website, with rich content and web pages that the search engine relies upon.
9. Worthless and Unstable Rankings:
Without the use of correct keywords, even top rankings can be useless. Awkward phrases without audience attachment don't truly add to rankings. Even if your website ranks on the top for certain keywords or phrases, you may not gain any traffic as they are not being searched for.
Also, the location affects the ranking and can reorder the search results, which contributes to the ranking stability.
Some of the Important Requirements for an SEO Firm
Experience – An SEO agency must hold an impressive previous success record. You can check their portfolio and case studies of past clients. If they have happy clients it is possible that they can offer rich services to you as well.
Transparency – The SEO firm must offer clean practices and hold an ethical approach to website optimization. They must not practice spammy techniques as it can result in a penalty to your website.
Industry Recognition – The Company must hold a strong reputation in the industry. It must also hold certifications from the topmost authoritative bodies and industrial organizations.
Timely Delivery and Strategic Planning – Most importantly, the SEO agency must offer a tailored SEO plan for your website. At the same time, it must offer the services and complete the project in time.
On a Concluding Note:
Rankings are not stable. Algorithms are regularly changing and no one can control the search results. Hence, never trust the term 'guaranteed SEO' as it will only harm your business and will do nothing good.