Have you heard about GSA Search Engine Ranker recently? Are you thinking of using GSA Search Engine Ranker for your SEO or link building campaign, but confused whether it is a good idea or not? If these and more such thoughts are troubling you, let me share with you my view on this tool.
GSA Search Engine Ranker is a feature-rich tool that can be a great addition to your link building campaign. It comes with a host of awesome features that are updated every year, which ensures you never lag behind your competitors if you are using this tool.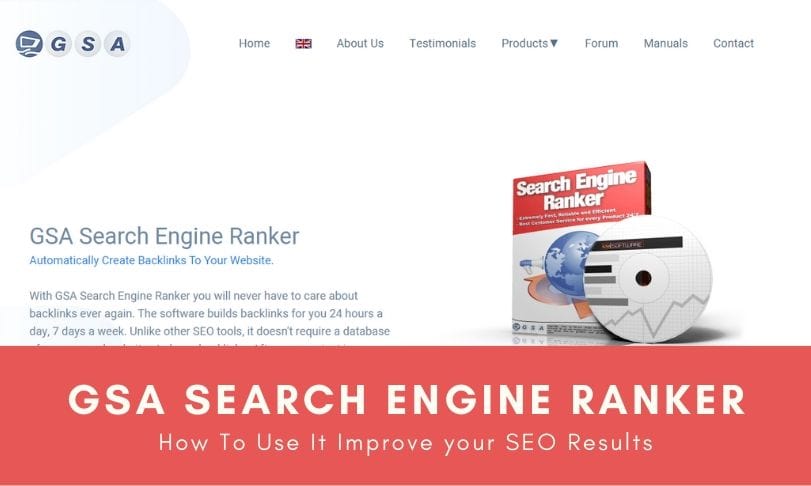 If you are among those who want to build links to your monetary website, this tool will serve you precisely.
What is GSA Search Engine Ranker?
This is an efficient tool that automatically generates a link for your website. Using this tool, you can easily create comment links, social links, blog comments, social profiles, and contextual platforms. It is a great tool to manage the link building process for your site and lets you build multiple tiers to enhance the backlinks on your website.
If you are using GSA Search Engine Ranker, you never have to worry about the backlinks on your website. It is because this is an exceptional tool that generates backlinks for 7 days a week and 24 hours a day.
It is different from other SEO tools in a way that it does not need a database of prescreened sites for leaving backlinks. Once the project is configured, it automatically locates novel websites, register accounts, and finally, submit the links or content without requiring any involvement from your side.
The Interface of GSA Search Engine Ranker
When you are using any tool or software, you are definitely concerned about its interface. So, here check the GSA Search Engine Ranker's Interface, which is also a major reason why a large number of people prefer to use this tool.
There is a main panel of the software where you can checklist of different projects created, color-coded links, tools, and real-time statistics. These statistics tell you about the number of links submitted, the ones submitted today, the number of active proxies, number of verified links, number of submitted links, solved captchas, CPU and memory storage.
When you ever require a reminder, you can always place your mouse on the desired option and the list will be available to you. There are more other options you can check. For this, you have to right-click on the project and there will be a lot of things to alter like a priority, status, project modification and kind of mode to active.
There is another option on the main dashboard, 'Show URLs' that lets you look at verified and submitted links that can be exported or look at particular statistics about them in graphs and charts. Even, you can sort them by internal, external, no follow or follow links. Just make sure that a submitted link is not verified. So, if you want your link to be verified, it must be presented live.
The other options that you may check are making bulk changes and importing target URLs.
Various Settings within the GSA Search Engine Ranker:
Above the last list of verified URLs, there is a button that lets you alter settings for your existing project. This option provides you proxies, thread count, and numerous other things.
The default thread count is 50, which works well till you have a powerful desktop. For example, if your desktop comprises 16 gigs, you can set up to 250 threads.
Indexing:
This software automatically pings all the backlinks it creates. But it is possible to integrate them into one supporting indexing service as per wish.
If you don't want to use the indexer services, you can create more links using this tool and then integrate the same. Some major indexers that are compatible with this software are Linklicious, Link Pipeline, and GSA SEO indexer, Back Links Indexer, Lindexed and Link Pipeline. You just have to select the indexer you want to use and enter the API key for them.
Alternatively, you can filter and skip submissions if the URL is appearing in the backlist. All these can be left to default.
Captcha Solving:
It's true that GSA supports a big captcha solving services; there are two kinds, which you must know about.
First is using a software-based solution like GSA Captcha Breaker that lets you automatically solve captchas that are saved on human captcha services.
Second is the human-based solving expert like Death by Captcha. They are cost-effective solutions that are available at a price of $1.39 for solving thousands of captchas.
It is best to set up by selecting a software-based service as your primary solver and human-based solver as secondary. This way, the primary will reduce the cost of captcha and secondary will be able to pick failed ones at a much cheap price.
For making necessary settings, you need to click on Add and then select services as per your choice. Next, you have to test the balance and establish a retry limit without changing the remaining options. If in case you don't wish GSA to ask for unsuccessful solution, you can select the relevant box.
Proxies:
There is a separate box designed for checking the proxies. The GSA SER scrapes public proxies. It set the proxies to search for the new ones in every hour. You can test all the proxies and consider those, which have failed, if they are older than a couple of hours.
One issue with public proxies is that they are not completely reliable and usually you tend to fail, which may waste your time. If you are spending dollars on Buyproxies, you can purchase semi-dedicated proxies that involve a high rate of success, which is worth the money.
In order to input a self-created proxy list, you must click on the option Add proxy, import the same from the clipboard and change them to private. Once you have added them, you can check the settings again and select proxies, which you want to use, public or private, and as per your preferred time.
Advanced List of Websites
The websites lists let you maintain a log of distinct sorts of links the GSA Search Engine Ranker discovers and submits. These can be reused later in other projects for speeding up the entire process of link submission.
The 4 prominent kinds of website lists are:
Identified websites for posting
Websites, which have been successfully posted
Links that have been successfully submitted and verified
All failed links
It is best to maintain a record of verified and successful link submissions so that it is possible to use them in further projects. The best option for a novel project is importing target URLs and this can be done through the previous website list.
In some time, you will have a big list of websites with verified and successful links, which can be saved and imported fast across distinct projects.
How to Start Your Project?
When you have established everything and have made changes to all option, you can start your new project by clicking on the 'start' option. Once you begin doing it, this software will determine targets as well as submit and verify links.
Within this process, you may get popups from this tool, which require you to answer a few set of questions. For preventing such popups you may hit the stop button and double click the project. You can select the options tab and you will check a line that confirms ask the user or select random. For obstructing popups, alter it to Random.
It is essential to alter this for every new project before you begin it.
How to Start a New Project Using GSA Search Engine Ranker?
For starting a novel project on GSA Search Engine Ranker, you have to first click on the option 'new.' This will start a new project. After this, you need to select the types of links that you want to use depending on the kind of campaign you are running.
One best way to start a new project is building a robust link structure and use high-quality links that revolve around relevant content. Some of the prominent options you can select are Web 2.0, Wikis, Social networks and Article.
Once the link types are selected, you can check with other settings such as Enter keywords, Enter URL, filling anchor text, and more.
It is possible to enter numerous URLS that GSA Search Engine Ranker rotates through at random and create variations of lower case and capital letters. When you are using keywords, there is an option to gather more a lot from target websites and use the collected words for finding novel target websites.
It is essential to base anchor text around the main keywords. It must be created in the spintax format. The keywords can be the same as anchor text. You only have to select the desired boxes.
Design a Link Profile that Looks Natural and Professional:
There are other options available and vital to building a link profile that looks natural. It ensures reducing the risk of getting a penalty by Google Penguin.
You can create a link profile by considering the following options:
First, you may consider a partial match, which includes the main keyword with other things. I suggest maintaining a list of such texts.
There are a few branded anchor texts, which can be used for your content or blog.
For LSI anchor text, you may use Google wonder wheel or scrapebox for getting new words and paste them here.
There is a generic anchor test that clicks here or checks more.
The citations are useful for creating the URL of your website that makes the profile appear more natural.
Anchor text variation is another option that differentiates the lowercase and uppercase letters of anchor text.
You can combine all these settings in order to develop a link profile that looks professional and natural. In addition to this, there are more other options offered by GSA SER, such as:
Select to stop the project after a specific amount of verified links or submissions in one day.
You may leave the verified link options at default and then choose the box for sending verified links to the services of the indexer.
Avoid ticking the box for using character spinning.
Select randomly spelling or typo mistakes.
For avoiding such popups, you can choose the box to randomly select the options. You can also fill captchas to set up captcha solving services. For using tags, you can choose between anchor text and keywords.
To gain target URLs, you are required to tell where to look. You must first select search engines and right-click on the search option by country or location, which depends on the language and demographics of the target audience. Also, you can use keywords for finding target websites. Usually, the results obtained are more relevant and accurate, which is of great help for building links.
Article Manager:
It is now time to select a few articles, which can be added to ensure your time is spent creating quality content for your link building campaign. For this, you must have a collection of high-quality articles. You need to add and paste such articles into the desired box with relevant titles. Automatically, it will consider the first paragraph of the article as a summary.
After completion, you can preview the same and complete with all links.
Email Verification:
It is also possible to perform the email verification process using GSA SER. The various email types you can use are self-hosted, web-mail and disposable.
Inserting Links:
It is also possible to insert links with one sentence at the end and one sentence in the article or absolutely no link. However, the links are placed randomly and appear more natural while spinning the articles.
Final Verdict:
GSA Search Engine Ranker is an excellent tool with a sound team that regularly updates this tool. It is one of the reliable and powerful tools for link building and is worth fitting in your arsenal.