To boost the site's rank in Search engine ranking, grey hat SEO techniques can be followed. A grey hat SEO is employing technical legal procedures for the site's ranking. The techniques followed in Grey hat SEO falls between white and black hat SEO.
It can also be defined as a combination of a black hat or non-ethical SEO and white hat or ethical SEO. Grey hat is finally defined as a technique that follows non-ethical as well as ethical SEO techniques.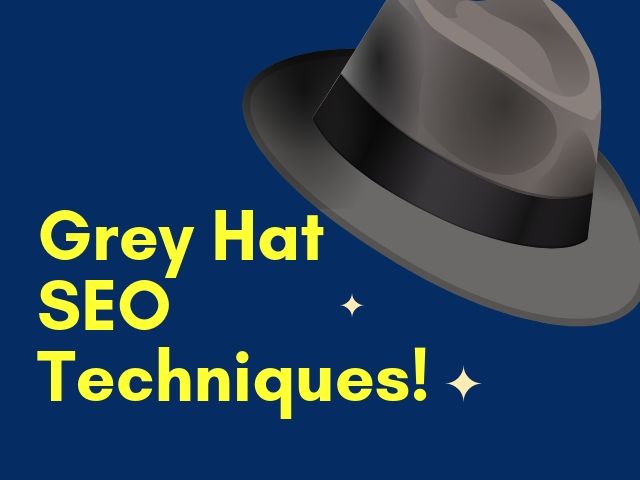 Grey hat SEO techniques are under risk as Google can attack them any time. Finally, grey hat SEO is a method that is not completely objected by Google but does not fall under White hat techniques. Let's glimpse through a few grey hat SEO techniques that help your website rank higher.
Grey Hat SEO Techniques:
1. Domain grabbing:
Buying expired domains also known as domain grabbing is a most broadly used grey hat SEO technique. In order to enhance the website's SEO, domains are bought. The most prominent SEO tactic followed to enhance websites backlink profile is buying expired domains. There are two categories when domain grabbing is considered, buying new domains and buying expired domains.
The beneficial aspect of buying expired domains is that such domains will have a good backlink profile and are relevant. Expired domains always help to enhance the website ranking. Prior to purchasing an expired domain, there are few aspects that need to be checked. Check if there are any toxic links and find the DA or domain authority of the domain.
The domain should possess a clear backlink profile; domain should be at least three years old, internet archive should be used, toxic link developed domains are to be avoided and domain authority should be between 50 and 100.
2. Cloaking:
With cloaking the user is presented with a varied result from the usual one. It is actually a violation of the rules and is measured as a high-risk practice. Actually cloaking is a black hat SEO. By changing the Meta information cloaking is done and hence the IP address isn't affected.
A doorway page also falls under cloaking and there are bigger pages that are optimized for a single keyword so that the user is lead to a single site. With cloaking the design is designed in a way to manipulate bots and land the users to a page they aren't interested in.
This can also happen with multiple pages in the same site as they contain keywords such as locations so that many keywords are employed.
3. Lengthy content:
Long contents are preferred for generating traffic. Considering the competitive niche, the blogger should post contents with 2000 words or more.
Also, the old posts can be extended by adding contents in order to generate traffic. It is important to know the thumb rule in order to generate more organic traffic, 2000 words or more posts are preferred. Hence the length of the content should be concentrated.
4. Link building:
When grey hat SEO is considered, web 2.0 falls under it as users can tweak, generate and also edit contents with web 2.0 forums, directories and submission sites. Initially, in the first generation, the web of online falls under web 1.0 where the pages were static and users had no permission to tweak to take control of the pages.
But now web 2.0 is used where most of them are dynamic pages and users have the permission to make changes. For example, Wikipedia pages fall under web 2.0, where contents can be altered.
Web 2.0 Pages are user-generated content and hence there are a number of advantages.
Link benefits: Web 2.0 is mainly utilized as it helps in building links. Web 2.0 offers no follow links but they are beneficial too. As you develop your backlink profile, diversified links are required and only do follow links aren't sufficient. Also, web 2.0 has few blog directories and sites that offer dofollow links which are beneficial for website ranking.
User-generated platforms: They are ones that assure more visitors and helps in enhanced website conversion rates. Hence it is suggested to concentrate on sites that have more active users.
For enhanced user engagement, it is suggested to opt for web 2.0. Hence it is suggested to stay active on web 2.0 platforms such as social networking sites, Quora rather than just promoting the posts.
5. Redesigning websites at times:
The website needs to be redesigned at regular intervals. The contents may be the same but when the design, color, and code of the site changes, Google assumes it to be new content.
6. Site page with a comment box and anyone can comment:
When you possess a comment box for your site and invite comments, you need to be aware that there would be millions of spammers. These spammers would put their links. This can be handled by approving the links that are less spam and also the links can be replaced with rel=nofollow tag.
By this method, there aren't any backlinks in your page ranking. The beneficial aspect of this methodology is that the number of fresh contents can be obtained with less effort.
7. PBN usage:
PBN or private block networks are one of the famed strategies used for link building. PBN was stopped by many after the Google Penguin update. When a PBN makes use of good content appropriate to the topic, then it's a grey hat SEO technique. PBN for SEO and backlinks follow two methods.
In the first method, money has to be paid to other PBN in order to gain links for websites. In this case, very few links are of good quality, relevant and help in enhancing SEO.
The next method is to develop a PBN. Though this method takes up more time and effort, it's safe. For ones deciding to develop an authority website and have an association with quality PBN, then this method would be perfect.
In order to build PBN of your own, there are few tips to be followed.
It would be perfect to find expired domains that have a good backlink profile and DA. By this way, single page websites can be created that are inappropriate with the content of the primary site.
Content creation process should never be automated. But a single page site containing appropriate and beneficial content can be developed.
There are many link building tactics that can be followed such as blogger outreach, guest posting, broken linking method, etc. Hence your PBN sites can grab in more links. These links are very valuable assets for SEO.
8. Keyword stuffing:
Though keyword stuffing is illegal and may fall under black hat SEO, it has the capacity to enhance ranking and traffic for the site. The keyword density for the site and the length of the article is to be checked.
The keyword density permitted is 3% and when it exceeds it is considered as keyword stuffing. This status is delimited by Google. The website must be optimized in a way the keyword is used in the description, heading tags, title, URL, content beginning, Img alt tag, etc.
For websites that are designed utilizing WordPress, they can employ the usage of Yoast SEO plugin. This helps in content optimization for an aimed keyword.
9. Social bookmarking sites to be utilized:
Another main grey hat SEO technique is submitting an additional number of website links on social bookmarking sites. This technique can be turned safe by making 1 or 2 submissions. When updated posts or other posts are submitted for a single time across social bookmarking sites, then search engine ranking is not affected. Here are a few social bookmarking sites so that your latest blog post can gain more links.
They are Slashdot, Delicious, Folkd, Digg, Inbound, scoop.it, etc.
Digg and Inbound are familiar social bookmarking sites and hence users can sign up and make use of it. There are a few aspects to remember while social bookmarking submission. It is good to find and engage with relevant sites, engagement with niche and making use of unique description and title.
10. Article spinning:
Any article can be rewritten with the help of an article spinner with varied words. Multiple varied articles can be produced and this method restricts the creativity of the writer. Ranking by such techniques is considered a lazy way. There are many article spinning tools available.
After the Panda update, Google has started to identify and penalize spun and machine-generated content. This technique is at certain times under Black Hat SEO and can leave the blogger under great loss.
11. Exchange of links:
Another important grey hat SEO technique is the exchange of links. When links are exchanged automatically then it considered as a black hat SEO technique and when links are exchanged automatically, they are said to be grey hat SEO techniques. When links are exchanged with blogs or other web sites, it is mentioned as a link exchange and is considered as grey hat SEO technic. Exchange of links can be done without being highlighted by Google by following few tips.
The user can develop a list of appropriate blogs in niche and contact with each other and promote contents. A tribe can be built with 10 to 20 bloggers in the niche. It is also great to get associated with other bloggers often.
12. Website to web directories:
Appropriate and enhanced quality free backlinks can be obtained by submission of websites to web directories. Websites on those directories are listed under a specific category. Since all web directories are not similar, it is important to research and also submit the site to web directories that are capable of generating only quality backlinks.
13. Developing a blog or micro-site:
Generating backlinks can be achieved by building a blog or micro-site. This grey hat technique is safe as it can enhance search engine ranking without breaking the rules. Since there is complete control of the content there would be high-quality backlinks. Remember that there should be no duplicate content in a blog or microsite. In order to boost ranking, the content should be original and relevant too.
14. Positive reviews:
Positive reviews are very important as they are mandatory for any brand or business. When customers provide a positive review, the search engine ranking is elevated. There are many sites such as G2, Crowd, Yelp that associates with clients.
15. Multiple social media accounts:
Multiple dummy accounts are created across main social media accounts like twitter, facebook, Instagram, etc. and the promotion of content is accomplished by adding pictures. By following this type of method number of Pinterest pins, Facebook shares, and retweets can be obtained as soon as new contents are posted.
It is true that social signals add to SEO rankings. Multiple social media accounts can be created in order to enhance the number of retweets, shares, pins, etc. Hence this technique falls under the grey hat SEO, as there is a compulsion and purposely followers are created.
There is also buying of Facebook likes, the creation of many social media accounts, etc which are also considered as a grey hat SEO.
Conclusion:
Ranking on the website does not follow any particular rules but black, white and grey hat SEO techniques are available and can help sites rank higher. It is always recommended to follow the right category of technique so that the site or content is not penalized by Google.
Though there are many ways to get better ranking in Google, following the safe and proper technique is always recommended. Such success would be stable and lasts forever.
There are ample techniques and sources that mention the techniques to be used for improved ranking. When all techniques are followed in the right manner, then it is sure for the site to rank higher. Grey hat SEO also follows legal procedures for enhancing sites ranking.
But at times the methods fall under black hat SEO and hence it is suggested to follow the right methods for ranking.