A paid marketing campaign is one of the effective marketing strategies that can give you the result.
PPC and campaigns are essential now if you want to promote a business. These are some new ways marketers use so that the product can reach to more users.
But before introducing these techniques there were old traditional marketing methods, marketers followed to create product awareness.
Now, most of the marketers want to go back to those old techniques and present it in a new way. That means digitalized old marketing techniques.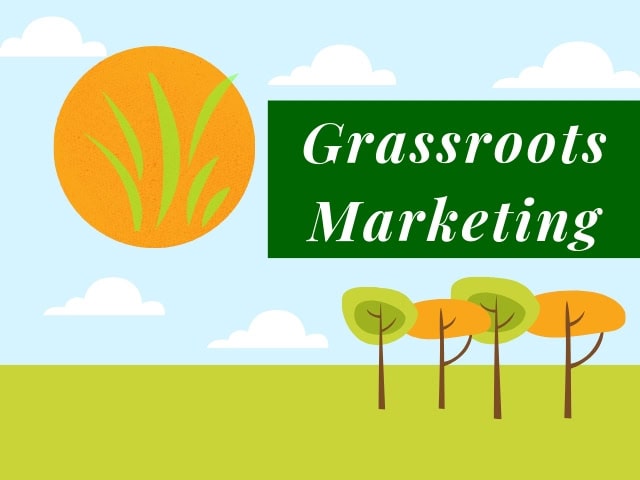 Grassroots marketing is a very popular marketing method now to popularize their product.
Here the traditional marketing method word of mouth works better than any other tactics.
No need to spend so much time on those campaigns and colorful ads to promote your brand. This is a simple and effective marketing method everyone started following now.
So, this is one of the most effective and economical marketing plans every marketer can follow, to spread product awareness. So first, you must know what the term grassroots marketing refers to
What is Grassroots Marketing?
Most campaigns target as many people as possible and want to spread product awareness to maximum people.
But when it comes to grassroots marketing, it targets a particular group related to your niche and persuades them to spread the message about your brand organically to a larger audience.
So, unlike other campaigns here you need to target a particular group in your niche who can influence more people.
This campaign runs with the help of social media and you need to create it simple and attractive. Your campaign should be with a simple message and also make it user-friendly.
No need to make people confused by spreading a complex message. Create an engaging campaign and improve its shareability.
Include visual contents in your campaigns which can make more user engagement. When you decide to do this campaign, first you need to contact the influencers in your niche and present your idea to them.
This is not a campaign that gives an immediate result. The main reason for this is, here the message go through influencers.
Wait patiently for the result. You can use all platforms like phone, computers, tablets, etc.
Don't leave a single option from where you can get the response. If you made it well, you can see the result within a few days.
Benefits of Grassroot Marketing:
Many marketers don't think that it is a working strategy they can choose. They believe PPC and paid marketing campaigns are more effective.
To clarify this here, I am including more points. These are some reasons for using grassroots campaign
Economic:
If you want to use an economic plan which doesn't demand more budget, this is a suitable one.
Grassroots marketing works by targeting a small group. So, you can save some money by following a grassroots marketing campaign.
Smaller campaigns:
This targets a small group and can make effective by creating more targeted campaigns.
This is cost effective and gives separate identity to your campaign efforts from larger paid campaigns
Create an Interactive social media experience:
Social interaction is very important to your customers. Brands with good connection with customers can last longer in the market.
You can use social media as a medium to directly connect with your audience.
Grassroots Marketing Ideas:
Now we got the concept of grassroots marketing. When you create a campaign, it should follow any of the ideas given below to ensure maximum reach to customers.
Other than these ideas you can develop new ideas that can bring a positive change in your marketing.
Experimenting is the main idea behind each campaign. Each successful campaign is the result of an experiment. Check out some effective grassroots marketing ideas
1. Connect with human emotion:
Human being connects with your campaign if you can present emotionally driven campaigns. Engaging campaigns with a storytelling nature can help you to spread the content organically. According to the latest marketing research, the brain acts differently to emotionally connect with the content.
The brain releases dopamine when it hears an emotionally filled story. Like visual contents, this emotionally connecting contents can help to remember your brand.
Emotionally connecting campaigns can be easily remembered and is an excellent way to reach out to your customers.
The best example where this strategy created a huge impact on customers is of a Canadian airline called WestJet. They created a campaign where passengers can add what they expect as a Christmas gift.
They created a detailed survey. After the fight takes off, the staff rushed to pick up the present for each passenger. They wrapped it in gift paper and gave them when passengers landed and waited for baggage.
Airlines distributed gifts through baggage carousel. This was a very emotional campaign where they got more than 48 million people views on YouTube. Carrying out a plan with this much emotional connection will work well for brand promotion.
2. Support a charity:
Supporting a charity can give more inspiration for users to participate in any campaigns.
If you can find noble cause and support, its users can follow with you. This is a great way to let your customers know about your efforts to support something good.
One way is to sponsor the charity campaign, or you can conduct that campaign and raise money for them.
Strong brand support will make every charity campaign successful. This will also help to create a good impression of your brand to users.
There are many genuine examples where grassroots marketing campaign created magic.
There was a famous movement conducted by Susan G Komen. This was for cancer research and promoting a healthy lifestyle. This movement became stronger when many popular brands supported it.
Some of the sponsors of that campaign were Bank of America, Ford, American Airlines, etc.
If that campaign can be successful if you participated, then why not. Make sure it reaches your customer. This is a very good example of using a noble cause as a marketing campaign.
3. Catch a current trend:
The trend keeps changing every time. By following various social media platform, you can get an idea of changing trends.
You can jump on to a current trend in the early stage. That's where you need to put your effort to.
If you can catch that trend in the early stage, you can easily get into the track. This is the best time where people can identify your product related to that trend.
The advantage of these campaigns is that people will relate your brand to that trend and they can easily remember your brand
When Ebola breakout came there was a huge issue and made its way to America, Emergency Nurses association made a social media response plan.
There they shared various vital information that helped people to deal with various issues associated with that disease. This real-time plan from ENA helped many people to save their life.
They shared tips for saving lives and information about various symptoms to look while identifying the disease. This social media awareness program was a big success and there were more than 125 million impressions on various platforms.
4. Creative Advertisements:
Advertisements are always powerful. Everyone spends so much money on it. But when you spend money on advertising, it should be something special.
There is a chance of getting forgot in this large flow of other advertisements. That's where ambient ads can help you to get people's attention. But it may cost more money compared to other types of campaign.
The price depends on the medium you use, advertising space and campaign type. This is an effective way of getting attention from your customers. There are so many examples of this type.
National Geographic 3D crocodile escalator, Windex car cleaner, creative ad on a bus done for advertising Copenhagen zoo, etc. are some of them.
5. Do something for free:
Giveaways something for free for a good cause. This is a great way to support your community in a better way.
Do it one day and see how your small deed helps others. Recently there was a movement in the US where the Laundry Care Foundation organized free laundry days all over the nation. This was done to support low-income families and for promoting education.
The program was a big success. This is a great way to connect with your customers. It is only possible if you can afford that free giveaway.
6. Partner with other business:
A partnership of campaign with other business can make it big. If you can get a strong companies partnership for campaigns, it can be a great success.
This can help to reach to a wide audience and will also get a good response. There was a campaign from ASMR called 'Men of ASMR'.
ASMR is the sensation people feel while hearing a lower sound. They made videos on YouTube that can help people to feel relaxed by hearing this soft sound.
A group of men created this video of one and half hour length. It became popular with so many viewers within 2 weeks.
They published video on a popular YouTube channel and it gave them identity. After that, they created their own channel to promote such videos and their followers increased.
7. Play with controversy:
It is very difficult to play with controversy. Everyone wants to stay away from controversy.
But a good marketer can make it as a great advantage. They can use that particular controversy to attract people towards their campaigns. There were many such examples and most of them faced challenges and criticism from people.
There was an advertisement for Dove's to choose a beautiful campaign. More than 9 million people viewed this ad on YouTube and also, they faced a lot of criticisms.
The controversial market can promote your brand and increase its popularity. But nobody can assure that whether it is in a positive or negative way.
Anything can happen if you handled it properly. Many big brands failed to create a positive impact on this type of marketing.
But if handled properly this is a best grassroots marketing idea a marketer can choose to promote the reach of his brand.
8. Initiate a movement:
Creating a movement is not a small task. But we know many challenges that became succeeds.
One of the biggest examples that happened as a part of such a campaign is the ALS Ice Bucket challenge. This was started by a former baseball player Pete Frates who got ALS himself.
The result of this campaign was big, and they raised 114 million dollars for research as part of this campaign. So, don't think that every challenge will be so small. It can be big with the participation of users all over the world.
Influencers can bring such a huge response from users. but the cause of it should be something genuine and interesting.
9. Participate in an interview:
When it comes to popularizing a product local television, the internet plays an important role.
You can promote your business through an interview and this is one of the genuine and economic types of advertisement. This also helps to reach to your prospective customers easily without any interruption.
Genuine words are more powerful than any campaign. If you can make them believe in your brand, you don't have to go for a campaign. This is the easiest grassroots marketing technique according to many marketing experts.
TV, radio, etc. can help to send the word faster among people than printed media. So, adopt this technique if you want an immediate result.
Final Words:
Grassroots marketing is a wide topic and believes in many traditional marketing techniques. The implementation of traditional marketing technique through digitalization is what it does.
Word-of-mouth is considering as one of the strong and powerful marketing technique here.
To spread this word 'marketer', use social media as a tool. When you want to promote your business to get a good outcome grassroots marketing is the best choice.
You can see the above examples and try any of the ideas of your business. Experimentation is the key to success. Achieve your goal by implementing this marketing technique.