There are numerous online tools available to check grammar, spelling, and readability issues in content. Among the various tools, the most efficient and promising one is Grammarly.
Though using this tool can be a costly affair, but it is universally acknowledged as one of the finest online tools to check all kinds of issues in a piece of writing.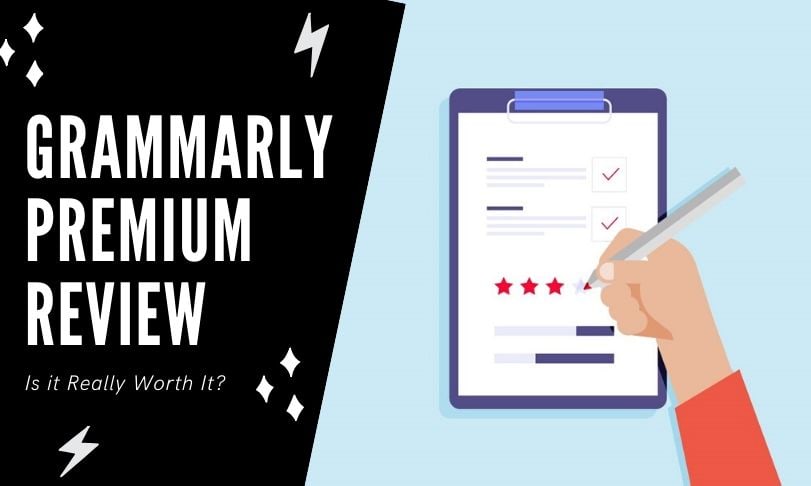 If you are still not convinced of using this tool, here check my comprehensive Grammarly review. I have listed all features, pricing, interface, functionalities, and benefits of using this tool to let you make an ideal choice.
What exactly is Grammarly and Why It is considered the Best?
Whether you are a blogger, student, freelancer, or involved in any other online business, having flawless writing skills is a must to gain success in your endeavors.
The reality is that even most exceptional writers can make mistakes while writing, particularly, when you are working on a long post.
To ensure your content is free from all sorts of writing issues, Grammarly plays a pivotal role.
This online tool checks your entire content for all sorts of writing issues and saves you a lot of time and effort, which may waste while manually checking the content. It is a brilliant proofreading tool that highlights all errors and offers a list of suggestions to make corrections in just a few seconds.
The best thing about Grammarly is that it offers numerous features for absolutely free.
Which is a Better Version – Grammarly Premium or Grammarly Free?
A lot of people have a doubt about whether it is possible to use Grammarly for free or not. I understand the concern as every dollar you invest must reap results.
You will be amazed to know that Grammarly can be used for free and offers you a list of rich features, which are useful to polish your articles, blogs, or other textual content. You can check your content for punctuations, grammar, spelling, and more other issues in very little time.
Moreover, the free Grammarly version can be used numerous times.
But if you want to check your article for advanced grammar issues, you must switch to the paid Grammarly version.
The prominent features of Grammarly Premium version, which are unavailable in the free version, are:
Vocabulary Enhancement
Checking content for readability issues
Checks content for writing style for particular genres
In-built checker for plagiarism to maintain content's uniqueness
Checks content for advanced grammar errors like punctuation, contextual errors, grammar, and structure issues
So, what is the Cost of Using Grammarly Premium?
Some people may consider Grammarly expensive, but actually it is an affordable solution. The monthly cost of using Grammarly is $29.95, which makes it a perfect fit for bloggers, professional writers, businesses, and others.
However, if you subscribe to the annual plan, the cost reduces to $11.66 per month. It means a higher cost initially, but huge savings throughout the year.
How Can You Use Grammarly?
Just like various other proofreading tools, it is possible to use Grammarly across numerous apps.
Some of the finest ways to use Grammarly are:
It can be added as an extension to your browser.
You can launch it right from their site.
You can download Grammarly as your desktop app.
Integrate Grammarly as an app for smartphone keyboard.
Install it as an added feature to Microsoft Office.
The Web-Based Interface of Grammarly:
You have to log in to the Grammarly account created on your website to start accessing this tool. Once you log into the account, the My Grammarly webpage will appear that lets you conveniently manage the entire proofreading tasks.
You can also upgrade the Grammarly account and as confirmation, your dashboard will have Premium ribbons. It is an indicator that you can now proofread your work.
For checking a new post, you have to click on 'Upload' button. Alternatively, you can click on the 'New' label option.
For uploading the content, you need to locate the post on your desktop. Alternatively, you can switch to a blank document using Grammarly editor. When you use Grammarly editor, you can also write a post from scratch. Or, you can copy and paste the content to get things correct.
The web interface from Grammarly is great for posts you have already written and available on your desktop. Also, it is possible to utilize the fully-equipped editor as your word processor.
No matter which way you select, it is possible to design grammatically correct and error-free posts using Grammarly.
However, if you want to use Grammarly on Google Docs or an email service, you can use it as an extension to your browser.
Using Grammarly as an Extension to Your Browser:
You can use Grammarly as an extension to your browser to check your writing directly in a web browser. It works on Gmail, Facebook, WordPress, as well as most of the email marketing platforms.
For example, if you want to add Grammarly as an extension to your Google Chrome, you can install it directly from Chrome Web Store. Once downloaded and installed, you can add to your chrome. Here a pop up will appear where you need to select the option for 'add extension.'
Once you reach the page 'Welcome to Grammarly,' you can start using this tool as an extension to Chrome. Also, a Grammarly extension icon would appear on the Chrome menu.
Using Grammarly as a Desktop App:
Another great way to use Grammarly is as a Desktop app. For this, you need to download it and launch it from the desktop. The operating version of Grammarly for desktop can be downloaded from their website.
Once the download is complete, you can launch Grammarly after booting your desktop.
Using Grammarly this way is a highly convenient way to check your content for grammar-related issues. Moreover, the desktop app works great on a laptop and is a standalone, lightweight application.
Using Grammarly for Microsoft Office:
Grammarly being lightweight is perfect to use for Windows. It brings all proofreading features of Grammarly to all programs of MS Office.
For installation, you need to download the setup from the MS Office Add-in webpage of Grammarly. After installation, run the executable files and simply follow the instructions displayed on the screen.
You can either select MS Office programs where you want Grammarly integration and click Install, or you can activate Grammarly to the MS Office program's toolbar. Like, if you want to use Grammarly on MS Word, you can click on the option 'Open Grammarly,' which is displayed on the Home page.
Here, a sign-in window will popup where you need to enter your account details and you are good to go.
You will get access to limited Grammarly's features if you are using the free version. But if you are using the paid-premium version you will get access to other benefits and features such as plagiarism checker, vocabulary enhancement, and more.
If you are a content writer that uses MS Outlook or Word on a daily basis, this is the best way to use Grammarly.
How to Use Grammarly Keyboard?
The use of Grammarly is not limited to desktop or laptop only. You can use it for your iOS and Android devices as well.
All you have to do is download the Grammarly keyboard from the Google app store and request installation through SMS by submitting your phone number.
For activating and using Grammarly keyboard you need to log into the account by submitting your Google account, Facebook details, and email address.
Next, you need to set up 'Add Grammarly Keyword' on the setup page and it will list virtual keyboard on your device. You can now start using Grammarly keyboard on your device as a primary method for text input.
When the keyboard is installed, you can type at any place on your device and Grammarly will check the text for errors. When you will type content, corrections and word suggestions will be showcased above the keyboard area.
It is an excellent platform for those who want to get work done fast in their mobile device such as posting on social platforms, sending emails, writing on mobile processors, and more. Also, you can make necessary changes in the settings from the app interface and manage various features such as emoji suggestions, auto-correction, predictive text, and more.
What is Grammarly Editor?
The best thing about Grammarly Editor is that it comes with a minimal and fast interface. It comes with multiple toolbars such as:
New Document – This lets you upload or create a new document.
Back to Grammarly – This feature returns you to the Grammarly homepage.
Editor Settings – This window allows auto jumping and increasing the font size and is of great help to the users.
Exporting – It allows printing, copy and downloading the text.
Help – It is a highly supportive section for Grammarly users that lets you use the classic editor, send feedback, and check the privacy policy.
Also, there is a toolbar displayed at the bottom of Grammarly editor that consolidates basic formatting options and comes with various features like:
Hyperlink
Header Tags
Bulleted and Numbered Lists
Word Emphasis like Underline, Italic, and Bold
Document metrics such as character count, word count, reading time, and more
What is Grammarly Assistant?
A great functionality offered by Grammarly is Grammarly Assistant that lists below total numbers of alerts, which is a comprehensive list of suggestions. This is a bit time-consuming process where you have to check errors from top to last and apply recommended corrections.
The right side of the Grammarly assistant assesses your document and lists an average score. You need to click on the score for having an in-depth view of the post's performance. This report discloses valuable insights such as the percentage of exclusive words, readability score, the average time of reading, and more. Considering all these metrics lets you create rich content, which is free from errors and issues.
Also, it is vital to emphasize the performance score mentioned in the report.
What is the Performance Score of an Article?
A higher performance score for an article means it is easier to comprehend and read.
According to Grammarly content with a minimum score of 60 is ideal and easy to read for individuals with a decent education.
How to Set Grammarly Goals?
When you are using Grammarly, you get the ease to establish your goals by targeting your specific audience, tone, intent, type of article, and formality. This adjusts the performance score of the Grammarly algorithm as per your goals.
For establishing the goals, you can set goals and click on the option of 'goals' displayed on Grammarly's assistant.
It is very convenient to establish goals using Grammarly and you can list all factors that influence the scoring system and allows you to establish preferences for every piece of content.
When establishing goals on Grammarly, the important aspects you must take into consideration are:
Identify your target audience and their preferences.
Establish goals related to the language. It can be informal or formal based on the target audience.
Check your content for writing style as it lets you define the kind of document to write. You can select the preferred writing style, such as academic writing, business writing, technical writing, creative writing, and casual writing.
How to Deal with Alerts on Grammarly?
It is easy to fix issues detected by Grammarly alerts and all the alerts are arranged on the assistant panel of Grammarly. You can make numerous corrections in your content by clicking on suggestions from Grammarly.
All you need to do is click on the suggestion and the correction will be done automatically.
Understanding Correctness Alerts
These are alerts related to general spelling, punctuation, and grammatical issues. They are simple to fix as corrections are suggested by Grammarly.
It is possible that Grammarly may disclose more than a single suggestion. You can select your preferred suggestion and resolve the matter.
In addition to this, Grammarly also sends engagement alerts, clarity alerts, and delivery alerts. It also checks the content for plagiarism.
Final Verdict:
I think I have covered almost everything about Grammarly and believe that it is one of the finest tools available online for checking not only grammar errors but other mistakes in your content. I would recommend using Grammarly Premium to those who have a budget. However, if you only want a proofreading tool, you can use the free version.