Gone is the time when books were the best friends of people, this is the era where search engines have overtaken books and have become the best companions for mankind. People are able to google any information and find relevant sources irrespective of the niche from any part of the world. The main job of Google is not just to help people find relevant information on the web, but help people find good and quality content on the internet. To get one's content ranked as a good source on google; websites have to build their Google Trust Rank.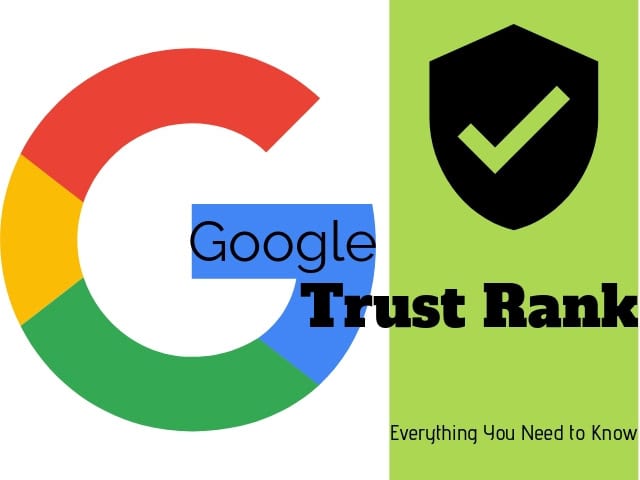 Websites have to use relevant and apt keywords so that Google is able to match the content with the relevant searches and help people find the website. Just as all healthy human relationships are built on trust, it is important to gain Google's trust by sending the right signals to the search engine. This, in turn, offers the authority for the website as a one that people can trust.
What does Google do with the Website?
Google wants its users to have the best of search results and thus keeps updating its algorithms every day. The working mechanism of Google is to be clearly understood to create a website that ranks in Google. After the website has been launched, it gets crawled by Google's robots also called spiders. These crawlers send critical information about the website back to the search engine.
All the data that the spiders return to google gets indexed so as to help the search engine understand the website better. When a user searches for something in google with a keyword, it gets searched in the entire cloud by Google's algorithm. It then sends back the most relevant search answer for the end user.
Previously websites were ranked based on its keyword density, more the keywords, more is the search engine ranking of the website; also topical keywords kept people occupied. But recently, keyword density is not a priority for Google. The goal of Google is to connect websites with users based on relevancy. More than page ranks, it is the trust that helps a website rank high in Google.
Based on certain markers that are fed into its trust algorithm, Google decides which websites to trust and which do not trust. And those markers are,
The age of the website that is been indexed
The authority of the domain website
And finally the content quality
Google Trust Rank:
In the eyes of Google, not all the websites are equal and this is absolutely as well. It would really be frustrating for the people browsing for some information to land up in a page filled with nonsense content. Search engines have to trust a website before promoting it. So, Google uses something known as the 'Trust Rank' which is the basic protocol that it uses to grade websites in terms of authority, trustworthiness and overall quality.
Google trust rank helps the search engine to combat spam. By measuring trust signals, they evaluate the legitimacy of the website's links and its content. Websites that hold a huge volume of quality links, tend to earn the trust of Google. It uses more than 200 signals to rank the website as a credible one. Some parameters that Google uses for enhancing its trust rank are,
The Age of the website, older the website better is its search engine ranking and credibility.
The uniqueness of the content. Both Google and the end user do not prefer copied content.
Site upgradation. The websites have to update themselves frequently as fresh pages and fresh content to attract more users.
Greater the number of pages that are indexed, higher is its trust rank with google
Greater the number of visitors for the website, higher is its TrustRank.
A website should have ample backlinks. Sites that have qualitative and quantitative links are important for higher ranking.
Importance of Google Trust Rank:
Trust Rank is the key for SEO success of the website. Sites that stay up to date with the recent algorithms have a fair chance of passing this trust test. Google also penalizes sites that have over-optimized its backlinks and its content. Using keywords as the anchor text in the content no longer holds good.
The profile of the backlinks should seem organic and varied to avoid being penalized. Some websites have performed exceptionally well by using the same anchor text repeatedly in the past. But in present times, the idea of using only one set of keywords with all the backlinks may not work at all. In short, Google penalizes all the sites that use links just for promotional purposes.
Trust Rank is not an official search engine term but it is real and does exist. The term refers to the simple trust that Google keeps on the websites listed in it. All the Website owners have to ask a simple question on 'Does Google Trust out sites'?
If the answer is No, then probably Google is not going to send visitors to the website anymore.
How Google Trust Rank Works?
Google is not a real person, it does not have emotions and feeling for penalizing something that is not up to the standards. But it calculates the trust approximations and assigns a score based on an algorithm. This Algorithm is called the Trust Rank. The search engine Guru has not thoroughly explained the functioning of this algorithm any time before. But somehow webmasters are sure that such calculation exists and is pivotal for website ranking.
At present, there is no check or measure to calculate Trust Rank and it might not be available in the future as well. It keeps altering from one update to another and no third party tool can calculate this Trust Rank factor promptly. Google also does not have any idea to release such a tool to avoid websites to over optimize the trust rank tool as well. Releasing such a tool would mean that the business with the highest SEO budget would conquer the truth and the trust factor.
By optimizing sites according to trust rank will have serious consequences to the end user, as their search result might land them in an absurd website and half of the sites that loads might not work. It is true that Google cannot decide what website reaches on top of the search engines based on its opinions. But it definitely has some algorithm to rate the reliability and credibility of the website. And this algorithm is termed as the Trust Rank Algorithm.
Ways to Increase Google Trust Rank:
If we consider some of the top publications such as the Huffington Post, they have extremely high trust ranks. These links will remain authoritative and valuable for life. Google has to identify websites that have some resemblance to these news sites, and it can also trust to maintain its order on the internet.
Therefore websites have to get themselves to a point where google trusts them. This trust factor also impacts the actual visitors to the website. Websites can manage to fool the algorithm somehow, but not the actual visitors for the business site. Following are the ways to enhance the Google trust rank for websites.
1. On page optimization:
Websites have to ensure that all of their web pages look trustworthy. Web pages are the first places that it identified to make heads for the site. Some things that can improve the on page optimization are rendering quality and well-written content that is error free and written in a language that people can understand. Plagiarized, shallow and copied content can never fall in the good books of Google.
2. Having links to authority websites:
To improve trust, websites have to bear links to other authority websites. Having authority sources on the website will guide Google towards building up the trust rank. It also means that by referencing sources, people are able to learn more from those sources and also cross check the claims.
Any domain ending in .gov and .edu is considered to be a reliable source without any introduction. Linking the website to those sources projects the websites as a credible and serious one in the eyes of the search engine and also the visitor.
Previously websites use to avoid linking with sites with the fear of diluting their content. But actually linking is one of the best ways to choose what the website wants to be associated with and also offers the readers with some additional information.
3. Managing terms and copyright pages of the website:
Websites that feature a well written and well-managed disclosures, copyright information, privacy policies, etc., have high relevancy. Apart from creating valuable pages, websites should also update them for some serious business.
4. Managing Bounce rates:
Google always and also will take the behaviors of site visitors seriously. It is important that websites engage users on their site for a considerable period of time. If people are not spending more than a few seconds on the sites then it communicates everything negative about the site to Google. Such negativities would surely affect Google Trust Rank. To help visitors stay on the web page for a long time duration, then sites should have the combination of engaging headings, great design, good fonts, and very few ads.
5. Create a brand name for the URL:
Google is fond of brand names, and it prefers referring an URL with a brand rather than simply terming it as some xyz.com. Websites have to take efforts in establishing themselves as a brand and focus on long term visibility and recognition rather than on short term traffic.
To establish as a brand, websites need to create a logo for themselves, focus on brand signals, create a brand domain name, draft clear 'About us' pages, have social media accounts, create backlinks with the brand as its anchor text, etc.
It is okay to build a reputation for the website from backlinks from reputable sources; to avoid getting into trouble, websites can register the brand name as a trademark as well.
6. Having clear website domain information:
To build the trust rank, websites have to consider Google as their main domain registrar. This is because Google is constantly interested in looking at the 'who is' information on the sites. With this information, it also ensures the trustworthiness of the sites. Some things that can be done for perfect domain information are,
Registering the domain for more than 2 years
Adding the 'who is' information on the website contact page
Making information about the website public to improve Trust Rank
7. Getting good Links:
We have discussed previously on the importance of linking the website with trustworthy sources. While this is a great idea, how great would it be to get a link from a trustworthy source?
Yes, that would be extremely amazing. It is absolutely true that websites have to work hard to get links from credible sources, though the journey is tough, the results are amazing. This would also help in gaining tremendous credibility from external sites.
Imagine the greatness of having a link from a news website or an industry site, we all know that Google loves news sites and consider them to be extremely reliable and specific, especially those that are linked with google news. But the external links for a site should be relevant to the original site and fooling with this will ditch the site ultimately. Some tips in creating good links are,
Posting a guest post in a reliable site
Using press releases to secure news placements in google
Using sites such as LinkedIn for some links as influencer marketing etc.
Final Thoughts:
Thus Trust rank is an important factor to make the website rank on top of search engines. We have discussed its importance and some of the best ways to enhance the trust rank score.
At the end of all of this, Google wants all of its users to have good experiences with their web searching. Websites also should optimize their standard to rank in google and also to win the trust of its visitors. They should also consider linking themselves to credible sources to render excellent user experience and be authoritative with Google.