Most of the SEO marketers are focused on ranking their webpage on page one on Google. However, this is not enough to get people clicked on your Google page. In order to bring more clicks on your webpage, it is best to get people to click on the SERP Snippet altogether.
In other words, the organic CTR, which is the rate at which visitors click through to the website from your organic search results, is just as vital as landing on the first page of the search results.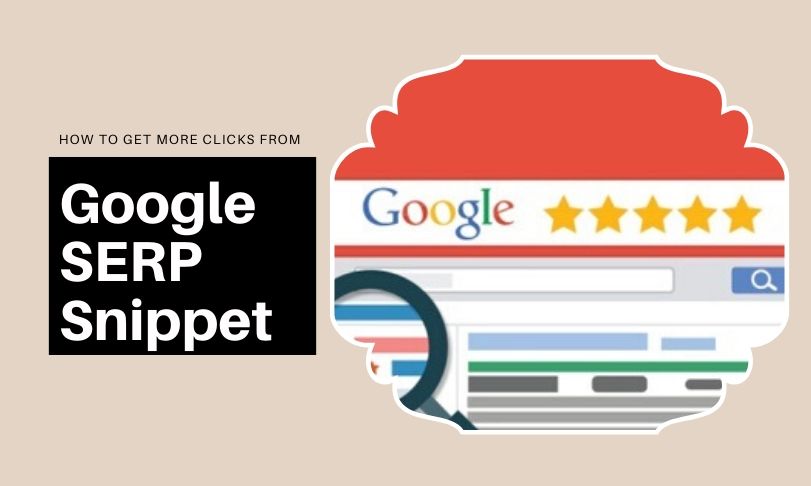 The CTR or Click-through Rate is monitored by Google and if people are not clicking on your website's SERP listing, Google will reduce your ranking and position you down the page.
Alternatively, a good Click through Rate will boost up your SERP snippet through the search results.
According to a report by Moz, if you wish to gain higher rankings in the spot, you need to improve your CTR by at least 3%.
So, how can you make more searchers click on your SERP Snippet?
In this post, we will mention some great tips to let more people click on the SERP Snippet.
But before we delve into the details, first let us tell you what exactly SERP snippet means.
What is SERP Snippet?
SERP Snippet is the line of data that Google showcases for every search result. A basic, they include:
An SEO Title
A URL or a breadcrumb that navigates to your webpage
The date when the webpage was published
Meta Description
In addition to this, a SERP snippet also includes other details, like reviews, thumbnail image, the total number of votes, price of the product per unit, ratings and more. This additional detail is known as structured data.
Tips to Get More Clicks on SERP Snippet:
Here are some ways to avail of more number of clicks on your SERP Snippet.
1. Increase Clicks Using a SERP Snippet Tool:
Using a SERP Snippet tool is an excellent way to preview the SERP Snippet. This tool offers you ways to improve it. One efficient tool that we recommend to our users is Yoast.
There is a free version and a premium version of Yoast available. The free version is absolutely perfect for the techniques that we will be discussing in this post.
Using Yoast, it is possible to customize the four core SEO elements of a blog post:
Slug
SEO Title
Focus Keyword
Meta Description
When you customize and modify the Meta description and SEO title, Yoast displays the real-time exactly what your SERP snippet will appear like.
Other than Yoast, you can use other tools to gain more clicks for your SERP Snippet.
SEOPress – It is available in both premium and free version.
The SEO Framework – It is available for absolutely free and you don't have to pay any amount to use it.
SEOPressor – Its premium version is available at a nominal monthly fee.
All in One SEO Pack – You can use the free version as well as the premium version. The premium version is available at an annual fee.
2. Optimize the URL:
Undoubtedly, one thing that Google prefers the most is short URLs.
Even John Mueller from Google confirmed that when there are two URLs available with the same content, Google always prefer to pick one with a shorter length.
It does not imply that a shorter URL is an important ranking factor, it means that short URL has a long parameter linked to it and we know they display exactly the same content that we will try to select the shorter one.
To put it in another terms, short URLs have higher chances to rank higher and this imply they are likely to gain more clicks than the long URLs.
So if possible try to use the shortest URL for your domain.
The only reason why a longer URL is more beneficial than a shorter one is that it allows you to use more than two keywords in the URL rather than one. And with the current focus of Google on LSI keywords, it is definitely wise to include more than one keyword in the URL.
3. Optimize the SEO Title:
Next is to optimize the SEO title of your post.
If you have a dull and boring headline, you would not receive more clicks.
Moreover, you are competing with individuals who have spent a lot of effort and time creating SEO titles, which pulls people in.
There are numerous formulas and techniques in order to create winning titles.
According to BuzzSumo's Steve Rayson, the best formula to create a viral headline is – Your SEO title or headline that incorporates 5 core elements:
Promise
Format
Topic
Content-Type
Emotional Hook
It does not matter what is the specific order for such elements, but try and earn as many of them as you can place into the SEO title.
Another formula to create a winning SEO title is from Brian Dean and Larry Kim that includes a proper format, a content type, an emotional hook, and your subject.
Even, there is a simpler formula from Brandon Gaille of the Blog Millionaire that uses a odd number, a superlative, and the exact keyword phrase.
Some of the examples of such blog titles are:
15 Biggest Sam Walton Quotes
10 Amazing SEO Tricks for Beginners
4. Optimize the Meta Description:
Searchers scan the Meta description very fast to see if their page will answer the query they entered into Google. One important thing they are searching for is the keyword that they have used in their search query.
The best ways to optimize the Meta description are:
It is best to begin the Meta description using a verb. This engages the reader more with the web page.
It is because it impacts the reader to visualize how they will use the website to fulfill their search query.
Include a CTA or Call to Action
Next, it is vital to include a Call to Action or CTA, preferably right at the starting in the first snippet.
Incorporate the Focus Keyword
This is mandatory and highly beneficial. You must definitely include the focus keyword in Meta description preferably as close to the starting as you can.
If the searcher enters a keyword into the search query, Google bolds that keyword in the Meta description. This lets your SERP Snippet stand out from others.
Avoid Duplicating Meta Descriptions
Each Meta description you create must be unique to a specific page. You must never duplicate the Meta description across different pages. This is of no benefit to Google and you can even get penalized for the same.
The Meta description is the summary of the content on your webpage. It is 2 to 3 lines of text appearing below the SEO title.
If the Meta description is not included, Google simply pulls in what it thinks is the most appropriate text from the page. Hence, it is vital to set the Meta Description of the way to get complete control over how Google summarizes the page.
This form of data is mainly a syntax which informs search engines about categories of details that the content contains and the way you want it displayed.
You have probably seen it in the action in the search results. Structured data is most commonly utilized for such kinds of content.
Products
Books
Reviews
Events
Recipes
Movies
But need not worry if your blog does not deal with the recipes, events, product reviews, movies, or recipes you can still utilize structured data.
All you have to do is install the rating system so that the readers can rate the blog post.
One of the best rating systems for WordPress blogs is WordPress-post ratings.
Just install and download the plugin, activate it and then incorporate the following shortcode at the beginning of each article or blog post.
The default schema type utilized in this plugin is Article, but you can alter it to other schema types like Movie, Product, Event, and Recipe.
5. Optimize the Speed of Your Website:
If your website takes too much time to load, it will not gain high ranking even if your Meta description or SEO title is good. Your visitor will simply click on the back arrow and check the next results in SERP.
Google checks the behavior of the SERP Page and they will penalize you if you do a mistake. As a result, your rankings can move down.
So, what is a perfect website speed?
If the webpage loads in 2 or less than 2 seconds, it is good website speed. You can test the speed of your site using the Web Page Test tool.
The finest way to increase the loading speed of your website is to use a 'cache plugin.'
A cache plugin works by saving the HTML files so that it can be re-used rather than loading them afresh with every page visit.
When any person visits the website, rather than loading the PHP scripts from the scratch, the files get served from the cache.
The best caching plugin is W3 Total Cache. It is free and has more than 1,000,000 active installs which is a good testimony.
6. Check the Organic CTR:
The main aim to get more clicks through the SERP Snippets is to check the pages that are underperforming. Then you may apply such tips from this article.
To identify the organic CTR, log in to the Google Analytics account and then check the queries within Acquisition, Search Console.
Another way you can check the CTR is by looking at the landing pages. For this, you must check the acquisition and then check the landing pages.
7. Answer Search Queries Concisely:
Google features an answer when it is mentioned in a paragraph. The average length of the featured paragraph is up to 97 words. Hence, use this important and basic guideline while creating content for commonly searched queries.
It is the average limit of words that are important to feature your snippet in Google. But it does not imply that your content must always include only one paragraph. If you utilize useful tips such as asking a question in the subheading and offer an answer in just one paragraph with an elaboration of article, you have more chances to get featured in Google.
8. Your Snippets Must Contain Factual Answers in a Well-Organized Manner:
It is vital to present accurate details of your website, particularly when you wish to get featured in the snippet. When designing content, remember to include the list, steps, and numbers in your answers.
If you have to present a comparison list or chart in your answer, you have higher chances to get featured in the snippet. It is because Google chooses tables from other websites even for highly searched and branded questions.
9. Incorporate Images in Appropriate Places:
Snippets written in a paragraph with attractive images are highly pleasing. Even Google loves them.
Create attractive and branded images to enhance the aesthetic appeal of the snippet. This will also increase the chances of getting featured on Google. Also, you can add your business logo in the article images for better brand exposure when you get featured.
10. Analyze Your Performance on a Regular Basis:
Just like anything else, it is vital to monitor the performance of your snippets. This is essential to get your answer featured in Google.
By monitoring the performance, you can take note of the kind of content you are featured for. This will also offer you a better idea of how to customize the content on your site to boost your chances of ranking the snippet.
Conclusion:
For adding rich snippets for WordPress it is best to utilize Structured Data Markup or Schema tags. Such tags will identify important details on the webpage.
Such tags are used by search engines to extract important information from the webpage and display the same as a rich snippet.
Ultimately, rich snippets can bring you an advantage over your competitors. So, use it and gain an edge over your competitors, as it is a very time-intensive and simple process.