One major aim of every online business is to boost sales and earn more money.
The best way to remain successful online is to gain a steady traffic flow to your site.
As known, Google is a prominent traffic source, and hence, it is critical to rank in Google's search results.
It is essential to establish your site precisely to target and fetch qualified leads, which can be then altered into loyal customers that pay.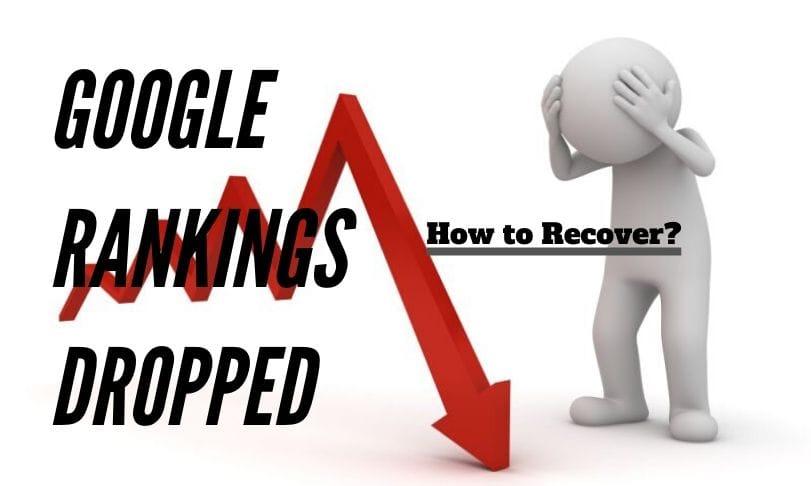 Websites that rank higher in the organic search, have better chances to earn more site traffic.
But if there is a significant drop in the organic search rankings of a site, it can lose traffic, online business, and revenue.
A sudden drop in the organic traffic of your website can be due to numerous reasons.
So, here we share with you the major reasons to determine why your website experiences a drop in Google rankings.
Why Did My Google Rankings Dropped Suddenly?
1. Your Website is Hit by a Google Penalty:
There can be various reasons why your website may experience a penalty by Google.
Truly, this is heartbreaking, but it happens when your site does not meet with one or more rules by Google.
To check your website for the penalty, you can browse Search Console > Choose Property > Search Traffic > Manual Actions. Here you can check any action taken by Google against your website.
The best way to fix this issue is to send Google a reconsideration request. To ensure you are successfully reconsidered, you must offer some proof that you have rectified the issue. Also, you can explain why that issue occurred.
It is best, to be honest. Once you send a request, Google will visit the website and make sure that your website now complies with Google guidelines.
2. You Track Incorrect Rankings:
Your website is online for numerous years, but still unable to deliver results. One major reason for this can be you using outdated or irrelevant keywords.
For this, you first have to take into consideration your search behavior. Do you use more sophisticated or fancy language to search for an answer only because you don't receive the adequate results?
A large number of searchers online use different variations of one question and still are unable to find a suitable answer to their query. For this reason, they prefer to enter their query in the simplest form.
This is something that now search engines also follow. They depend on keywords and use sentences in a natural way to rank websites.
Consider the keywords as well as keyword phrases. Most importantly, make sure you are using updated keywords and search methodologies.
3. Your Site is Hacked:
Your site may get hacked and this is what that affects your site rankings. But this also means that the information and data of your website are on the stake.
If Google states your website is hacked, you will check a warning signal like 'this website may be hacked' right below your domain name.
Hackers may attack your site due to various reasons, but the common among them are nulled plugins or themes, easy to identify login details, and using malicious codes.
In order to combat this issue, Google has designed a troubleshooter to let you identify if your website is hacked and the way to fix it.
As soon as you resolve the issue, send a request to Google for your website review.
4. Lost Links:
Your rankings on Google may drop because of lost links. You need to check the lost links for over 90 days using Ahrefs or Majestic tool.
If you identify that you have numerous lost links, this can be a reason for a sudden drop in your rankings. For this, you are required to fetch more details about the same as:
Is a drop in the link sitewide?
Is there a reduction in inbound links to the pages that have lost ranking?
Are lost links positioned on the same page where you see a drop in ranking?
The dropped links to the pages on your site may link other pages with lower rankings.
If your website's inbound links are lost or broken, you have to identify exactly where such links come from and why they are considered broken. It is your choice to remove, retain, or replace them.
Each link must be assessed individually to identify the next steps.
If other websites have removed links intentionally, it indicates they are not natural. If such links are penalized and flagged by Google, let such links go.
A website update may also lead to a change or break of links. In such a situation, you can convince the website owner to restore back such links.
For internal links replaced with novel links to a distinct source, you have the option to link to a novel source.
Always replace the old links with new ones.
5. The occurrence of Different On-Page Errors:
The main focus of Google is to enhance user experience. If your website experiences such errors regularly, it may affect your website's rankings.
The different on-page SEO aspects you must focus on:
Quality of Content – Your content quality is of prime focus to retain rankings. Make sure your website content is readable, grammatically correct, and holds correct sentence structure.
Headings of Webpages – It is best if each page of your website incorporates one H1 heading for the title. If possible, you can use more headlines for better understanding.
Ads – It is essential your website does not showcase too many ads as this can affect the overall user experience.
Keyword Optimization – Google no more prefers and ranks articles that are stuffed with keywords. So, avoid over-stuffing your webpage with keywords.
404 Errors – A 404 Error occurs when Google bots are unable to find your website pages. This might be due to a change in page URL or page being deleted. But the occurrence of such an error gives a wrong impression to the audience.
Loading Time – Most importantly, your website page must load in less than 3 seconds.
Bounce Rate – A higher bounce rate means your webpage is not suitable for a query and this is something that users don't like.
6. Broken Redirects:
When you migrate to a novel server, launch a new site, or make any structural changes to your website, you must have an adequate 301 redirect plan. Otherwise, your website will suffer a drop in rankings.
When you use a 301 redirect, the XML sitemap, links, and canonical tag must be updated.
Having a 301 redirect informs Google that there is a change in your website address. Also, it informs search engines that one page, multiple pages, or the entire site has moved. It means you are asking search engines to send a new address to your audiences and not the old one.
If done precisely, you won't lose the rankings, nor will you gain penalty for duplicate content as search engines are indexing both new and old web address.
7. Your Website Server is Down:
Might be your website is on a cheap web hosting platform that makes it difficult to stay online.
Moreover, you may be a busy person working on the website only on weekends. In this case, if your website goes down at the starting of the week and stays like this for days it will give a false impression. Even, the bots may believe that your site is dead.
For such reasons, the rankings in Google will drop till you resolve the issue and the page is re-indexed.
The best way is to use a better web host such as SiteGround, which offers guaranteed 99% uptime. Moreover, you can use a downtime notifier to gain notification when your website is down.
8. Manual Actions:
If there is a huge drop in your site rankings, it indicates that Google penalizes your website. One reason for this can be manual actions taken by an employer.
If your website still ranks on search engines such as Bing or Yahoo, it is almost sure that you suffer from a penalty by Google.
The finest way is to check notifications from insider using the Google Search Console account.
Search for warning in your message menu as well as the section for manual actions. Might be Google has reported instances that states that such pages of your site do not comply with Google's guidelines.
9. Increase in the Number of Unnatural Links Directing to Your Website:
It is of extreme importance to consider the links that point to your website. This is a vital SEO factor as Google prefers websites only with high-quality links.
When a website receives backlinks from a reputed site, it gains importance from Google.
Alternatively, backlinks from low-quality sources indicate malpractices and can lead to trust issues.
In order to fix this problem, you need to first track the links using a tool like Ahrefs or SEMrush. They also help to identify low-quality links.
Once such links are identified, you can get rid of them in the following ways:
Remove bad-quality links from your website.
Send a request to Google to kindly ignore links of low-quality. For this, Google uses a disavow tool to remove bad backlinks which are hurting your Google rankings.
10. Changes in Google Algorithms:
Google regularly searches for ways to boost strategies and results for its users by introducing new algorithm changes.
Many websites are hurt by such algorithms if they fail to meet the new guidelines.
To avoid this issue, it is best to use efficient cross-channel traffic and marketing strategies for your website.
11. Changes in the Structure of Your Website:
Any structural changes in your website can result in a drop in rankings for a certain time period. Altering the website codes, theme, permalink, and other aspects can lead to some unknown issues.
When you rebrand your website, you have the biggest chances of experiencing such issues related to the website structure.
You may change URL, delete some pages, make navigational changes, or update the internal links. One or more such reasons can result in rankings lost.
Hence, to overcome such issues, it is best to use backup data of your website before rebranding and replace then same with a new one.
Also, use a promising platform to rebrand your website and test it thoroughly before making any changes live.
12. Naturally Occurring Alterations in Google:
At times, you may experience a drop in the search engine rankings of your website. This can be due to changes that are not directly related to the website.
It can be because there have been changes made by Google.
For instance, if there is an increase in search for a particular topic, Google will bring up novel results first and push static content down. If your website content falls in the second section, it will experience loss in the rankings.
13. Competing with Other Websites:
Might be you are doing everything correctly, but still, your website is not gaining traffic. It can be because of increasing competition and your competitors doing a better job.
Keep tracking your competitors by analyzing their social media activities, content marketing strategies, and link building strategies.
Once you have gained knowledge about your competition try to outrank them.
14. Problems with the Robots.txt File:
The Robots.txt file is mainly a text file designed for search engine crawlers and bots. It contains rules or instructions that define the ways to crawl pages on your site.
Crawlers use two rules – 'disallow' and 'allow.'
It is always suggested to stay away from rectifying robots.txt file. There are some plugins that have been updated by mistake and it altered the way Google bots index your website.
Having a disallow permission will ensure bots are not able to access your webpage, and ultimately, your website will lose rankings.
15. Changes in Click-Through Rates:
It is important to make sure that the Click-through Rate or CTR of your website has dropped.
If your site has a high bounce rate, it is possible that people click through your website but instantly leaves because they are not satisfied with the search results.
Websites that experience high CTR have a lower ranking in Google. Hence, maintain a good CTR for your website.
Summing Up
These are major reasons why there is a drop in Google rankings of your website. So, focus on these reasons, check your website for the same and make sure your site is free from all the above-mentioned issues.
If your website is free from such issues and successfully meets Google guidelines, it will definitely gain higher Google rankings.