Like Google's other algorithm updates, Possum is another major update that Google launched in September 2016.
Google's main target is to provide nothing but high-quality content to its users. Anything that does not fit Google's guidelines of high-quality content is rejected by Google and pushed down in search engine pages.
Also, the actual high-quality websites are rewarded. To make sure this process is smooth, Google keeps updating its algorithms to be able to erase out all irrelevant and low-quality data.
Possum is an algorithm update that is targeted towards local search results.
Before we go deeper into explaining the concept of Possum and its impacts on different websites, let us first have a clear idea of what the update is.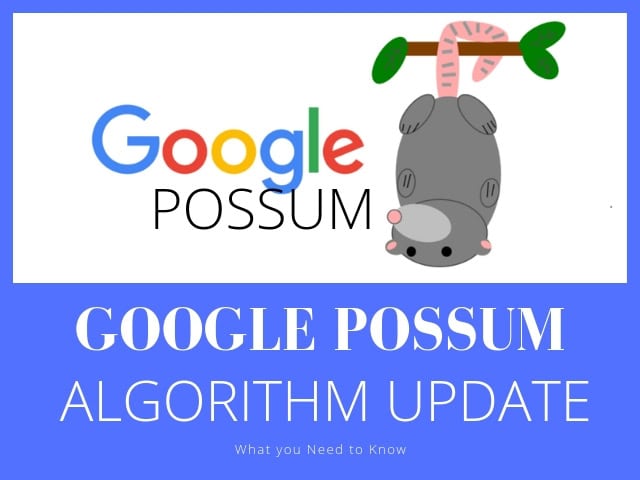 What is Google Possum?
The Google Possum update was something that targeted only the local search results and that too, the search results that came in the 3 pack listing form.
Some sources say that right after the Google Possum update was launched there was another update to the Possum that even impacted the organic search results.
The main purpose of launching the Google Possum update was to give a chance to local search results and help them diversify and also prevent spam websites from achieving high rankings in search result pages.
This update was probably the biggest update in Google search algorithms since Pigeon. As a result of this update the one thing that was affected the most was the filters that Google uses to sort out local search results.
The main function of the Possum update was to decide which businesses will show up in the local search results and sometimes it also used to filter some business listings out of the search results.
This came as a side effect to some businesses which could not appear on Google's search engine pages.
The Possum update identifies a business if it has more than one Google My Business page or if the website's original page was duplicated because there was a change in the contact details of the original website.
In such cases, the update filters out such businesses. The other kind of businesses that were affected by this update were:
The businesses that were outside the city limit:
For a lot of businesses which were situated on the outskirts of the city, this update was deadly because when users would enter location-based keywords, these businesses did not show up on Google search result pages.
For example, if there is a pizza place that is situated just outside Delhi, it did not show up when people searched for pizza joints in Delhi.
Since search engines are the best ways to get organic traffic, this move posed a threat for a lot of local businesses. But with the next update, these things were resolved and now even if a business is located slightly outside the city limits it will still show up in the search result.
If two businesses were based in the same building or had the same address:
A lot of times it might happen that two businesses are located in the same building, and in such cases, probably none of the options will show up in the local search results on Google.
For example, if there are two garment shops in the same building, and even if they are not related to each other, none of them will show up in the search results.
The one theory that Google follows is that it always tries to keep out duplicate listings from its search results.  The Possum update did not really work for such businesses.
When a parent company owned more than one business:
As we have already established, Google does not feature businesses that have similar information. Google removes these businesses from its index and hence even if there are no duplicates, these businesses got affected.
How SEO Has Changed With The Google Possum Update?
Needless to say, this update drastically changed the entire SEO scene in the web world. Not focusing on individual websites, let us discuss how this update of Google algorithm affected SEO in general.
1. The user's physical location:
The search results that a user gets depends on his location due to this Possum update. Different locations of the same user will generate different search results for him.
Even if the user searches with the exact keywords and slightly changes his location, the results will be different each time. This is because when a user surfs the internet from his mobile, his GPS location is used, and when he does it from a desktop or laptop, the IP address is used.
Different SEO experts have confirmed that after the possum update, as the user keeps going far away from the location of your business, your website page ranking will go lower and lower in the search results.
So this update optimizes the previously launched Pigeon update to make the best use of the 'near me' feature on Google.
Google is actually launching its updates based on user behavior and the trends in the particular industry. Since more people use mobile phones to surf data now, this update was launched.
2. Keyword variation has become important now:
After the Possum update, it has now become important that the user pays attention to the sequence of the keywords he is using. Because the same keywords used in different patterns and sequences are generating different results.
Due to this interesting turn of events, there is going to be the need for more variations of keywords on the websites themselves so that they rank your website high for different sets of keywords used. This has made local SEO far more competitive than it was.
3. The city limit location factor is more flexible now:
This is probably the biggest impact that this update has had on business listings. After the latest update, businesses that were situated outside the city limits have now started to rank well on the search result page.
As a result of this, every metropolitan city that has suburbs have started being impacted because even the suburbs are considered to be part of the city.
Seeing this trend, Google realized that when a user searches for something in the city, he is actually referring to even the outskirts and suburbs.
This is because when a user is searching for some local details, he would want a listing that would show every similar business in the city and suburbs so that he can compare the reviews of all of them and decide which one he should go for.
4. A new algorithm for local search results:
Ever since the Possum update, it is now believed that Google uses two different local search algorithms that work simultaneously.
One of them is for the Google Map results and the other algorithm works for organic listings on Google.com.
Major Changes of Google Possum Update:
Apart from the ones that have already been mentioned about there were lots of other changes that were brought along by the Possum update in Google's algorithm. Some of them are:
1. The affiliation factor:
Earlier, Google's local algorithm would filter out profiles on its My Business page that had same phone numbers or domains, with the motive to remove duplicate websites from its index. But now, even the address filter has been added to the scene.
While this is not a big issue for most businesses, but some industries like healthcare, law, etc., there can be more than one business in the same building. In such cases also, it is no longer a problem after the latest Possum update.
You can simply add a house number or a suite number and your business will show up on Google's local search page. However, this does not mean that Google supports duplicate listings now. The organic search algorithm that works simultaneously chooses one business from the address and pushes the others down in the page.
2. Giving priority to local filters:
After the Possum update, many SEO experts believe that the local algorithm of Google now works independently from the organic filters.
This is because it has been noticed that if Google's algorithms filter out a page from its index and push it low in the search engine, the same page that has a local result will show up.
Due to this, a lot of businesses now have the opportunity to rank twice in a 3- pack listing, unlike earlier times when if your business had two listings, they would get filtered out. This is great news for your local business.
How to Identify and Recover from Google Possum Update?
Identifying a Google Possum update is not an easy task. However, if you notice these 4 changes, be assured that a Possum update has been launched.
The changes you can notice are in- the 3- pack local listings, or the local finder tool, or the local search results that are generated, or the Google maps results.
Possum update will not have any effect on your business rankings if your target is to rank in local search results for a particular keyword, without using the location filter. But Possum updates can bother you if you plan to feature your website or business in the 3 pack listing for an area.
If your website has been hit by the Possum update, here are few ways to recover from that.
Keep only one business input for one address:
Adding a suite number is only a temporary solution. Since after the Possum update, it has now started considering the physical address to list a business, it will be best for you if you associate one business with only one address. This is one way to get rid of the Possum update if your website has been hit by it.
Do not forget to include the city name while entering your address:
Due to the Possum update, Google's algorithm now prefers those businesses that are in close proximity to the user. Due to this a lot of small businesses have been blessed, as they now get higher rankings in search engine pages. So, when you include your city's name to your location, the small businesses will get a ranking.
Put more emphasis on location rather than on keywords:
If you want to top in a 3 pack listing, then Google uses the IP address of your device in such cases. Also, since more and more people are hooked on to the internet from their phones these days, Google gives more value to the location under the Possum update.
Try various sequence of keywords:
We have already covered that point where we discussed how the same keywords in different permutation combination can give completely different local search results.
Giving focus to different variations of keywords will increase your chances of appearing in a lot of search engine result pages. This is one way to make the best of local SEO.
Linking a site with a local business will help now:
Earlier if you linked a local business to some site, they did not appear in the 3 pack search result. Instead, they appeared in organic search results. Now after the launch of the Possum update, this thing has changed.
So, even if you link a local business to a site, it will still appear in the local search result. This is very beneficial for every local business, as this would mean that they now appear in both local and organic searches, depending on how people search for it.
Wrapping Up:
With this, we come to the end of the article. Google's Possum update had been launched keeping the small businesses in mind. After discussing the update in such detail, one thing is for sure.
That is, small local businesses have benefited a lot from this, especially the ones that are slightly outside the city's limits. While some small businesses have been affected by this update, but this article let you know all the ways to recover from this.