We all know that piracy is something that is unavoidable in the entertainment industry.
Yet the entertainment industry has been fighting against it for years.  In fact, you still find warnings that strict action will be taken against those who copy that movie or that series.
Piracy dilutes the hard work of people who work tirelessly to make a movie.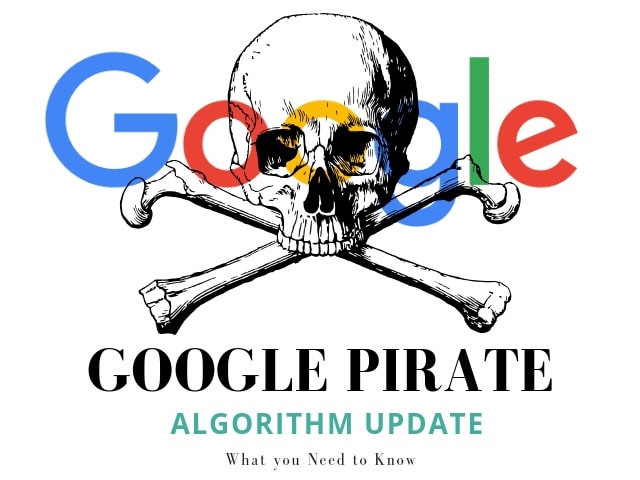 Now, search engines provide us the perfect place from where we can pick up pirated content. So search engines are our saviors when we want to watch pirated stuff.
But Google is a search engine that is continuously working to eliminate all negative and immoral virtues from its search engine.
So, Google takes extra care that it does not provide any pirated content and should be on the good books of different entertainment platforms. This is where the role of Google Pirate comes into play.
But before we get into the details, let us first understand what Google Pirate is.
What is Google Pirate?
Google constantly changes its algorithms with the motive of targeting different aspects of the web world and to make it easier for users to get quality content.
One of these algorithm updates of Google is called the Pirate. This algorithm targets and identifies website content that violates the Digital Millennium Copyright Act, or DMCA. This algorithm update was launched in August 2012.
According to this update, Google would penalize any website that it would identify of doing or supporting piracy in any form. Google aimed at punishing or penalizing the websites that breached the copyright act.
The penalty would be bringing down a certain website's ranking on Google's search results page. This would definitely come as a huge blow to different websites that are affected.
The ultimate motive of every website in the web world is to stay at the top positions on the search engine result pages. That is why such emphasis and importance is given to SEO, as it generates organic traffic.
When Google finds some illegal website, even if its page ranking is quite high, it would decrease the website's rankings or even ban the website completely.
Google then pulls up the websites that adhere to Google's guidelines in the form of content and website design, as a way of rewarding them.
Which Sites Have Been Affected By Google Pirate?
The Google Pirate algorithm works in a way that brings down the page rankings of websites that have been found to violate the DMCA. At first, these websites are given notices and then Google acts upon it.
All torrent websites that were a global platform for sharing illegal entertainment stuff like movies and music have been successfully banned by Google.
But even apart from that, several other websites received removal requests in huge numbers. Some of them are websites like rapidgator.net, uploaded.net, 4shared.com, vmusic.e.net, thepiratebay.cr, wnruder.eu, pleer.com, etc.
These are just a few names out of more than 50,000 websites that have been reported of piracy and removed too. In just one month, Google reported having received more than 38 million takedown requests of different websites.
As a result of this, when a user is searching online to watch pirated content using keywords like 'watch' or 'download', they are being redirected to legal sites where they can purchase a movie in order to watch it.
This has tremendously affected the various torrent sites and other sites that would illegally promote pirated content. Not only the sites, but even viewers have also been affected who are searching for various ways to have access to pirated content.
However, Pirate Bay, a leading name in the torrent world has been quite optimistic about the Pirate. It has reported no significant loss of traffic due to the launch of this algorithm update.
They believe that users can never find free content on search engines, so they will ultimately end up visiting the torrent sites, like Pirate Bay.
Hence Pirate Bay has said that they are not dependent on the traffic that search engines generate. They have also changed their logo and have added an option to sign up for a free VPN to get an uninterrupted flow of pirated content.
Even if the internet service provider or ISP blocks the website, users can still take the help of a number of proxy sites and get access to the latest movies and music videos.
Well, users across the world who are addicted to pirated content will always find a way out to have access to free content by using private networks. This is one security breach that even search engines cannot control and penalize.
Generally, these websites take a new start with a brand new domain. This means that there is a lot of time in hand for DMCA notifications to keep building up and finally decrease the ranks of these fresh pirated websites.
Even though Google is continuously working to penalize or ban these websites that sell illegal content, curbing piracy completely is just not possible. This is going to be a never-ending war.
Understanding Google's Pirate Algorithm Outcomes Of Google's Pirate Algorithm:
The outcomes of this algorithm update have been massive. Apart from the ones we have already discussed, let us find out how else has this Pirate algorithm of Google impacted the web world.
1. It penalized websites that had reports of copyright violation:
This has been the most common outcome of the Pirate algorithm. When Google launched this algorithm update, it had two very simple goals in mind.
One was to find websites that had more than one copyright violations and the second was to lower their page rankings. This led to a significant loss in traffic to these websites.
Some sites lost more than 96% of organic traffic that was derived from search engines. That was how huge the loss was!
But there is a hack to it. If you search for branded names of these sites that sell pirated content, you can still find them in Google search results.
But if you search for something as broad as 'watch XYZ movie online', you will not be able to find any relevant results. So the key is to narrow down your search or know the exact name of the website you want to visit.
2. This update helped to reinforce and strengthen the DMCA:
The other name for the Pirate update is the DMCA penalty. The Digital Millenium Copy Act or DMCA was brought into force by ex-president Bill Clinton in October 1998 and was made into a law.
According to this law, it was a criminal offense to produce and distribute anything that is protected by Digital Rights Management.
So naturally when Google's algorithm updated and launched Pirate, this law as reinforced.
3. Even though Google has successfully brought down the page ranking of many websites, it has still not been able to curb piracy completely:
And we have already established that. This is a great initiative by Google but apparently and quite evidently so, it is not full proof.
There are uncountable smaller sites that sell pirated content that does not fall under Google's algorithm or the takedown requests of DMCA. In fact, they are still continuing to run and make a business pretty well.
Since the piracy giants have suffered losses, the smaller sites have quite benefited from that.
Because of the ban on a large number of main websites, people are now visiting the smaller websites that still give them access to the latest movies and tv series.
4. This has benefited the entertainment industry and hardworking artists to a great extent:
For years now, piracy has been a real concern of the entire entertainment world and all individual artists. Ever since content became available online decades ago, piracy had sprung up.
So the concept of piracy is almost as old as the internet itself. This as a constant bugging issue. That is because when users watch content through piracy, it leads to loss of revenue for people who have really worked hard in making a movie.
When with the Pirate algorithm, Google has been able to curb piracy to a certain extent, it is like a sigh of relief for artists and performers.
5. Google knows that in order to remove a page from its index, it needs valid documentation:
Websites that hold the copyright of their content know that once a piece is authorized, Google has no right to decide if it's copyright has been violated, only a court of law has that power.
So with the launch of the Pirate algorithm of Google, it can only bring down the page rankings of certain websites as a penalty, but cannot take them down off the internet completely.
But yes if Google receives a valid copyright infringement notice from the holder of the copyright, it can remove the entire website too. It is up to the rightful owner if he wants to ask Google to take down a certain thing or not.
Google takes these takedown requests quite seriously though. Now, Google itself does not publish or promote pirated content in any way. That is why it cannot erase something from the internet either.
It can only remove that web page from its index once it receives a takedown request. While Google's legal team deals with the takedown requests, it does not do so manually. It is automatically taken care of by Google's own system.
When Google receives a takedown request from the rightful owner of the copyright of that content, its system removes the URL from its index then and there. There are more than a million takedown requests that come to Google in a single day. Google deals with all of them.
Who Should Be Worried About The Pirate Algorithm of Google?
This is a very broad question. Before getting into the answer, one must realize that this algorithm update is not something VERY huge. This update was launched to target just a certain section of the internet, that is, pirated content.
By now, you know who all should be worried about this new algorithm change. If you own or run a Torrent site and host pirated content for users, you should definitely be worried.
Even apart from that, if you know that your website is a risky one and you have been reported by DMCA to take down your website; you will be in trouble, with probably no way out of it.
Also, if your site has a lot of takedown requests from various sources, Google will take down your site without giving you time to modify content.
But for the rest of the internet, who are doing their business in legal ways, there is nothing to worry about. Entrepreneurs who are promoting their business, SEO experts, bloggers have nothing to be threatened by the Pirate algorithm update.
Wrapping Up:
Google constantly keeps changing and updating its algorithms in order to ensure better content for users and also to reward websites that do nothing illegal and follow Google Webmaster Guidelines to publish its content or promote their product.
However, Google also very strictly punishes websites or blogs that violate Google's terms. And that is the reason why algorithm updates like Panda, Penguin, Pigeon. Pirate etc. were launched.
Google is constantly monitoring and crawling and indexing content on the web. There are websites that do not deserve to be in top positions but are still there, either through PPC from ad networks other than Google AdSense or through buying and obtaining links from illegal networks. Google identifies them and brings their position down.
After knowing it all about the Pirate update of Google's algorithm, we now know that Google is still kind of helpless in removing or dealing with piracy completely. There are always plenty of piracy hacks that pirate websites know of and that is why they are always going to be ahead of the game. Nevertheless, it is praiseworthy that Google took an initiative to deal with pirated and copyright infringement.