The most powerful search engine used worldwide is Google.
This search engine answers almost all questions and this makes it a lot more than simply a search engine.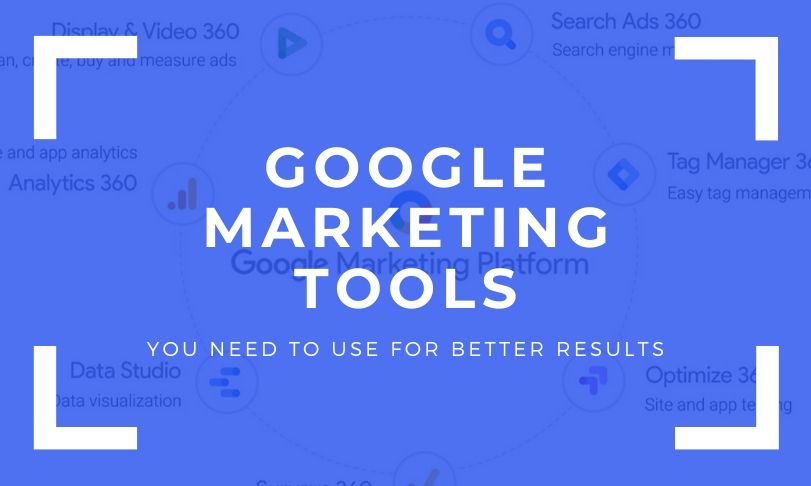 To help marketers and developers deliver outstanding results, Google offers various free tools that can help:
Build a strong online presence
Create brand awareness
Improve SEO rankings
Manage brand reputation
Attract and retain more people
To make sure you avail of all these and more other benefits, here check free tools offered by this marvelous search engine.
The Complete Google Marketing Tools List for Marketers:
1. Google Analytics:
With this powerful tool from Google, online marketers can easily monitor the traffic on their website. It let marketers know about people who visited their website, the time they spend there, search queries used by them, and more other aspects.
The information gathered is highly useful for website optimization. Based on the data, you can work towards offering users a rich experience and boost the traffic volume on your website.
2. Google Ads Keywords Planner:
The Google AdWords have various parts and one among them is the Keyword Planner. Using this tool, marketers can conveniently plan their paid SEO campaigns.
The tool is useful to identify keywords for targeting audiences for website and blog content.
3. Google AdWords:
Available for free, it is one of the best tools from Google that offers excellent support to marketers for their paid SEO campaigns. It works great to target as well as reach potential customers at the right time and within varying geographical locations.
Moreover, Google AdWords can be used to display ads, YouTube video ads, and carry other kinds of promotional content on Google.
4. Google AdSense:
The next amazing tool from Google for marketers is Google AdSense. It is an ideal tool for all marketers who wish to make money through ads placed on websites or blogs. Using AdSense you can connect with advertisers who intend to host ads on a specific channel, which is of interest to their customers.
Google AdSense lets you place an ad on a blog, video channel, website, or other platforms matching the interests of the advertiser's audiences. The best thing is that using this tool is very easy and you only have to position some code in sidebar or header of the website. Marketers earn money when someone clicks on the ad.
5. Marketing Platform from Google:
It is rich analytics and unified platform to let marketers avail efficient and smarter marketing. With its robust enterprise-level solutions, small and medium businesses can develop a strong presence in the marketing.
It comes with easy to use functionalities and efficient insights to let you analyze bulk data in less time. You get access to self-service and free solutions to let your business grow at no additional costs.
6. Google My Business:
This particular tool offers great opportunities for businesses to get listed in search results for 'Near Me.' You can list your business in 'Google Maps' using this tool. On claiming the business listings on Google My Business, your business can be featured in the search results.
The prominent benefits of this tool are that it makes it easy to maintain correct information about your company so that your customers can know about it better. Moreover, you can display vital details of your business like opening or working hours, contact number, address, and directions on Google Maps.
With a well-presented approach, it becomes easier to attract new clients with this free of cost profile on Google.
7. Google Trends:
This is another helpful tool from Google, which lets you see search volumes of varying keywords and lets you make smarter choices for keywords. Using Google Trends, you can explore insights, searches, the latest news, stories, and other buzzing trends.
It is a great tool for marketers that let you comprehend the way search trends vary over time in distinct regions and against one another. You can run various comparisons to identify variances between different search keywords. Also, it allows you to see the search volume of keywords fluctuating over time.
8. Google Search Console:
Another powerful tool from Google is its Search Console, which is of great help to not just marketers, but also to SEO professionals and webmasters. It let them understand the way Google sees its web pages.
This tool provides detailed crawl reports as well as indexing details about the pages directly from Google Index. Search Console is useful for analyzing website performance and make necessary improvements in the blogs or websites.
Furthermore, the tool can be integrated with the Google Analytics account to optimize the search performance and content of the website. It easily crawls data ensuring Google always see an updated version of your website. The tool is available for free and is also of great support to identify issues with the website, fix them, and improve rankings.
9. G Suite Marketplace:
This tool from Google allows marketers, as well as domain administrators, identify third-party applications, which are linked to G Suite. The tool is useful for installing numerous high-quality apps, which can add more functionality and features to the native Google Cloud Apps.
Applications listed on G Suite Marketplace have the opportunity to reach over millions of businesses. It helps in evaluating application's security with features such as emphasized password protection policies, customized security reports, and more.
The tool can be integrated with CRM software to let you receive customer emails directly in the Gmail.
10. Google Business Solutions:
The next useful tool for marketers from Google is Google Business solutions. It is a rich tool offering a comprehensive set of tools to let your business scale and grow. You can earn a great volume of money by incorporating ads on the website.
This tool is great to not just improve the loading speed of the website and enhance user experience but also conveniently measure and determine how the apps, ads, and websites are performing.
11. Google for Startups:
No matter to which corner of the world you are in, you can achieve great results for your startup business using Google for Startups. This is an efficient and reliable tool that brings to you the best products, practices, and connections from Google. As a result, you gain the help and support needed to establish a great business.
The Cloud for Startup features helps you build a strong startup with infrastructure and tools from Google. You can also use Google for Startups Campus for free training and mentoring using the latest technologies. Also, using this tool you can conveniently promote your products and reach out to a large number of audiences.
12. Google's Digital Marketing Tools:
There are ample numbers of digital marketing tools offered from Google that improves the overall marketing and analysis of your brand, thereby helping you to offer the best digital experience to your customers.
Google Surveys, Google Trends, Speed Scorecard, Test My Site, Display Benchmark, Market Finder, and Consumer Barometer are some of the vital digital marketing tools included in this category.
All these tools are available for free and let you easily test the speed of your website and improve the same. Further, such tools let you create a strong global marketing strategy, design surveys, gather insights about customer behaviors and benchmark ad campaigns.
13. Google Search Think:
This free tool from Google helps developers to gain valuable insights about consumers and stay above on top of the latest trends. Having knowledge of the latest insights and data about the industry or audience keep marketers inspired and informed and encourages them to build apps, which their audiences love.
It is an excellent tool for developers that let them assess market trends. You can also learn the most promising ways to enhance user experience. The same can be implemented to earn more positive reviews and users for the app.
Also, you can learn about emerging technology as well as top-performing apps across various industries. By analyzing the applications of competitors and preferences of consumers, it is possible to structure impressive applications with ease.
14. Google for Non-Profits:
This particular tool is for Non-profits and supports them to help achieve their missions. It supports fetching more supporters for the mission so that funds can be easily raised. Within this tool, there are various applications available for use.
G Suite manages and makes the organization more productive, efficient, and collaborative. It comes with Google Ad Grants that help to attract more donors, recruit volunteers online and create awareness about your company.
Using this tool you can not only engage with the supporters, but you can also track and share your organization's impact on other people.
15. Google Charts:
Next, we have Google Charts, which allow enterprises and marketers to visualize data on their site through the use of appealing tools and charts. It is a powerful tool available for free and is extensively used with JavaScript embedded pages.
Google Charts allow creating pie charts, simple charts, and intricate hierarchical maps of high accuracy. Also, you can tweak as well as tailor charts according to the data and conveniently connect it into an interactive dashboard.
16. Google Input Tools:
This is an extension from Google that enables users to design virtual keyboard layouts in varying languages. It lets you work easily from anywhere across the world in distinct languages.
This tool helps you remember the corrections. It maintains a separate dictionary for new and less used names or words. Most importantly, it makes typing seamless in more than 80 languages and varying input methods. You can write messages in distinct styles and languages. The tool is available for use on Google Chrome, Services, Android devices, and Windows.
17. Firebase:
It is a comprehensive platform for mobile development which helps marketers gain enormous success. The tool is developed on Google's infrastructure and lets you combat all challenges for app development. Ultimately, you can build highly qualitative apps fast.
This tool offers great functionality such as crash reporting, databases, messaging, and analytics. This way, you can easily improve the user's experience. It is supported by Cloud Storage from Google and allows you to sync and store app data and conveniently scale the app to uncountable users.
18. Android Developers:
Android is introduced by Google and the most extensively used mobile operating system in the world. This tool is packed with rich features useful for new as well as experienced marketers. Using it lets you learn the ways to build an app, specify layouts that adapt to distinct screens, and save data within local databases.
It offers behavior and design guidelines to build high-quality apps. You just have to learn the way to test the app's usability and behavior using this excellent tool.
19. Testing Tool for Structured Data:
This is another efficient tool from Google that helps developers create, test, and release the structured data. It allows you to create novel pages for structured data and fix the current pages.
It is useful in validating the code and view search results displayed on data if the code is valid. Moreover, it enables Google to access pages, index pages, and identify errors.
20. Test My Site:
This tool is highly crucial to design and develop mobile-friendly websites. You can use it if your mobile website is not loading fast and properly. It is a highly useful tool for developers and marketers as it helps to identify the loading time of a site on a mobile platform.
This tool is available for free and discloses the estimated number of visitors that you may lose because of slow loading speed. The report generated using this tool is accurate. It is a robust tool using which you can check the loading speed of numerous top-performing websites. Fixing issues such as image optimization, cache, or AMP is easier with this tool.
21. Google Alerts:
An excellent free tool from Google, it allows you to monitor the internet for specific keywords. An alert can be created about the niche or company-related keywords to avail access to brand mentions, latest news, and other relevant content.
With it, you can receive updates when your brands or products are mentioned online. Google Alerts is also useful in learning and discovering novel content ideas. Most importantly, you can create alerts for industry-specific keywords like influencer marketing, SEO, or any other.
Conclusion:
Most of the tools available from Google are available for free. What more do you want? Just start using these tools and bring enormous success and innumerable benefits to your online business and brand!