We know how important SEO is for a website's online presence. Without proper SEO, a website cannot survive in the highly competitive web world.
However, what a lot of websites did earlier to get high page rankings were they resorted to various black hat SEO methods to get higher rankings on search engine pages.
Google is dead against the practice of black hat SEO and found a way to detect and penalize websites that do this. So it launched the Fred Update in March 2017. This came as a blow to a lot of website owners.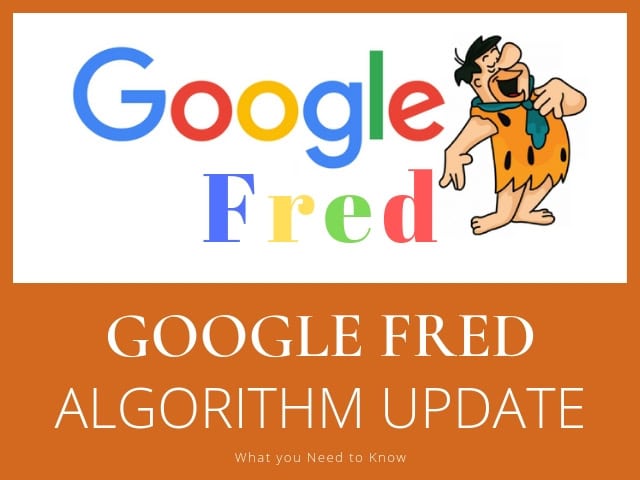 Let us first find out what the update is about.
What is Google Fred?
Google Fred is not really an algorithm update. It is basically any kind of new algorithm update added to Google that helps it identify websites that do not fit Google's guidelines.
With this algorithm update. Google wanted to identify and target different websites that used black hat techniques for aggressive monetization.
The different ways to do that was to overload the site with ads, use low quality content and the user benefits were very little.
Most of the websites that were hit by this update were dummy sites created for revenue optimization, but there were other websites too that had lots of ads on their web pages and work primarily to earn revenue and not target users.
Google looked for websites that had one or more than one of the following features:
A huge number of ads on every page.
The content that was present was mainly for getting a higher rank on search engine result pages.
Even the content that is present is full of various ads and affiliate links with the quality being very poor.
Mostly deceptive ads that would show download buttons so that users would get tricked into clicking those ads.
Extremely poor content even if there were no affiliate link or ads.
Poor UX design.
If the sites were difficult to load on mobile phones.
And if the site was designed just to optimize the amount of revenue earned.
Google is looking for such websites and once found, they highly penalize them by dropping their search engine rankings way below.
This update had a much wider scope of targeting and penalizing black hat SEO techniques than the Panda update.
However, Fred is not the official name of this update. Google just decided that every algorithm update from now on would be called Fred.
Now the question is how this particular Google Fred update was different from all the other algorithm updates of Google.
This update basically means that Google actually updated the core of all of its other algorithms to deal with low-quality websites and then named it Fred.
Google regularly keeps updating its algorithms but mostly they cannot be caught by websites. Only when an update makes a huge impact in the web world by affecting a large number of sites, it is called Fred.
Everything You Need to Know About the Google 'Fred' Update:
As soon as this update was launched in March 2017, a lot of websites suddenly saw that their rankings were going down like crazy. That is when they realized that Google must have launched an algorithm update.
This update had a widespread impact. Here's everything you need to know about the Fred update.
The update was created in the first place, to actually be able to benefit Google's own users who expected worthy search results on Google's page. So Google wanted to give high rankings to websites that were user-friendly and had high-quality content.
Websites that use several black hat techniques result in a very poor experience for the user. So, they get high rankings through illegal methods but disappoint users.
Google wanted to change this. So, this update affected and targeted those websites which have affiliate marketing kind of style. This update aimed at eliminating all these websites and set new standards for websites to be able to cater to Google's huge user base.
When Google finds a spammy website or a dummy website that is heavy on ads through this update, it completely blocks traffic to these sites.
Now, these sites mainly operate through traffic, because how else would the high number of ads bring them revenue?
Google also pushes its ranking far down. So users stop seeing these spammy sites at the top of the search engine page and hence their traffic significantly or totally declines.
It is not very tough to understand if your website was affected by this update or not. If your website saw a sudden and huge drop in website traffic, with no other external factors in the effect, know that your website has been hit by the Fred update.
A lot of websites which were not affected by the update still received warnings. Websites that were actually affected by this update had lost more than 50% traffic and some of the worst hit websites lost more than 90% traffic, and hence lost all the revenue.
If you are a website owner, you know that this is definitely not the last Google algorithm update. There are going to be many more in the future and it is better to stay prepared and start making changes to your website if you think an update can affect your website.
There are few fields you should focus on, which are, better and enhanced user experience on your site, content must be of high quality and should fit in Google's guidelines and also, there should be a proper balance between the content and ads on your website.
This is how you can be saved from future Google algorithm updates.
How to Recover From The Google Fred Update?
Once you have been hit by the Google Fred update, it means that you have lost a significant amount of your traffic. But there are ways in which you can recover. Let us see the steps.
1. Make the website design user-friendly:
The one thing common about all high-ranking websites is that they have very user-friendly web designs. That makes it easy for users to navigate or just surf the sites.
A proper category structure is needed to make a website user-friendly so that users can easily find all the information they are looking for. A lot of websites include a 'Trending' or 'Most read' column, this helps users read what is important in a day.
2. Maintain a balance between content and ads:
This is very important to maintain in your website. The one reason your website has been affected by the update is that there are too many ads on it.
You have to make sure that your website strikes a balance between the number of ads displayed and the amount of content.
Everyone knows how important ads are for a website to perform but do not make ads the only visible thing on your website.
Also, place the ads very strategically on your website, so that it should look like content is your main area of focus. Google prefers websites that serve users first.
3. Focus on using user-targeted content and not just keyword specific content:
We know that keywords are what determine SEO for a website. So it is not wrong to have keyword optimized content. But make sure that this content is valuable to the user and is user specific. While creating content, do not just write mindless stuff to cover keywords.
Once you know what the keywords are, build an article around it that is readable and users would find interesting and incorporate the keywords very subtly in that article.
Make the headline clear and the user should be able to have an idea about the article right from the headline. Do not write huge sentences in the headline.
Incorporate your SEO rich keywords in the headlines too, but make it short and crisp.
4. Do not recycle previous content:
While recovering the website after it has been hit by the Google Fred update, what a lot of websites do is that they check for content on their website that has fairly performed or even performed a little and then recycle those articles to create new ones.
They are of the opinions that since these articles were a little successful earlier, they can bring in a lot of traffic in the optimized version of the website. But that is not the case.
When you are recycling an article, you are basically doing the work of copy-paste, which is plagiarism.
Google has very strict policies against plagiarized content. So, instead of boosting your search engine results page ranking, Google brings your website further down. What's even worse is that Google might even penalize you for duplicate content.
5. The domain authority should be healthy enough:
You did not build a website just to make money out of it or do affiliate marketing. This is what you have to make Google understand your website.
For this, your website needs a healthy domain authority that should consist of other legitimate websites that will ultimately link back to your website.
You should also have a social media presence with a good following and your website should link back to other websites with healthy authority domains.
These technical details are what sets your website apart from other spammy websites. This is what will help you to recover your website after it has been hit by the Google Fred update.
6. Improve the quality of the content that you are offering:
One of the reasons why your website was hit by the Google Fred update was because your content was not appealing enough to users that they would stay back on your website.
So when you are recovering your website and optimizing it, making your content quality better should be one of your main concerns. There are a few things you can do to ensure that your content is of high quality.
For this, the first thing that you have to do is to make sure that your content is written by a professional or highly skilled writer. That automatically makes the content of the article better.
Then check the article for plagiarism or any grammatical errors using the different online tools that are available.
See to it that the content of the article is original and is written after thorough research. Lastly, the content should be of minimum 500 words.
These are the basic guidelines that Google follows to separate high-quality content from low-quality content.
When you optimize your website with content that meets all these requirements, your website can come up in the page ranking again.
7. Check the backlinks and clean all the bad links:
You have to first make sure that your link profile or link graph should look natural enough to Google. When Google checks and determines the value of your backlink profiles, it takes in to account various data points like no-follow and follow ratios, anchor text, link location, link type, etc.
With this information, Google also determines the values of your inbound links to the SEO of your website.
Hence, make sure you make all necessary changes to these links and clear all the links that you had obtained through black hat techniques.
8. Do not violate any other Google guidelines:
While you have to make sure that you are doing all the above steps, you also have to take care not to violate other guidelines.
Your website should have none of these- content that is automatically generated, no original content, scraped or plagiarised content, cloaking, doorway pages, participating in black hat link schemes, using irrelevant keywords in pages. These are guidelines that Google very strictly follows.
Wrapping Up:
So, now you know what the Google Fred update is all about. It is not an official name of an algorithm update, but it's a name that has casually been used by Google.