What are the Extensions?
Extensions refer to the small software programs. A single extension is inclusive of many elements. The best thing is that all the elements are used to achieve one common goal.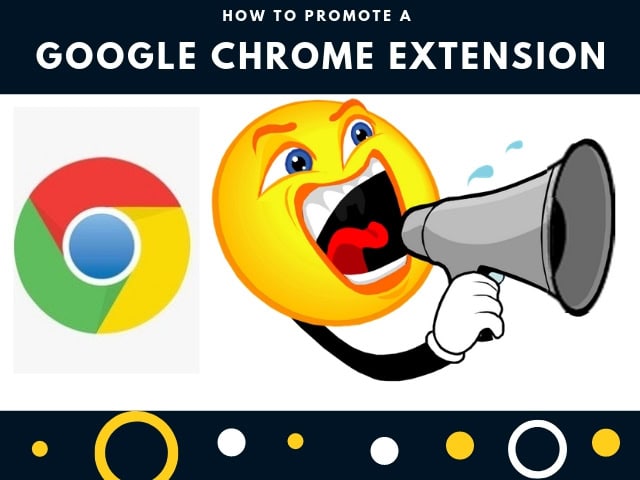 What is a Google Chrome Extension?
Chrome extensions are used by people to add functionality to the Chrome web browser. Anyone can do that without even having the basic knowledge of coding. This helps people to develop new extensions. One can use many core technologies to develop their chrome extension. You will get an interesting experience when you create a chrome extension. Some of the advantages of chrome extension are:
Chrome is very advantageous. It is very fast.
It has been designed in a simple manner.
It is capable of translating pages in many languages.
Tips to Promote a Google Chrome Extension:
People find their own way of promoting their google chrome extension. The popularly used ways are given below. Have a look:
People love things that are available for free. Yes, free things get popularity very soon. So give something to users for free. You can give a chance to your users to earn credits. You can also unlock some additional features for them. Ask them to get their family and friends signed up. This is a strong way to get more users.
You can take help from influencers. The crowd pays too much attention to their suggestions. You have to search for the best industry influencers. Make connections with them. Invite them to the event when you will release the extension. If possible give them a priority. Ask them to say something. Make them promote your extension.
You won't be relived even after your extension gets launched. You have to track those people who are using your extension. There are many tools available. You can use any of them. Try to find out the answers to below-mentioned questions:

What are your users doing?
For what purpose your extension is getting used?
What is the duration of your extension?
What is the session?

If possible, invite the media. Organize a proper event. Launch your extension properly. You can use e-mail marketing for the same. Send an e-mail to all your users. Organize an email campaign. It will help you to engage your users. And yes, don't forget to do social media promotions. Social networking sites will give instant results. Make optimum use of it. Facebook, Instagram, LinkedIn, etc will give many followers.
'Guest blogging' is a good option. Become a guest blogger for any website. Write to them and make followers. Choose any reputed website. You will be benefitted a lot. Later, you can create your own blog.
The most classic way is to make an ad. You can promote your extension by making a visual impact on users. No doubt. it is the most natural and powerful marketing tool. Though it is a traditional concept it still works.
You will be extremely benefitted if you also have a mobile version of your Chrome extension. It is because it will become easy for you to promote your extension to your mobile users. When you have people who use your mobile app, you can tell them about your latest version. It is obvious that they will respond.
Try to reduce the cost as much as you can. You should focus on increasing your conversion rate. Ask your mobile users to download your latest version. Ask them to give you feedback. This effective suggestion has helped many people. Hopefully, you will be benefitted too.
You can take help from Google Adwords. They provide a good platform to promote products. You can create Facebook Ads. Post the ad on your Facebook wall. Invite your Facebook friends to share the ad. In this way, you can promote your extension.
If you want to spend money, you should definitely go for influencer marketing. It results in high ROI among. You will succeed in making your mark in all marketing channels. An apt influencer will help you show your extension to many people. But the only problem is that he or she will charge some amount.
Many SEO experts recommend people to use pop format. The pop is known to give a good conversion rate. Many people have used it and they were amazed to see the results.
So, you cannot deny that there are multiple ways. You can promote your chrome extension in a number of ways.
What Experts Suggest:
Everyone has to face one common problem. And that's how to get more and more users on google chrome extension? Everyone wants to promote their chrome extension. Follow the steps mentioned below to market a browser extension easily on the internet.
Before launching your extension, you can promote your version to your family and friends. It is important in order to get genuine feedback. If they love your version, go for it. Otherwise, you can make the necessary changes. You will also get 10-15 people who will download your latest version.
Then you have to develop a landing page for your extension. Give a chance to your people to download your extension. You can either provide them the buttons or you can give them the links. Don't forget to add images of your extension.
Then you can create a Facebook page. It won't be costly but you will have to spend something for it. You will have to pay only if you want to do a paid advertisement. If you don't want to go for a paid advertisement, you need not to pay anything.
Then you can make a banner ad. Promote your chrome extension on another webpage. All the users of that particular webpage will get to know about you. It is obvious that you will get some installs.
Then you can use Google Adwords. You will have to pay something depending upon your keyword. This may become too much expensive so be careful. You can also try other ad networks. You will get good installs. You will be satisfied with the results.
Then finally become a blogger and start writing. If you cannot write, you can hire any writer and pay him. He will write to you. Upload images of your extension at various platforms. It is a very important step in order to get public attention.
How to Create and Publish a Google Chrome Extension:
You will be suggested to have a rough idea of your goal. It will help you in developing a unique website. Here are the steps you can follow them in order to create your extension. Have a look:
Step 1: Proper arrangement of requisites
The very first step will be to create a file. This file will be formed in JSON format. It means it is inclusive of all the basic details of the chrome. It includes the extension's name, description, and also the extension version number. It also consists of permission. This permission is important for the working of the chrome.
One has to control the active tab. That's why he or she has to get permission. Every user gets a warning message to get permission. This warning message is delivered whenever a user installs the extension.
Step 2: Check its working
It is a very first step in the whole process. It is to test the working of your chrome extension. Unless you know whether your extension is working or not, you will never be able to launch it. Many people check the developer mode checkbox of their extension. They do so to test the extension. You have to click on load unpacked extension. Then you have to click on the respective directory. This directory is the place where your extension has been saved. You will get a clear view of your extension. This step will help you in making necessary changes in your extension.
Step 3: Do necessary changes
Now you have to simplify the working of your extension. This is very important in order to make your extension appealing. To simplify the procedure or working, you have to create a new tab. It is worth mentioning that the tab will be created in the extension directory. You can follow the same procedure to make changes in your javascript functionality. You can also add any active functionality to your extension. If you have already created any website, you will be highly benefitted here. It is because you can showcase your extension to your users.
Step 4: Launch your extension
This is the most important step in the whole process. When you are completely done with every step, you should publish an extension. You have to simply go to your chrome web store dashboard. You need to sign in to Google. If you fail to sign in, you will be asked to sign in first. You have to click on the 'add new item' button. Then you have to accept the terms and conditions. This will take you to a new page. This is a place from where you can launch your extension. Don't forget to compress. And finally, upload the ZIP file.
At last
Isn't it interesting to be a web developer? Obviously, it is. It is very easy to develop a new chrome extension. One has to follow simple steps to do so. Also, it is feasible to develop the extension in very less time. You just have to have a practical knowledge of HTML, CSS, and JavaScript.
Be unique enough in order to create an interesting website. Be very creative. You will succeed in creating a good website.
Suggestions:
It is obvious that you will commit some mistakes in order to get more traffic. These mistakes are committed by most of the people. Have a look on some don'ts of google chrome extension.
You need not always have to pay something. It will be better if you avoid paid advertisements. They irritate users.
Many people submit their extension to Upload.com. But this platform does not guarantee traffic. So, unless you do pay promotion, you won't be benefitted much.
Many people submit their extension to Softpedia. But you are informed that Softpedia has stopped accepting browser extensions.
Many people fail to register their chrome extension. You should be careful. Many times we think we have registered ourselves but registration may not happen.
Many people try to use Lifehacker. But it never responds on time. Also posting the link in the owner's original website will give adverse results.
Don't take the screenshot of your app. It cannot be uploaded anywhere else. Don't advertise your link on YouTube.
The bottom line
Have a look at some strategies given below:
Sharing the extension helps a lot. There are so many platforms. You should share your extension on them.
You should create a landing page for your extension. It will be better if you can create any promotional video.
Take help from your followers and users. Ask them to give you feedback and reviews.
Build networks and connections. You should work with developers. Ask them to promote your extension. You can take their help in sharing your extension.
You can do the necessary changes in your extension to improve it. You can add images. You can update the content of your extension.
There are many platforms like Lifehacker. It will be suggested to you to submit your extension to such platforms.
Ask your users to share their experience with you. In this way, you will come across the best and worst things of your extension.
Become a blogger. You should start writing about your extension. Constantly write about your recent updates and changes.