Google AdSense is one of the most dependable programs to earn money for each click. Here google adds advertisements to websites. The publisher gets paid when each visitor clicks on any of the advertisement on that site. This is how revenue sharing works.
AdSense revenue sharing is one of the popular programs through which you can earn money.
For this, you don't have to do anything other than popularizing your site and attract Google to your site using keywords. This will attract more traffic to your site and your site ranking will improve.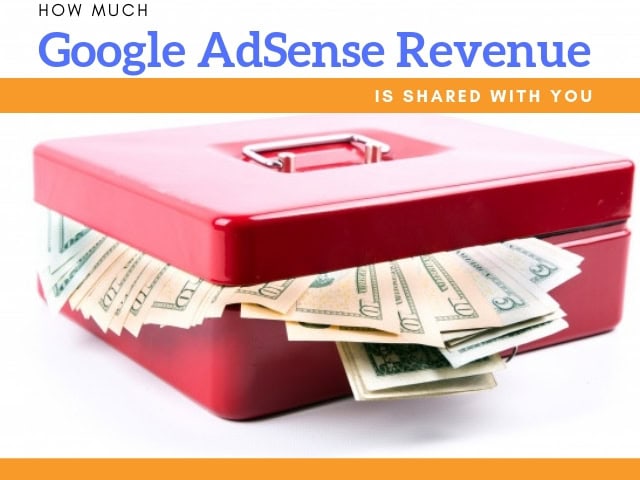 Make high-quality content and apply all other tactics to improve your site ranking. When you compare all other options to earn money online this is the best and easy method you can follow.
For a long time, the percentage of revenue sharing was unknown. But now Google disclosed the revenue sharing with publishers for content ads and search ads. But, they haven't yet disclosed revenue sharing for videos and games.
By unveiling the percentage, the trust toward this program increased and a publisher can calculate their earning from AdSense program.
What is Revenue Sharing?
AdSense is the publisher side of AdWords which is an advertisement network from Google.
In this AdWords program, they collect money from advertisers through this program. After that, they display advertisement on the publisher's site.
You can see the ad at any sites like games, search results, videos, etc. When a visitor clicks on any displayed advertisement, Google pays some percentage of advertiser's money to that site owner. This percentage is known as revenue sharing.
You can see this revenue share on your AdSense account. All the percentage of revenue sharing will be the same irrespective of any geographical location.
AdSense for content:
When it comes to revenue sharing for content, Google says that the publisher will get 68% of the amount collected from advertisers. Rest of the money will get to Google. So, the revenue sharing ratio for content is 68:32.
AdSense for Search:
Revenue sharing ratio of search is 51:49. That means 51% of the revenue collected from advertisers will go to the publisher of the site and Google will take the rest 49% of revenue.
AdSense for other content types:
Google hasn't yet disclosed the revenue sharing for other content types like video, games, etc.
According to them, building and maintenance cost for each of them varies. So they are studying it and will soon unleash that ratio also.
How can you view the Google Adsense revenue share?
It is easy to know how much you got as part of a revenue sharing program. All you have to do is create an AdSense account. You can see the account details here by following below steps
Sign into Google AdSense account using your user name and password
In the left side of options, you can see Settings option
Click on that and go for Account option and from there account information
Here you can see revenue sharing next to Active products
If you want to check this party revenue sharing percentage, go to Access and authorization and go to Third-party access section under the settings tab.
Here you can see each option separately. If you have given access to hosted contents, you can see its revenue sharing too.
When it comes to third party sites like HubPages, Weebly, etc revenue sharing will be there along with the percentage of sharing in detail, if you don't want third party access you can disable or enable it.
AdSense Revenue sharing sites:
There are many sites that offer AdSense programs also.
Weebly, Squidoo(HubPages had acquired Squidoo), Trendhunter, etc are some intermediate sites that offer AdSense sharing. They act as an intermediate platform where you can build free sites and publish your content.
Here you will get income from Google AdSense program. To do this, you need to register to these sites. A fee should be paid also.
If you use the help of these sites they will help to improve your site ranking and keyword optimization. The first thing that Google does is to review your site. After that, it will decide whether to approve or disapprove your site.
If you have an AdSense account, you can use that id. Otherwise, create one and you can use this id anywhere even in those intermediate sites.
There are some other sites which publish their own AdSense ads on your page. On these sites, you don't need to create a separate AdSense account. Google Adsense account will be fine.
Check out some popular sites and you can go forward with it if you are a starter. This will help a starter to study more about this system. It will benefit them in the future when they create a website themselves.
AdSense Revenue Calculator:
When it comes to calculating AdSense revenue, there are 3 important points you should consider. They are CTR (Click Through Rate), CPM (Click Per Mile) and RPM (Rate per mile).
CTR: Click-through rate is the number of ad clicks divided by the number of page views.
CPC: Cost per Click (CPC) is the amount you can earn each time a user clicks on your ads.
RPM: You will get Revenue per thousand impressions (RPM) by dividing Estimated earning with Number of page views.
You can find many tools to calculate ad sharing. For that, you need to know all these terminologies. So that you can get the answer by just entering corresponding values.
But this answer will not be 100% accurate. There could be some changes in the value. All those tools are designed to give an approximate value that you are looking for.
One such tool is Google AdSense calculator. Here is how you can operate it
You need to enter the daily page impressions first box. That means instances for which ads are displayed on your page
Give the CTR value. That is the number of ad clicks per ad impression. You will get that value from the AdSense stats page.
Next box will be CPC (Cost per Click). It is the price you get for each click. This value is determined by advertisers. You can get an average CPC value by dividing your total revenue by a whole number of clicks.
Now you click on calculate and you will get the final result. Try this to get an estimated value you can earn from AdSense program.
Among all other tools for this purpose, Google AdSense calculator is the most popular tool. You can try it and see the result. In the end, it is Google who decides the AdSense sharing value for your website.
Now let's check how you can improve AdSense revenue. The two main factors that decide your AdSense revenue is site traffic and CPC.
Some other factors are – maintaining a good quality site, keyword optimization, etc.
Here are some factors you need to keep an eye on to improve your AdSense income
Size and location of ad:
This is one of the most important factors that decide your CTR. You can put those ads around your content and blend them with your site look. If you want you can add some link based ads too.
They won't affect your CTR but will improve it. After putting all of them in the right place make sure to blend the ads with your web page. Also, all ads should be in the right size so that people notice it.
Target your traffic:
Internet-based ads might not perform well always. Sometimes even you got a good number of site impressions, your CPC will be low.
A low CPC means low AdSense revenue. You can improve CPC by targeting your traffic.
It is a proven method and you can target traffic from countries like US, UK, etc. This will result in a high CPC rate.
Use all AdSense options available:
Other than using AdSense for contents you can try them on search options also. This will help you to monetize as well as in navigation.
Try to maintain more relevant ads:
This is also important to maintain relevant ads in your content. Also, make them related to your content. So that it makes people who visit your content easy to see ads related to what they are looking for.
Type of ads:
Usually, there are two types of ad like image or text. There is a wrong perception that only image type ads will work. But, it is not true. Don't block any chance for improving the CPM of our ad.
Design your page well:
To improve AdSense revenue, you can easily optimize these ads that match with your page background. To give a good user- experience to your viewers, design your site well. Also, make sure to add enough pace among ads and don't violate AdSense policy.
Try something new always:
There are not any written rules you can follow to get more revenue from the AdSense program. You can try out new experiments and see which one works better. Nobody can teach you this. Just follow your own sense and try something new like change in link color, its combinations, etc.
Follow these tips on your website and try the result. It will give a positive impact on your website for sure. So now the question will be
Why should I prefer Google AdSense Program?
This is a very popular question that everyone seeks an answer. There are many sites using which you can earn money through advertising.
But most of the people prefer the Google AdSense program. Have you noticed it? There should be some reason behind it.
Do you want to know what that is?
Is it only about the money you get?
You will get answers to all your question after knowing some features of this program
Features of Google AdSense program:
The main feature of this program is that you can make an AdSense account for free. No registration fee needed. The registration process is also simple and easy. The only condition is that you should possess a website or blog.
You don't have to sit whole time in front of the laptop to operate it. Once it is set up your job is over.
More than just placing ads on content this lets you target visitors by placing the ads on search results and RSS feed
Other than all other programs where users have to find ads to display on their site Google gives you ad here. Also, Google picks an ad that is relevant to your content also.
You can operate multiple websites using a single AdSense account. No need to create different accounts for different sites.
You can customize the ads as you want. Change its look, size, position, etc and display it on your site.
Easily accessible by anyone who has basic computer knowledge. You don't have to invest time to study its operation because it is very simple to use.
Gives you maximum earning when compares to other AdSense programs
Conclusion:
Now you got an idea of the Google AdSense program and its revenue sharing. The amount may vary from person to person. Your site popularity is also a fact that decides it. So, improve it by applying various methods available and your site will automatically get noticed. According to Google, they offer the best revenue sharing program available.
You can check other sites and try them if you want. If you can earn a good income from AdSense program, why don't you focus on it?
If you can invest some time, then you will get more money out of it. Check your competitor's site to get more knowledge about their ideas to attract viewers and Ad placements. Take inspiration from them and try to implement it on your site.
Initially, you have to wait some time to get a good result. But once you got an idea of AdSense programs and its tricks you can manage a good earning out of it. Don't have an AdSense account?
Hurry up, make one immediately and earn money.