Making money through Google Adsense earnings is one of the best ways to make money online through blogging. AdSense is one such an ad network for the purpose of making money from blogs. Being a product of Google, AdSense permits to show contextual ads from on a blog.
People are making a maximum profit with the help of Google AdSense and are considered as one of the best monetization ad networks for any network. It is a pay per click program which offers you advertising revenue for each page of your website with less investment.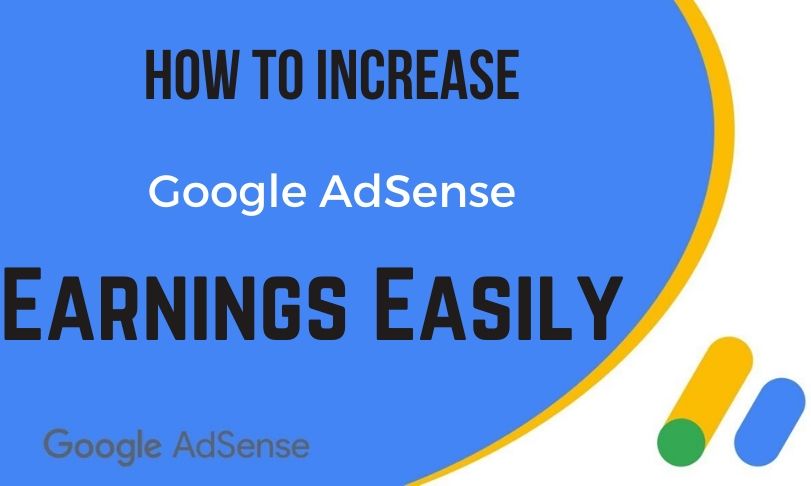 There are a number of features that are offered by AdSense removal of low paying ad category, targeting, ad blacklisting and many other features that can be utilized by AdSense blogger which enhances their ad sense income. Let's see a few tips on how to increase your Google AdSense revenue.
Tips to Boost Your Google AdSense Earnings:
1. Linking AdSense and Google analytics:
One of the latest and simple tricks that increase CPC rates and get reflected in Google AdSense earnings report is by linking your AdSense account with Google Analytics.
The Google analytics AdSense earnings report helps you to find out which specific web page has received a number of clicks irrespective of the other sources that generate revenue. The report can be filtered to find out the web page that has enhanced CPC rates when compared with others.
Hence, the page which is flagged to have a higher CPC rate must be concentrated provided with more quality content for the related topic.
2. Custom channels increase CPC rates:
To increase AdSense CPC, custom channels can be created for Ad units. More targeted ads can be obtained for the blog or web page by creating a custom channel. When the targeted ads are more, then the more numbers of advertisers and bidders, resulting in more amount of money for payment of cost-per-click on a specific web page.
3. High CPC for image and text ads:
AdSense ads are five types which include image, text, flash, rich media and animated image. Moreover, all ad types are categorized as text ads and display ads. Enabling both text and display ads for AdSense ad unit is strongly recommended. In this way, the number of advisers is increased for the specific site by resulting in higher CPC rates.
4. Appropriate and improved keywords:
The keyword density is an important aspect to be considered before ads on a web page are served. There are advanced and free tools that are available to know the most prominent keywords used on a web page, for example, an SEO density analyzer.
In the same manner, keyword suggestions can also be from overture search inventory and from Google Ad word Sandbox. You can also improve your Ad relevance by obtaining new appropriate keywords.
5. Choosing the right AdSense Format:
It is vital to concentrate on the format of AdSense where wider formats are fruitful as they are said to be compact. It is evident that wider formats are complementary to the content and easy to read. The three major AdSense formats are 1) 336x 280 large rectangles, 2) 300x 250 medium rectangles, 3) 160x 600 wide skyscrapers.
6. Show AdSense in the right place:
It is quite muddling to find out the right place to present the AdSense to gain higher CPC. It is suggested to place one AdSense Ad unit above the fold and the other one below the articles, or post or at the end. The final one can be placed in the footer or on the sidebar. It is highly recommended not to place all the three Ad unit code at one place.
7. A website should follow a theme:
Create theme-based content and follow keywords suggestion to enhance your web page ratings. It is important to remember that Google AdSense is keyword-targeted advertising, and the websites should have content-rich topics and must attract many ads.
8. Write a fresh page each day:
Adding a fresh page each day is one important tip to enhance CPC, the more content present, the number of visitors is obtained. An AdSense unit can be placed on each and every page of the site.
9. Pick one advertising network to enhance CPC:
Online advertising networks are many in number such as Info links, Bing network conceptual Ads program by media.net, buy sell ads, clicks or etc. in order to achieve better AdSense CPC rates, other advertising networks can be avoided. The main reason behind this is that advertisers choose a network that costs less so that they appear on your site.
10. Location and CPC rates:
The location of site users also adds to the CPC rates, this is because AdSense shows up ads that are associated with the users. Appropriate ads would pop up from advertisers of their place.
When research is made on the CPC rates it is concluded that countries like Australia, Germany, United States, Canada, Saudi Arabia, Netherlands, Iraq, United Kingdom, and Albania pay more for a single click when compared to countries like Colombia, Thailand, Bangladesh, Tanzania, France, Pakistan, Turkey, India, Nepal, and SriLanka.
11. Post AdSense Advertisement relevant to the blog:
A simple example can be that when your blogging about computer technology and the advertisements that pop up are for pet health and pet care, and then the visitors do not make an attempt to click on them. In the same manner, if your blogging about computer games and your advertisements are about advanced mouse and keyboards, then visitors are attracted by the ads.
To make sure that AdSense delivers appropriate ads for your blog is by making sure that the blog content is appropriate and content-specific. Specification means that instead of running a blog about golf, you can run a golf blog for women or a blog that reviews all golf clubs. In this way, your content is more specific and you can gain more visitors.
12. Optimize blog parameters for AdSense ads:
There are a number of aspects to be considered in order to enhance your CPC rates. Some of them are the place to display your ads, color factors, and the location where the ad is free of clutter and immediately visible at the time of visiting.
13. Increase blog level traffic:
Pay-per-click is how AdSense runs and you're paid when visitors click on the ads in your blog. In order to increase the number of clicks and enhance revenue, it is important to post high quality and unique content. Unique and high-quality content has the capability to draw in more visitors. Original and creative contents are important to increase traffic.
Search engine optimization is something that must be concentrated upon where the blog content would be indexed by search engines and would be presented to visitors who search for the appropriate keywords. To increase traffic it is vital to promote your blog on the net.
When you hover over a blog and find content associated with your blog, you can comment on their blogs and leave your links too. Look for communities and blogs that fall under your niche and present others that you also run a related blog.
14. Follow AdSense rules:
It is not true that everyone who has a blog is eligible for the Google AdSense program. There are a few rules and policies that Google follows in order to select and approve sites that are eligible for the AdSense program.
For example, is your blog is adult-oriented or illegal, and then there is no entry into the AdSense program. Google AdSense policies can be read from their website.
15. Increase CPC rates by using responsive templates/theme:
The real fact presently is that most users these days make use of their cell/mobiles/Smartphones and tabs in spite of their desktops for surfing or finding things they desire. When there are more users then the CPC would be higher, hence, it is important to make use of the responsive template for your websites.
16. Concentrate on the site domain name:
The CPC rates also depend on the site domain name as the domain name is one which presents the contents of the web page. It is hence important to choose the right domain name that relates to the content and keywords of the web page. But this factor does not affect the CPC rate as quality and niche of the content.
17. Know your customer:
Customers and visitors are key factors to enhance traffic for your website, so it is mandatory to ask your customers if they got the required aspects that they were looking for on websites. They are the main factor that increases the keywords, the more visitors result in more page views which in turn leads to more bidding price, impressions and enhanced CPC rates.
18. Look for layout of the sites:
All website owners would desire to build websites that are completely different from others which intend the blog site to be unique. In the same manner, different slots are also provided for the ads according to their preferred space. Many people are muddled about the specific layout required for their blog for Google AdSense.
A standard layout has been presented by Google AdSense for presenting advertisements and hence your layout can be altered accordingly. The layout of the site that presents good content is regarded as a good example rather than the layout of the content that pushes the ad below the fold.
It is important to know that all the AdSense ads must not be positioned above the fold. In this way, the CPC rates are increased which are placed near to the content which the visitors are involved in.
19. Ads between posts:
AdSense ads can be configured, in order to increase AdSense revenue. The configuration is done to match the colors, background and add 480*60 image ads amidst posts.
In the same way, 7 to 10 pictures can be added so that good user experience can be added to your readers. It is good to make sure that there is enough space between the ads and content by not violating AdSense policies.
20. Category blocking:
The category blocking is one of the most important features which are followed by AdSense ads. The categories of ads that are performing poorly are researched and blocked. Categories that possess a good percentage of impression and low earnings can be blocked.
Allow and block ads page can be used to configure. Allow and block are one of the best facilities for publishers. With this amenity, the specific add which needs to be shown on the site can be determined.
Blocking ads can be achieved within an hour. When a particular ad is blocked, then advertisers and bidders would know the type of ads that you do not wish to see and hence, they provide ads associated with your web page.
In this way, real-time bids are enhanced and lead to higher CPC rates. It is also important to remember that there is a negative impact on Google AdSense earnings by blocking certain ads.
Conclusion:
These are a few hints about how to increase your AdSense revenue for your blog. There are a number of tutorials and sources which are useful to increase AdSense income by implementing good practices that are perfect for increasing revenue.
Appropriate ads delivered by AdSense are perfect ones as they target the people who use the content.  It is mandatory that Google AdSense is not made a secondary option. All the tips mentioned above are perfect to enhance Google AdSense earnings. It is important for bloggers to know about the basis of AdSense such as CPC, ROI, and custom channels so that managing and understanding of AdSense are made easy.
In the same manner, AdSense is also linked with Analytics to get to know which keyword, which page is doing the best. All the tips mentioned are simple and effective which helps to increase Google Ads Revenue.
More advertisers must be attracted so that the tough competitions amongst various CPC rates are looked through. These hints are hence beneficial to make sure that CPC rates are increased.