We are the generation that literally survives off social media.
We like putting our lives out in the open for everyone to see. Everything that we do, everybody we meet, everywhere we go, we like to document it and show it off to the world.
It all started with Facebook and then we moved on to Instagram and now Snapchat.
Instagram and Snapchat are these photo sharing apps that let you share photos only. They have these features where you can add stories to your account and anybody who follows you can view those stories for 24 hours after you have added them.
But still photographs are boring too, right?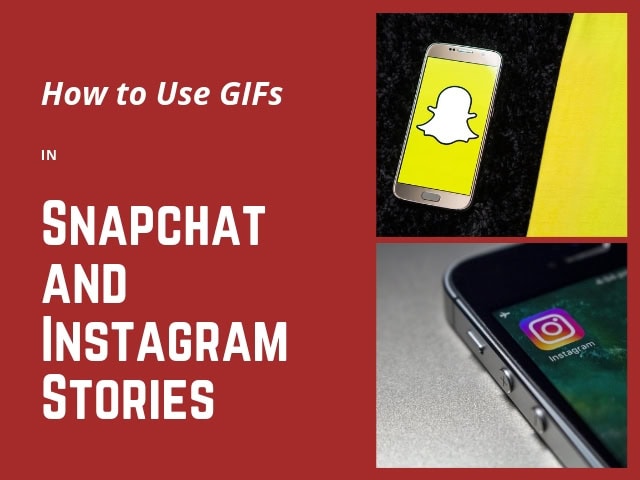 The newest craze is adding short, animated GIFs everywhere. They are animated, moving and expressive.
But a lot of people do not know how to add GIFs on Snapchat and Instagram. If you are one of them, you are in the right place. We will tell you everything about how to add GIFs on Snapchat and Instagram.
How to Add GIFs in Your Snapchat?
When you add a GIF file or stick to your story, it not only makes it look better and cooler but also emotes better.
The famous GIF bank Giphy has been hanging in there for quite a long time now, but it is now that Giphy is storming over and taking over the most of social media.
After extending its services to WhatsApp and Instagram stories, you can now use Giphy's GIFs on your Snaps as well.
Giphy partnered with Snapchat so that you can use funny animated GIf stickers to your Snaps. This means that your old Sticker Picker just got a new makeover. But just a makeover is not enough unless you know how to use it, right?
We are here with a step by step guide as to how you can use GIFs in your Snaps now. It is very easy and gives such a nice twist to your Snaps.
Step 1: Take a picture using Snapchat
Isn't that the most obvious thing to do?
Using the Snapchat app on your phone, take a picture that you wish to add the GIF stickers too.
Step 2: First tap on the Sticker button and then tap on 'Search'
That is clubbing two steps into one, but it is THAT easy. You all know where the Sticker icon is. So tap on the Sticker icon on the top right-hand side of the screen, and this will direct you to Sticker Picker.
Once you are there, you have to click on the Search bar and there you will find the stickers under the Giphy column.
There are also animated stickers that you will find which were made by Snapchat itself. You can find endless options there, so have fun choosing along!
Step 3: Now add your favorite GIF stickers to your Snap
You can now add as many GIF stickers to your Snap as you want. You can customize their sizes and positions in your Snaps the way you want to. You can also send them to a friend.
In case you make a mistake while adding stickers or add something that you do not want, you can always delete the stickers. Just long press the sticker you want to delete and drag it to the trash can. You are done!
Now that you know all about how to add GIF stickers to your Snaps, it's time to know how you can add GIFs to your Snapchat videos. Yes, you can do it now. The process is pretty simple and you don't need to freak out.
If you want to add a GIF sticker to a Snapchat video, you just have to long press and hold the sticker and pin it to something in your video.
Once you have pinned it, the GIF sticker will also move in the video as the object it is pinned to moves. This adds a more visual entertainment factor to your Snapchat video.
How to Add GIFs in Instagram Story?
Instagram is another platform we swear by, especially Instagram stories. That is where we document and showcase everything we do, where we go, what we eat, whom we meet- basically everything.
We post photos or videos and do fun stuff to them. Instagram stories have a lot of cool features that you can add to your story, like Boomerangs, Superzoom, Polling options, etc.
The one thing it did not have was GIF stickers. Stories would look so much cooler with animated GIF stickers.
But worry not, Instagram has now added this much loved and much-missed feature and you can now add them to your stories to make them look better.
How are you going to add them, you ask? We know it all!
Step 1: Take or select a picture
The first thing to do is obviously to choose the picture you want to add to your stories. You can either open the phone's gallery and choose a picture, or you can use Instagram's own camera to take a picture.
Step 2: Select the Sticker icon on the top
On the top right-hand side of your screen, you will find the Sticker icon. Once you tap on it, you will find all the cool stickers and other option like location, day, temperature, polling, hashtags, etc. This is where you will find the new GIF option. Click on it.
Step 3: Search for a GIF in the Giphy search box
Once you click on the GIF box, you will be redirected to Giphy's page. There you can find endless cool GIF stickers in the store.
You can also type out in the Search box of Giphy what kind of sticker you want. Choose your favorite one and make your story look better. You can even add multiple GIF stickers to your story.
Once you have added the GIF sticker and positioned it properly in your story, you can then share it and wait for your followers to see it.
When Snapchat and Instagram Removed the GIF Feature?
A couple of months back, both Snapchat had removed their GIF features temporarily. The reason behind it was that users had come across a racist Gif sticker in the sticker store and many were offended. Both Snapchat and Instagram had immediately taken down Giphy from their platforms.
The GIF sticker was first spotted on Snapchat, following which there was a huge uproar from among users.
Later, users found the same sticker on Instagram too. Thus they realized that it was Giphy's fault to have introduced such a sticker.
After Giphy was alerted of this, they seemed to had taken down the GIF sticker. Giphy said that its community guidelines were strictly against racism and such objectionable content.
But there are chances of that particular sticker having been there because Giphy works like a search engine that shows whatever top stickers are trending on the web.
Giphy had even given out an official statement, admitting to their mistake and apologizing for that.
In the statement they said,
"A user discovered an offensive GIF sticker in our library, and we immediately removed it per our content guidelines.
After investigation of the incident, this sticker was available due to a bug in our content moderation filters specifically affecting GIF stickers. We have fixed the bug and have re-moderated all of the GIF stickers in our library.
The GIPHY staff is also further reviewing every GIF sticker by hand and should be finished shortly.
We take full responsibility for these recent events and sincerely apologize to anyone who was offended."
However, this incident was not the first time that Snapchat had been in trouble because of this racial content.
Back in 2016, Snapchat was in a major problem and had received backlash from its users because of the filter they had that was of an Asian Yellow Face.
Using that lens, people would get slanted eyes like Asians. This caused a huge uproar and Snapchat received a lot of backlash from its users for being so insensitive about its content.
Since then Snapchat had been careful about its content but this recent Giphy incident has put it in a bad light again. Experts believe that if Snapchat keeps being so irresponsible about its content, it might not be able to work with global developers across the world.
Alternatives for GIFs That You Can Use:
Even though the GIF stickers are back both on Snapchat and Instagram, you never know what might happen again and these stickers might be pulled down again.
But even if these stickers are pulled down, should it stop you from creating amazing snaps and stories? No, right?
So here are few fun alternatives that you can use in your stories and your snaps if you want to stay away from the GIF stickers.
The 3D friendmojis:
When you are using the chat feature of Snapchat, it allows you to hang out and interact with your long distance best friend with the help of the 3D Friendmojis.
In case you were not familiar with them earlier, then these are animated characters that were created through augmented reality.
They share your likeness and you can make them do fun things in your snaps like yoga or dancing or skiing.
You can make your emoji interact with your friend's emoji and these two characters can be doing the same thing. This is something that even the funny GIF stickers could not do.
Animated stickers and filters:
If you want to add stickers that are in motion to your Snaps, animated stickers will fulfill that purpose. You can add the sparkling hearts or sparkling clusters that are twinkling in your Snaps if you are bored of the still stickers.
You can just move your phone right or left after you have taken a photo or video if you want some kind of movement in your snaps. This will give you access to the animated filters on Snapchat.
If you want the colored or the animated filter, what you have to do is you have to place a filter on your snap and then hold it in place on the screen with one hand, and with the other hand swipe right or left, if you want to add a second filter.
Who needs GIFs when you already have such cool filters?
Custom stickers:
How cool is it that you can get your own custom sticker?
You can make and customize just any sticker just the way you want when you take a snap.
You do not have to depend on the monotonous and boring stickers that everyone in the world has access to. So it is time to up your Snap game.
For this, you have to take an image through Snapchat and then pick out a person's face or an object that you would want to turn into a sticker. Choose anything that you want to do fun things to.
When you have picked out an object or a person that you want to turn into a sticker, you have to press the Scissor icon, trace the chosen face or thing with your finger and then take up your finger when you are done. The sticker that you have created will be saved under the Stickers head.
Use these stickers for fun stories later. The best thing is you can create as many custom stickers as you want to and save them. There is no limit to that. Do you still need GIF stickers?
Wrapping Up:
But we would totally understand if you still want to stick to GIF stickers, now that they are back with a bang on both Snapchat and Instagram! Posting just pictures or videos is already so 2017 now.
When you have such a cool feature, why not make the most of it?
These GIFs make your photography skills look better and so do your stories. Now that you know how to add these, go on and make your Snaps and Insta stories way more fun!