Despite trying every method out there are you still struggling to get traffic to your website?
There are many ways you can try to bring more quality traffic to a website. It was easy back then to attract people towards a website. Now it is very hard to get their attention towards a content.
If you are trying to get more traffic towards a website, you can use the following options given below. These are some proven methods and according to experts, it can help you to bring quality traffic towards a website. Good traffic always indicates your website quality and can obviously improve a website's ranking.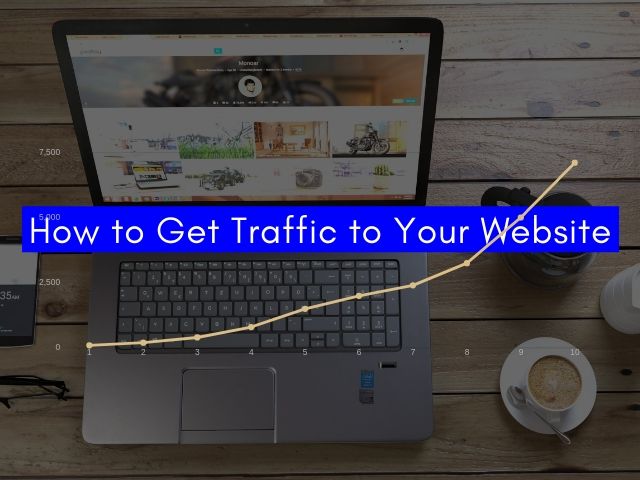 But one thing to be noticed is that how many of these incoming traffic converts into business. That is what you need to count when you consider a website's popularity. Check out some best options you can try to increase your website traffic
Ways to Get Traffic to Your Website:
1. Get social:
The social media platform has so many features that you can use to promote your website. It is a great place where you can meet your targeted audience. Promote your content using various social media channels such as Facebook, Twitter, LinkedIn, Google+, Instagram, etc.
Every time you create new content, post it on the Facebook page and let your users know about the content. It can help more people to view your contents and can also increase the number of incoming traffic towards your website via Facebook.
Another popular platform is Twitter with 317 million active users. You can make sure to stand out in this very busy platform using better social media management tools. Buffer, Hootsuite, etc are popular social media management platforms which can be helpful in managing and scheduling your social media posts without affecting your promotion.
To meet business people, you can concentrate on promoting your content on LinkedIn. If your topics are related to business, LinkedIn is the most suitable platform to attract more useful traffic towards your website. Target people by their profession and make it profitable with suitable promotions. To advertise on LinkedIn, you need to spend more money compared to all other platforms. But it is worth for your money.
If you can promote visual content, then using Instagram for your content promotion can help you. It is not possible to attach any links with your images on Instagram. You can tell your followers to visit your bio to get the link to your website. Even though this makes them very hard to reach to your website, genuine followers will surely take a look on your website and this can increase your website traffic.
2. Use content promotional tools:
There are many platforms which exclusively uses to promote contents such as Pinterest, Scoop.it, and Flipboard. They are mainly used when you have to promote your content itself among your audience. There are many people out there who want to find interesting contents and search on such platforms to get it. You can make sure to promote your content on these platforms to get noticed easily.
Pinterest is an interesting source of traffic for websites. If your content largely concentrates on images, try using Pinterest for your content promotion. Before using it for the promotion you can analyze the main users for this app. More than 50% of users are females and they are mainly located in the US. You can post your contents on Pinterest and use proper strategies to make it popular among your targeted audience
Flipboard is an app which collects new and all other types of contents from various platforms and publishes it. It is available for Android as well as IOS platform users. You can create your own magazines on Flipboard and cover the topics you want to discuss with your audience. This is a great way to make sure the reach of your content to a wide range of audience
Scoop.it is a platform which enables you to find new content ideas online. You can easily use any type of category to create contents. There are many people who follow the contents that come on this platform. You can also try to post a variety of contents on it to get more popularity on Scoop.it.
3. Do guest blogging:
This is a very interesting idea you can go for if you want to get good incoming traffic towards your website. There are many websites out there who accept guest bloggers. If you are someone who looks for exposure to a new audience, guest blogging is the most suitable idea you can try.
Reach out to popular website on your niche with many followers regarding your interest in blogging. If they accept you as a guest blogger, you can try to write interesting content for them. The main advantage of guest blogging is that you will get introduced to a new group of audience who can be your regular follower in the future. If they like your content they will start to search for your website and will start to follow you. This is a great way to attract new audiences to your website and it can also increase your website traffic.
4. Q&A websites:
You can try to be an active part of any of the Q&A websites such as Quora, Reddit, Yahoo answers, etc. Also, try to get involved in discussion forums or any such website and give a useful response. You can do good research about the popular platform in your niche and be an active part of every discussion. People will always notice someone who can solve their problems with the correct answer. It can make you popular on those platforms and can also get more followers after that
Quora is a very popular platform with millions of active users. When you answer to a particular question you are giving them a resolution with your answer. If someone answers to a question all the subscribers will get an email notification and this can increase your follower-base also. Quora pages rank well in Google search engine and you will get a good result for your effort by using Quora for content promotion.
Yahoo answers is another QA platform you can try to get more incoming traffic towards your website. The main difference between both platforms is that the standard of questions that comes in Quora is higher than in Yahoo answers. Still, there are people who search for a solution for their question on this platform. Ty to be active on such platforms to improve your popularity online.
5. Influencer outreach:
To make your contents more popular online, another option is to find out some niche specific influencers. They are people with so many follower bases. You can use their popularity to promote your contents on their website or blog. When they promote your contents, more people will see your contents and will visit your website to know more about it. But to get that traffic, you should find out the best people who can help you to promote your contents online.
You can do good research and make a list of influencers who are popular in your niche. After making the list start to send them emails requesting the promotion of your content. Some people ignore such emails and some others respond to it. If you hear back from any of these influencers in your list, it will be very useful for you in getting more traffic towards your webpage.
6. Interview thought leaders of the industry:
Some people just create contents and want to get attention from the audience. But just by creating any type of content cannot help you in attracting these audiences. You can try something unique to stand out among your competitors. One such idea is to, publish the interview of thought leader of your industry.
People might be very interested in knowing the ideas and success story from popular people who run successful businesses. You can help your audience to know more about such type of contents by publishing interesting interviews with important thought leaders in your niche. This can obviously bring more traffic to your website.
7. Concentrate on On-Page as well as Off-Page SEO:
Search engine optimization is the key to the success of every website. You need to create your content as per the search engine guidelines so that it gets listed under the top search engine result. You can concentrate on optimizing your websites on-page elements like keywords, backlinks, better design, good loading speed, etc.
A responsive website only can attract more traffic towards a website. Other factors such as sitemap, robot.txt, etc are among the popular Off-page SEO factors that can be responsible for your website's better response. Make it easy for your website visitors to find any content they want by arranging them properly. A website's better design and response are one of the very important factors that decide the number of users to it.
8. Interact with your audience:
Communication with your audience can be helpful in getting more people to visit your website. If you can connect with your audience and respond to all their comments and question below your contents it can be very helpful in creating a very good impression. The audience always follows someone who cares about what they want.
If a website knows what their audience wants and give them accordingly, it can be more successful. Give useful information and solutions to audience questions in your website's comment section to get more support from your audience and to increase the number of followers at the same time.
9. Include videos in your content:
Having a clear content marketing strategy can help you to make your contents more reachable among your audience. There are various types of content you can use in your website. One of the most popular types of contents is videos. They are very powerful in easily interpreting the concept you are trying to say with your content. The Human brain is more receptive to visual elements than written elements.
You can create interacting videos based on your content and include them in it. This can increase the number of viewers of your content and can also increase the conversion too. You will get viewers from various sources if you promote these video-based contents on suitable platforms.
10. Include social sharing buttons:
This is also a very popular way of increasing number of inbound traffic towards a website, If you are creating content and want to get it shared on social media you can include social sharing buttons on your page. It can help your website visitors to share your content on social media if they like the content. It can increase the visibility of your content and also help to attract more traffic towards it.
You can simply do it using any plugins. Try to include all popular social media icons and encourage your followers to share it on their social media accounts. This is a simple and free option every website can try, to get a good result.
Conclusion:
If you are looking to multiply your website traffic the above options can be very useful. They are free to do and effortless too. Just by using keywords and following SEO strategies, you cannot ensure a good response for your website.
Using good promotions and campaigns, you can get your contents out to a new set of audience and make them your followers. To get more conversion the best options are using social media platforms. Be active on social media and use it for your promotional purpose. In addition to the promotion, you can also concentrate on your content quality which is very important to attract quality traffic.
Are you ready to see some change in your website performance? Implement the above tips and see how it can affect your website ranking in a positive way.