We can see that social media is been changing constantly as time passes by. It was in 2017, that Facebook dominated almost all other social media sites by employing virtual reality video messaging etc.
So for the upcoming years, there may be many changes that can be seen in social media.  A report by Hubspot mentions that about one-third of the world makes use of social media.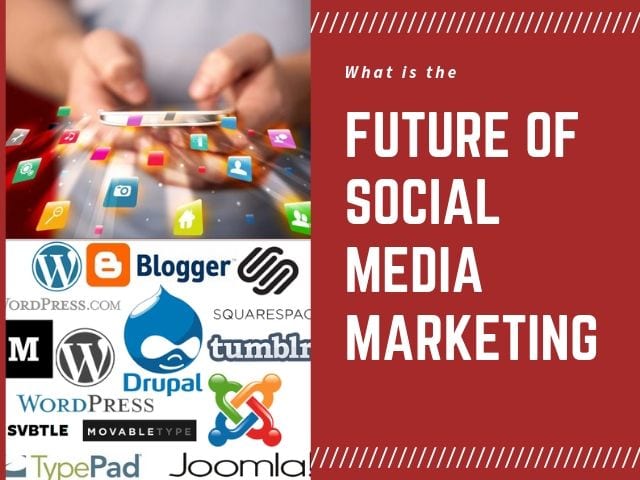 The Future of Social Media Marketing:
Millions of people make use of social media in some of the other form such as Instagram, Snapchat, twitter, facebook messenger, etc. In the upcoming years, there has been enhanced use of chatbots. This has enhanced the use of mobiles and sharing of additional engaging content. Let's run through a few thoughts about what is the future of social media?
1. Enhanced security and privacy:
When social media is considered, privacy issues are an important aspect that needs to be concentrated. This is because people are aware of how their data is being used in social media.
Due to privacy factors, in future more users would opt for "dark social". This refers to online private social interaction for example email, messaging apps, etc. It is also believed that about 84% of outbound sharing of consumers is by means of dark social. There are chances for the same to elevate in the next few years. Brands are always researching for new ways in which consumers trust can be built.
2. Less typing:
There are reports mentioning that about 50% of online searches hereafter will be searching by means of voice and image. There would be wide development in voice and image search along with audio snippet messages. By this way, typing would become old-fashioned in social media sites.
3. Artificial intelligence:
Presently manual ways of utilizing social media are followed, but remember that it would change soon. The systems would follow commands that employ the usage of speech recognition, instantaneous translation, visual perception, etc. Hence there would be a drastic change and artificial intelligence would take over social media in the future.
4. Engagement:
For businesses to get forward in social media, should focus on the engagement factor. To be successful in business in the future, engagement is an important factor in social media. The latest Facebook algorithm lays emphasis on interactions and is considered important. Audiences love contents that initiate good interactions. Hence a highly engaging content is mandatory in the future to draw in organic traffic.
Appealing and interesting contents that target the visitors are required. Apart from commenting, liking and sharing, baiting techniques should be implemented. To be successful in future social media marketing,  genuine content is important.
5. Increased social media advertising:
For businessmen interested to boost themselves in marketing should make sure that social media is a great platform for advertising. Hence they should allocate marketing budgets for advertising.
It is believed that in the future, brands and retail industry would enhance their expenditure on social advertising. A suite for the purpose of advertisements of products has been offered by Facebook and would be beneficial for retailers for innovation.
6. Mobile-focused:
The future of social media will be developed mobile-focused. It is predicted that about 3 billion people across the globe would access social media on mobile phones in the future. It is also believed that upcoming people would also utilize smartphones for browsing social media. Hence future social media platforms would be drafted mobile oriented.
7. Enhanced video content:
It is true that there is a rise of video contents more on social media. There are estimates that mention that videos are five times more impressive than other formats such as text, images, etc. on social media. This concludes that there will be more of video contents in future on social media. Live videos have gained grounds recently on social media.
8. Groups on social media:
When groups on social media are considered, they have a number of advantages such as story updates, live videos and being a business page participant. They are timely algorithms where they can go to the place and get associated with the audience. For example in Instagram, profiles can be made private and by doing so, it is believed that the growth rate was good. Instagram is also updated with close friends feature. With this feature, brands are capable of showcasing their stories to considered people.
9. More of memes than personal content:
It is mentioned that in facebook there is a decline in personal content for about 21%. They observed that people are conversing by means of memes and shared articles. In a majority of the social media networks, less information is shared by the users and is interested in sharing funny memes and videos that they enjoyed.
10. Influencers:
Influencer marketing is gaining grounds these days in social media networks. When products are promoted to audiences, influencers are paid by the brands. In order to reach the aimed audiences, brands are looking for trustworthy influencers. While discussing influencers, they do have fans and are able to reap benefits by influencer marketing. The real truth is that influencers are familiar and they are expensive for brands. Due to this, micro-influencers came to light.
When made a comparison with big influencers, micro-influencers have limited fans but have an enhanced engagement rate with the audience. They also charge minimal when compared to big influencers. Hence brands find it compatible and combined with micro-influencers in order to promote services and products. Apart from micro-influencers, nano-influencers are also present. These influencers have fans of less than 10k but possess a tightly packed audience.
11. Social commerce to enhance:
Businesses can push themselves forward by social's role in e-commerce. From micro business to giant retailers there would be improved engagement through social media. Hence businesses need to get started with digital storefronts by employing video and visual content. It should be made sure that social commerce and social video operate in lockstep. The short format of product videos and fun is what audiences are looking for.
12. More of VR and AR:
Augmented reality (AR) and virtual reality (VR) would be practically implemented more in the coming years. For example, Amazon is trying to assist customers with virtual clothes. The lens function and geo-filters are implemented in marketing campaigns and location-based videos are utilized to grab the attention of nearby customers. Such technologies would be enhanced by gen Z.
It is also reported by GlobalWebIndex that about 22% of Gen Z utilized geo-filters every month. Social videos are watched by Gen Z and about 40% and more users utilize online sources for hunting products. Gen Z users are influenced by positive comments, likes, etc. that boosts them to purchase a product. It is sure that AR features would be boosted by social media sites such as QQ, Whatsapp, Facebook Messenger,  Snapchat, Instagram, Wechat, Bitmoji, etc.
13. Transparency would be enhanced:
There were more of privacy issues in the previous years on all main social media platforms. To safeguard the data obtained from customers, GDPR came to light. Based on reports by sproutsocial, it is made clear that 55% of customers only realized that brands were transparent. And only 15% felt that brands were transparent. This statistics is proof that mentions brands need to be more transparent on social media. Hence it is important to open up even mistakes and respond honestly.
Consumers also look for transparency from brands. The transparency aspects include product changes, company values, and business practices. This intends that any changes made to the product, and behind the scenes must be made transparent. The true fact is that consumers trust the brands a lot when they are transparent on social media. Hence future social media marketing should be ready to enhance transparency.
14. Premium services:
Ads have always been a hindrance for social media users and they get fed up easily. Audiences are looking for ad-saturated experience or ad-less ones. Hence premium services would be on the move and help in high-quality audios, videos and ads for consumers. This can be a key service in future social media.
15. Stories and IGTV:
Facebook as well as Instagram stories are ones gaining popularity and should be noted by marketers. Video and stories are the two main aspects posted by customers and marketers should make the changeover to this medium. It is sure that unobtrusive and authentic ads would reach customers. Also, Instagram stories are another form that is non-interruptive and lines up with audience choices.
IGTV is a new social media feature launched by Instagram in 2018. The long form of videos can be watched from familiar Instagram influencers by vertical video application. This application would be familiar with future social media networking.
16. Ephemeral stories:
Statistics mention that about 60% of users are back to sites for ephemeral storytelling. Users, brands, and influencers are embraced by this type of storytelling. There are many brands that are creating unswerving content of this type in their appropriate channels. They are able to take the products across the world and present in an advanced and strategic manner by means of ephemeral storytelling.
With this method the audience can be engaged and also chatting can be included with chat and direct features. Certain integrations can also be included such as Instagram GIFs integration, snap chat face lenses, etc.
17. Employee advocacy:
Influencer marketing is becoming popular and there are many fake influencers too. They gain an opportunity with brands and try to become familiar. They promote themselves and present themselves as a real influencer. Hence brands need to check and analyze the real influencer, hence authenticity is important for social media marketing in the future. There are situations where employee advocacy rises and a difficult phase is experienced to trust influencers.
Thus employees can become influencers amongst particular circles. Employees can take the opportunity and present the brands in social media. By this way, the brand is promoted in particular groups. For any brand, employees can be trusted, also another motivating way is to provide incentive as well as content for brand promotion.
18. Messaging is significant:
There is tough competition on social media platforms for messaging apps. Individuals like to chat with their closed ones or groups personally apart from commenting in public. For example facebook messenger, we chat, WhatsApp, etc. have about 1 billion active monthly users. In the future, brands need to research and understand the importance of messaging apps and ways to reach and engage customers.
19. Shareable contents:
The true fact is that social media users shy to share personal contents online. They are ready and share only contents that are found online. Brands need to make sure to offer them with such contents. Either being a funny video or a heartwarming story, brands should draft and make contents in order to engage customers and encourage them to share the same.
20. Enhanced visuals:
Snapchat and Instagram are familiar mainly for their visual contents. The reality is that the camera is very easily accessible as all smartphones have an inbuilt camera and they are also easy to share. Many users are more involved in video and images rather than other aspects of messages.
Conclusion:
As technology keeps enhancing every social media puts forward a new improvement in their journey. Social media in the future is also becoming more advanced with new features for the gen z. Brands and businesses need to make a keen note on the new features and draft them in an appropriate way to grab the attention of customers.
Social media is a powerful means of communication for people and businesses. Businesses gain and lose customers through media hence they should be aware of the happenings and make use of social media in the right way. There are a number of updates coming up in social media and brands can utilize them effectively. Run through the sites and learn more about the present and future of social media.