Every day, countless posts are published regarding whether blogging is still alive or is dead. Such posts instill fear and confusion among the minds of bloggers and internet marketers. But I have seen the future of blogging.
Maybe such posts are written as lots of people are searching for information related to it.
Some posts, may even talk about Google Trends chart and direct that blogging is no more alive. If you are concerned with statistics revealed by Google Trends then let me clear out one thing that such trends rely on search data. So, if there are fewer searches available for a related keyword then Google will show it low.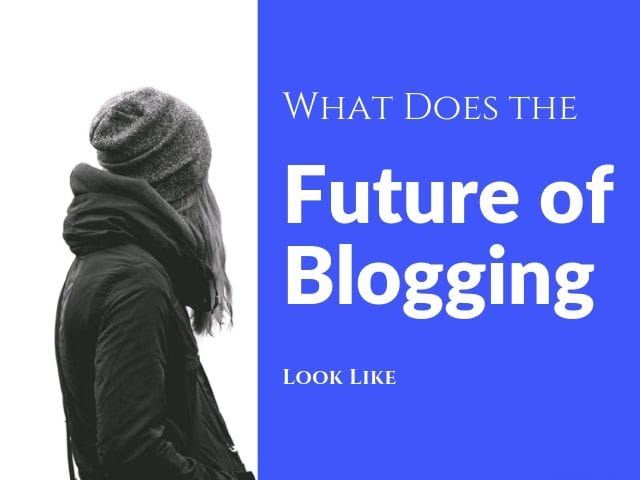 So, the negative results for Google Trends mean that the searches for the keyword 'blogging' is reducing.
In 2008, very few people were aware of blogs and blogging. But in 2010, corporates adopted blogging for inbound marketing, which made the concept aware to all people on the internet. Hence, such trends do not mean that blogging is dead.
But through this post, here I want to share my opinions and remarks about the future of blogging will look.
My Thoughts on The Future of Blogging:
An Upsurge in Authority Blogging:
Just like most of the other things, even Google is famous to favor big companies and brands and thereby manipulate results to favor them. This has been possible with the ever-changing semantic and contextual intelligence by Google. As a result, AdSense publishers and small bloggers are facing tough competition.
If such a trend continues, the big brands and corporate sites like LinkedIn, YouTube, Medium, and more will dominate big brands. Also, famous social networking websites are encouraging users to create content on such platforms so that it is possible to retain visitors for a longer time on their website.
Big companies are hiring writers at a much rapid pace to allow them to cover content in every possible niche. Though the shift is slow, this will continue to evolve.
You must focus on developing a blog as an authority in your specific niche. You must stop putting efforts on building numerous micro-niche websites.
Increased Need for High-Quality Content:
With every day passing, blogging becomes harder. The heat is intense.
In 2010, a published article with a focused keyword would rank easily. However, the competition now is more intense, especially in blogging, in maturity, in the intelligence of Google. For this reason, you have to cut through the competition with rich content signals to rank high in Google.
Recently, Google has integrated machine learning and AI to its search algorithm in the name of Rankbrain algorithm. This has the potential to fully understand the rank of quality and information of the content.
Even, a study from SEJ shows that Google Rankbrain is among the top 3 ranking factors of Google. Hence, you really have to stress on creating high-quality content so that you can stand above the competitors in your niche.
Since Google is now on its unique route to analyze content effectively as compared to human beings, so people are now becoming more careful and choosy. With information overload, people now prefer to follow only limited blogs in their niche. They choose their preferred blogs, subscribe to them, and follow them on a regular basis.
So, for bloggers, it is making the first good impression to attract readers.
As a blogger, you have to learn the skills of attracting the readers with captivating content, or otherwise, your readers will ditch you. Such a trend will continue as people are becoming more selective about the kind of content they wish to consume.
Growth of Content Marketing:
A large number of people are interested to know about content marketing. It is because this is strategic blogging that educates your potential customers about your business by offering relevant and valuable content. With such content in hand, it is easier for your potential customers to make decisions, increase sales funnel, and take a profitable action.
Presently, blogging has transformed into one of the kinds of inbound marketing, rather than being limited to sharing content. Most of the content in popular niches you witness on the web is written mostly by content marketers.
It is of utmost importance for the bloggers to fast adapt to the changes in content marketing and gain mastery in it, including copywriting and inbound marketing.
Consuming Content through Alternative Sources:
Right now, vlogging is a big buzz.
After Google, the next most used search engine is YouTube. The modern users are now being more used to watch videos because of cognitive ease that videos offer in content consumption.
If your business belongs to a niche where the audience prefers watching videos, you cannot sustain longer with typical blogging. For instance, if you are a health instructor then you can engage more audience with workout videos than simple textual descriptions. Just make sure, select a niche that can be conveniently made visual.
When it is consuming content from alternative sources, you must keep in consideration to repurpose your content to other modes such as Medium, LinkedIn, SlideShare, and more. Also, make sure you integrate the podcasts in your content. It is because it is expected that the podcast industry will expand further as the podcast content does not need too much attention. Moreover, you can multitask and easily listen to podcasts.
Most importantly, podcasts from Google offer AI and Creator features. Might be in the mere future it may offer you auto-create podcast episodes with text-to-speech engines with a perfect human tone. However, such audio and video sources of content consumption will not replace blogging at all.
Why?
It is because those who want quick information cannot wait to watch the video or listen to a podcast. In this case, blog post remains the best way to get your content consumed.
Increase in Content Consumption:
Now, let's discuss some good things. Online content is being consumed globally and the same is now increasing at an extremely good rate. There are numerous existing and new niches that are being unveiled on a daily basis and that has very less or no competition at all.
This implies that there is more demand for content writers.
You just have to find a specific niche that is of interest to you and that has relatively low competition. Once you have identified such a niche, you can start preparing content.
Big corporates such as Google are making hard attempts to make it easier for everyone to access the internet and let the entire world go online. This means that digital consumption will get double in the coming year.
Knowledge Graph from Google is Stealing Traffic:
Presently, Google instantly answers all your queries and questions on the SERP itself. This way, it is alleviating a lot of organic traffic for such websites. However still, the Google Knowledge Graph is in a promising state. You just have to figure out how AI and Rankbrain fully support it.
Blogs which rank among the top 5 have higher chances of getting listed in the Knowledge Graph. Some of the common ranking websites in the Knowledge Graph are Wikipedia and those from other big brands.
Still, Knowledge Graph alone cannot kill the traffic of informative and rich blogs. Definitely, it will create a major impact on small publishers but those who are able to rank on the first page will not be affected by it to a much great extent.
The thing to consider is that still, it is difficult and unclear on how the Knowledge Graph will evolve in the mere future. If you perform well and deliver outstanding results in a niche with low competition, possibilities are that your content will appear on Google's Knowledge Graph.
The Employment in Content Creation Will Increase:
It would not be wrong to say that blogging will always be alive and will never be dead. Creating a new blog and growing its popularity will take forever, because of huge stress on trust and authority. As I have already discussed above in the post, Google favors big websites and brands holding inherent authority.
As you already know, there will be more growth of big blogs hiring bloggers and content writers for their business. This means that there will be huge employment growth and the employment model within the blogging industry will expand further.
It will be tough to carry work as solo entrepreneurship.
Generating content on already established platforms than creating a new blog from scratch will appear a more viable option. Platforms with already published content such as Medium, LinkedIn, and Facebook are encouraging bloggers to write content and they can be your reliable blogging platform.
What Does the Smart Content Bots Say?
Writing is one such skill that can be conveniently automated by robots, and to some extent that has become successful in it. With machine learning and AI capabilities, this task has become much simpler and easier for them. Already there are numerous articles online that are created by bots. Even a recent study has confirmed that a bot wrote around 10,000 Wikipedia articles in just one day.
And it is expected, that this trend will continue to evolve.
It is believed that the automated writing process will continue as the world is becoming ever-automated. This way, it is possible for big companies, brands, and news publishers to save a lot of money.
However, there are stances when robots are not able to effectively handle the content. There is no doubt that they are good at writing content at great speed with pre-fed statistics and facts, but when content related to emotions, creativity, lifestyle, or other aspects is needed, then robots may not be able to deliver the best results.
All you have to do is explore effective content creation as well as practice rich copywriting skills. In such scenarios, content bots will lag behind when you have to write persuasive content or content that can actually sell.
Don't be scared about it, as this is a reality, which every blogger has to encounter.
Even, it is better to stay aware of reality and keep yourself open to learn new skills, which are deemed important in the future. The technology is expected to advance, as well as novel opportunities will unleash. You only have to be wise enough to make the correct decision.
Bloggers must be swift in context to adopting the new challenges in their lives and must be quick in facing and handling them before they hamper your business.
As I clearly said above that blogging will always be alive and will never be dead. But might be its effectiveness in the current scenario will lessen. It witnesses numerous alterations and expression of information taking different forms.
Some Important Tips to Consider on The Future of Blogging:
Try creating content in different formats so that it is appealing to the audiences and at the same time entertaining.
Try writing content for people or for your audiences and simply not to impress Google.
It is better to write in-depth and informative content on one particular niche.
Perform in-depth keyword research.
Make sure your content is well-researched and unique.
Add rich value to your content.
Your content can gain more attention if it revolves around the current or latest topic.
Create content with a purpose as if your content is able to solve any problem of the audience, then they will definitely want to read it again and again.
On a Concluding Note:
While it can be confirmed that blogging will always stay and will never be dead, still its effectiveness may reduce to some extent. At the same time, other alternative sources of consuming content will take momentum.
Despite this bitter truth, there are some aspects you must take into consideration.
You must focus on building blogs with high authority than creating blogs of niche that contain only a few dozen pages.
Moreover, try not to limit yourself just as a blogger. It is essential to upgrade your skills and open yourself to learning new skills such as copywriting, content marketing, and more. Make sure you are willing to adapt to the new changes announced in the field.