Are you familiar with Flickr?
It is a very popular platform that hosts images and videos. So, now you might be thinking about the link between SEO and Flickr.
Usually, social media sites like Facebook, Twitter, Pinterest, etc are popular for content promotion and SEO activity. But when it comes to Flickr, it is a different platform that promotes images.
To get more reach for your site it is important to explore all available options. As you know images are very important in content, contents with good visual elements will get more attention than normal contents.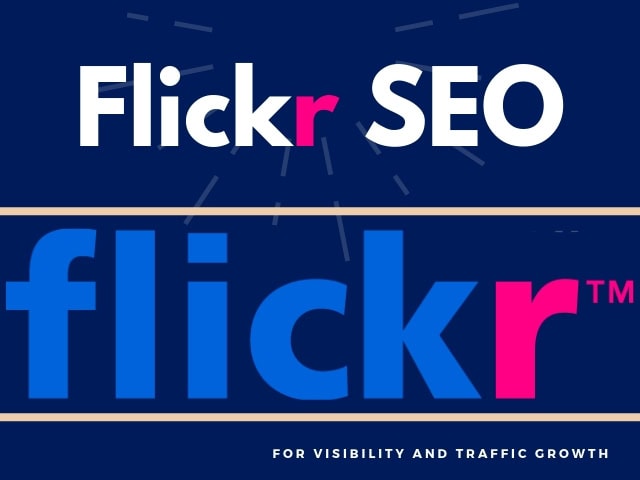 When you search for options to promote your site one of the most important points it says is to include infographics.
When you want to promote your content with infographics you can use Flickr as your promoting tool. To use this tool, you need to possess special creativity and talent.
If you are promoting your site with the help of an expert they can easily handle this department. But when you promote your own site make sure to research well and know all the aspects of this platform. Good research will help you to use all possibilities to promote images from your content.
Flickr SEO Tips to Get Links and Traffic:
Flickr usually will not engage in business promotion. You can see it in their terms and conditions. But, you can indirectly use Flickr for SEO activities. If they found any direct advertisements they won't allow it. That's where you need to have some special talent.
Now your question will be why should I use Flickr to boost SEO? This is the answer to it.
Flickr is the most popular image sharing site.
You can control your images. Nobody can remove it from Flickr account
Nobody can use your image from Flickr. It is like a protected property.
The app is free to use and faster site
Can attract more viewers and thereby your site can get better Google ranking
These are some advantages of using the Flickr app to promote your content. If you get more image views your page ranking will also improve automatically. Here are some points you can follow while promoting your images in the Flickr site.
1. Images with good titles:
When you upload photos make sure to use good titles. The title should be catchy and relevant to the image. Including keywords in the title will help the image to come under search result easily. You can find keywords related to your content from a tool like Google keyword planner, Ahrefs, etc.
Try to include strong primary keywords in your title or if it is not possible then you can use them in tags. But don't take it as the primary thing when you select a title. The title should be catchy and should attract viewers attention. Take some time to research and find out a good one.
Tags are also important when you upload images. You can use secondary keywords here to optimize it. Tags are very good to break images to subject-specific groups.
If you really want to reach more audience then try to include more keywords in it. There is no limit for tags and you can at least include 6 tags.
Don't forget to separate the tags with quotes if you are using multi-word tags. It is important not to include irrelevant tags just to get noticed. It will affect your image negatively. Make tags relevant to your image or content.
2. Improve visibility:
You can improve visibility by using keywords in your image titles or tagline. Flickr is a site exclusively for sharing images you can improve your site reachability by posting images in it.
If you use keywords in the right way, this can improve your site visibility and google ranking. Make sure not to pick keywords that are not competitive. Also, the keywords should be related to your content.
Don't just arrange all useless keywords to get noticed. Arrange them well and make it related to your topic.
If you can share images relevant to your topic a visitor will click on it and thereby he can reach your site. If they find the content as interesting then you don't have to worry about traffic. If your viewers share it with their group, it will help you to get more traffic towards your site.
3. Description with the hyperlink:
Hyperlinks have got the power to attract viewers. As titles and tags, hyperlinks are also important when you put an image on Flickr.
When somebody clicks on that image, they should get a small description related to the image. This should clearly define the image well.
If you can create a compelling description and when users click on the image they will be tempted to check out more about that image. This will improve your number of page views and hence Google ranking
Like any other social media marketing, it is not easy for SEO to handle Flickr. It needs a special talent and time to promote images through Flickr. Only by using Flickr you cannot manage to get more page views.
Make it an important part of your identity. You need to plan well about how to manage your Flickr account for SEO. To get more page views, your image also should be compelling to click on. If you can get a good hyperlink with a call to action, it will also help with your image promotion.
4. Join many groups:
You can join in as many groups as possible, this can make your site grow well. When you participate in other groups, it will help to bring more people to your own site. Thereby, you can improve your site reach and popularity.
Actively participate in every discussion forums and comment on images genuinely. Be ready to accept all negative criticism. There will be a contest and other group activities.
Participate in them and promote yourself. You can also request other groups to join you. If you can be popular among them this is a good promotion for your site as well.
Just using your images, you can improve your page views and boost your Flickr SEO. Try it out and see the magical results
5. Organize and tag your photos well:
When using tags make sure to use relevant ones. Don't put something that is not related to your topic. This will not help you to get noticed. Organizing is also important while you put your pictures on Flickr.
Take common themes and group them together so that it will be easy for someone to find all pictures related to the image they chose. Organizing photos will create a good impact on your site in Viewers.
Find a time and arrange them well based on a common theme or topic and make them easy for the user to find. A well-organized site with all other SEO boosting elements will get good visibility among the audience.
6. Get a professional:
You can create a professional account to get more space and features. If you want to get maximum features out of it pay for its premium professional account. This is very good to make it personalize and upload as much as image as you want.
The main advantage of this account is that you can post photos to more than 60 groups. The free account only allows you to post to 10 groups. You can also enjoy videos without any advertisements and upload high definition videos whenever you want.
7. Promote your Flickr account:
While you use Flickr for promotion one thing you can do is share your Flickr account wherever you can. You can put your Flickr account icon also with other social media sites. You can also link your Flickr account with your email signature. If your main aim is to boost your Flickr SEO, you need to promote all your account anywhere you can.
Now you got an idea about the main points that you should consider before putting images on Flickr to boost SEO.
For those who are new to this platform here, I am going to explain how to create a Flickr account that you can use to host your image or site. Flickr will give you a very good storage space of 1TB. Make use of it well to boost your site visibility
How to Create a Flickr account:
Creating a Flickr account for your site is very easy. You can do this by following some simple steps.
Go to Flickr official site and sign up
Go to your account and you can start uploading photos. For Windows, Linux, etc. there is an automatic image uploader and if you want to upload photos automatically change settings accordingly
Select an image from the uploaded one and add captions to it
Now you can share the HTML embed with any other social media platforms
You can add captions by just clicking on images. There you can see edit button and click on it to add captions, titles, image settings, etc.
It is better if you can make the image size 1024 with good clarity
You can watch preview before posting them on site
See if everything is OK and if yes then proceed to upload further.
This is how Flickr works. You can see the result by uploading images that can promote your site. There are some advantages and disadvantages when you use Flickr to post your images.
While we use something that can row our blog, it is important to know both its advantages and disadvantages of Flickr well.
Advantages of Flickr:
This is a fast, simple and most effective site you can use to boost your SEO
Flickr is cheaper than content delivery networks. So, you can save some money by using this app
As the images load fast, it makes the user easy to view an image. Better loading time will give the user a better experience
Will get more pageviews, if you can improve the image quality and other aspects. Thereby you will get more page views and thereby good Google ranking
Flickr has the feature to automatically edit the image size. You don't have to do it manually
Flickr gives you 1TB cloud storage which is very good if you want to explore this platform at its most
Disadvantages of Flickr:
If people can find your images in Google then you won't get enough traffic to your Flickr images. Make sure you haven't uploaded any images to Google before posting them on Flickr.
This has got a no-follow policy. This is not a platform for business promotion. If they found out any suspicious activity they will terminate your account. So, make sure to use the site properly so that you can manage your Flickr account to manage your SEO well.
If your image is small size, the Flickr will upload faster. If not, it will take more time to upload.
You can better use this app by knowing its advantages and disadvantages well. Now, you got everything related to the Flickr app.
You can create your own account and promote business through it. Make sure not to do it directly. If you don't have any idea about the procedures spend sometime after creating an account and see how others promote their business through Flickr.
Final words:
Everybody won't use this for boosting SEO because it needs some special talent to operate this app well.
If you can spend some time and learn all the possibilities of this app, you may find it interesting. Just by planning well, you can drive more traffic towards your site.
SEO is a very complicated thing nowadays. There are many possibilities that are unexplored. Find out them and use it for your promotions.
Using Flickr for search engine optimization is an interesting option. Try it and you will be amazed by the good change that can bring to your site. Just follow the above tips while posting images.
Using keywords are important but use only relevant ones. If you can use this platform wisely then this is a good option to promote your site like any other platform. Don't think that you cannot attract traffic just by sharing images. Do you have a Flickr account? No! sign up right now.