When you start a new business, everything you do from that point is going to be tough.
Marketing your business, selling your product, establishing your brand name, building credibility- everything is going to be a challenge.
But when things get real, the toughest challenge is to get your first 100 customers. All the marketing and promotion will be of no use if they do not bring you, customers.
Also, you don't just get in customers, you have to delve deeper to make sure they spread your brand's name as a word of mouth and return to you the next time they want something similar.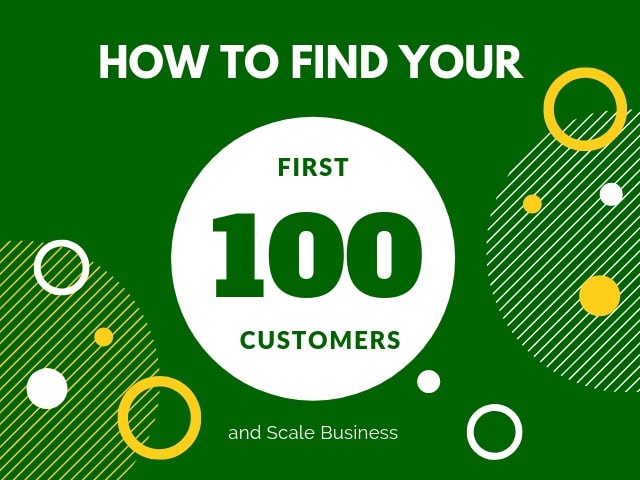 Getting your first 100 customers is not rocket science. In fact, it is not science at all, it is art.
We have some amazing tips and tactics up our sleeves to help you get your first 100 customers. Let's have a look at them.
Ways to Get The First 100 Customers For Your Business:
1. Reach out in every possible way to your existing network:
When you are starting out, you do not have extensive sheets and customer data that you can use to sell your products.
So the first thing you have to do is to reach out and make the best use of your existing network. The ones who belong to your industry, ask them questions, conduct surveys about the market.
Make the best use of your LinkedIn connections. You are most likely to find people in your niche, and you can send them emails or personally send out messages to each one of them.
As a business owner, you have to communicate with your customers. You must be thinking that you have done your research well, you know your target audience pretty well and you believe that your product or service will be of great use to them.
You might be right in all of this, but you have to interact with your customers to know the market better.
Even if you know the market pretty well, do customer interviews. During these interviews, you should not be trying to sell your product.
Rather ask your customers important questions like if they want to be added to the email list and if they would want to receive emails and newsletter etc.
Ask your customers if they could introduce you to people they know who might be of help to you.
Even if the one you are interviewing does not need your product, his friends or colleagues must. You might also just get your first customer while interviewing.
2. Make the best use of Twitter to do your research:
Twitter is a great platform to do your market research and also find potential customers.
You can type in certain keywords and find customers who are facing issues with the products of your competitors.
For example, if your product is handmade soaps and you want to beat your competitors, you can search for 'problems with (competitor's name) and you will be redirected to the complaints page.
You can reach out to them who have complained and directly ask them what problems they are facing with the product they are using.
This will give you better insights into the weaknesses of your competitors and you can improve your product to solve these issues.
You can even use these issues and address them in the ad copy you will be developing for your product. When potential customers will see that there is a new product in the market that addresses their issues, that is how you will get your first 100 customers.
3. Launch your product on email and send it to your network:
One of the best and most effective ways to draw in customers is to launch your product on email.
Now you can build your email list in any way you want to. You can either reach out to people personally using platforms like Twitter and Quora or add your existing network to your email list.
Now let's focus on how you are going to build that email. When you launch your product through emails, you have to make sure that your initial emails should be about adding value to your customers' lives, and the last couple of emails should be about asking them to buy your product after you have focused on how your product is going to benefit them.
You can follow this plan to make the most out of your product's email launch:
Build up curiosity:
The first few emails should be long and should talk about you. This will build up the curiosity among your potential customers and they will want to see what product you are coming up with.
In the initial emails, you can talk about who you are, what you have done so far, and give them a glimpse of what you are going to launch. When people know about you, that will help you establish authority and build credibility.
Talk about your product:
When you have successfully managed to build curiosity around your product and establish your authority, it is the time to start talking about your product.
Describe all aspects of your product. Talk about how it is different from its competitors and what extra benefit it is going to bring in your customers' lives
Focus on the problem areas of your competitors' products and how your product has bridged that gap.
Finally, launch your product:
After you have talked enough about the product, it is finally time to launch it. Keep the launch mail short and to-the-point.
In this mail, just inform your readers that your product is now ready for sale and how they can book or order it.
The final call to action mail: In the final mail of the series, you will want to ask them to buy it.
Talk a little about how customers who have used the free samples found it to be great and then end the mail with a strong call to action.
You have to make your audience believe that you are with your product, they can do things that they cannot with the ones that are already existing in the market.
4. Do not underestimate the power of blogging:
Blogging is a perfect method to increase traffic, create demand for your product and so much more.
Creating content and maintaining a blog is one of the most powerful tools that you can use in order to get in your first customers.
Blogging is not a one-time thing. It is a long term investment where you continuously have to keep updating it with new articles.
Blogging has more benefits than you can imagine in getting your first 100 customers:
1. It drives more traffic to your website:
The most obvious benefit is that your blogs help you get more traffic.
If you have figured out the right keywords, using them properly will improve your website's search engine rankings. This will mean that your brand will get more visibility and awareness, people will know more about your product and this will, in turn, create more customers.
2. It will help you build a relationship with your existing and potential customers:
When you have a blog, it gives information about your brand, your product, your industry to your customers even before they can buy your product.
Blogs also solve any doubts or questions that your customers might have. This generates curiosity and demand, which in turn will get you more customers.
3. Blogs strengthen your brand's and products online presence:
When you publish content that is informative and important to the audience, it builds a stronger position and goodwill for your brand.
When you build credibility, it might not necessarily improve your search rankings but your customers will begin to trust you. This trust will increase your conversion rate eventually.
5. Go for guest posting:
This is a tried and tested method to get customers and has worked wonder for so many brands. This basically means leveraging other brands to get your own customers.
But if you want to make the best out of guest posting, you will have to keep a few things in mind:
You have to be patient:
You cannot expect miracles to happen overnight. It will take time until you start getting customers.
You have to focus on getting the right metrics:
You might get trapped in focusing more on checking the page likes, page views, likes and share on each article, etc.
Even though that is an important part, but these details won't determine how many paying customers you acquire.
How many paying customers you acquire is your actual ROI. Your focus should be more on how many potential customers signed up to your website. These are the metrics you should be worried about.
You have to post on the right platforms:
When you are guest posting, you cannot just post anywhere you like. You have to find websites similar to yours that have similar target audiences and post on those particular websites.
Instead of having to pitch your ideas to someone, you can guest post and let the post do all the talking!
Do not go overboard:
Since you are a start-up and just starting out on the blogging scene too, we advise you to take it slow and set achievable targets.
You need to post regularly, for sure, but do post 3-4 articles a day when you have no readers. To start off, you can write one article per week and post it. Give the blog some time to attain readers.
So, look for popular blogs in your industry that have an authority in your niche. This way when you post on them, you catch the attention of so many potential customers.
6. Search engine optimization:
Search Engine Optimisation and the traffic you get from it is a great way to generate customers.
One of the problems that you will face when you are starting out is to have a high rank for the highly competitive keywords because there is so much competition already.
If you are planning to target marketers or entrepreneurs or influencers in your niche, you will face tough competition. But it is not impossible to get traffic and leads with this competition.
The one thing you can do is focus on long tail keywords.
For example, instead of focusing and trying to get a higher rank for the keyword 'SEO tools', you can be more specific and have a long tail keyword like 'best SEO tools for startups'. If you continue doing this over a period of time, you will eventually generate a certain amount of traffic.
If you are wondering how to generate content ideas based on long tail keywords, you can simply go to Quora and search for the most viewed questions for your industry.
For example, if you are selling a product in the lifestyle and fitness industry, you can just go to the search box and type 'lifestyle and fitness' and you will find some of the most viewed questions and answers.
This will help you understand what your customers are looking for, and you can then create content based on your insights.
Long tail keywords will help you generate quite a large amount of traffic on a monthly basis and the more traffic you get, the more leads you generate and higher the chances of getting your first 100 customers.
7. Interact with various online communities:
When you engage with different online communities, you can interact with like-minded individuals in your niche.
When you find the right groups online, you can trust them to bring you valuable consumer feedback, you can build your network and these also provide you a chance to build a healthy relationship with future potential customers.
But make sure you have the right approach. Even before you start posting, keep a close eye on how the communities work, which posts have the highest engagement, etc.
Conclusion:
As we had already said in the beginning, getting your first 100 customers is not science, it is an art.
There are so many factors and so many things you have to do to pitch in customers, but the journey is going to be exhausting and enriching for you as a business owner.