FeedBurner is a web feed management service which was launched in the year 2004 by Dick Costolo, Matt Shobe, Eric Lunt as well as Steve Olechoski. Since its inception, Feed Burner was widely used for providing RSS services to a large number of bloggers across the world.
However what signaled the death knell for this brand was when Google decided to take over the company in 2007 for a whopping 100 million dollars. Here are some of the best FeedBurner alternatives which even the most loyal FeedBurner users are forced to shift to.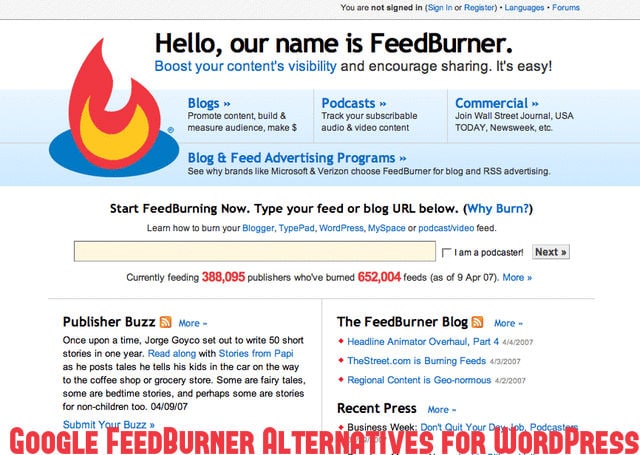 Google FeedBurner Alternatives for WordPress:
One of the best alternatives to FeedBurner is FeedPress that came about in the year 2012, which was precisely the year in which many of FeedBurners services were stopped and closed down.
One of the best things about is that it looks into the management of your fieldwork as well as deals with several associated functions.
Along with coping with an incredibly flexible storage space where having one account is enough for all your website needs, it also is extremely cost effective and easy to use.
Since its inception, way back in the year 2001 this company having its main office in Atlanta Georgia has grown from strength to strength having over three million users across the world.
MailChimp does all the FeedBurner can do so that is why it is an alternative which many opt for, for their website needs. With the help of Mail Chimp keeping a track of your RSS feeds is not a tough task at all and in addition to this configuring your emails is no longer a challenging task.
If you are new at blogging or if you have a small business then Simple FeedStats WordPress plug-in might suit your bill perfectly. Since it provides basic information about once RSS feed, it is often preferred over the other alternatives as it is both easy to install and simple to use.
Though it might not be having all the features of FeedBurner or not as clear and comprehensive in terms of the depth of information it is able to provide as opposed to FeedBurner, yet is an option many prefer to go in for.
When it comes to searching for alternatives for FeedBurner, the chief feature that users look for is reliability. If reliability is something which you are looking for when it comes to managing your RSS feed then Jetpack is unlikely to disappoint you on any front.
One great service it provides is 'Subscribe to blog via email', subscriber module that allows your subscribers to be notified whenever you post something new on your blog and something like this guarantees more viewership and viewership is much sought after.
Regular RSS Feed:
If you are one, not too bothered about the number of individuals viewing your RSS feed, then rather than going wild searching for an appropriate alternative to FeedBurner, you might as well just use your Regular RSS feed that will do your job just fine.
Since it is rather reliable you should have much to worry about. However, this does have its drawback as tracking the growth of your blog or website will not be an easy task and you will not have the statistics to impress customers or advertisers with and this is detrimental in the business world.
For anyone looking for a good alternative for FeedBurner, they often opt for RapidFeeds as it is very affordable and as opposed to the amount of money it costs you, the services which are provided are many in number.
The fact that the service is below five dollars a month for three feeds is the main reason why it has been made use of by more than 250,000 publishers.
The services which are provided by Rapid feeds are primarily of two kinds, namely, FeedManager and Feed Embed.  The former allows you to manage RSS feed and the latter converts RSS to HTML.
FeedCat: Shutdown
This is one of the few free feed services that are available for our use. However, one thing is for sure, that just because it is free, does not imply that the services it provides are below par in any way.
One of the chief reasons why many people opt for FeedCat besides the fact that it is free is because it provides RSS feed data is not just a comprehensive but also graphic form that makes it very easy to read. In addition to this, it maintains a record of all feed data so that you can easily track your growth!
One of the many good alternatives for FeedBurner out there is Subscribe 2. As opposed to many alternatives that do not provide you with information like who has subscribed or even does not allow you to have control over those who are allowed to subscribe to your website, Subscribe 2 offers you control over both these things. It is for this very reason that many opt for the services of Subscribe 2 and they are very content.
One of the most excellent alternatives to FeedBurner is Feedity. The main reason for its success is owing to the fact that the services which it provides are very good and it gives instant RSS feed information as and when you do require it.
As everyone knows not everyone's usage requirements are the same and rather than having to settle for a plan which is too big or even too small, Feedity allows its users to opt for one of the three packs which it offers. All these packs offer different things and are also pocket-friendly.
Owing to the fact that Feedback has been a part of Feed Burner email delivery services right from the year 2005 many people might be already knowing about FeedBlitz and already aware of its great services.
There are many top companies that make use of the services of FeedBlitz to handle their email as well as feed services.
In addition to this, contrary to popular belief the many services of FeedBlitz come at exceptionally nominal rates that are affordable to all companies.
For their Newsletter related problems, many individuals have opted for Aweber. Individuals make use of Aweber for delivering their RSS related information directly to their subscribers without any worry at all.
If you are unsure about whether or not Aweber will be able to suit your business needs, then you could always try out their services for a month for only one dollar! Once this one month is over the cost is only around twenty dollars if your number of subscribers is not more than five hundred.
The name of the company is absolutely adorable however, more than this the services which it is able to provide to its users are very good indeed.
The fact that it can easily convert RSS feed to the form of emails in a matter of a few moments is a reason why it is much sought after. Since its conception, MadMimi has continued to grow.
Whether it is in terms how easy it is to set up, how good its services are, how cost effective it is or even how many email themes are there to choose from MadMimi will surely not disappoint you.
When it comes to newsletter solutions, many people opt for the services of Nourish as it is a competent alternative to FeedBurner.
Just like MadMimi Nourish allows you to convert your RSS feed to emails very simple, but in addition to this, it also allows you to include several RSS feeds into one email without any trouble at all.
In terms of its cost, Nourish allows you to send up to one thousand emails free of cost and up to five thousand for about forty dollars and this is one reason why it is so popular.
In addition to being a great alternative to FeedBurner, Subscribe by Email is also a great alternative to Subscribe 2. It allows you to search through all the subscribers you have, however one downfall is that Subscribe 2 is free of cost whereas Subscribe by Email is not.
RevResponse is very efficient indeed when it comes to changing RSS feed to emails. Initially, RevResponse offered a hundred dollars, per thousand subscribers you were able to bring over from FeedBurner and it is because of this that many picked RevResponse as an alternative to FeedBurner.
However in terms of services RevResponse will surely not disappoint you on any front as it allows you to make detailed reports and it even has a variety of templates to choose from.
So rather than sticking to FeedBurner, there are many alternatives, as let's be honest, When was the last time that there was even an update available for us to make use of. Since the year 2012, FeedBurner has had to shut down the FeedBurner API, wave goodbye to its popular Twitter account and even close down Adsense for Feeds. As FeedBurner has proceeded to become a part of Google's other failure projects like Google Buzz or even Knoll, you need not be discouraged as there is an array of new options which are available before you.